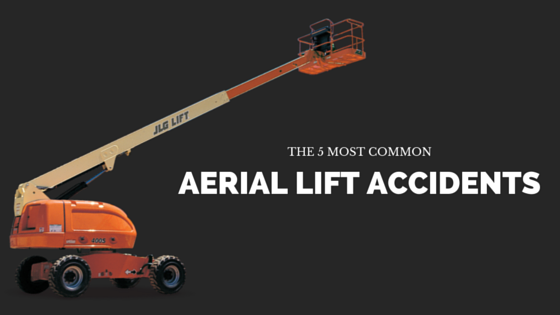 Aerial lifts come in many types and sizes.  Yet, aside from size and weight, many factors can affect their safety level. When workers aren't properly trained to operate an aerial lift, accidents are likely to occur. Some of these can cause major injuries. Others can lead to the death of one or more workers.
Accidents are common with boom lifts and scissor lifts. They include:
✓ Boom lift accidents
✓ Scissor lift accidents
✓ Manlift accidents
✓ Genie Lift accidents
Boom lifts produce some of the highest aerial lift accidents due to their height and horizontal reach. Scissor lift accidents are often caused by driving and working on uneven ground. They can also occur during severe weather, often in the form of worker falls and tip-overs.
CertifyMeOnline.net offers a full selection of aerial lift, scissor lift, and mobile elevating work platform (MEWP) training courses. Our modules get your employees compliant with all of their OSHA training requirements. Plus, all of our OSHA compliant training helps reduce the chance of Genie lift accidents, manlift accidents, and other work hazards.
To show the dangers of using untrained workers on aerial, boom and scissor lifts, here are the top five accidents on aerial lift worksites:
1. Electrocutions
Electrocutions occur when workers make contact with overhead power lines. They can also happen when the lift makes contact with a power line. Telescopic booms have the highest risk of electrical accidents. This is because they are often used to service electrical systems. But that's not all who are at risk.
Scissor lift operators often work near or under power lines. They risk getting a fatal shock in many different ways:
✓ Failure to wear the proper personal protection equipment
✓ The lift is not set up on stable ground
✓ Making contact with live power lines due to a lift tip-over
Crew members not working on power lines should stay at least 10 feet away from them at all times. Failure to do so could cause accidental contact with the line. Anyone on the job site should assume that all power lines are active. OSHA recommends that people working on or near live power lines should wear:
✓ Insulated hard hats
✓ Voltage-rated shoes
✓ Rubber gloves and sleeves
✓ Other protective clothing
Aerial and scissor lift training is a key factor in avoiding fatal shocks from power lines. It teaches workers how to assess the work area for overhead live wires and other hazards. Workers also learn how to avoid the wires, and which tools and equipment are best for helping to avoid accidents, including rubber sole boots, rubber gloves, fall protection systems, and more.
2. Falls from Aerial Lifts
Falls are most likely to occur when the worker, aerial lift, or scissor lift is hit by a crane, a vehicle or some other object. Workers should ensure that fall protection measures are in place. This includes making sure all cables and harnesses are attached to the lift before starting the job. When operating the lift, workers also need to ensure:
✓ Access gates are closed
✓ The body harness or restraining belt is attached to the boom or bucket with a lanyard
✓ They are standing firmly on the floor of the bucket
✓ They never lean on or climb over the guard rails
Falls from aerial and boom lifts are one of the most common types of manlift accidents. Scissor lift falls often happen when the lift is used on uneven ground or during rough weather.  Either of these can cause the lift to become unstable and lead to a fall.
Fall protection is not required when working with scissor lifts. This means workers may not be wearing a harness attached to a lanyard if the scissor lift becomes unstable. Scissor lift tip-overs and worker falls are often caused by objects coming into contact with the lift.
Falls from scissor lifts can be prevented with OSHA-approved scissor lift safety training. This training can help prevent aerial and scissor lift tip-overs.
 3. Aerial Lift Tip-Overs
Tip-overs are one of the leading causes for both boom and scissor lift accidents. They most often occur when the bucket cable or boom breaks. They can also happen when the bucket falls or the scissor lift tips over. To avoid these manlift accidents, workers should never:
✓ Set up the aerial lift between overhead hazards
✓ Exceed load capacity limits
✓ Travel to a job site with an elevated lift
✓ Use the lift on uneven terrain
✓ Raise the platform in windy conditions
Scissor lift tip-overs are often due to operating in poor weather. For example, high winds can easily cause the lift to sway and fall over. Some tip-overs can result from using the lift on uneven ground with slopes or potholes. Using the lift too close to moving objects, such as motor vehicles, can also lead to accidents.
One of the main causes for aerial lift tip-overs and similar manlift accidents is boom lift on uneven ground usage. Scissor lifts only go straight up, which makes them less risky than boom lifts. Boom lifts can move vertically and horizontally. As a result, they tend to be less stable when the boom is in the air. The right kind of scissor and aerial lift training can help avoid tip-over accidents and other kinds of manlift accidents. Proper training will teach workers how to assess the work site for hazards that can create unsafe working conditions. Training can prevent scissor lift tip-over accidents – one of the most common causes of scissor-lift injuries and deaths.
4. Getting Caught Between the Lift and an Object
Injuries due to contact with objects outside the boom is a fairly common event. This type of manlift accident tends to occur when the bucket is being moved. A worker gets caught between the edge of the bucket and another object, and injury occurs. The object could be a roof joist, a beam, or something else that gets in the way.
Before starting work on the lift, workers should check the job site for hazards. Then they should inspect the equipment to make sure there are no loose parts. If there are rotating or moving parts, make sure they are properly guarded. Also, be sure to avoid wearing loose clothing. Workers on the ground should remain at a safe distance from the load. Staying out of the loading area can prevent being involved in boom lift accidents.
Scissor lift operators can avoid "caught in between" accidents by staying clear of overhead hazards. These hazards can include power lines, pipes and ceilings. Scissor lifts are also used indoors for many types of jobs. This makes them one of the top causes of injuries and deaths for scissor lift operators. On-foot workers can get crushed when a scissor lift falls over. They should always keep a safe distance from the work area, even more so if the scissor lift is used outdoors on uneven ground.
Aerial lift certification with a company like CertifyMeOnline.net prepares workers to recognize and prevent boom lift accidents. Workers learn the dangers of getting caught between the lift and an object. They also learn how those accidents can be avoided. Scissor lift training teaches workers how to avoid getting crushed by the lift or overhead objects.
5. Being Struck by Objects Outside the Bucket
Collapsing materials injure and kill workers every year. This type of accident occurs when workers aren't aware of their surroundings and make contact with objects that come loose. All workers should be informed of any unfinished building materials on a job site. That way they can avoid risky structures or areas.
Scissor lifts are used for many types of indoor maintenance work. Workers should take care to prevent materials from coming loose and hitting people on the platform or on the ground. Large or heavy falling materials can also cause scissor lift tip-overs. That's why teaching scissor lift safety techniques when working is so important.
Aerial lift certification and scissor lift training from CertifyMeOnline.net teaches workers how to recognize and prevent boom lift accidents. Students learn what causes accidents that involve workers getting caught between the lift and an object. More important, they also learn how to avoid all boom lift accidents and manlift accidents.
How Can Training Help Prevent Scissor Lift Accidents & Boom Lift Accidents?
The most common cause of accidents for aerial, boom, and scissor lifts is operator error. The operator makes a mistake, uses a wrong technique, or doesn't notice a hazard. Sometimes, the accident results from being inattentive or careless.
Accidents caused by operator error are common. Yet, they can almost always be prevented with the right tools and training. This training should include how to:
✓ Safely operate a lift
✓ Inspect the equipment
✓ Assess conditions around the work site
✓ Recognize and avoid hazards
Workers who receive this training are more able to avoid injuries, including fatal ones. They can also help prevent manlift-tip over accidents and fatal falls from happening in the first place.
Preventing accidents through proper aerial lift and scissor lift training is the best course of action for employers and workers. It can provide many benefits:
✓ Fewer injuries and fatalities
✓ Less damage to nearby structures and equipment
✓ Fewer equipment repairs
✓ Reduced insurance costs & liabilities
✓ Decreased risk of OSHA fines
✓ Increased productivity
If you're an aerial, boom, or scissor lift worker and want to know how to avoid manlift accidents, check out CertifyMeOnline.net. We offer an online training program that only takes about one hour to complete. It's 100% compliant with OSHA standards, and only costs $75.
The Aerial and Scissor Lift Training course teaches about the different types of aerial and scissor lifts. These include:
✓ Articulating boom lifts
✓ Telescopic boom lifts
✓ Cherry pickers
✓ Telehandlers
✓ Scissor lifts
✓ Genie lifts
✓ Rough-terrain scissor lifts
Workers will feel ready to operate any one of these types of lifts, and will have the OSHA-compliant certification to prove it.
Real-time training from CertifyMeOnline.net is the ideal solution for avoiding injuries – including scissor lift accidents and Genie lift accidents – while working on an aerial lift. It has a 100% OSHA approval rating. It also comes with free lifetime renewal training.  Keep your team safe from aerial lift falls and tip-overs. Create an account and receive your aerial and scissor lift certification today!
Get compliant today and ensure your employees have the skills and knowledge to avoid boom lift accidents – sign up today! Thanks for visiting CertifyMeOnline.net!