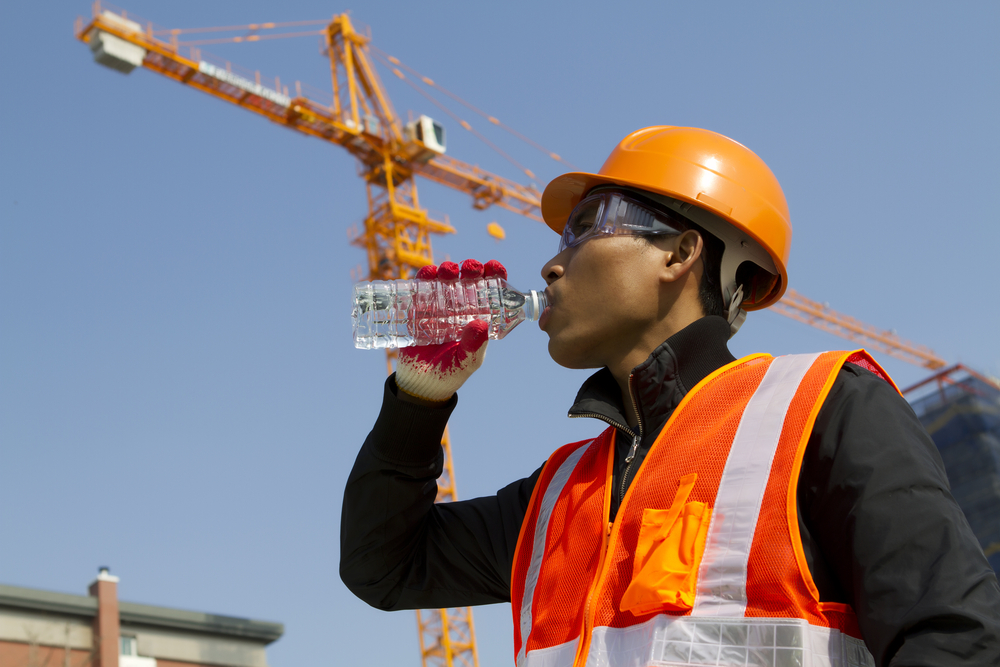 Our bodies depend on water for survival. Every organ, cell, and tissue requires hydration to work properly. Water helps your body maintain its temperature, lubricate your joints, and remove waste – it's not hard to see why it's so necessary for overall health. While most people know about the importance of water, it's often hard to meet our hydration goals each day. That's especially true for those working in hot conditions. If you're hoping to turn over a new leaf and embrace all the benefits of hydration, follow these tips for staying hydrated at work:
1. The Best Way to Stay Hydrated While Working Outside
Our first tip is a proactive one: start hydrating before you begin working. Begin your day with a tall glass of water – add it to your morning routine and drink it alongside your cup of coffee. Eight ounces of H20 can go a long way to flush your system and begin building up your body's overall hydration levels. Once you're finished with the first glass, fill up a water bottle and continue to sip on your commute to work. Prevention can go a long way to mitigate the impact of heat stress throughout your work day.
Traditional wisdom says the human body requires eight, eight ounce glasses of water per day. In truth, that's a baseline, not the standard. If you're working in the heat, you're going to need to drink a lot more than a mere 64 ounces. Invest in an oversized water bottle that can keep your water cold throughout the day. You'll be more inclined to stay hydrated if your water is chilled and you don't need to constantly refill your bottle. This is truly the best way to stay hydrated while working outside!

2. Learn the Signs of Dehydration
This National Drinking Water Week, learn the signs of dehydration. By understanding the red flags of dehydration, you can stay on alert for signs of trouble in yourself and your colleagues. Any time you're working outside or in warm environments, it's important to monitor for symptoms like dizziness, fatigue, a lack of focus, dry skin, and a rapid heartbeat. Too often, people dismiss these symptoms and push through working. In fact, pushing through signs of dehydration is one of the worst things a person can do. Instead, give these symptoms the respect they deserve and take a break to rehydrate. 
3. Hydration Safety in the Workplace
It can be a challenge to learn how to stay hydrated while working in hot weather. One of the best ways to make sure you're getting enough water is to track your progress as you sip. There are no shortage of hydration apps for your phone that can help you monitor your fluid levels, but the old-fashioned way works, too. The color of your urine can tell you a lot about how hydrated you are. Aim for clear or pale yellow urine – if you see it become any darker, you may indeed be dehydrated. Take a break and replenish fluids right away.
Building drinking water habits into your routine can also help you practice hydration safety in the workplace. Try drinking a full glass of water with every meal, then set reminders on your phone every hour to take a few more sips and up your fluid intake. After awhile, the urge to hydrate will become second nature. There's no harm in setting reminders in the meantime, though.
4. Pair Fluids with Electrolytes
In especially demanding jobs, plain drinking water may not be enough to guard against  the effects of dehydration. For those working in the direct summer sun or extreme temperatures, it's a good idea to add sodium and potassium to your fluids. These are the electrolytes we often lose through sweat. 
Just like a professional athlete sips on sports drinks to stay hydrated during game time, industrial athletes need to be just as careful about their intake. Anyone searching for tips for staying hydrated at work should consider picking up sports drinks or powdered electrolyte supplements to add to their drinking water. This is also a good idea for anyone who doesn't enjoy the taste of water and would prefer a little flavor added to their beverage each day.
5. Take Regular Breaks
The importance of staying hydrated at work can't be understated. When employees are dehydrated, they're often incapable of working to their full potential. This can make for slower rates of productivity and an increased risk of accidents and injuries. The solution? Take regular breaks to hydrate. While you might not think you need to set aside time just to drink water, it's easy for the day to slip away when you're busy working. By scheduling regular breaks for everyone on staff, you reinforce your organization's commitment to hydration safety in the workplace.

Get Hydrated this National Drinking Water Week
There's never been a better time than National Drinking Water Week to redouble your hydration efforts. The above tips for staying hydrated at work are a great start. If you're really hoping to stay safe on the job and truly understand all the risks associated with working in an industrial setting, training and certification can go a long way. Even just one hour of education can help make you and your colleagues more informed and less likely to be involved in a workplace accident.
CertifyMeOnline.net offers convenient, affordable online training for aerial and scissor lift operators. Our courses teach you everything you need to know about the safe operation of such equipment, how to avoid accidents on the job, and how to promote a culture of wellness and safety in your organization. To learn more, contact us online or call (602) 277-0615.