If you're an aerial lift operator, or you work near aerial lifts, you'll come across many different types of lifts in your career. Skyjack is one of these many types, and is one of the top brands of aerial work platforms on the market. If you work with Skyjack aerial lifts or the Skyjack scissor lift, CertifyMeOnline.net has the Skyjack training you need to master how to use a Skyjack scissor lift or boom lift and be the most efficient on the job.
What is Skyjack?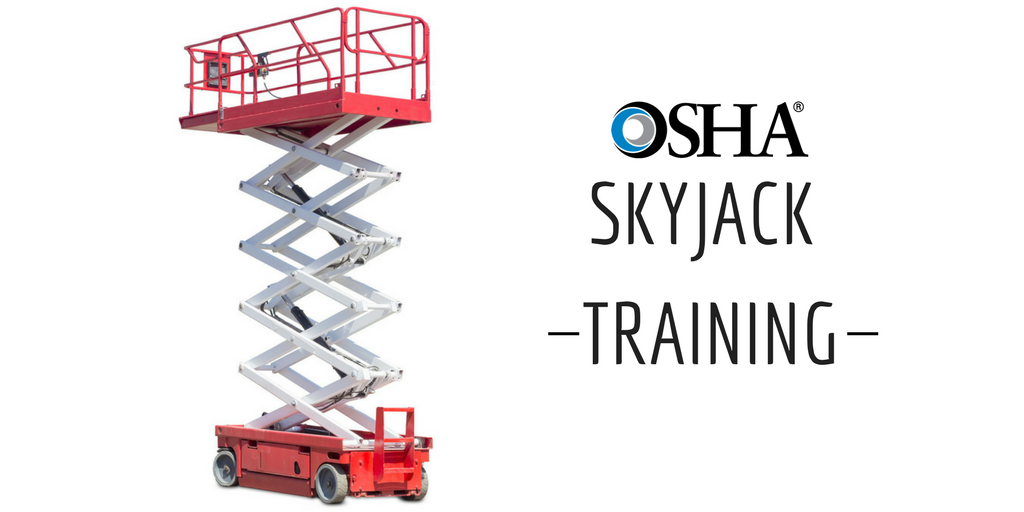 As a company specializing in the production of aerial lifts, Skyjack focuses on creating top quality, simple and reliable material handling equipment. Their innovative axle-based four-wheel drive systems featured on almost all boom lifts and scissor lifts have made controlling the equipment easier for operators, no matter the position of the boom or platform in relation to the body chassis.
Skyjack lift manufactures vertical mast lifts, electric scissor lifts, rough terrain scissor lifts, articulating boom lifts, telescopic boom lifts, and telehandlers. If you would like to learn how to operate each of these types of aerial work platforms, you need Skyjack training and an aerial lift certification.
What Are Skyjack Aerial Lifts Used For?
The Skyjack scissor lift is mainly used indoors, for accessing building structures and performing maintenance, apart from rough terrain forklifts that are used on construction sites. Aerial boom lifts are made for reaching otherwise inaccessible outdoor work areas at great heights, like power lines, tall buildings, and even roller coasters. The types of aerial lifts Skyjack carries are also used for window repair and cleaning, exterior building maintenance, special event work like lighting and sign installation, and for aircraft maintenance.
If you use Skyjack products for any of these applications, you or your work force needs Skyjack training.
What Makes Skyjack Aerial Lifts Unique?
Skyjack prides itself on making world renowned products for reliability, the best scissor lifts on the market, and for some of the most durable lifts.
Skyjack manufactures lifts that are exceptionally easy to work and maintain, with their exclusive color coded and numbered wiring system, axle-based four-wheel drive systems, and the fact that they use common lift components among their designs to reduce the amount of service parts needed to maintain Skyjack scissor lifts or aerial lifts.
Skyjack aerial boom lifts also come outfitted with direction sensing drive and steer controls. The EASYDRIVE feature enables the aerial lift controls to always be in the orientation of the operator regardless of position of the turret over the chassis.
If you're looking for a boom lift and scissor lift manufacturer that is "simply reliable," then Skyjack lift should be your top choice. 
Do I Need Skyjack Training?
The short answer is yes. All operators who work with or near aerial work platforms need scissor lift and aerial lift training. Different types of lifts come with different capabilities and hazards involved. It's not enough just to watch a demonstration or video. Comprehensive training that involves formal written instruction, practice training, and a skills evaluation is necessary for all operators.
Skyjack training from CertifyMeOnline.com will teach you how to operate the different types of aerial work platforms, how to perform equipment inspections, assess the environment for hazards, and prevent accidents to best prepare you for the job. In just five easy steps, workers will receive the knowledge and skills needed to be expert Skyjack operators and spot the hazards that can lead to injuries, fatalities, damages, and costly OSHA fines.
Where Can I Get Skyjack Training?
If you're an operator or employer who works with Skyjack lifts, look no further than CertifyMeOnline.net for the top quality, comprehensive aerial lift and scissor lift training you need. Our online program can be accessed from any device with the internet, 24/7/365. It covers the different types of aerial lifts and scissor lifts so you can feel confident operating the various brands. Our aerial work platform Skyjack training will teach you how to operate the Skyjack lift products, how to perform inspections, and how to recognize and avoid hazards.
You will also learn:
How to use a Skyjack scissor lift
How to use a Skyjack boom lift
What types of safety tools and equipment you need
How to pass the skills evaluation
How to prevent accidents that can lead to injuries, fatalities, and equipment damages
You will be 100% OSHA-compliant and qualified to operate Skyjack aerial work platforms, in addition to the other top brands. Employers can keep their workplace safe and their business safe from costly OSHA fines.
If you use Skyjack aerial lifts and scissor lifts at your workplace, you need the Skyjack training from CMO. Sign up today and get your employees trained and certified this afternoon, with free three-year renewals!