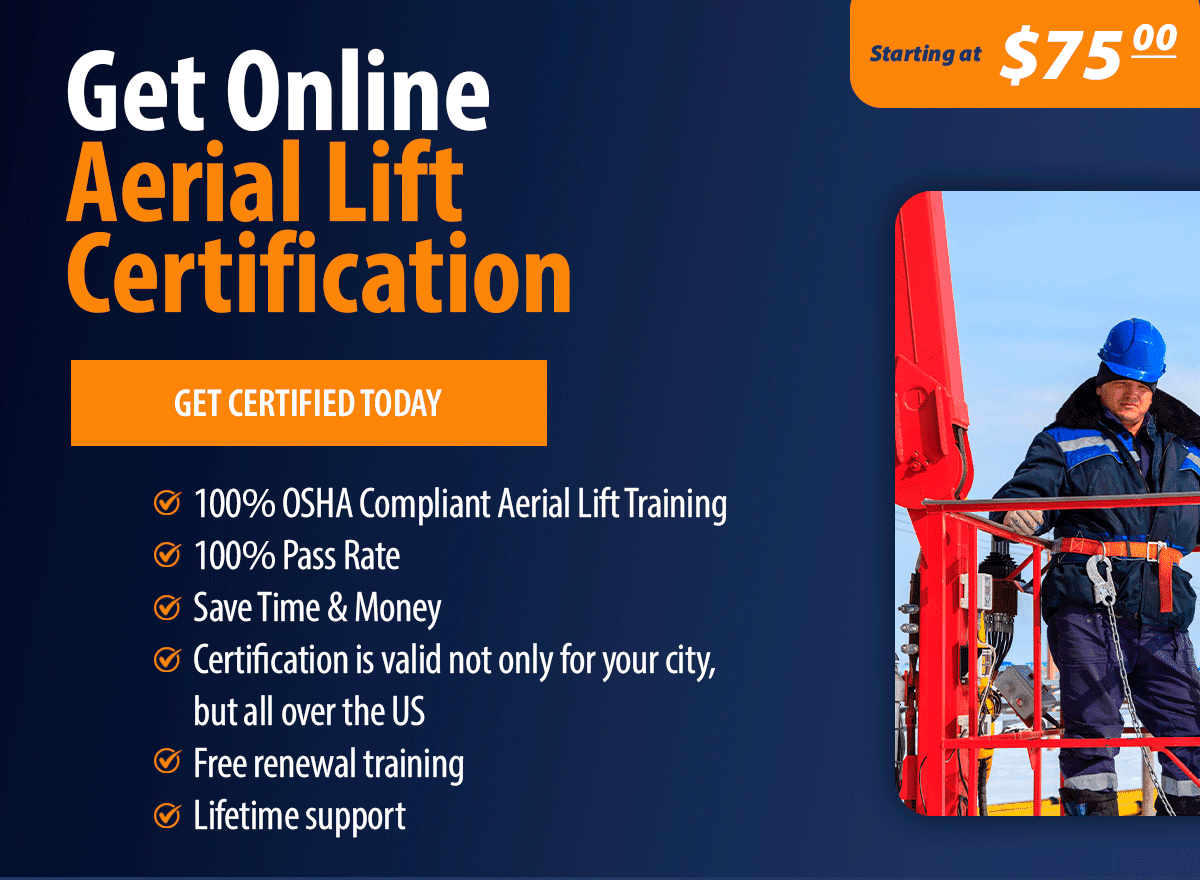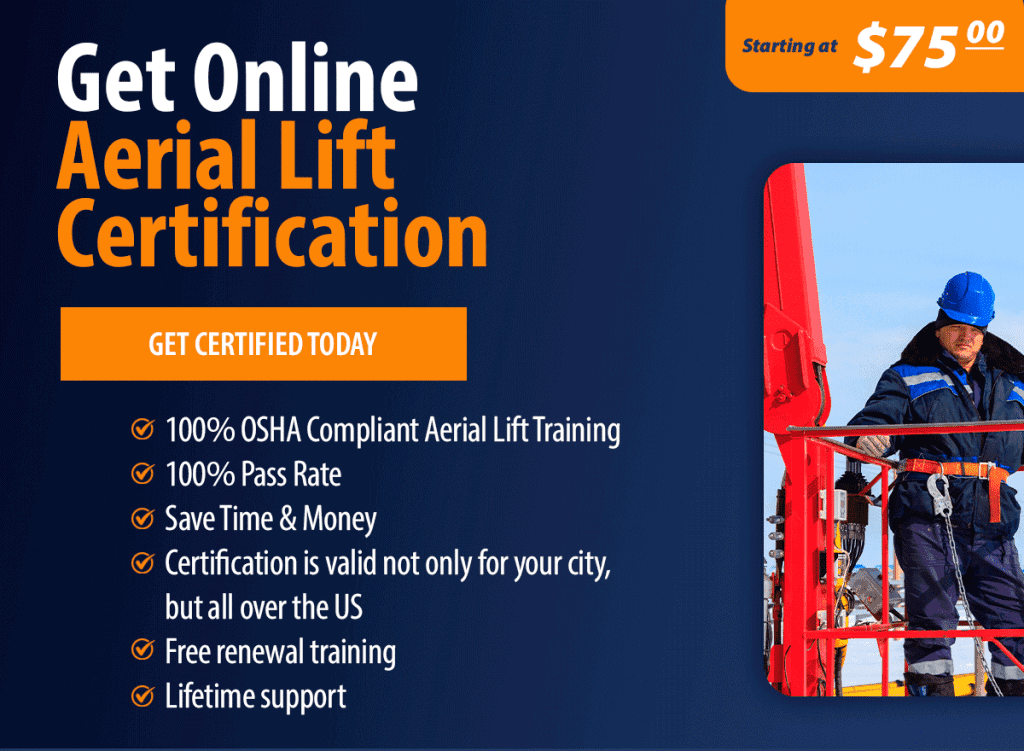 Learning how to operate aerial lifts once meant traveling off-site, sitting in a classroom for hours, and missing out on important work. These days, earning your aerial lift certification in Anaheim is as easy as logging onto your computer – you can learn the fundamentals online.
CertifyMeOnline provides convenient training options for all kinds of aerial lift operators. Our online resources allow you to get certified to use aerial lifts throughout California and the rest of the United States. Choose from different training options, including:
Train the Trainer
Are you hoping to invest in your business's safety program? Choose employees to become trainers for just $149. The course will instruct them to train new forklift operators and foster the most comprehensive in-house safety culture imaginable.
Aerial Lift Training
Online aerial lift training is incredibly convenient and straightforward. Online trainees can learn how to use lifts, prevent incidents, and follow safety best practices in about an hour. At just $75, the value is undeniable.
Scissor Lift Training
Those who need scissor lift training can also get certified online. Employees will discover scissor lift operation fundamentals and learn how to maintain them for your organization. CMO's online scissor lift training course is an excellent investment in employee safety, priced at $75.
Class 7 Aerial Lift Training
Class 7 aerial lift training covers everything from rough terrain forklift trucks to straight mast lifts and extended reach forklifts. These machines' safe and effective operation often comes down to high-quality training like that CMO provides.
Fall Protection Training
Fall Protection Training is one of the best investments you can make in your business. Employees can learn to prevent accidents and keep in line with OSHA requirements. Training can go a long way to creating a safe place to work.

How Online Aerial Lift Certification in Anaheim Works
Rather than waste valuable time and money on training in a classroom, get certified online with CMO. Our resources allow trainees to access classes from anywhere and finish training on their own time. Training on the go is easier than ever. Follow these steps for aerial lift training in Anaheim. You'll be certified before you know it:
Register Trainees: Managers should sign up any employees who need aerial lift training and certification.
Choose Courses: Select from a wide range of courses.
Finish Online Training: Most people finish the coursework in about an hour.
Pass the Online Exam: Trainees may take the test as often as needed to earn a passing score.
Complete a Hands-On Test: An on-site employee of your team must conduct a hands-on evaluation for trainees. Don't have someone in mind for the job? Our Train the Trainer course is the best way to teach an employee to oversee all future in-house training.
Print Proof of Training: After the previous steps have been completed, certification cards will be ready to be printed and kept in personnel files.
Once training is done and the written and hands-on evaluations are passed, employees will be officially recognized as fully trained and certified to OSHA safety standards.
Why Choose CMO for Anaheim Aerial Lift Certification
Pursuing your Anaheim aerial lift certification online lets you learn about common workplace hazards. Employing certified operators can significantly reduce the risk of workplace accidents. Our resources also help your company meet OSHA standards, preventing expensive fines. Other reasons to train with CMO include:
✓

24/7 Online Access: Train whenever and wherever is most convenient for your busy life.

✓

Quick and Simple: Most people complete the class in about an hour.

✓

Immediate Proof of Certification: You can print off certification cards as soon as training is done. 

✓

Free License Renewals: Aerial lift operators are required to recertify every three years to stay OSHA compliant. CMO members enjoy a lifetime of free renewal training.

✓

A Fantastic Value: Our resources are fairly priced and typically run a mere fraction of what classroom training costs.
Our courses come with a 100 percent money-back guarantee. 

Frequently Asked Questions About Certify Me Online in Anaheim
Do you still have questions about how to get aerial lift certified in Anaheim? Here are the answers to a few of our most frequently asked questions:
Do I Need to be Aerial Lift Certified to Work in Anaheim?
Yes, all aerial lift operators must be certified before using aerial lifts.
Do I Need Experience to Start Training?
Experience is optional for Anaheim aerial lift certification training.
Are Aerial Lifts Really That Dangerous?
They can be very dangerous, particularly in the hands of untrained employees. Serious accidents in California highlight the risks involved with using such machines.

Sign Up Today for Anaheim Online Certification!
Start enjoying the benefits of a safer and more efficient workplace. Sign up for our aerial lift and aerial lift training now, and you can be qualified to start an exciting and rewarding new career tomorrow! If you're an employer, you'll rest easier knowing your workers are OSHA-compliant and your workplace is safer. Contact us online or call us at 602-277-0615 to learn more. Or, click here to register your company and get started today with your aerial lift certification in Anaheim!