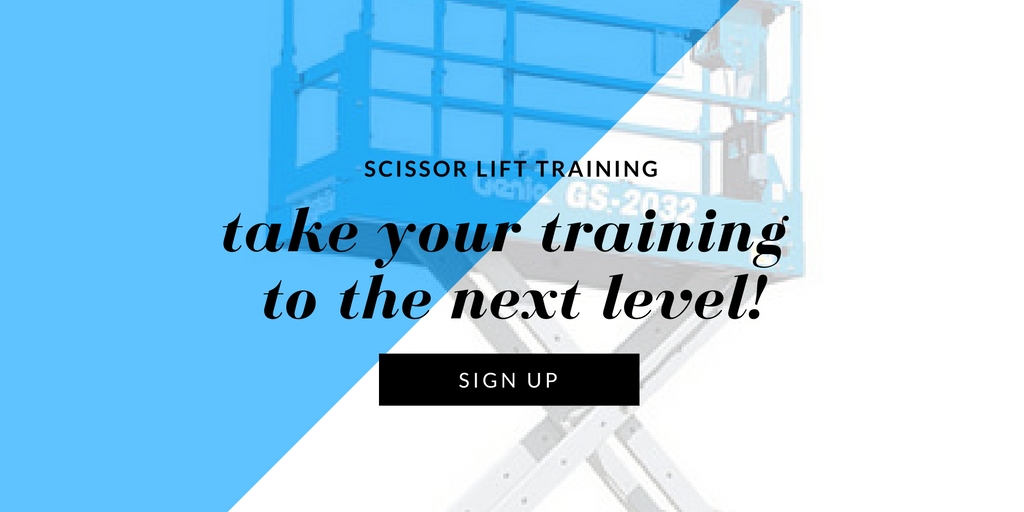 Scissor lifts are hydraulically powered aerial platforms used in a variety of maintenance and construction activities. To operate scissor lifts safely and avoid accidents, adequate safety training and a scissor lift operator's certification are required.
The Occupational Safety and Health Administration (OSHA) has set strict rules for workers who operate scissor lifts. An average of 26 deaths involving aerial lifts occur every year, and  approximately 25% of these fatalities involve scissor lifts. There are many hazards associated with operating scissor lifts , the most common of which are falls and ejections.
Wondering how to receive your scissor lift certification and avoid these hazards? Curious as to whether you need a scissor lift license to operate a scissor lift? You've come to the right place!

Do You Need a Scissor Lift Certification to Operate a Scissor Lift?
OSHA requires all persons who work with or near scissor lifts to be properly trained and certified. It's the responsibility of the employer to ensure operators are correctly trained and competent to operate scissor lifts. Scissor lift training should include both formal and practical instruction, and needs to cover how to operate various types of scissor lifts, perform inspections, assess the environment and avoid accidents.
OSHA emphasizes that the only effective way to prevent accidents that lead to equipment damage, worker injuries and workplace fatalities is through proper aerial and scissor lift training, such as the training offered by CertifyMeOnline.net. The benefits of our training extend beyond complying with OSHA standards. With CMO scissor lift training and certification, operators learn everything they need to know about scissor lifts, including:
• Safely operating a scissor lift
• Navigating around workers and equipment while operating a lift indoors
• Operating a scissor lift outdoors over various types of terrain
• How to safely operate all lift controls
• Performing equipment inspections
• Assessing the surrounding environment
• Preventing accidents by recognizing and avoiding hazards
Simply put, it's impossible to place a value on the benefits you and your employees will receive from quality scissor lift training. In the hands of an untrained or poorly trained operator, scissor lifts can be extremely dangerous, causing accidents leading to worker injuries and damage to property and equipment. The best way to prevent these accidents is through proper scissor lift training, such as is offered by CertifyMeOnline.net. In addition to accident prevention, scissor lift training saves employers time and money through reduced damage costs and increased worker productivity. Becoming a certified scissor lift operator is the best decision you can make for your career.
Scissor lifts are used on worksites across the country for everything from installing, maintaining, and repairing ductwork, electrical systems and other building components to lifting workers to tend to signage and lighting. Many industries rely on the versatility of scissor lifts used in their day to day operations. Scissor lift operators are in demand nationwide and enjoy a rewarding and virtually recession-proof career.
Some typical positions available to  scissor lift workers include:
• Operators
• Mechanics
• Project Managers
• Museum art installers
• Event lighting installers
• Sign installers
• HVAC installers and maintenance workers
• Tree trimmers
• Warehouse workers
• And many more!
To qualify for these positions, operators will need to be trained and certified by a reputable school. If your company's workers aren't yet certified, here are the steps you need to take for them to be OSHA-compliant operators:
1. Register your company on CMO's website
2. Create operator login information
3. Choose the aerial lift and scissor lift certification course or courses you need
4. Have your employees work through the online training modules and pass the exam
5. Have operators print the checklist needed for the in-person evaluation by a qualified trainer
6. After passing the exam and evaluation, download and print operator certification cards, which qualifies workers to begin operating scissor lifts
That's all there is to it! CMO makes it fast and easy to complete scissor lift training and become an OSHA-compliant certified scissor lift operator.
Need more reasons to choose CMO? Check out these additional benefits:
✓ No need for intense classroom training when you choose our step-by-step training system
✓ Avoid traffic and time away from work traveling to and from an offsite training facility
✓ Train using a digital device whenever it's convenient and wherever there's an internet connection
✓ Complete your training in as little as one afternoon
✓ Receive nationally accredited certification that will help you land a job anywhere in the country
✓ Be one step ahead of other scissor lift operators
What People Are Saying About CMO's Scissor Lift Training Program
Our online, interactive training takes the headache out of becoming a certified scissor lift operator. We'll provide everything you need to comply with OSHA requirements in a simple, easy to use, same day certification program.
Most other training programs require students to attend in-person classes that can last several days. This means taking time away from work for several days in a row while traveling to and from the school and attending classes. There's a much faster, easier and more affordable way to become a certified scissor lift operator, and that's through CertifyMeOnline.net. We've saved tons of time, money and stress for literally thousands of satisfied clients. Here's what two of them have to say about our training:
"I just wanted to compliment CertifyMe for its above and beyond customer service., I called in and was able to talk to an actual person. It caught me completely off guard. I completely expected the phone call to last an hour. The problem was handled within a minute's time." Thank you- Shane
"Thank you for your call this morning and for setting us up with your program. We look forward in getting our employees certified and not having to leave the office." Cheers, Lisa

Easy, Convenient, and Affordable Scissor Lift Certification and Renewal from CMO.net
The scissor lift certification course from CertifyMeOnline.net is fast, easy and affordable. Workers print copies of their Scissor Lift Operator's Certification Cards immediately after completing the program, which is proof of their having passed OSHA-approved scissor lift operator training.
CMO's online scissor lift certification training is simple to navigate and can be accessed using a smartphone, tablet, or laptop anywhere there's an Internet connection. No special skills are required.
Here's some of what students will learn through CMO's scissor lift certification course:
✓ How to recognize and avoid hazards associated with scissor lifts
✓ How to prevent scissor lift accidents
✓ How to inspect and maintain equipment in good working order to avoid costly repairs
✓ How to assess the environment to ensure the workplace is safe and hazard-free
CMO's Scissor Lift Certification is Also for Employers
OSHA makes it the employers responsibility to see that all scissor lift operator are properly trained and certified. In about an hour, workers can finish CMO's OSHA-approved scissor lift operator training course. Using a smartphone or other digital device, employees can complete their training any time and anywhere there's an Internet connection. It's never been faster, easier or more convenient for your company to become OSHA compliant by having your workers complete our scissor lift certification program. What's more, there's no charge for the renewal training OSHA requires every three years. CMO is your best choice for fast and affordable scissor lift operator certification.
Why wait? Get started today or call us at 602-277-0615 for more information or to find out about our group rates. All it takes is just five easy steps for your company and your employees to become OSHA compliant!