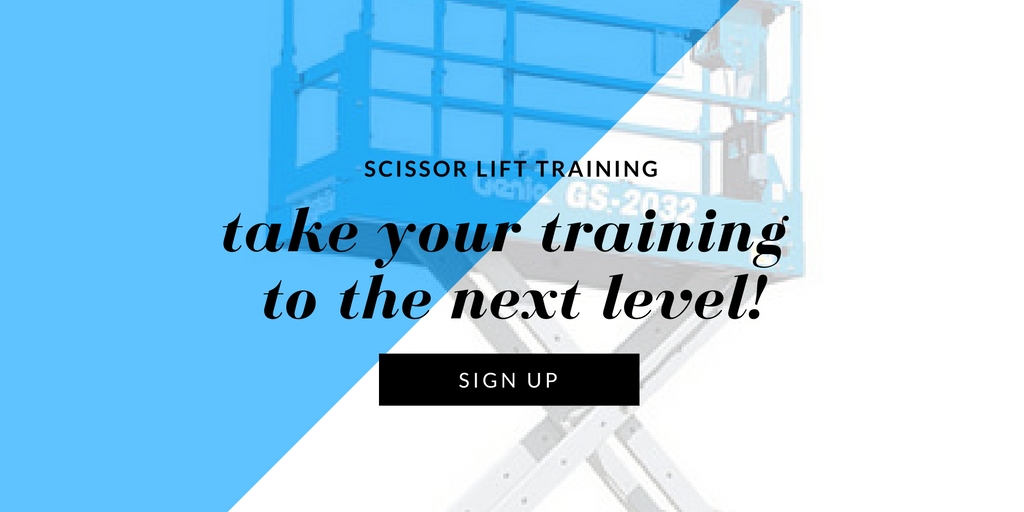 Scissor lifts are hydraulic-powered lifts used for maintenance and construction that require adequate safety training to operate properly and avoid accidents. The Occupational Safety and Hazards Administration (OSHA) has set strict rules for all workers who wish to operate scissor lifts. Deaths from scissor lifts account for about 25% of all aerial lift fatalities that occur every year which average at about 26. There are many hazards associated with scissor lifts with the most common being falls and ejections from the lift.
OSHA stresses that the only truly effective way to prevent accidents that lead to injuries and deaths is with proper aerial lift and scissor lift training. With this training, workers will learn all about the hazards associated with scissor lifts and how to recognize and avoid them, how to prevent accidents, how to comply with OSHA standards and regulations, how to inspect the equipment to keep it in good working condition to avoid costly repairs, and, finally, how to assess the environment to ensure each work day is a safe, hazard-free one.
To put it simply, you can't put a price on the value you and your workers receive from quality scissor lift training. Because it truly benefits everyone involved and not only helps to prevent dangerous accidents but also saves time and money.
Scissor Lift Training Doesn't have to be Complicated or Frustrating; See the Proof!
Our online, interactive, training takes care of the headache and get's you everything you need to comply with OSHA in a simple, easy to use, same day certification program. Most other training programs require students to attend in-person classes that can last several days, and to sacrifice valuable time traveling and expenses on transportation to attend. But there's a much better way to complete the quality training you need and which we have created to help get you prepared and confident to operate scissor lifts and aerial lifts without the hassle.
In fact, here's what some of my customers have said:
"I just wanted to compliment CertifyMe for its above and beyond customer service., I called in and was able to talk to an actual person. It caught me completely off guard. I completely expected the phone call to last an hour. The problem was handled within a minute's time." Thank you- Shane
"Thank you for your call this morning and for setting us up with your program. We look forward in getting our employees certified and not having to leave the office." Cheers, Lisa
Easy, Convenient, and Affordable Scissor Lift Certification and Renewal
My 5 Simple Steps process even allows you to print copies of your Forklift Operator's Certification Cards the instant you complete the course — giving you 100% professional level PROOF that you passed with flying colors (for HR, risk management, and the boys at OSHA). You'll instantly PROVE that your guys did the work and passed the test (they just don't have to know how EASY it was).
You don't have to be a computer nerd to complete my simple course — so even if you've never opened an email or "surfed the net", you can still master the program like an old pro right out of the gate.
You'll quickly learn how to train and certify operators from any computer with an internet connection. You already use the internet to communicate with your employees and cut costs. Learn the secret to harness the same power to easily train and certify forklift operators without all the fuss and headaches.
You and your operators will be OSHA certified, in about an hour of their time and not much more than 10 minutes of your time—they can do it over a couple breaks, while they eat lunch, heck, they can even do it from home. It's never been fast or more convenient to get your company in compliance.
Why wait? Get Started or contact us for assistance and group rates.