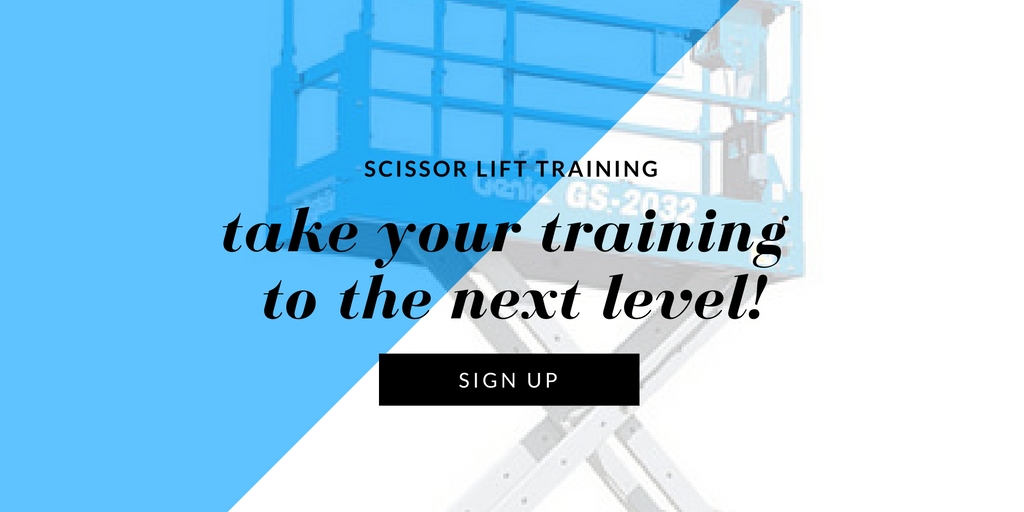 Scissor lifts, which are hydraulically powered aerial work platforms (AWPs), are commonly found on jobsites throughout the country. They're highly efficient pieces of heavy equipment used for a variety of tasks related to maintenance, construction and materiel handling activities. To operate scissor lifts safely and avoid serious workplace accidents, however, all employees who work with or from scissor lifts are legally required to complete OSHA-approved operator certification and safety training classes, and that's where CertifyMeOnline.net can help.
Business owners or managers who are unsure whether their employees need scissor lift licenses to operate the equipment on their jobsites or at their places of business need to be aware that scissor lift operator certification is required by OSHA, which makes it the law. CertifyMeOnline'net's online scissor lift license classes provide a fast, convenient and affordable way to certify your workers in as little as an hour.

Why Scissor Lift Certification is Important
OSHA requirements make it illegal for any person to work with, on or around scissor lifts unless he or she has been properly trained and certified. According to their regulations, it's the employers' responsibility to ensure that each of their operators receives OSHA-approved training and are capable of safely operating scissor lifts before they're legally allowed to use the equipment. The training needs to include both formal and practical instruction, as well as demonstrating how to operate various types of scissor lifts, perform routine maintenance and equipment inspections and to assess the surrounding environment for potential hazards that could result in accidents. OSHA guidelines make it clear that the only effective means of preventing serious workplace accidents is through proper scissor lift training, such as the online aerial lift and scissor lift certification programs offered by CMO.
The benefits of our training go beyond simply complying with OSHA standards. When you choose CertifyMeOnline.net to train and certify your company's scissor lift operators, your workers will learn everything they need to know about operating and maintaining scissor lifts. Here are some of the topics covered in our comprehensive online scissor lift certification programs:
✓ How to safely operate a scissor lift under various working conditions and workplace situations
✓ Identifying and using scissor lift controls
✓ Navigating around pedestrians, equipment and jobsite obstacles
✓ Operating scissor lifts on slopes and outdoors over various types of terrain
✓ Loading, moving, lifting and unloading cargo
✓ Performing scissor lift inspections and routine maintenance
✓ Keeping scissor lifts in good working order and condition to avoid costly repairs
✓ Assessing the surrounding environment for potential hazards that could cause accidents
Scissor lifts can be extremely dangerous pieces of equipment in the hands of untrained or improperly trained workers, and can lead to accidents that result in damage to property and equipment, as well as serious employee injuries or even death. That's why it's illegal for employers to allow workers to operate scissor lifts without OSHA–approved scissor lift certification training.
OSHA scissor lift certification requirements help employers and employees alike by preventing accidents and protecting lives. The training can also help employers by protecting them from penalties, fines and potential litigation. OSHA can impose fines as high as $124,709 on employers if they're caught using untrained operators. For each infringement, fines can be between $7,000 and $12,471, and in addition to fines, employers face up to one year in prison for serious violations.
Complying with OSHA standards may seem like an unnecessary inconvenience but it's in fact a set of standards that protect both your employees and your business. It's virtually impossible to place a value on the benefits owners and employers receive from CMO's OSHA-approved scissor lift operator training courses. The fastest, most convenient and most affordable way to prevent accidents is to enroll your employees in CertifyMeOnline.net's online scissor lift certification training. In addition to preventing accidents, proper scissor lift training will save your company time and money through reduced damage costs, equipment downtime and increased worker productivity.
Have Your Scissor Lift Workers Trained and OSHA Certified Today!
You're in serious violation of OSHA regulations if your company's scissor lift operators haven't been properly trained and certified. You're also risking penalties, fines and potentially crippling litigation. Here are the five simple steps for your employees to receive their scissor lift certifications and become OSHA compliant:
1. Create an account: Register your company on our website. It takes just a couple of minutes and is free.
2. Register each employee, create usernames and assign passwords: Scissor lift certification payment can be made online using a credit card and costs just $75 per employee.
3. Trainees Log in to the Company Account: Students can sign in at their convenience from any computer or digital device anywhere there's an internet connection.
4. Take the Test: Working at their own pace, students watch the online training modules and take the quizzes as they go along. There are no time limitations for the training, although some students complete the course and tests in about an hour. CMO's pass rate is 100%.
5. Download Operator Cards and Onsite Evaluation Checklists: After completing the scissor lift training course, temporary operator cards and certificates are immediately available, along with the operator evaluation checklists – just download and print them.
That's all there is to it!  Once the company's safety coordinator determines through a "hands on" evaluation that the students are capable of safely operating scissor lift equipment, your newly certified scissor lift operators are ready to work!
In as little as an hour, your workers can complete CMO's OSHA-approved scissor lift operator training and receive their scissor lift certifications. All training materials are online and accessible 24/7 using a smartphone, tablet, laptop or other digital device. Your employees can complete their training any time that's convenient and anywhere there's an Internet connection. You can't afford the risk of being non-compliant – have your workers receive CMO aerial lift certification training today!
It's never been faster, easier or more convenient for your company to become OSHA compliant than by having your workers complete CMO's online scissor lift certification program. What's more, there's never a charge for the mandatory renewal training OSHA requires every three years or whenever a scissor lift is involved in a workplace accident. Without question, CMO is your best choice for fast, convenient and affordable OSHA-approved scissor lift certification.
More Reasons to Choose CMO for Scissor Lift Certification
Our online scissor lift certification program takes the headache out of having your employees properly trained to become certified scissor lift operators. We'll provide everything needed for you to comply with OSHA requirements through an affordable and easy to use certification program that can be completed in as little as an hour.
Most other training programs require students to attend expensive, off site live training classes that can last several days. This means they'll need to take time away from work and fight traffic while traveling to and from classes.  CMO's online training program is a much faster, easier and more affordable way for your employees to become 100% OSHA-approved certified scissor lift operators. We've saved time, money and stress for literally thousands of satisfied clients throughout the country with our online OSHA compliant scissor lift training program. Here's what two of them have to say about our Customer Service:
"I just wanted to compliment CertifyMeOnline.net for their above and beyond customer service. I called in and was able to talk to an actual person, which caught me completely off guard. I expected the phone call to last an hour, but my problem was handled within a minute's time. Thank you" – Shane
"Thank you for your call this morning and for setting us up with your program. We look forward to getting our employees certified without even having to leave the office. Cheers"- Lisa
It's now more important than ever for employers to arrange scissor lift certification classes for their employees. The American National Standards Institute (ANSI) recently updated standards A92.22-2018 & A92.24-2018 for the first time in more than 10 years. This update affects all aerial lift and boom lifts operators and their employers. Previous standards are outdated as of March 2020, which means employers need to update their operators' scissor lift certifications to include the mandatory new requirements. Enroll your operators now to comply with ANSI standards and remain OSHA compliant.
After your workers complete CMO's training and become certified lift operators, you'll find that they're more confident in operating the equipment and more proficient at doing their jobs, which will translate to increased productivity. CertifyMeOnline.net's scissor lift operator training is unquestionably the most efficient and convenient way for your workers to become qualified scissor lift operators and by far the best means of preventing serious workplace accidents.

FAQs
Here are some questions we're frequently asked about our online scissor lift certification training:
Q: What is lift certification?
A: lift certification issued by an OSHA-approved trainer such as CertifyMeOnline.net is official verification of a person having been trained to properly work with and around aerial lifts, scissor lifts and other AWPs When you choose CMO for OSHA compliant scissor lift certification, training yourself or your workers is fast, easy and affordable.
Q: How long is scissor lift certification good for?
A: After your employees complete CertifyMe.net scissor lift operator training, their scissor lift licenses are valid for three years. OSHA originally established operator training and certification requirements to ensure employers always have qualified and properly trained drivers on the job. Whether your workplace is a construction site, warehouse or anywhere else scissor lifts are used, your operators will need to be recertified a minimum of every 36 months. Our lifetime free three-year renewal training is one more reason to enroll your drivers in CertifyMeOnline.net's online program!
Q: Who can operate a scissor lift?
A: OSHA guidelines state that only workers who have been properly trained should be allowed to operate scissor lifts. Employers need to be sure that their employees can demonstrate they're capable of properly and safely operating the equipment. Enrolling your employees in CMO's Aerial Lift Certification Program will ensure operators receive the training they need to use scissor lifts in the workplace.
Enroll Your Scissor Lift Operators Today!
When you use CertifyMeOnline.net to have your employees receive their scissor lift certifications, the process is fast, convenient and affordable, so why put it off any longer? You can't afford the risk of non-compliance – have your workers receive scissor lift certification training today! Click here to get started with registration or call us at (602) 277-0615 to speak with one of our OSHA experts about our scissor lift training programs and your company can be OSHA compliant in as little as an hour!