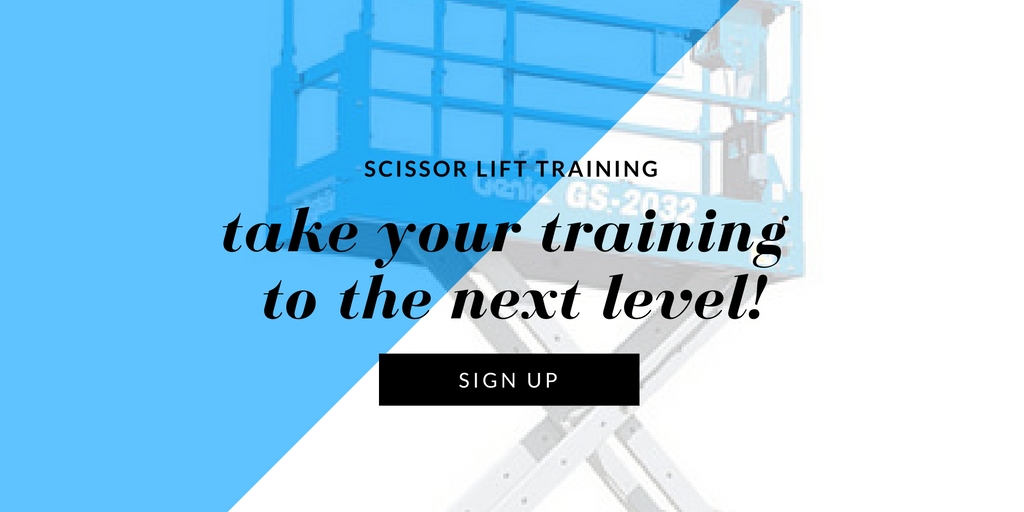 Scissor lifts are hydraulic-powered lifts used for maintenance and construction that require adequate safety training to operate properly and avoid accidents. The Occupational Safety and Hazards Administration (OSHA) has set strict rules for all workers who wish to operate scissor lifts. Deaths from scissor lifts account for about 25% of all aerial lift fatalities that occur every year which average at about 26. There are many hazards associated with scissor lifts with the most common being falls and ejections from the lift.
So the question is, "Do you need a license to operate a scissor lift?" Find out below!
Do You Need a License to Operate a Scissor Lift?
Yes, you do. OSHA regulations state that all personnel who work with or near scissor lifts must be trained and certified. It is an employer's duty to ensure operators are competent and confident to operate scissor lifts safely following the successful completion of training. Training should include both formal and practical instruction, and cover how to operate the different types of scissor lifts, perform inspections, assess the environment, and prevent accidents.
OSHA also stresses that the only truly effective way to prevent accidents that lead to injuries and deaths is with proper aerial lift and scissor lift training.
However, the benefits of this training extend way beyond being compliant with OSHA standards. With scissor lift certification training, workers will learn everything they need to be excellent employees, including:
- Scissor Lift Operator
- Scissor Lift Mechanic
- Project Manager
- Museum Worker (for installing art)
- Event Lighting Worker
- Retail Mall Employee
- And more!
To put it simply, you can't put a price on the value you and your workers receive from quality scissor lift training. Scissor lifts can be dangerous and cause accidents that can lead to injuries and structural and equipment damage. The best way to prevent these accidents is through proper scissor lift training. So, do you need a license to operate a scissor lift? It's the best decision you can make for your career.
In addition to preventing accidents, training can also save time and money from reduced damage costs and increased productivity.
Scissor lifts are used on many worksites across the country. From installing, maintaining, and repairing duct work, electrical systems, and other building components to lifting workers to tend to signage, lighting, and more; many construction and other commercial industries have come to rely on the power of scissor lifts. Equipment workers continue to be in demand across a multitude of industries nationwide, and all benefit from a recession-proof career that is always valued.
Some of the most common positions available for scissor lift workers include:
- The hazards associated with scissor lifts and how to recognize and avoid them
- How to prevent accidents
- How to inspect the equipment to keep it in good working condition to avoid costly repairs
- How to assess the environment to ensure each work day is safe and hazard-free
However, in order to qualify for these positions, you must obtain a scissor lift license from a reputable company.
 Scissor Lift Training Doesn't have to be Complicated or Frustrating – Read Why People Love Our Scissor Lift License Program
Our online, interactive, training takes care of the headache and gets you everything you need to comply with OSHA in a simple, easy to use, same day certification program. Most other training programs require students to attend in-person classes that can last several days, and to sacrifice valuable time traveling and expenses on transportation to attend. But there's a much better way to complete the quality scissor lift license training you need, and which has saved tons of time, money, and stress for many of our happy customers:
"I just wanted to compliment CertifyMe for its above and beyond customer service., I called in and was able to talk to an actual person. It caught me completely off guard. I completely expected the phone call to last an hour. The problem was handled within a minute's time." Thank you- Shane
"Thank you for your call this morning and for setting us up with your program. We look forward in getting our employees certified and not having to leave the office." Cheers, Lisa

Easy, Convenient, and Affordable Scissor Lift Certification and Renewal
My 5 Simple Steps process even allows you to print copies of your Forklift Operator's Certification Cards the instant you complete the course — giving you 100% professional level PROOF that you passed with flying colors (for HR, risk management, and the boys at OSHA).
The online scissor lift license course is simple to navigate and can be accessed on any device with an internet connection, whether a smartphone, iPad, or lap top. No special tech skills required!
You and your operators will be OSHA certified, in about an hour of their time and not much more than 10 minutes of your time. Your employees can do it over a couple breaks, while they eat lunch, heck, they can even do it from home. It's never been faster or more convenient to get your company in compliance with OSHA and get all your workers the high-quality scissor lift certification and 3 year renewals they need. You or your workplace doesn't need to wonder the question, "Do you need a license to operate a scissor lift?" anymore. CMO is the easy answer for quick and affordable scissor lift certification.
Why wait? Get started or contact us for assistance and group rates today! All it takes is five easy steps to get your scissor lift certification!