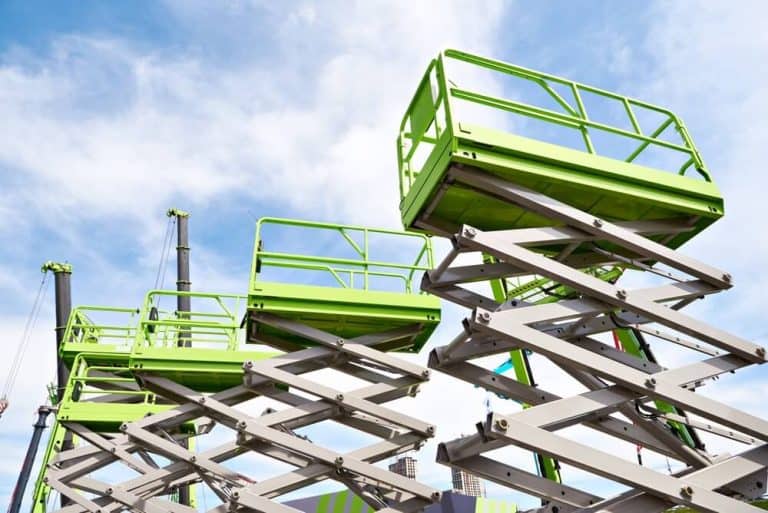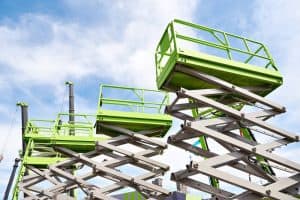 At CertifyMeOnline.net, we offer a comprehensive training solution to ensure 100 percent OSHA compliance. To meet scissor lift certification requirements, our programs cover both Operator and Trainer Certification. These classes are designed for quick and efficient compliance. If you need a scissor lift certification that encompasses all types of aerial lifts (including cherry pickers, boom lifts, manlifts, etc.), look no further than CMO for assistance.
What Are OSHA's Scissor Lift Certification Requirements?
Scissor lift certification requirements are straightforward. OSHA requires all scissor lift operators to be trained and certified before beginning work. Employers are required to offer training and certification opportunities. It is up to the employer to ensure that each employee who handles scissor lifts is trained and experienced. 
CMO offers comprehensive training – workers will walk away knowing to identify and avoid the most common scissor lift hazards. Trainees will also understand the intended uses of lifts and their maximum load carrying limits. They'll learn how to use scissor lift scaffolding, and how to operate these machines effectively as well as safely. Equipment maintenance is also covered in detail.
Don't forget to review OSHA scissor lift license requirements, too. This ensures your business can provide its scissor lift operators with appropriate training to ensure they always have a valid license.

Additional OSHA Scissor Lift Requirements
OSHA scissor lift training requirements aren't the only ones mandated by OSHA. While training can provide an excellent foundation for scissor lift operators, proper use is just as important. When safety recommendations are ignored, scissor lifts can cause serious injuries and even death. That's why OSHA has created a helpful guide outlining the most dangerous scissor lift hazards and how to avoid them. Let's look at scissor lift safety tips associated with these components and how to prevent accidents:
Fall Protection
Scissor lifts must have adequate guardrails. Lift operators must only stand on the platform and not on the guardrails. All work should be kept within easy reach of the lift.
Stabilization
Scissor lift operators must follow the manufacturer's instructions at all times. They should use traffic control measures and other barriers to isolate a lift. Also, they should choose work locations with level, firm surfaces away from bumps, drop-offs, holes, and slopes.
It is paramount that scissor lift operators never use a lift in high winds or other harsh weather conditions. They should never exceed a lift's load rating.
Positioning
Scissor lift operators must avoid getting close to a fixed object while moving a lift. They should separate scissor lifts from all moving vehicles at job sites. And, they must be aware of all overhead objects like door frames and beams that can come in contact with the lift.
Traffic controls can be used to prevent contact between a scissor lift and workers or vehicles. Ground guides can be used when moving a scissor lift. Lastly, a scissor lift must remain at least 10 ft. away from electrical power sources.
Meet Scissor Lift Training Requirements with CMO
We make it easy and affordable to get your employees trained and certified. Start by registering your company and signing up each operator in need of training. After creating student accounts, trainees will then complete the online program and quiz. They'll learn about all the most important OSHA scissor lift training requirements and safety standards. Finally, trainees will complete a hands-on evaluation where they will demonstrate what they've learned. After printing out their operator cards and certificates, employees will be legally able to operate scissor lifts at work.
Training is just $75 and covers the very latest OSHA guidelines. The course includes all relevant paperwork for students, as well as checklists to help with daily maintenance. When trainees need to recertify after three years, they can do so for free. Our helpful lessons are the key to avoiding aerial and scissor lift accidents. 
FAQs About Scissor Lift Training Requirements
Understanding OSHA scissor lift certification requirements is just the start. If you still have questions about how best to comply with OSHA rules, allow us to shed more light by answering a few frequently asked questions:
Does OSHA Require Certification for Scissor Lift Operators?
100% yes! Federal law mandates that every employer with scissor lift operators need to provide OSHA compliant training, instruction, and hands-on evaluation to ensure every employee is current with the latest OSHA safety standards and can also operate your scissor lifts efficiently.
How Long Does it Take to Complete Scissor Lift Training?
Our self-paced scissor lift training allows your employees to learn about OSHA scissor lift certification requirements at their own leisure. Many companies have full scissor lift certification within a few days, depending on individual work schedules.


How Long is a Scissor Lift Certification Good For?
Scissor lift certification is valid for three years. After three years, employers have to provide renewal training – which is included with CMO for free!
Is it Dangerous to Operate a Scissor Lift?
Yes – without proper scissor lift training or knowledge of OSHA scissor lift requirements. Like any other AWP or MEWP, scissor lifts require a solid understanding of the unique hazards associated with the equipment, along with maintenance requirements. CMO will show you how to get scissor lift certification the right way!
Why Should Employers and Employees Comply with OSHA Requirements and Regulations?
Quite simply, because it's the law. Plus, scissor lift training enables your entire organization to take part in making sure your workplace is as safe and productive as possible. Remember, it's illegal to have any employee operate a scissor lift or other AWP without compliance and OSHA scissor lift training requirements.
Will OSHA change its scissor lift certification requirements?
OSHA scissor lift training requirements can be impacted by changing safety rules and regulations. For example, a key 2018 update from ANSI illustrates the need to have a knowledgeable training partner. When ANSI changed ANSI A92.22 Safe Use and A92.24 Training Standards for Mobile Elevating Work Platforms (MEWPs), new requirements were created for safety programs and risk assessments.
With CMO, you don't have to worry about changing OSHA scissor lift requirements, since our training is automatically updated to reflect any updates! We'll handle the heavy lifting for your scissor lift training, whether you're due for an inspection or simply want to get everyone up to speed ASAP!

Follow OSHA's Scissor Lift Training Requirements Today
One glance at OSHA's scissor lift certification requirements may have you feeling overwhelmed. Thankfully, CMO makes them incredibly simple to navigate. Our comprehensive online courses allow you to train and certify in about an hour. Once you know the fundamentals, you'll have everything you need to start operating scissor lifts safely and effectively. We offer free lifetime certification renewals so you'll always be in compliance with OSHA regulations.
Have questions about training requirements? Our OSHA experts are standing by to clarify. Call us today at (602) 277-0615. If you're ready to master OSHA scissor lift requirements and get OSHA compliant as soon as possible, register your company with CMO now.