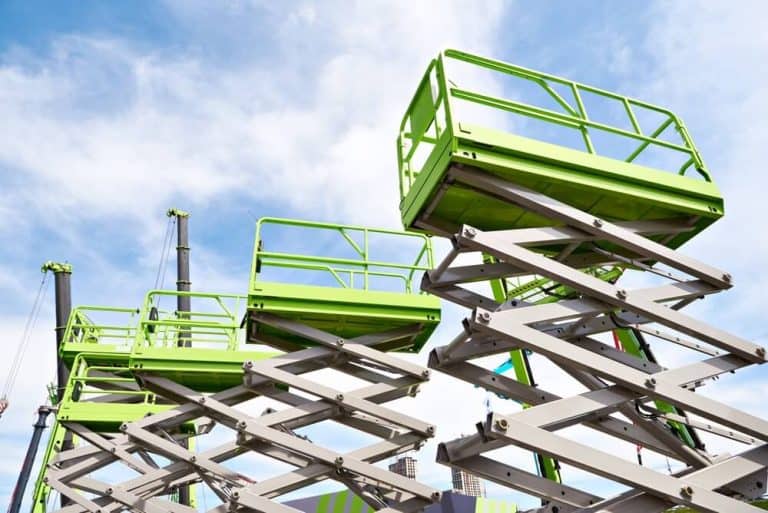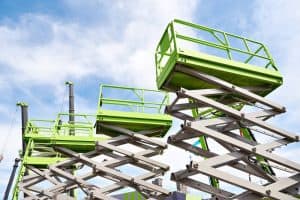 Scissor lifts are incredibly powerful pieces of equipment. It's no surprise that they're found transporting workers throughout the construction, retail, manufacturing, and entertainment industries. Operators must be trained and per OSHA regulations to use these machines. OSHA scissor lift certification can help new operators learn the fundamentals of these incredible machines. OSHA scissor lift training is also required by law – fail to provide your employees with an opportunity to train, and you may face expensive fines. Since untrained operators are more likely to be involved in workplace accidents, it's essential to focus on training in your organization.
Understanding Scissor Lifts and OSHA Compliance
Scissor lifts are a type of aerial man lift. They are frequently used for interior jobs like maintenance, sign hanging, and construction. Compared with other boom lifts, they tend to have a lower platform height – most only reach between 20 and 50 feet. Still, scissor lifts are essential for safely elevating workers to complete indoor projects. It's easy to see why they're used in construction, retail, entertainment, and manufacturing.
Regardless of industry, OSHA requires all scissor lift operators to be trained and certified before operating these machines. We're frequently asked, "Does OSHA require certification for scissor lifts?" The answer is a resounding yes. OSHA scissor lift training requirements are clear: fail to provide operators with training, and your organization may be heavily fined.

Aerial Lift Certification Online
If you're searching for aerial lift certification online, you've found the most convenient and affordable option. CertifyMeOnline.com offers online training for scissor lift operators. It's available 24 hours a day, seven days a week, and can be accessed from any device with an internet connection. The course is self-paced, though most people finish the material in about an hour. Traditional scissor lift certification programs require you to travel off-site and spend a lot of time and money learning the fundamentals. CMO offers comprehensive training and an undeniable value. You'll save time and money by training with CMO – without sacrificing quality.
Aerial and Scissor Lift Certification Comparison
Curious about aerial and scissor lift certification and how they compare? They're more alike than you might realize. OSHA requires all forklift operators to be trained and certified before using such equipment. Whether you're relying on an aerial lift or a scissor lift to get work done, you'll need to be OSHA certified before you start using these machines.
Scissor lifts are easy to use and simple to move from one location to another. They're simple to operate and can be used across a variety of work environments, including outdoor spaces. They feature large platforms that allow more than one person to work at the same time. They tend to be cheaper and easier to store than aerial lifts.
By comparison, aerial lifts can reach great heights, even on rough or uneven terrain. Small platforms allow workers to operate in tight spaces and extend long distances horizontally. Regardless of which type of lift you're using, aerial and scissor lift certification is needed. Thankfully, CMO offers training programs for both of these types of lifts.
How Long Is Aerial Lift Certification Good For?
How long is aerial lift certification good for, you may ask? OSHA requires all lift operators to renew their certification every three years. Recertification is also necessary any time an incident in the workplace warrants refresher training. CMO offers free lifetime renewal training for operators. Every three years, you can log in to your account and renew your certification with a few simple steps. We keep our content updated to reflect the latest industry trends and techniques, ensuring you're kept in the loop on all the most important changes.
OSHA Scissor Lift Certification Requirements FAQS
Still have questions about OSHA scissor lift certification? Allow us to answer a few frequently asked questions:
Does OSHA Require Training for Scissor Lift?
Yes, all scissor lift operators must be trained and certified before they begin working. Employers are required to provide this training. Fail to do so, and your company may face fines and other penalties.
How Long Does a Scissor Lift Course Take?
The answer depends on where and how you're completing training. Courses typically last a day or two and require both a written and practical exam.
Are Scissor Lifts Considered Scaffolding to OSHA?
While scissor lifts might technically meet the definition of a scaffold, no OSHA provisions address scissor lifts in relation to scaffolding. Employers must comply with scissor lift training requirements regardless of how they plan to use forklifts around their job site.
Do I Need Training to Operate a Scissor Lift?
Yes, absolutely. Scissor lifts can be incredibly dangerous in the hands of untrained operators. To avoid workplace accidents and injuries, prioritize training in your organization.
Start OSHA Scissor Lift Certification Training Now
OSHA scissor lift certification training is essential for ensuring safety and regulatory compliance. Without a quality safety program within your organization, you're at an increased risk of accidents, injuries, fatalities, and OSHA penalties. CMO offers convenient, comprehensive online scissor lift certification. Given how much is at stake, you can't afford to have your operators uncertified. Make it your mission to train and certify each scissor lift operator within your organization today.

Follow OSHA's Scissor Lift Training Requirements Today
One glance at OSHA's scissor lift certification requirements may have you feeling overwhelmed. Thankfully, CMO makes them incredibly simple to navigate. Our comprehensive online courses allow you to train and certify in about an hour. Once you know the fundamentals, you'll have everything you need to start operating scissor lifts safely and effectively. We offer free lifetime certification renewals so you'll always be in compliance with OSHA regulations.
Have questions about training requirements? Our OSHA experts are standing by to clarify. Call us today at (602) 277-0615. If you're ready to master OSHA scissor lift requirements and get OSHA compliant as soon as possible, register your company with CMO now.