Get The Boom Lift Certification Your Employees Need Easily and Quickly
Why Obtaining Boom Lift Certification for your Employees is Important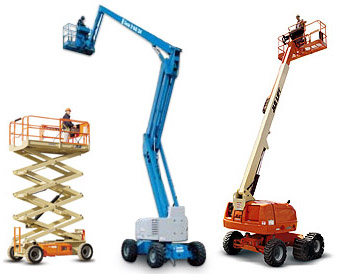 If you employ aerial lift workers, you need to be OSHA compliant. The best way to ensure you've covered in the case of an accident or audit is with an OSHA-approved trainer such as CertifyMeOnline.net.
Our lift certification courses help reduce workplace injuries and fatalities with specific job hazard recognition, greater safety awareness and other tools & resources. Proper boom lift certification training can also reduce the costs to repair damaged or destroyed inventory and equipment, and at the same time make workers more productive at their jobs. When your boom lift workers complete our lift certification training, it sends a message that you take their safety seriously. When your employees see you making safety a priority, they'll make it a priority as well. Everyone benefits from CMO's lift certification training.
Benefits of Enrolling your Workers in CMO's Boom Lift Training
When you choose CMO to certify your boom lift operators, you can be assured they're receiving the very best training available. Here are just some of the many benefits of training your boom and scissor lift workers with CMO:
✓ CMO's aerial lift training is fast, easy and affordable. All class materials are available online 24/7. There are no time limits, although our boom lift training can be completed in about an hour. Trainees work at their own pace using a smartphone, tablet or similar digital device anywhere there's an internet connection Most students pass the first time, although the course can be repeated as many times as necessary (our pass rate is 100%),.
✓ Our training is 100% OSHA compliant:
Once your workers complete our boom lift certification training, your workplace will be safer and more productive, and your business will be covered in the event of an OSHA audit.
✓ Avoid OSHA penalties and fines:
You'll reduce the risk of incurring severe penalties and fines. net conducted a survey of more than 100 business owners, managers and safety personnel to find out about their experiences with OSHA. Over half of the respondents indicated they had been audited by OSHA, and of these, 18% received fines, most of which were over $100,000! Click here to see the entire study.
✓ CMO training is affordable:
You don't need to spend a lot of money to have your operators trained. Our boom lift and scissor lift training program costs just $75 per employee
✓ CMO online training is convenient:
Our courses can be taken any time and anywhere there's an internet connection – at a coffee shop, during a lunch break or at home. When CMO trains your operators, there's no need for them to take time off work driving to and from expensive offsite training
✓ Aerial lift operator certifications are immediately available:
After your employees complete CMO's training, their boom lift certifications and operator licenses can be immediately downloaded and printed, making it legal for them to operate aerial lift equipment. There's no need to wait for licenses to arrive in the mail.
Get Lift Certification & Training Today with CMO!
Here's our course lineup – just pick the lift certification your company needs and we'll help get your workforce OSHA compliant in no time!
Aerial Lift Certification Course Selection
Here's our course lineup – just pick the lift certification your company needs and we'll help get your workforce OSHA compliant in no time!
Train the Trainer Certification – Aerial Lift/Scissor Lift – Popular Aerial Lift Certification Course
$149.00
Aerial Lift and Scissor Lift – Boom Lift Certification
$75.00
Aerial Lift and Scissor Lift – Spanish – Boom Lift Certification for Bi-Lingual Workers
$75.00
Class 7 Aerial Lift Certification and Lift Certification
• Rough Terrain Forklift Trucks
• Straight mast forklift
• Extended reach forklift
All courses just $75.00 each.
Class 7 – Spanish – Aerial Lift Certification
• Rough Terrain Forklift Trucks
• Straight mast forklift
• Extended reach forklift
All boom lift certification courses only $75.00.
Fall Protection – Aerial Lift and Boom Lift Certification – $75.00
Fall Protection – Spanish – $75.00
Our lift certification is perfect for aerial work platform (AWP) and mobile elevating work platform (MEWP) workers, cherry picker operators, boom lift employees and other aerial lift operators.

Register your company and get started today with our OSHA compliant lift certification!
If you're a safety supervisor or company contact for OSHA inquiries, not having lift certification can result in hefty fines and penalties. If you're an employer and there are unlicensed boom lift operators on your payroll, it's extremely important that they're trained and certified as soon as possible. In about an hour, you can protect your business against OSHA fines and penalties, so why put it off any longer? Enroll your boom lift and scissor lift operators in CMO's boom lift certification classes today!
OSHA considers boom lift certification to be a very important factor in the reduction of workplace accidents involving boom lifts and scissor lifts. The agency imposes severe penalties and fines on employers that fail to provide this required training for their employees. Willful violations such as allowing an untrained worker to operate a boom lift can result in fines that exceed $100,000.
As an employer, you've undoubtedly worked hard to build a business, and your employees have worked hard to help your business succeed.  Just one OSHA boom lift violation, however, can cost you a lot of money or worse yet, critically injure or take the life of an employee. That's why our lift certification program is so important. You'll not only protect your company assets, but you'll protect your most valuable asset of all – your employees! This includes anyone operating MEWPs, AWPs, cherry pickers, boom lifts, and other aerial lifts.
No one wants to be responsible for the injury or death of an employee, but if you fail to provide boom lift certification for your boom lift workers, you can be held accountable. Our mission at CMO is to help keep these sorts of accidents from occurring.
Lift Certification Requirements
OSHA investigates numerous boom lift violations each year, many of which involve accidents that lead to injuries and death. Four of the top 10 violations among small companies involve aerial lifts, which highlights the need for an affordable method of getting boom licenses, such as CertifyMeOnline.net's OSHA-approved training and certification classes.
OSHA requires all employers who have boom lift operators on the payroll to follow certain safety guidelines, including providing their workers with a safe and hazard-free workplace. For the safety of all concerned, this means only workers who complete OSHA-approved boom license training are allowed to operate boom lifts.
Boom lift operator certification is vital for workplace safety. As an employer, OSHA holds you directly responsible for having your boom lift operators:
✓ Properly trained and certified
✓ Comply with all regulations applicable to Aerial Work Platforms (AWPs)
✓ Pass a hands-on evaluation conducted by a qualified individual
✓ Keep up to date with the latest OSHA requirements and guidelines
✓ And there's a lot more, all of which are covered in CMO's boom license course
Employers are also required to provide refresher training for their boom lift workers a minimum of every three years. Our initial aerial lift and boom lift training includes free license renewals for life, which means you only need to pay one time to train and certify your employees. For help with boom lift operator license certification and renewal training, contact CMO today. We make it fast, easy and affordable for your operators to become and remain OSHA compliant.
What's Covered in CMO's Boom Lift Certification Training
OSHA makes it illegal for anyone to work on or around boom lifts and scissor lifts unless the person has been properly trained and certified. The employer is directly responsible for ensuring that each operator receives OSHA-approved training and is capable of safely working with the lift equipment.
To comply with OSHA's requirements for boom lift operator certification, employers need to have their drivers successfully complete a training program that consists of formal classroom-style instruction, a written exam and a "hands on" driving skills evaluation. 
Here's some of what's covered in our online boom lift certification training:
✓ Identifying and using a boom lift's controls
✓ Operating various types of boom lifts, including telescopic and articulating lifts
✓ Using body harnesses, lanyards and other personal protective equipment (PPE)
✓ Maneuvering and driving under various working conditions and on different types of terrain
✓ Maneuvering under and around fixed obstacles
✓ Recognizing and avoiding jobsite hazards
✓ Performing pre-operation equipment inspections and routine maintenance
✓ Operating lift equipment when pedestrians are present
Enroll Your Employees Today
With so many benefits for both employers and workers, CMO is the smart choice for scissor lift and boom lift certification online training, so why wait? The costs of non-compliance, which include accidents, injuries, heavy fines and penalties are simply too severe to ignore. To get online boom lift certification for your employees or if you have questions about CMO's boom lift and scissor lift programs, call us today at (602) 277-0615 to speak with one of our OSHA experts.

FAQs
Here are some questions we're frequently asked about our online boom lift certification training, along with our answers:
Q: What is a Boom Lift Certification?
A: Boom lifts are one of several types of aerial lifts, or aerial work platforms (AWPs) that elevate workers to perform tasks above ground When mounted on a truck, they're sometimes called cherry pickers. The two primary types of boom lifts are telescopic lifts, which can be raised and lowered vertically and articulating lifts that can be maneuvered both vertically and horizontally. A boom lift certification is validation that the holder has been trained and certified to operate boom lifts and other aerial lift equipment by an OSHA compliant trainer such as CertifymeOnline.net.
Q: How Can Boom Lift Accidents be Prevented?
A: If you are a small business owner who uses scissor lifts and boom lifts in the workplace, preventing accidents involving lift equipment should be a top priority. CMO can help make sure your workforce is properly certified to operate boom lifts and scissor lifts. We can provide scissor lift and certifications in less time and at a fraction of the price of most other trainers.
Q: What are the Differences Between Boom Lifts and Scissor Lifts and the Training for Each?
A: OSHA classifies boom lifts as aerial lifts and scissor lifts as scaffolding. The main differences between the two are dealing with the types of hazards associated with each. For example, OSHA requires aerial lift workers to use fall protection such as harnesses and lanyards, but does not require them when working on a scissor lift. Here are other differences between boom lifts and scissor lifts:
Boom Lifts
✓ An operator controls the lift and its work platform while another worker performs the tasks at hand while standing on the platform
✓ The work platform on a telescopic boom lift can be raised vertically, while articulating boom lifts can be maneuvered both vertically and horizontally
✓ Boom lifts are not to be driven with the platform extended
✓ Boom lifts are equipped with brakes and outriggers, which should be set to stabilize the lift whenever the arm is extended
✓ Boom lift workers must always wear fall protection equipment while working, including full-body harnesses and lanyards
Scissor Lifts
✓ All lift controls are inside the platform and operated by the driver
✓ Scissor lifts have a scissor-like extension system that can only raise the platform vertically
✓ Scissor lifts are meant to be used on flat, even surfaces
✓ Once the vehicle has stopped and is stationary, the platform can be raised to the desired working height
✓ Scissor lifts should never be positioned near objects, whether they're fixed or movable
Q: How Long is a Boom Lift Certification Good For?
A: After 3 years, you'll need to recertify your workers to show they're still up to speed with OSHA safety regulations and guidelines. With our boom lift certification and AWP training, renewal training is included with your purchase! Sign up today and register your company!
Q: What are Some Common Boom Lift Hazards?
A: Probably more than you think. Just some job hazards associated with boom lifts include overhead obstacles (trees, bridges, etc.), electrical hazards (telephone wires), weather, unstable or uneven ground, and many others. Talk to a few AWP operators, and you're likely to hear a wide range of dangers associated with the job you weren't even aware of. But we're fully aware of them, and they're included with our lift certification and AWP training. With our lift certification, your workers will have the knowledge and safety skills to perform up to the latest OSHA requirements!
Have more questions?  Call us today at (602) 277-0615 large to speak with a CMO team member about our OSHA compliant boom lift and scissor lift programs.
If you're ready to boost your company's safety program today, protect your employees and become OSHA compliant, register with CMO and we'll put you on the path to compliance!