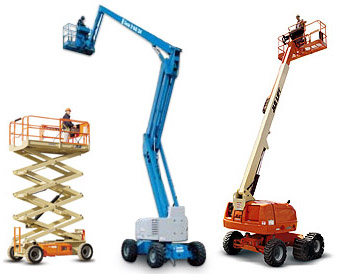 Boom lifts and scissor lifts are the large pieces of equipment that hoist workers up into the air to perform various construction-related and maintenance tasks. You may see these machines and workers in the following areas:
– Building sites
– Underneath electrical wires
– Washing windows
– Landscaping and servicing tall trees
– Signage and lighting installation
– And much more
Boom lift workers are needed everywhere, in every city across the nation. But not just anyone can operate them. A boom lift license is required by anyone that operates this equipment. According to OSHA, employers are responsible for this training. Only trained personnel who know how to operate a boom lift can operate them safely and avoid hazards. Provide your workers with a high-quality boom lift certification from a trusted source: CertifyMeOnline.net (CMO).
CMO has the aerial boom lift certification training and scissor lift instruction you need to become OSHA compliant. Without the proper training in place, you can't operate a boom lift, aerial lift, or scissor lift in the United States. OSHA guidelines require an aerial lift boom certification for all workers who use lifts, even if it's only a few days out of the year.
We think safety is the most important part of the job – for any job. That's why we offer boom license and aerial boom lift certification online for beginners, veteran equipment operators, and everyone in between.
What is a Boom Lift Certification and What Types of Jobs Use Them?
You've most likely heard of aerial lifts, and you might be wondering, "what is a boom lift, and how do the two differ?" Boom lifts are also commonly called aerial lifts or cherry pickers and are sometimes mounted onto a truck or come with an extendable arm to reach impressive heights. They are used for all sorts of tasks in the workplace
In order to utilize boom lifts to their best advantage and to avoid devastating accidents, boom lift certification online is required. And no other training source gives you the through, affordable, accessible boom lift certification like CertifyMeOnline.net!
That's were CMO comes into the training equation. Our aerial boom lift certification is ideal for anyone that requires training.  And because our sessions are available online, you can get your boom lift license on your terms. No worries about traveling offsite to an expensive 3rd party training provider. Just sign up, and start taking your boom lift certification requirements today – before you know it, you'll be OSHA compliant – and a better aerial lift or scissor lift operator, too!
Common Boom Lift Violations That Lead to Accidents
Operating such large, heavy equipment as boom lifts takes great responsibility from all workers involved. OSHA encounters many violations every year that often lead to injuries and fatalities. In fact, of the top ten violations for OSHA fines among small companies, four are connected in some way to aerial lifts:
– Training
– Training requirements
– Aerial lifts
– Fall protection
In 2008, these four violations together accumulated a total of 9,295 citations and $6.7 million in fines. This points to a huge need for boom lift certification training and scissor lift certification.
How Can Boom Lift Accidents Be Prevented? Get Your Boom Lift License Today!
If you are a small business owner and use both scissor and boom lifts, what can you do to make sure your workforce is properly boom lift certified and scissor lift certified? Let's just say it doesn't have to involve expensive courses and days of in-class education. CertifyMeOnline.net can take care of both scissor lift certification and boom lift certification at a fraction of the price and in a fraction of the time.
The Difference Between Boom Lifts and Scissor Lifts and Training for Each
According to OSHA, boom lifts are classified as aerial lifts and scissor lifts as scaffolding. This means that boom lifts require an education that teaches how to operate a boom lift specifically, and scissor lifts need training that covers scissor lift operation.
The main differences between boom lifts and scissor lifts are the range of hazards involved with each. For example, OSHA requires an employee in an aerial lift, but not a scissor lift, to use fall protection. The logic here is that if a worker on scissor lift or aerial lift platform falls outside the guard rails, the apparatus might tip over. The last thing the worker needs is to be is tethered to a piece of heavy machinery and pinned beneath it.
Here is an outline that best describes the primary differences between boom lifts and scissor lifts, and why it is important to receive both a boom lift certification and a scissor lift certification.
What is a Boom Lift?
– One operator controls the rig and manipulates the work platform, while another worker stands on the platform
– Boom lifts can elevate workers at an angle, horizontally, and vertically
– Boom lifts should not be driven with the platform extended
– Brakes and outriggers should be set to stabilize the extended lift
– Boom lifts should be placed on even ground
– All boom lift workers must wear fall protection equipment, including full body harnesses and lanyards
What is a Scissor Lift?
– all of the controls are inside the working platform and operated by a person on the platform
– Scissor lifts use a scissor-like extension system that raises the work platform above itself
– Scissor lifts are used over safe, even surfaces directly beneath the work area
– Once the vehicle is stationary, the platform is then elevated to the correct height
– Scissor lifts cannot be driven safely with the platform elevate
– If operated in rough weather or when overloaded, scissor lifts can be dangerous
– Do not position a scissor lift nearby large objects, both fixed and moving
The Importance of Obtaining Boom Lift Certification
The best way to prevent accidents with boom lifts is to ensure all workers receive adequate boom lift certification that teaches how to operate a boom lift specifically. Training can reduce injuries and fatalities by teaching workers how to recognize hazards, can reduce equipment costs and repairs, and can increase productivity.
Register with CertifyMeOnline.net today and join companies like Harley Davidson and Coca-Cola. Your employees will love you for doing your best to make sure they are not among the 20 people each year who lose their lives in boom lift and scissor lift-related accidents.
Boom Lift Certification Requirements
OSHA has created a set of requirements that all employers must follow who hire boom lift operators. According to OSHA, employers must provide a safe working environment that is free of hazards, which includes allowing only employees who are trained and certified to work with boom lifts. Boom lift certification is very important in the eyes of OSHA, and they fine and penalize workplaces that neglect to provide this essential education. For willful violations, like allowing an untrained worker to operate boom lifts, fines can reach over $100,000
If you're an employer, boom lift operator certification is imperative for safety. You're responsible for:
– Training
– Compliance
– Hands-on evaluation
– Keeping current with OSHA regulations
– And more
Plus, employers must provide refresher training for all boom lift operators.
If you need help with OSHA compliance, boom lift operator certification, boom license training and other issues, contact CMO today.
We make it a breeze to stay compliant with OSHA regulations and avoid penalties. You only need to purchase boom lift certification training one time for all of your operators. And along with our initial aerial lift training, you get free boom license renewals for life! With so many benefits for employers and employees, CMO is the smart choice for getting your aerial boom lift certification or boom lift license. If you have any questions about our boom lift certification programs, give CMO a call today at (602) 277-0615.
Don't wait! Get your boom lift certification online today. Get started now!