The Importance of Obtaining Boom Lift Certification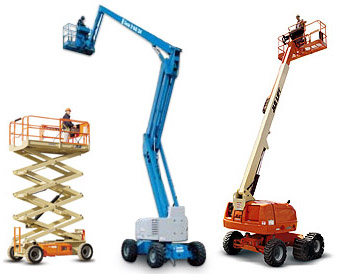 The best way to prevent accidents with boom lifts is to ensure all workers receive proper boom lift certification training. It all starts with a boom lift license from CertifyMeOnline.net (CMO). Training can reduce injuries and fatalities. It can teach workers how to avoid job site hazards. It can also reduce equipment costs and repairs. Online boom lift certification can even make workers more productive.
Register with CMO today and join companies like Harley Davidson and Coca-Cola that train and certify their employees with our online boom lift certification programs. Your employees will love you for reducing the odds of their becoming one of the 20 people who lose their lives each year in boom lift or scissor lift accidents.

Boom Lift Certification Requirements
OSHA requires all employers who hire boom lift operators to follow safety guidelines. These state that employers must provide a safe work site that is free of hazards. This means only workers who complete OSHA-approved boom lift certification training are allowed to work with boom lifts.
Boom lift certification is very important in the eyes of OSHA. The agency fines employers that don't provide this required education. For willful violations, like having an untrained worker operate boom lifts, fines can exceed $100,000
If you're an employer, boom lift operator certification is vital for safety. You are responsible for:
✓ Training
✓ Compliance
✓ Hands-on evaluation
✓ Keeping current with OSHA guidelines
✓ And more
Employers must also provide refresher training for all boom lift workers. If you need help with boom lift operator certification, boom lift certification or license training, contact CMO today. We make it easy to comply with OSHA guidelines. You only need to purchase boom lift certification training one time for all of your lift workers. And along with our initial aerial lift training, you get free boom license renewals for life!
With so many benefits for employers and workers, CMO is the smart choice for scissor lift and boom lift certification. If you have any questions about our programs, give CMO a call today at (602) 277-0615.
Common Boom Lift Violations That Lead to Accidents
OSHA encounters a lot of boom lift violations each year. Many lead to injuries and death. Of the top 10 violations among small companies, four involve aerial lifts:
✓ Training
✓ Training requirements
✓ Aerial lifts
✓ Fall protection
In 2008, these four violations racked up a total of 9,295 citations costing $6.7 million in fines. This points to a huge need for scissor lift and boom lift operator certification. It also suggests the need for an affordable method for getting boom lift licenses.
Boom and Scissor Lift Certification – Sign up with CMO Today!
CMO has the boom lift certification training and scissor lift instruction you need to comply with OSHA guidelines. Without proper training, your workers can't operate a boom or scissor lift in the U.S. OSHA guidelines require boom lift certification for all workers who use lifts, even if it's only a few days out of the year.
Safety is the most important part of any job. That's why we offer boom license and online boom lift certification for beginners, veteran lift workers, and everyone in between.

Protect Your Employees and Your Business with Boom Lift Certification from CMO
As an employer, you work hard to build a trusted business. In return, your employees work hard to make your business successful. But it only takes one boom lift violation to cost you a lot of money. It also takes only one accident to take the life of a worker and ruin the reputation of your business.
Nobody wants to be responsible for the death of an employee. But if you fail to provide boom lift operator certification for all boom lift workers, you will be held accountable by OSHA, other employees, and the grieving family of the deceased worker. At CMO, our mission is to help ensure that this awful scenario never unfolds in your business due to a lack of boom lift certification training.
Here are just some of the many benefits of training your boom and scissor lift workers the CMO way:
✓ Our online training is fast, affordable and fully OSHA-compliant. Workers can usually complete a course in about one hour.
✓ We cover everything from how to avoid worksite hazards to the safe operation of the lift.
✓ Workers can take the training on their own time when it is convenient for them. In fact, they can take the training anywhere they have Internet access.
✓ Workers can print their certification cards as soon as they pass the course.
✓ You save a lot of time and money because you don't incur the travel costs needed for offsite training.
✓ Renewal training, which OSHA requires every three years, is free for life at CMO.
Having your boom lift workers complete our boom lift operator certification training sends a message that you take their safety seriously. When they see you make it a priority, they will make it a priority as well.
Don't wait! Get your online boom lift certification today. The costs of non-compliance – accidents, injuries, heavy fines & penalties – are simply too large to ignore. Contact us to make sure your boom lift workers and your business are OSHA compliant today! Get started now!

FAQs
What is a Boom Lift Certification and What Types of Jobs Need It?
You might be wondering what is the difference between a boom lift and an aerial lift. "Aerial" lift is a broad category for many different types of equipment that allow people to work above the ground.  Boom lifts are one type of lift within that broad category. Boom lifts are also called aerial lifts or cherry pickers. They are sometimes mounted onto a truck. Some types come with an extendable arm to reach very tall heights.
Our online boom lift certification is ideal for anyone that requires training.  And because our sessions are taken online, you can get your boom lift license on your terms. No worries about traveling offsite to a costly 3rd-party training firm. Just sign up and your workers can start taking their boom lift certification training today. Before you know it, your company will be OSHA compliant and your boom lift workers will be better operators.
How Can You Prevent Boom Lift Accidents?
If you are a small business owner who uses scissor and boom lifts, preventing boom lift accidents should be a top priority. CMO can help make sure your workforce is properly boom lift and scissor lift certified. We can take care of scissor lift certification and boom lift certification in less time and at a fraction of the price.
What Is the Difference Between Boom Lifts and Scissor Lifts and Training for Each
According to OSHA, boom lifts are classified as aerial lifts and scissor lifts as scaffolding. The main differences between the two are the range of hazards involved with each. For example, OSHA requires aerial lift workers to use fall protection. They do not require it when working on a scissor lift. Other differences between boom lifts and scissor lifts include:
Boom Lifts
✓ One worker controls the rig and the work platform while another stands on the platform
✓ Boom lifts can raise workers at horizontal and vertical angles
✓ Boom lifts should not be driven with the platform extended
✓ Brakes and outriggers should be set to stabilize the extended lift
✓ All boom lift workers must wear fall protection equipment, including full-body harnesses and lanyards
Scissor Lifts
✓ All of the controls are inside the working platform and operated by a person on the platform
✓ Scissor lifts use a scissor-like extension system that can only raise the platform straight up
✓ Scissor lifts are used over safe, even surfaces directly beneath the work area
✓ Once the vehicle is stationary, the platform is then raised to the correct height
✓ Do not position a scissor lift near large objects, both fixed and moving