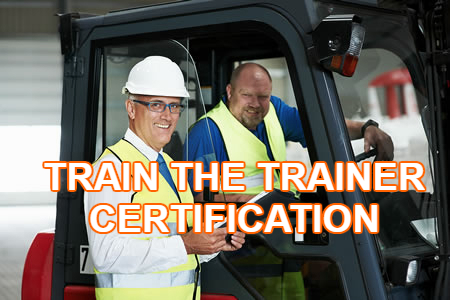 Do you hire aerial lift workers? Then you need  to ensure your aerial work platform (AWP), mobile elevating work platform (MEWP) and other aerial lift workers are fully trained and certified to operate your equipment.
CertifyMeOnline.net, the leader in aerial lift train the trainer online courses, has U.S. Occupational Safety & Health Administration (OSHA) approved aerial lift trainer certification, which includes a requirement for passing a hands on equipment operating evaluation conducted by a qualified trainer.
Our training saves time and money, as our train the trainer online course avoids the inconvenience and expense of hiring an outside trainer to evaluate your workers, consider having an in-house safety consultant who's available whenever needed. It's what you'll have when you enroll one or more of your employees in CMO's Aerial Lift Train the Trainer Program. Plus, there's no need to waste time or money renting a venue and hiring an outside "safety consultant" when you could be training your aerial work platform operators in-house through CMO's aerial lift train the trainer online certification program. With our train the trainer certification, you'll always have a safety expert on site!
Register your company today with CMO and sign up for our Train the Trainer certification – yours for only $149.00!

About CMO's Aerial Lift Train the Trainer Certification Program
We structured our aerial lift train the trainer online course with a plan to identify and document Best Practices for AWP trainers and operators, along with MEWP operators and safety instructors. It was created using input from members of the Scaffold Industry Association (SIA), as well as aerial lift manufacturers, rental companies, educators, regulators and operators. Much of our course content was adapted from SIA's February 2010.Statement of Best Practices of General Training and Familiarization for Aerial Work Platform Equipment.
Bottom line: you won't find a more comprehensive, affordable, on-point train the trainer online course anywhere else. CMO has everything you need to have your own in-house training and certification expert!
The objective of the AWP Initiative for Best Practices of Trainers and Operators is to promote industry-wide safe use of aerial lift equipment. Here are some of the Initiative's goals:
• Educate management and workers on OSHA regulations and guidelines, including the American National Standards Institute/Scaffold Industry Association (ANSI/SIA) A92 Standards
• Establish best practices and general training guidelines for aerial lift equipment operators and owners
• Highlight the differences between equipment familiarization and actual operator training
• Establish minimum qualifications for AWP trainers
It's the Employers' Responsibility to Provide AWP Operator Training
If you're asking yourself where are classes for aerial lift train the trainer near me, you're already there! Our online OSHA compliant aerial lift train the trainer program gives managers, safety supervisors and equipment operators the knowledge to conduct OSHA-required evaluations of students who have completed our Aerial Lift Certification Training. After providing the training, the employer is required to monitor operators' work to ensure the use, applications and operation of AWP equipment conforms to OSHA regulations and ANSI standards. After your workers complete our program, they'll have free, 24-hour lifetime access to our training materials, which will make operating aerial lift equipment even safer.
It's the responsibility of lift equipment owners to train their operators.in compliance with current ANSI/SIA's  A92 Standards, which outline the general subject matter to be included in AWP equipment training. They don't, however, set forth specific requirements for qualifying AWP operators or trainers. If you're unsure about potential compliance gaps, our aerial lift train the trainer online course is exactly what you need, since CMO's training and certification covers these issues in detail.
How Long is our Train the Trainer Certification Valid?
Like our other training and lift certification courses, our Train the Trainer online course is good for three years. After three years, your internal trainer requires renewal training. No worries with CMO – all renewal training is included with your purchase of our Train the Trainer certification course!
Why Should I Choose CMO's Train the Trainer Course?
Here are some of the benefits you and your designated safety supervisor will enjoy when he or she is enrolled in our aerial lift trainer certification program:
✓ Avoid the expense and disruption of third-party offsite training
✓ Schedule training when it's the most convenient for your business and employees
✓ Gain the  peace of mind that comes with knowing the training complies with current OSHA safety regulations

✓

Fall Protection training and use of

personal protection equipment (PPE)

is included in CMO's online Train the Trainer program

✓

Aerial lift Train the Trainer online course provides students with real-life examples of AWP workplace safety
✓ Fewer workplace accidents resulting in serious injuries and fatalities

✓

Less equipment downtime and expensive repair costs resulting from accidents involving aerial lift equipment
What is Train the Trainer Certification and What's Included with this Popular Course?
Our aerial lift Train the Trainer online course includes everything required to have an in-house certified aerial lift safety expert who's always available. What are some benefits of our Train the Trainer online course?
• Affordable prices – just

$149.00

for our Train the Trainer certification
• All OSHA safety guidelines covered
• Internal safety consultant always on site to handle training and certification questions & concerns
• OSHA

audit preparation

& coverage

• Overall safer workplace
CMO's aerial lift trainer certification classes will enable your employees who are already operators to instruct your other workers and new employees in OSHA and ANSI safety measures and operating techniques for just $149.00. Our OSHA compliant Train the Trainer Certification Program is the most comprehensive and convenient way to train your employees available anywhere. Working from the comfort of their homes, during an extended lunch break or any other time and place that's convenient, your employees will learn everything they need to know to educate your other operators and newly hired workers in about an hour. As with CMO's other training programs, our Aerial Lift Trainer Certification class is comprehensive, convenient and affordable. After the training is completed, you'll have an in-house safety consultant who's certified to teach OSHA and ANSI safety principles and procedures to your other employees. Regardless of your industry, your workplace will be safer when you have properly trained and certified equipment operators.

Ready to Get Train the Trainer Certification with CMO?
CertifyMeOnline.net has everything you'll need for one or more of your workers to complete our aerial lift train the trainer online program, as well as our other OSHA-approved aerial lift & boom lift safety training classes. When you sign up an employee for our Aerial Lift  Train the Trainer online course, you'll no longer need to worry about a surprise visit by OSHA – your newly certified trainer will have all the knowledge and expertise needed to evaluate and certify your other AWP operators! Get started today with CertifyMeOnline.net's aerial lift trainer certification course.
If you have questions or need more information about our aerial work platform Train the Trainer training course, call us at (602) 277-0615 – we're here to help!