How the Anatomy of an Aerial Lift Works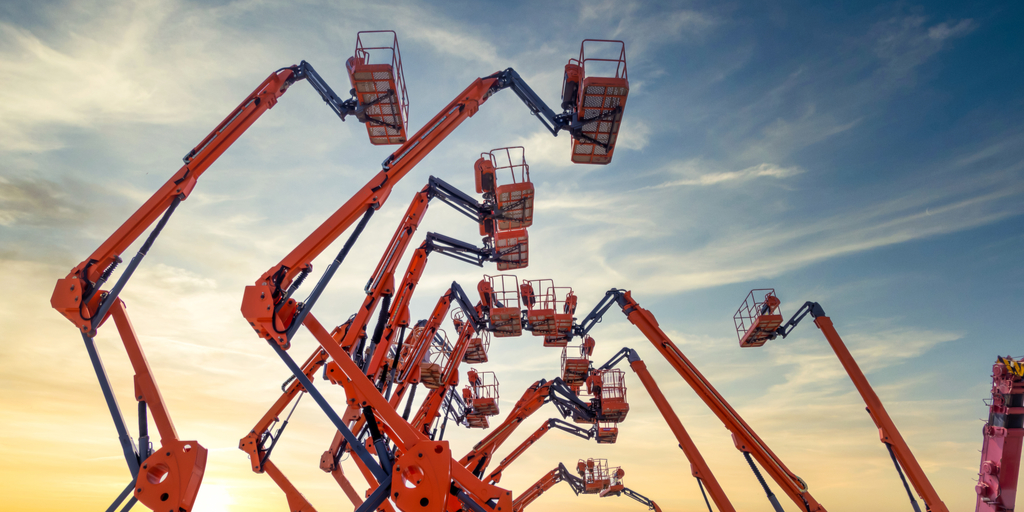 The anatomy of an aerial lift is a sight to behold. These incredible machines come in a wide range of varieties and sizes. From bucket lifts to scissor lifts, boom lifts and beyond, the designs can vary dramatically. Understanding their unique features can help workers use aerial lift as efficiently and effectively as possible. Quality aerial lift training can teach employees to better maintain lifts and know what to look for during daily inspections. These skills can help make it easier to make smart decisions about whether to repair or replace certain parts. Workers can even learn how to spot minor issues that could develop into more serious problems. That's the power of quality aerial lift training and certification.
Aerial Lift Parts You Should Know About
Simply learning about aerial lift parts can be a great way to understand how these machines work. As you master aerial lift operation skills, keep these working parts in mind:
Steer wheels: The front wheels attach to the steering axle and are used primarily to steer the lift when in motion. 

They also help support the weight of the load that is being moved. In two-wheel-drive models, the only job of these wheels is steering, but they also drive in four-wheel lifts.

Chassis/frame: One of the main structural design components, the frame provides support for the rest of the lift.
Drive wheels: The rear wheels attach to the driving axle and provide the power to drive the lift. Some lifts come with 4-wheel drive, in which case the front wheels are still used for steering.
Ground console: 

This unit holds the controls for driving and operating every aspect of the lift. The console is located on the ground rather than on the lift and is operated by a second person as the first person is lifted.

Jib: This consists of a projecting arm attached to the platform to extend the reach of the boom. 

It also increases the range of motion for the lift, moving up and down or from side to side, which helps when working in a confined space.

Rotator: A small cylinder connecting the platform to the jib, the rotator allows side-to-side movement of the platform. 

The rotator can tip the arm of the platform to one side and rotate 360-degrees in each direction.

Platform control console: Located on the platform, it provides all the controls the operator needs to control the lift while in the air. 

This console is controlled by the person in the air and allows them to move certain components.

Platform: Similar to a gas pedal on a car, the footswitch is used to position and drive the lift. It also operates the auxiliary controls from the platform.
Tower lift cylinder: uses hydraulics to raise and lower the two main boom sections.
Upright level cylinder: Works with the main cylinder to control the movement of the main base and fly sections.
Jib lift cylinder: Controls the movement of the jib.
Slave cylinder: Works with the jib lift cylinder to raise and lower the jib.
Main base section & main fly section: These two sections are adjoined to each other to provide the height and extension for the platform.
Tower base section and tower fly section: Together, these provide the structure and support for the main base and fly sections and the platform
Guardrails: These are designed to keep workers from falling. They also contain anchor points for attaching lanyards. 

The guardrails help prevent other

objects from falling

off of the platform, which as tools and materials.
FAQs About Parts of an Aerial Lift
If you're new to working with this technology, it's easy to feel overwhelmed by the anatomy of an aerial lift. Allow us to address a few frequently asked questions on the subject:
How Long Do Aerial Lift Parts Last?
Aerial lift part lifespans vary. While the aerial lift itself may have a lifespan of about 30 years, individual parts may need to be repaired or replaced much sooner. The joystick, for instance, sees a lot of wear and tear even with light use. Thankfully, it's easy to swap out these parts and replace them with new ones. Proper maintenance can extend the life of your lift.
How Often Should Boom Lift Parts be Serviced?
Boom lift parts, like aerial lift parts, should be inspected before each use. This can help operators spot any obvious safety issues. During these inspections, operators may notice certain parts are wearing down faster than others. While aerial lifts require annual servicing, individual pieces may need more frequent attention.
How Does Weather Impact the Parts of an Aerial Lift?
Exposure to the elements can reduce the lifespan of aerial lifts significantly, but sometimes working in the weather is unavoidable. Battery powered lifts may experience reduced performance, engines may struggle to start, and fluids may take a long time to warm up. That's why it's so important to store your lift properly, especially during the cold winter months. If you don't have room to store your lift indoors, you may need to invest in an engine heater.
Learn More About Aerial Lift Parts
Understanding different parts of a boom lift and what they do will make you a better operator. To become a safer operator, get trained and certified at Certifymeonline.net! We offer classes to get all your workers certified and OSHA compliant.
Aerial Lift and Scissor Lift in English and Spanish $75.00

Class 7 in English and Spanish $75.00

Rough terrain forklift trucks, straight mast forklift, and extended reach forklift

Fall Protection in English and Spanish $75.00

Trainer certification costs $149.00

Aerial lift operators are required to be trained and certified before they begin using these powerful machines. Proper training can help workers understand the anatomy of an aerial lift and how to properly use and maintain them. If you or your colleagues are in need of training, CMO can help. Our OSHA-compliant training is comprehensive – you'll learn all the various parts of an aerial lift and how to use them safely and effectively. To receive additional information about our aerial lift safety training program or to sign up for one of our classes, please contact us online or call us today at (602) 277-0615.