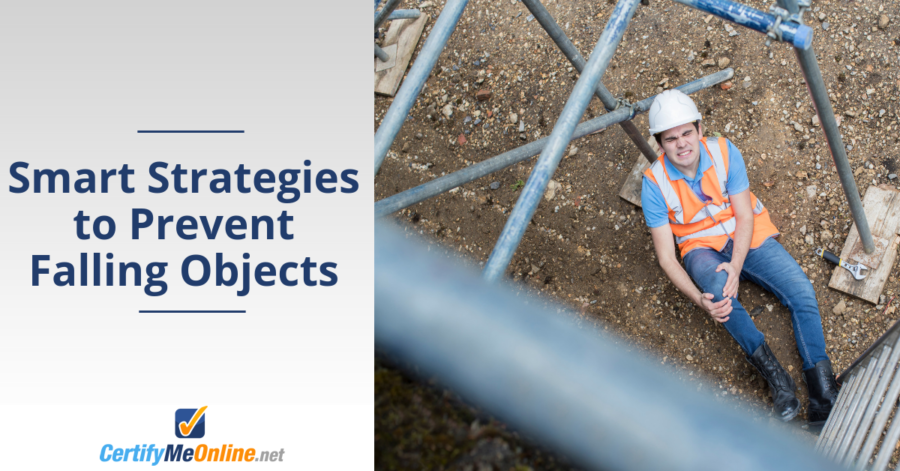 When the subject of aerial lift safety is brought up, many hazards come to mind:
– Weather
– Stability (wet or uneven terrain, etc.)
– Power lines
– Tip overs
– Trees, bridges and other overhead dangers
– And many more
Here's another hazard you might not think about often, but is still a significant danger: objects falling from aerial lifts and scissor lifts.
According to the U.S. Bureau of Labor Statistics, more than 250 people died from workplace falling objects in 2016. Add the injuries and minor, unreported incidents from falling objects to that number, and falling objects are clearly a hazard worth anyone's consideration.
The U.S. Occupational Safety and Health Administration (OSHA) has safety guidelines in place to prevent falling objects from aerial lifts and scissor lifts. Despite a wealth of knowledge and training about falling objects, the danger remains all too real for many aerial work platform (AWP) workers, along with aerial lift and scissor lift operators. Dropped object prevention is one of the most important aspects of total aerial lift safety.
CertifyMeOnline.net has training courses to help your company become complaint with your aerial lifts, including dropped object prevention training. Companies all over the U.S. rely on us for affordable, ultra-convenient training and instruction, including dropped object prevention. Check out our courses and sign up today!
Dropped Object Prevention: Causes and Corrective Actions
OSHA considers dropped object prevention training one of the most crucial safety measures for well-trained lift operators. Their widely-referenced Aerial Lift Fact Sheet lists falling objects as a primary hazard to be aware of.
So what exactly is considered a hazard when dropped from an aerial lift or scissor lift? Basically, everything and anything. From tools to construction materials to lunch boxes and more, any object dropped from considerable heights is a serious safety hazard.
OSHA has some rules in place for dropped object prevention. Standard 1926.451(f)(13) prohibits any debris or work material to collect on scaffolding (aerial lifts are considered a type of scaffolding). Plus, there are safety measures designed to protect workers from falling objects, including safety screens and other preventative measures.
Even with hardhats, safety nets and other safeguards, falling objects can cause injury and even death. That's why it's critical to avoid falling objects in the first place. What can you and your company do to increase safety, while decreasing the chances of falling objects from aerial lifts and scissor lifts?
– Follow OSHA safety standards – and get trained! A well-trained aerial lift operator is the best help for dropped object prevention. With the right training, falling objects happen a lot less often!
– Ensure there are no loose objects on the aerial work surface. Securing tools, hardware, and other material is a common-sense measure to prevent falling objects – yet many workers roll the dice with safety.
– Keep an organized bucket. When you know where everything is all the time, you help eliminate clumsy, awkward actions – and that prevents falling objects! Organization is important for office workers – but for jobs like aerial lift operators, organization can actually save lives!
How Important is Dropped Object Prevention Training?
Considering the serious hazards posed by falling objects, dropped object prevention cannot be ignored. And one thing is for sure with CertifyMeOnline.net: we help aerial lift operators understand the crucial safety hazards associated with aerial lifts and scissor lifts.
With our training courses, your company can close training gaps, obtain compliance, and also enjoy extra peace of mind with your safety program. What's more, our website includes a wealth of information – including blogs and articles like this one – that explain concepts like dropped object prevention and other topics.
If you're interested in getting compliant ASAP without breaking the bank, register with CertifyMeOnline.net today. You can also call our aerial lift and scissor lift training consultants at (602) 277-0615. We're your training partner for life. With recertification, updated training modules as OSHA regulations change, and affordable prices, there's no other aerial lift training resource like CertifyMeOnline.net. Thanks for stopping by!