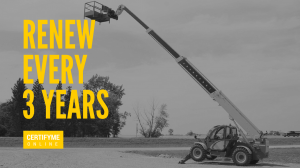 To remain in compliance with OSHA standards and regulations, aerial lift and scissor lift certifications must be renewed regularly. A 3 year renewal of certification is the best way to ensure workers are as proficient as possible, as OSHA makes adjustments from time to time to address any new safety issues and emergency responses that have arisen over previous years due to work incidents and safety improvements. To remain informed and compliant to the new changes, recertification is necessary to prevent work-related injuries and mistakes.
Without a lift license renewal, both employers and employees are subject to severe OSHA fines and penalties.
Employers are responsible for making sure their workers' aerial lift license renewal training is in place. Without a lift license renewal, an OSHA audit can levy costly fines, and legal action is another possibility. Don't forget to get your lift license renewal training! If you're not sure how long OSHA certification is good for, or if you need OSHA renewal training today, contact CMO!
Employees benefit from aerial lift license renewals too. Without updated training, recent safety changes in OSHA standards might be skipped or missed. Plus, it just makes sense from a career advancement standpoint; if you want to get the best possible aerial lift jobs, an OSHA renewal on your aerial lift certification can only help your chances of getting a well-paying, rewarding career!
How Long is OSHA Aerial Lift Certification Good For?
All forklift operators must renew their certification every three years because OSHA recognizes that there are so many different types of powered industrial trucks used in the workplace. But for aerial lift retraining, OSHA states under 1926.454 Subpart L that "when the employer has reason to believe that an employee lacks the skill or understanding needed for safe work involving the erection, use, or dismantling of scaffolds, the employer shall retrain each such employee so that the requisite proficiency is regained." They do not require a specific time-frame for retraining employees.
Retraining for aerial lift operators is required when any of the following occur:
– When changes in the workplace or at the worksite present a hazard that the employee has not received training in
– Changes in the type of aerial lift, fall protection, falling object protection, and other equipment present a hazard that the employee has not received training in
– An employee has demonstrated inadequacies in their work that represents a deficiency in the requisite proficiency
Why Choose a 3 Year Certification Renewal?
If there isn't a specific time-frame when aerial lift workers must retrain and renew their certifications, then why should I purchase 3-year renewals for my workers, you might ask? Whenever and wherever aerial lifts are operated, there's the risk of accidents and it's always best to err on the side of caution and safety. If you want to best protect your workplace, other employees, and bottom line, then you need to ensure your operators are knowledgeable in the most up-to-date operational and safety practices. A 3-year renewal is the length of time that is recommended for operators to remain competent and safe on the job.
Where Can I Purchase a 3 Year Renewal for My Employees?
When it comes time to renew a scissor lift or aerial lift certification, the renewal process will be quick and easy with CertifyMeOnline. The simple process allows lift operators to complete renewal training online in a few short minutes. During the renewal, a new performance evaluation will be conducted, consisting of a hands-on evaluation, which will be documented. Upon completion, a new certificate, card, and evaluation forms will be issued. The new certification will be valid for another 3 years. However, in the event of an accident, retraining may be needed prior to the certificate expiration.
During renewal training, operators will be reevaluated to ensure they comprehend how to prevent certain hazards, how to deal with hazardous situation, recognizing unsafe conditions, and the correct use of the lifts. Additional training for recertification also includes proper load capacities, overhead protection, proper use of equipment, and fall protection to ensure a safe work environment.
In addition, operators must demonstrate the ability to operate lifts correctly and the ability to perform necessary inspections. With the proper recertification, the risk for injuries, fatalities, and OSHA fines will be greatly reduced when remaining in compliance.
The Importance of Recertification
Maintaining proper certification is critical for both employers and employees. Employers who are found to allow aerial and scissor lift operators to continue to manage the vehicles without valid certifications can face serious fines from OSHA. In addition, the risk for workplace injuries increases if current safety regulations are not followed.
Employees need to maintain their recertification to ensure they can safely and accurately carry out job duties without posing a risk to fellow employees. As a result, productivity will continue to flow smoothly with a decreased risk for aerial and scissor lift negligence or error. With the completed 3-year recertification with CertifyMeOnline, employees will hold proof of the proper documentations and certification needed to abide by OSHA standards.
CertifyMeOnline provides the simple and comprehensive resource aerial lift and scissor lift operators need to ensure they are properly trained. If it's time for recertification, our program offers the solution you need to maintain aerial lift certification and scissor lift certification. Rest assured, all recertification programs are OSHA compliant and abide by OSHA training requirements. Upon completing training, the new valid certification card will be issued the same day.
Quickly and easily achieve aerial lift and scissor life recertification anywhere there is an internet connection with CertifyMeOnline today!
Here's How Our 3-Year Renewal Training Works
Login: Use your student's username and password.
Need to print certificates but can't recall the log in or password?
Enter the Company Contact email you used when you set up the account.
Print Cards and Certificates.
– New operator certificate and wallet card with new 3 year expiration date
– New Hands-On Evaluation forms with today's date
File Your Training Records
Conduct a new performance evaluation using the Hands-On evaluation form as a guide and to document evaluation. Keep a copy of the new certificate, card and evaluation forms in your employee safety file. (this step is optional because your training records are safe and secure in our automatically backed up redundant servers).
The username and password will be sent to the email address you entered in our system. If you are having any trouble accessing your account call us at 888-699-4800 8-5 Pacific time or contact us.
Sign up for Your Aerial Lift License Renewal Today!
A lift license renewal is one of the most important safety measures you can take today. CMO's OSHA renewal program ensures you and your co-workers are fully certified to operate aerial lifts, AWPs, scissor lifts and similar industrial equipment.
To get started today, check out our Aerial Lift & Training Certification program, or give us a call at (602) 277-0615. We look forward to helping with your aerial lift license renewal!