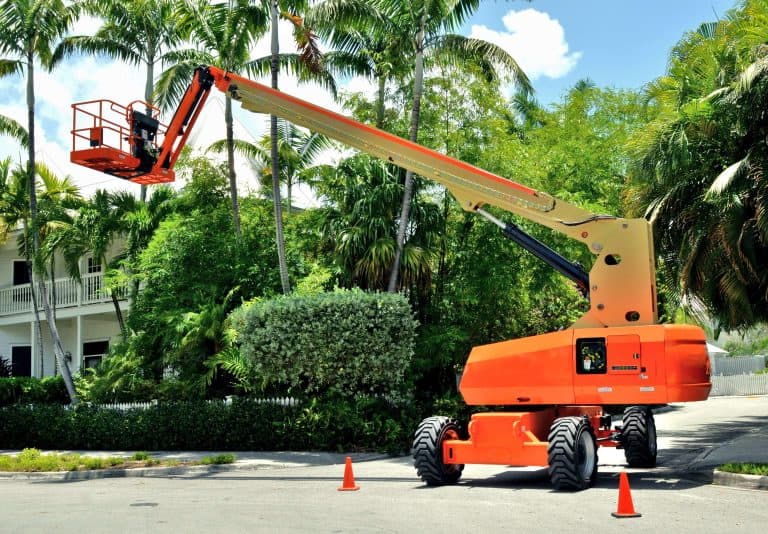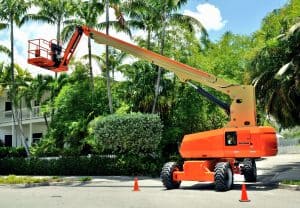 Do you know what a cherry picker is? No, not the kind you eat. The kind you use in your warehouse. A cherry picker is a type of forklift that can extend its reach high into the air to lift heavy objects from one place to another. 
Cherry pickers are hydraulic cranes with a raised platform attached to the end of a boom to raise. They lower people and cargo and are powered by batteries, gasoline, or diesel fuel. Cherry pickers are used to perform a variety of tasks. They were originally used to pick fruit that was too high to reach from the ground. Although cherry pickers are still found in orchards, today's versions are used extensively in various industries, including construction, entertainment, mining, warehousing, and many others. Some of a cherry picker's applications include servicing overhead electrical equipment and power lines, retrieving inventory, washing windows, trimming trees, and installing and maintaining HVAC systems.
 Cherry pickers are commonly used in warehouses, construction, mining, warehousing, and other locations to reach or move items that are placed too high for a ladder to work. Any operator driving cherry pickers must be certified to be compliant with OSHA regulations.


What Are the Benefits of Using a Cherry Picker?
Key reasons why businesses use cherry pickers include:
 – A cherry picker can provide greater reach and improved safety than a standard ladder.
 – Cherry pickers offer many features that help employees maximize their productivity.
 – Businesses can use cherry pickers in virtually any environment.
Of course, the unsafe use of a cherry picker is problematic for a business and its employees.
Cherry picker operators who ignore safety precautions put themselves and others in danger. Thus, completing safety training is critical for anyone who operates a cherry picker.
How to Drive a
Cherry Picker
The worker stands in the basket of a cherry picker and operates the machine. The controls may also be located at the base of the platform. The cherry picker operator will generally use either buttons or a joystick to control the cherry picker, raising the arm up and down or moving it side to side. An emergency stop button is usually placed where a person can stop the movement of the cherry picker even if they don't have access to the controls.
Cherry Picker Operator
Certification Needs
According to OSHA regulations, only workers who have received proper cherry picker training or have received an order picker license or stock picker license are authorized to operate the equipment in the workplace. Further according to OSHA, cherry picker operator training requirements need to cover the following topics:
✓ Explanations of electrical, fall, and falling object hazards
✓ Procedures for dealing with each of these types of hazards
✓ Recognizing and avoiding unsafe conditions in the working environment
✓ Instruction as to how to correctly and safely operate lifts, including maximum intended load and load capacity
✓ A hands-on review to demonstrate that the student has the necessary skills and knowledge to properly operate an aerial lift before he or she is allowed to use it in the workplace
✓ When and how to perform aerial lift inspections and routine maintenance
✓ Any special manufacturer's requirements
Cherry picker forklift training certification must be renewed every three years. Failure to keep a cherry picker license up to date can result in OSHA penalties. It can also put workers at greater risk of cherry picker accidents that lead to serious injury or death.
There may be instances when cherry picker recertification is required before three years. These instances include:
✓ An aerial lift accident has occurred while the machine is in use.
✓ Workplace hazards involving an aerial lift are discovered
✓ A different type of aerial lift equipment is used
✓ A worker is observed operating the equipment improperly
For cherry picker operators who receive their initial training through CertifyMeOnline.net, renewal cherry picker certification is free for life.
CertifyMe offers an online certification course on lifts for workers to study at their own pace and a train the trainer course to allow employees to become certified to teach a hands-on certification test.
What Is a Cherry Picker Forklift Certification Course?
A cherry picker certification course teaches workers how to safely operate a picker. Workers can use the course to learn OSHA cherry picker forklift safety requirements. They can also receive tips and insights to identify and address cherry picker hazards.
Certification is required for cherry picker operators across the United States. These operators must receive OSHA-approved cherry picker certification. Otherwise, unlicensed cherry picker operators are in violation of OSHA mandates.
The consequence of Not Certifying Employees to Drive Cherry Pickers

Failure to certify employees before they begin using cherry pickers could result in heavy fines and penalties from OSHA. Businesses can be audited at any time and many are fined by OSHA for failure to have the forklift operators certified or to show proof of such certification in the audit.
A study conducted by CertifyMe showed that out of 100 participants just over half at 53 have been audited by OSHA for their safety plan. Of the 100, 85 had been given some type of fine from OSHA with 57 of them costing more than $100,000.
Cherry Picker Forklift Dangers
Serious injuries and fatalities from accidents where cherry picker lifts are involved are common occurrences at worksites across the country. When in the hands of a qualified operator, cherry pickers are incredibly useful pieces of equipment that have made it possible to carry out or simplify many types of projects. But, if workers don't know how to use a cherry picker properly, there are some serious safety risks involved.
The most common causes of worker deaths and injuries where cherry pickers are involved are falls from platforms, electrocutions, collisions, and equipment tip-overs. These accidents usually result from untrained operators not being aware of how to properly use a cherry picker under various working conditions.
Cherry picker forklift certification training is not guaranteed to stop workplace accidents. Yet, the training ensures that cherry picker operators can do their part to avoid accidents. As such, these operators can contribute to a safe, productive work environment.
With an OSHA-approved cherry picker certification from CertifyMeOnline.net, your employees will learn how to avoid falls, tip-overs, collisions with overhead obstacles, and other types of accidents.
There are many benefits to getting cherry picker training from CertifyMeOnline.net. Most accidents involving cherry pickers happen because the operators don't know how to use them properly. That's why it's important to choose a high-quality, comprehensive certification program that will train and certify your employees who work on or near cherry pickers.
Cherry picker operator training is not just something you have to do to comply with OSHA and other regulatory agencies – it also has a direct impact on your business in terms of productivity and safety. Some of the benefits you and your employees will enjoy when your workers complete CMO's cherry picker forklift certification program include:
✓
Accident Prevention 
CMO's cherry picker certification training helps prevent workplace accidents and injuries, so you'll see a reduction in the number of accidents that lead to serious injuries, fatalities, and equipment damage.
✓
Improved Productivity
A safe workplace is simply a more efficient and productive workplace. The Increased knowledge your staff will gain through our training will allow you to give them greater responsibilities. With our cherry picker certification, your company will have everything it needs for increased workplace safety, as well as a more informed and engaged workforce!
✓
Save Time and Money
After your employees complete our affordable online training, you'll experience a boost in revenue due to streamlined working processes and procedures.
✓
Save Money on Costly Equipment Replacements and Repairs
Your workers will learn how to properly inspect, maintain and operate cherry pickers, which translates directly to savings.
✓
Save Money With In-House Trainers
Through CMO's optional Train the Trainer program, you can have one or more of your employees certified to train your other in-house operators and new hires as they're brought on board.
✓
Comply With all OSHA Cherry Picker Regulations
Our cherry picker certifications can be printed as soon as the training is completed! There's no need to wait for the official paperwork to arrive in the mail. Just print and file the certificates in each operator's HR. file and you'll be covered in the event of an OSHA audit!

Choose CertifyMeOnline.net for High-Quality Cherry Picker Training
Cherry picker certification training programs help people learn how to operate a cherry picker and other types of lifts. CMO's online cherry picker training is OSHA-compliant and provides course materials that people can use to learn how to properly operate a cherry picker. With our program, your workers can be trained and certified in as little as an hour. Register now and your workplace can be OSHA-compliant in one afternoon at a cost of only $75 per employee, which includes both aerial lift and scissor lift training.
Register now and your entire workplace can be OSHA-compliant in one afternoon at a cost of only $75 per employee, which includes both aerial lift and scissor lift training.
CertifyMe.net, our sister site, also offers the same fast, easy and affordable training for forklift operators. Both programs include lifetime free renewal training that's required by OSHA every three years.
You can protect your business by having your cherry picker operators complete our OSHA-approved Aerial Lift Operator Training. This will make your workplace safer and more productive. You can enroll them today. If you have questions, you can call us at (602) 277-0615 or contact us online to register your business and enroll your cherry pickers, order pickers, and stock pickers in one of our aerial lift operator training programs.