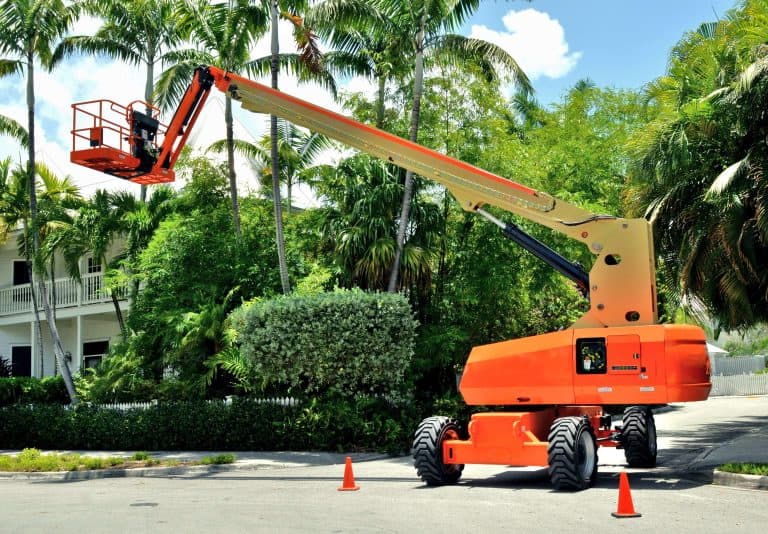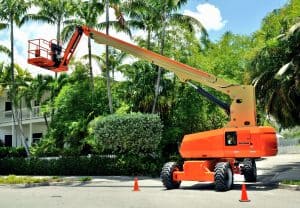 We've all heard the term "cherry picker," but do you know exactly what they are and what they're used for? A cherry picker is a type of forklift that can extend its reach high into the air to lift heavy objects from one place to another. 
Cherry pickers are hydraulic cranes with a raised platform attached to the end of a boom to raise. They lower people and cargo and are powered by batteries, gasoline, or diesel fuel. Cherry pickers are used to perform a variety of tasks. Originally used exclusively in orchards for fruit picking, today's versions are used extensively in various industries, including construction, entertainment, mining, warehousing, and many others. 
So that's what cherry pickers offer in terms of functionality
Does your company use cherry pickers and other mobile elevating work platforms (MEWPs) and aerial work platforms (AWPs)? If so, you're responsible to get your workers trained and certified to OSHA standards. No worries…CertifyMeOnline.net offers fully compliant training. Our Operator and Trainer Certification ensure your workforce is able to safely operate your equipment and avoid hazards & accidents.

How to Get Cherry Picker Operator Certification with CMO: Easier Than You Think!
Thanks to CMO, it's easy and affordable to get your cherry picker forklift certification. We ensure 100% OSHA compliance for ALL your AWP, MEWP, and cherry picker operators. Here's how:
Register your company.

Figure out how many operators need

cherry picker operator certification

.

Choose your login info for your employees.

Online learning: this is where your employees take the online learning and quiz. We cover everything from OSHA guidelines to

different kinds of aerial lifts

and much more.

Hands-on evaluation. OK, this is the critical part of

cherry picker certification

– can your employees show they're able to safely operate your cherry pickers? CMO provides all the paperwork and evaluator checklist you need for this important step.

Print licenses for all employees who pass. Just print your cherry picker operator cards and you have full proof of certification – which means your workers and your company are covered in case of an accident!
A few simple steps…and awesome prices! For only $75, you can sign up for CMO's Aerial Lift and Cherry Picker Training. Our Train the Trainer program is only $149.
Cherry Picker Operator Certification Needs
According to OSHA regulations, only workers who have received proper cherry picker training or have received an order picker license or stock picker license are authorized to operate the equipment in the workplace. Further according to OSHA, cherry picker operator training requirements need to cover the following topics:
✓

Explanations of electrical, fall, and

falling object hazards

✓

Procedures for dealing with each of these types of hazards

✓

Recognizing and avoiding unsafe conditions in the working environment

✓

Instruction as to how to correctly and safely operate lifts, including

maximum intended load and load capacity

✓

A hands-on review to demonstrate that the student has the necessary skills and knowledge 
When and how to perform aerial lift inspections and routine maintenance
Cherry picker forklift training certification must be renewed every three years. Failure to keep a cherry picker license up to date can result in OSHA penalties. It can also put workers at greater risk of cherry picker accidents that lead to serious injury or death. These instances include:
✓

An

aerial lift accident

has occurred while the machine is in use.

✓

Workplace hazards involving an aerial lift are discovered

✓

A different type of aerial lift equipment is used

✓

 

A worker is observed operating the equipment improperly
What Are the Benefits of Getting Cherry Picker Certification?
There are many benefits to getting cherry picker training from CertifyMeOnline.net. Most accidents involving cherry pickers happen because the operators don't know how to use them properly. That's why it's important to choose a high-quality, comprehensive certification program that will train and certify your employees who work on or near cherry pickers.
Cherry picker operator training is not just something you have to do to comply with OSHA and other regulatory agencies – it also has a direct impact on your business in terms of productivity and safety. Some of the benefits you and your employees will enjoy when your workers complete CMO's cherry picker forklift certification program include:
Accident Prevention 
CMO's cherry picker certification training helps prevent workplace accidents and injuries, so you'll see a reduction in the number of accidents that lead to serious injuries, fatalities, and equipment damage.
Improved Productivity
A safe workplace is simply a more efficient and productive workplace. The Increased knowledge your staff will gain through our training will allow you to give them greater responsibilities. With our cherry picker certification, your company will have everything it needs for increased workplace safety, as well as a more informed and engaged workforce!
Save Time and Money
After your employees complete our affordable online training, you'll experience a boost in revenue due to streamlined working processes and procedures.
Save Money on Costly Equipment Replacements and Repairs
Your workers will learn how to properly inspect, maintain and operate cherry pickers, which translates directly to savings.
Save Money With In-House Trainers
Through CMO's optional Train the Trainer program, you can have one or more of your employees certified to train your other in-house operators and new hires as they're brought on board.
Comply With all OSHA Cherry Picker Regulations
Our cherry picker certifications can be printed as soon as the training is completed! There's no need to wait for the official paperwork to arrive in the mail. Just print and file the certificates in each operator's HR. file and you'll be covered in the event of an OSHA audit!
The consequence of Not Certifying Employees to Drive Cherry Pickers
Failure to certify employees before they begin using cherry pickers could result in heavy fines and penalties from OSHA. Businesses can be audited at any time and many are fined by OSHA for failure to have the forklift operators certified or to show proof of such certification in the audit.
A study conducted by CertifyMe showed that out of 100 participants just over half at 53 have been audited by OSHA for their safety plan. Of the 100, 85 had been given some type of fine from OSHA with 57 of them costing more than $100,000.

Choose CertifyMeOnline.net for High-Quality Cherry Picker Training
Cherry picker certification training programs help people learn how to operate a cherry picker and other types of lifts. CMO's online cherry picker training is OSHA-compliant and provides course materials that people can use to learn how to properly operate a cherry picker. With our program, your workers can be trained and certified in as little as an hour. Register now and your workplace can be OSHA-compliant in one afternoon at a cost of only $75 per employee, which includes both aerial lift and scissor lift training.
 If you have questions, you can call us at (602) 277-0615 or contact us online to register your business and enroll your cherry pickers, order pickers, and stock pickers in one of our aerial lift operator training programs.