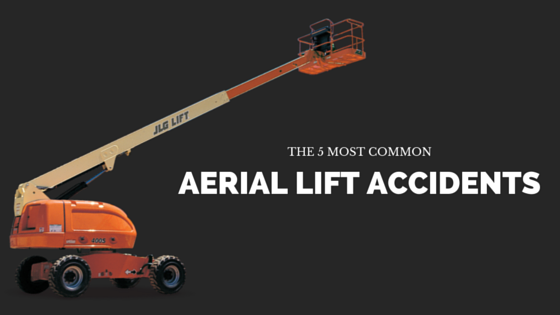 When workers aren't properly trained to operate an aerial lift, accidents can occur. Some aerial lift accidents can cause injuries, and others can be fatal.

A Closer Look at Aerial Lift Accidents
Common aerial lift accidents include:
1. Boom Lift Accidents
Boom lifts fall over, and when they do, produce some of the highest aerial lift accidents due to their height and horizontal reach.
2. Scissor Lift Accidents
A scissor lift accident is often caused by driving and working on uneven ground or falls and tip-overs that occur due to severe weather.
3. Manlift Accidents
Falls, tip-overs, and collapses are among the top dangers that can lead to manlift accidents.
4. Genie Lift Accidents:
Although Genie lifts are used in many industries worldwide, they must be managed properly. Otherwise, workers risk Genie lift accidents that put their health and well-being in danger.
Aerial Lift Accident Statistics
The Center for Construction Research and Training conducts ongoing research into aerial lift accidents, how frequently they occur, and their impact on employers and workers. Some of the Center's latest research provides insights into aerial lift accidents into the causes of deaths on aerial lifts, along with the trades most frequently involved.
Notable data from this research includes:
– Among trades, electricians (25%) account for the most deaths among professionals using aerial lifts, followed by construction laborers (15%) and electrical power installers and repairers (13%).
– Boom lifts accounted for nearly 70% of aerial lift deaths.
– Scissor lifts accounted for approximately 25% of aerial lift deaths.
Aerial lift operators must work cautiously, regardless of worksite or the type of lift they use. That way, these operators can remain productive without putting themselves or bystanders in danger. They can also avoid common aerial lift accidents.
Common Aerial Lift Accidents
The risks associated with using untrained workers on different types of lifts can be significant. To show the dangers of using untrained workers on aerial, boom, and scissor lifts, here's a look at the five most common accidents at aerial lift worksites:
1. Electrocutions
The number of electrocutions in the construction industry rose 18% year over year in 2018, according to Electrical Safety Foundation International. With a deep understanding of electrocutions, workers can take steps to protect themselves and others against electrocutions and other electrical injuries.
Electrocutions occur when workers make contact with overhead power lines. They can also happen when a lift makes contact with a power line. Telescopic booms have the highest risk of electrical accidents. This is because they are often used to service electrical systems.
Scissor lift operators often work near or under power lines. They risk getting a fatal electrical shock in many different ways, such as:
– No proper personal protection equipment is worn.
– The lift is unstable.
– Contact is made with live power lines due to a lift tip-over.
Aerial and scissor lift training teaches workers how to assess a work area for overhead live wires and other hazards. In doing so, the training can help workers avoid fatal shocks from power lines.
2. Falls from Aerial Lifts
Aerial lift falls are one of the leading causes of death among construction workers, the U.S. Centers for Disease Control and Prevention (CDC) reports. They are most likely to occur when a worker, aerial lift, or scissor lift is hit by a crane, vehicle, or another object.
Fall protection measures are crucial to limit the risk of falls from aerial lifts. All cables and harnesses must be attached to a lift before starting a job. In addition, when operating a lift, workers must ensure that:
– Access gates are closed.
– The body harness or restraining belt is attached to the boom or bucket with a lanyard.
– They are standing firmly on the floor of the bucket.
– They avoid leaning on or climbing over the guardrails.
OSHA-approved safety training provides tips and strategies to prevent falls from aerial lifts. With a comprehensive aerial lift safety training program, workers can learn which precautions can help them reduce the risk of aerial lift falls and other accidents.
3. Aerial Lift Tip-Overs
Aerial lift tip-overs most often occur when a bucket cable or boom breaks. They can also happen when a bucket falls or a scissor lift tips over.
To avoid these manlift accidents, workers should never:
– Set up an aerial lift between overhead hazards
– Exceed load capacity limits
– Travel to a jobsite with an elevated lift
– Use a lift on uneven terrain
– Raise a platform in windy conditions
Workers can learn how to identify and eliminate aerial lift tip-over risks and other aerial lift accidents, too. In fact, with proper training, workers can learn how to assess a worksite for tip-over hazards that can contribute to boom lift accidents and other workplace dangers.
4. Getting Caught Between a Lift and an Object
Injuries due to contact with objects outside a bucket occur when the bucket is being moved and a worker gets caught between the edge of the bucket and a roof joist, beam, or another object.
To prevent this type of accident, workers should perform a worksite inspection and evaluate their work equipment. Rotating or moving machine parts must be properly guarded, and workers should not wear loose clothing. Also, workers on the ground should remain at a safe distance from the load at all times.
Scissor lift operators should stay clear of overhead hazards like power lines, pipes, and ceilings to minimize the risk of scissor lift accidents as well. Meanwhile, on-foot workers should remain a safe distance from a work area.
Workers can learn about the dangers of getting caught between a lift and an object, how to avoid getting crushed by a lift or overhead objects, and other aerial lift safety tips and strategies as part of an aerial lift certification training program. Best of all, workers who complete this program can learn how to identify aerial lift dangers, eliminate these risks, and prevent accidents.
5. Being Struck by Objects Outside the Bucket
Collapsing materials cause accidents that occur when workers are unaware of their surroundings and make contact with objects that come loose.
Workers must notify their superiors and stay up to date about any unfinished building materials at a jobsite. They should also take steps to prevent materials from coming loose; otherwise, if these materials come loose, they could strike people on the platform or on the ground and lead to injuries and fatalities.
It is important to note that human error can play a role in any of the aforementioned aerial lift accidents, too. For instance, careless aerial lift operators may take shortcuts that inadvertently lead to accidents. Or, lift operators who ignore a jobsite's rules may cause accidents.
No one is perfect, but a consistent approach to everyday work can help aerial lift operators minimize the risk of mistakes. When it comes to human error that can lead to aerial lift accidents, training is crucial. Because, if aerial lift operators are properly trained, they will know how to safely use a lift. They can also take precautions to prevent aerial lift accidents.
Sign Up for Aerial Lift Certification and Scissor Lift Training from CertifyMeOnline.net
CertifyMeOnline.net offers a full selection of aerial lift, scissor lift, and mobile elevated work platform (MEWP) training courses. Each course is designed to teach workers how to address boom lift accidents and other worksite dangers and prevent these issues from becoming recurring problems.
Many training courses are available that focus on scissor lift accidents and other aerial lift dangers. To learn more, please fill out our online form or call us today at (602) 277-0615.