The Ultimate Guide to Construction Site Safety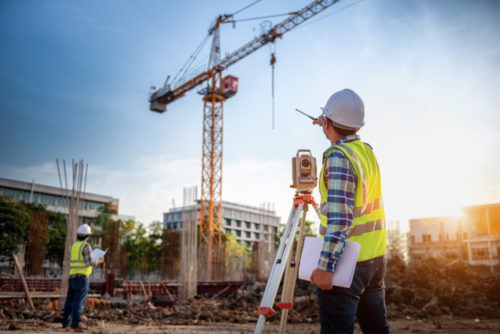 There are constant hazards to be on the watch for on a construction site. By implementing rules and regulations on the job site, workers can stay safe from harm. Such rules prevent dangerous accidents from happening while simultaneously training workers to respond quickly and safely when incidents do occur. Understanding the principles of construction site safety can keep everyone productive and injury-free. 
What Defines a Construction Site?
A construction site is any piece of land where the building or renovation of a structure is taking place. These locations typically fall within two main categories: buildings and industrial construction sites. For instance, a new home or hotel fits into the building category, while the construction of a new railroad or tunnel falls into the industrial category. Construction projects vary in their complexity and safety considerations. After an analysis of potential hazards and risks associated with a given construction site, engineers and managers implement plans to ensure the safety of their workers. 
Successful, safe construction sites are managed by a wide range of professionals with various skill sets. The construction manager oversees the project from start to finish, while the estimator keeps the job on budget. Architects envision client needs, supervisors manage workers, and construction expeditors manage the flow of materials from the supplier to the project. All of these professionals are guided by various safety regulations and signage. In conjunction, these powerful teams and tools come together to foster a workplace that's as safe as it is productive. 

Your Guide for Construction Safety
They say knowledge is power, and that's never more accurate than when you're on a construction site. By understanding the common risks and hazards associated with construction jobs, workers are empowered to prevent accidents and protect themselves from injury. Explore best practices, tips and tricks for staying safe on the jobsite below: 
Employers are required by law to provide safe, hazard-free environments for their workers. Construction site accidents can be avoided with proper training and careful adherence to OSHA-recommended safety tips. Discover how to stay safe, healthy and injury-free while working on construction sites.
Curious about what item is required on all construction sites? Fall protection gear is a must – especially for aerial lift operators. Learn more about the components of fall protection and why they're so vital to the safety of construction workers everywhere. 
Our eyes are among the most important – and most fragile – sensory organs. Even the most minor of construction site accidents can lead to lifelong vision problems, which is why it's so important to wear protective eyewear on the job. OSHA estimates that 90 percent of eye injuries can be prevented by wearing proper safety eyewear. 
Recent advancements in construction site safety equipment make it easier than ever to stay injury-free at work. Construction wearables like smart watches, boots, and helmets are transforming the way workers protect themselves. These user-friendly tools give wearers everything they need to stay productive, efficient and safe at work. 
Foot, head, eye, and face protection are essential for aerial and scissor lift operators working on construction sites. Personal fall protection equipment can also help minimize risk of injury. Learn more about the personal protection equipment – also known as PPE – required for these professionals. 
There is an element of risk associated with virtually every construction site. Understanding and managing risk can help protect workers from injury and construction companies from liability. Risk managers create detailed plans for dealing with hazards on the jobsite. 
Lean construction principles have grown in popularity in recent years, and it's not hard to see why: doing less with more allows construction companies to minimize wasted resources, time, and money. Increased innovation and efficiency make lean construction appealing for construction employees working at every level. 
Safety managers help foster safe working environments for construction professionals. By setting clear safety protocols and educating employees on guidelines, these managers ensure construction sites that are as safe as possible. Discover the specific ways in which safety managers add value to every jobsite. 
Construction workers face unique stressors while on the job. Long hours, physical labor, and dangerous workplaces can exacerbate that stress. Thankfully, there are several ways for construction workers to manage stress in healthy ways. 
Safety is of critical importance to construction professionals in everything they do on the construction site. A little knowledge can go a long way in preventing accidents and minimizing injury risks. Make safety a top priority with tips from construction industry experts. 

Certifying for Safety
When employees are properly trained and certified to work on construction sites, they're able to prevent accidents, injuries, and deaths from occurring. If you're eager to make safety a priority in your organization, begin with top quality OSHA-compliant training from CertifyMeOnline.net. In as little as one hour, workers can gain the knowledge they need for OSHA certification. Click here to learn more about the online training courses from CertifyMeOnline.