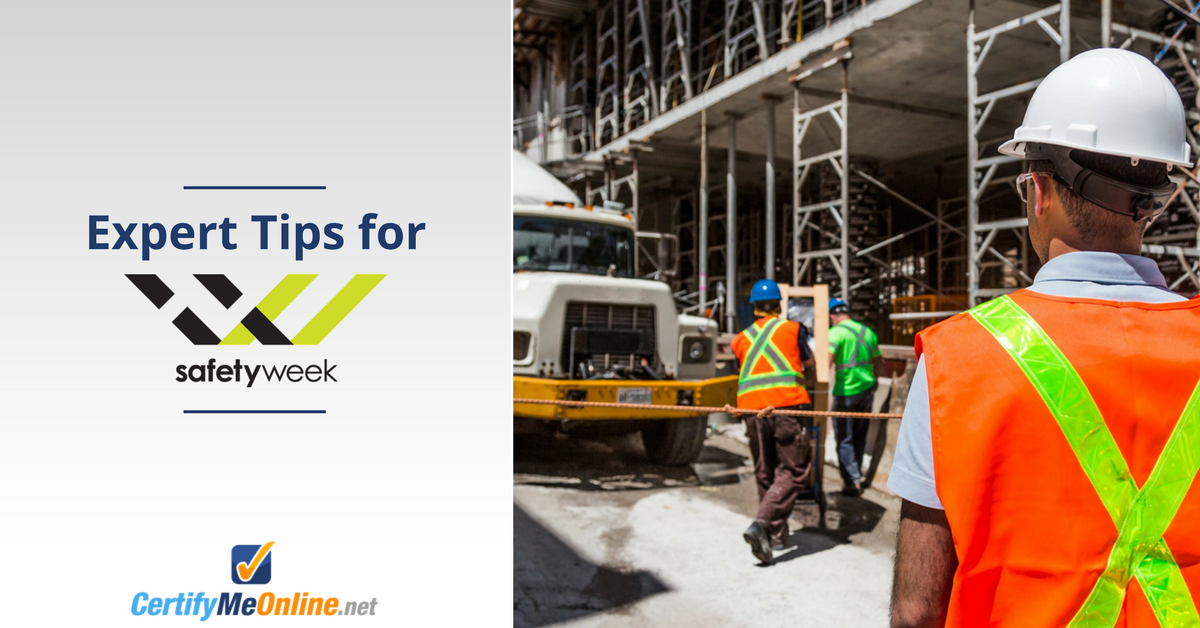 Construction Safety Week runs from May 7-11 this year and aims to highlight the importance of a safe and hazard-free workplace for construction workers across the country. Construction Safety Week 2018's slogan, "We are stronger and safer together," serves as a reminder of how powerful a mutual understanding and respect of safety can impact the workplace. For five days starting May 7th, construction workers and employers across the U.S. and Canada will band together to make safety a priority and limit the number of preventable accidents that take place every year.
With heightened awareness of safety in the construction industry, workers, employers, and managers are encouraged to consider how they can make their workplace safer for everyone. Construction Safety Week provides encouragement and resources that can build awareness and excitement around safety in the workplace.
How Can You Take Part in Construction Safety Week 2018?
As a professional in the construction industry, you can become a Safety Week partner or sponsor, and help spread the message of safety awareness on social media using the hashtags #SafetyWeek and #MySafetyPledge and encourage others to do the same.
In addition to celebrating Construction Safety Week in these ways, consider adopting these special safety week and year-round safety tips we gathered from top industry experts.
Top Tips for Celebrating Safety Week and Staying Safe Year Round
Tip #1: Host Safety Meetings and Workshops to Celebrate Safety Week
Vice President of Development for LEVEL Construction Inc., Saim Salahuddin, says his workplace is focusing on turning the conversation of safety into an interesting and fun experience. "(For Safety Week) we are buying free lunch and coffee for all our on-site staff and sub-contractors on all our projects on Monday May 7th. The objective is to hold a safety demonstration over lunch to share best practices and remind and educate everyone of the core safety procedures and equipment to be used."
The LEVEL Construction team is also planning to hold Toolbox Meetings every day during Construction Safety Week to gather workers around the tool staging area to briefly discuss job site safety.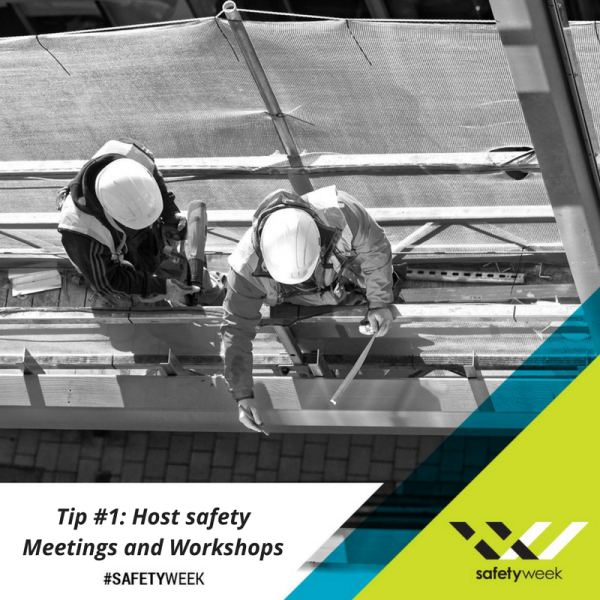 Tip #2: Don't Ignore Fall Protection and Personal Protective Equipment
It's no surprise that construction sites contain many types of hazards that can cause injuries. Some of those hazards are falling hazards and exposure to harmful substances. Matthew Struck, the risk management and insurance professional at Treadstone Risk Management, has seen his fair share of liabilities and risky situations working with contractors and municipal workers.
"Proper Personal Protective Equipment should be issued and worn at all times- safety glasses, hard hats, ear protection, face shields, flame retardant clothing (when appropriate), work boots, appropriate DOT class vests for roadway worksites, fall protection systems, etc."
Struck also stresses the importance of being aware of falling hazards on worksites and using the proper precautions to avoid injuries and fatalities. "Any work being done on scaffolding requires fall protection and tie offs as well as netting to protect debris from falling and striking workers or members of the public on the ground."
Consumersafety.org Health & Safety Investigator Caitlin Hoff agrees that scaffolding safety needs to be a higher priority on worksites, and that they "should only be assembled and used by those with experience and training, and supervisors should inspect the scaffolding frequently to look for any damage in need of repair before its used."
Falling from heights isn't the only type of falling hazard to be mindful of, according to Hoff. "Whether you are working up on scaffolding, a roof, or another high point, refrain from throwing things to crew members down below. Falling objects are a hazard to both crew members on the ground and civilians passing by the construction site."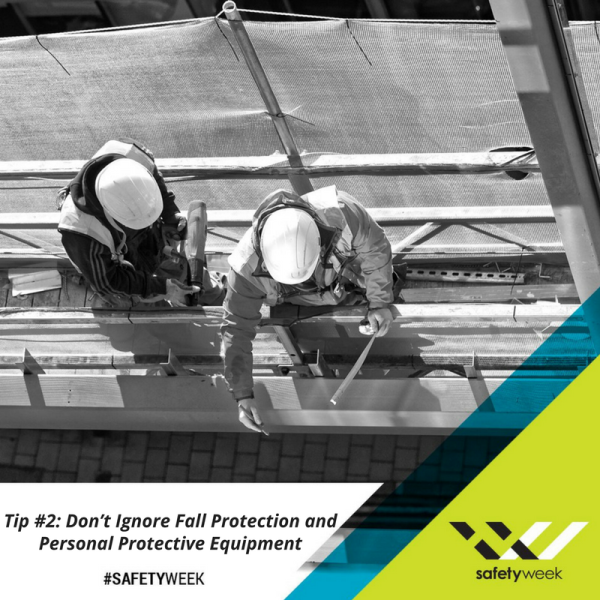 Tip #3: Respond to Fall Accidents the Right Way
While fall protection is a big topic in the construction and heavy equipment industries, knowing how to properly respond to and handle a fallen worker is something not as familiar.
According to Brent Wise, a Dallas firefighter, Technical Rescue Team Captain and co-founder of Tech Safety Lines, Inc., acting fast and calling 9-11 the moments after a fall accident is crucial. Even if the worker was wearing a harness, "prompt rescue is critical as dangling from a harness in space is hard on the body and the mind."
Other fall response do's and don'ts include:
– "Get going. Don't stand around discussing what to do.
– Stick to your plan. Now is not the time to try out new techniques.
– Have your rescue gear easily accessible. Do not consider ascending and starting your shift without your safety gear on your person, and any required backup gear at its pre-set location.
– Work smoothly. We accomplish a rescue quickly not by going fast, but by maximizing efficiency. Take your time and think through every move. If you rush, you could make time-consuming or even deadly mistakes.
– Focus on weight transfer. Whether the person is laying on a platform unconscious or hanging in the air, your objective is to safely transfer the body weight to prevent further injury and then get your co-worker down to the ground."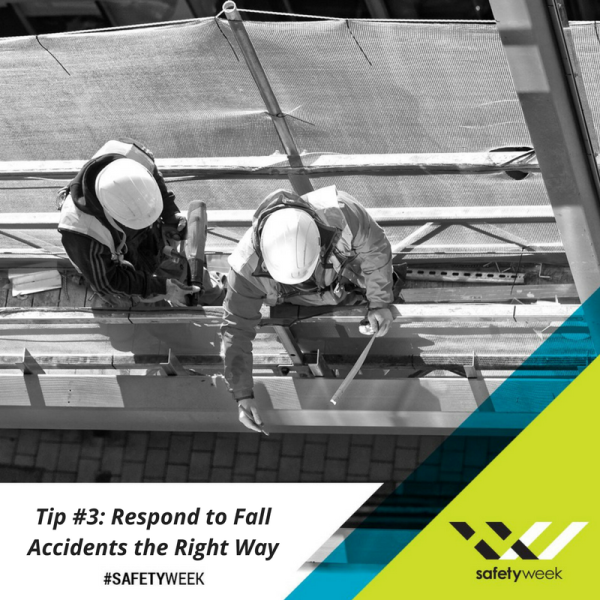 Tip #4: Be Aware and Alert at All Times
Jared Staver of the Staver Law Group, PC stresses the importance of being aware of your surroundings on a construction site and keeping an eye on other workers to help prevent accidents. "Keep an eye out for the safety of your coworkers. Safety really is a team effort on construction sites. Dangerous situations can be avoided if everyone takes the appropriate precautions together."
Jacob Dayan, CEO and Co-founder at Community Tax, a Chicago-based finance and accounting firm, also advises that workers be encouraged to report unsafe conditions. "It's important that employees know what they should be looking for and how to report unsafe conditions. If there is a specific route that employees should take to report this, make sure this is explicitly clear. Your employees are a great resource to help keep your workplace safe, so it's essential that they understand the role they play in workplace safety."
Additionally, Staver advises workers to, "always be aware of your surroundings and whether someone is below you or above you while working. Falling objects are serious causes of construction accidents and injuries. Wear the proper safety equipment and wear it correctly…. (including) ear protection, safety goggles, helmets, footwear, and gloves when warranted."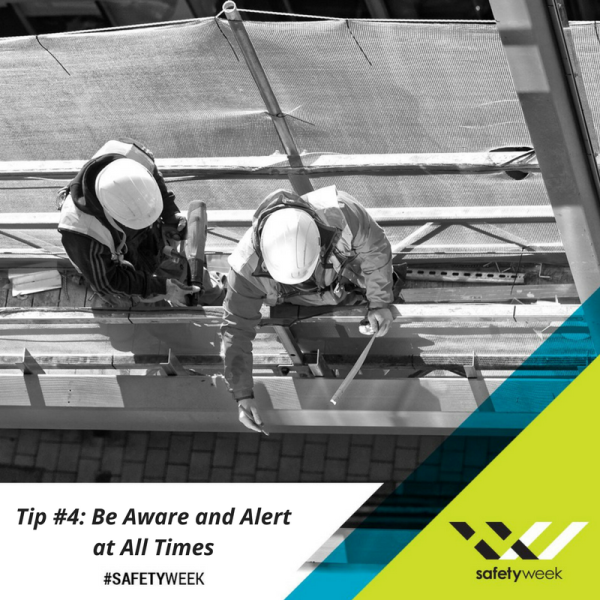 Tip #5: Spread the Message About Safety with Small, Simple Action
"The choices we make – big or small – can have a huge impact on our safety and the safety of those around us. This is especially true in the construction industry, where we rely on each other every day to stay safe," says Chris Traylor, a construction industry professional.
Traylor encourages all members of the construction industry, including workers, industry leaders and stakeholders to get involved in the Safety Week message and empower others. Even small actions can make a difference. "Add your pledge via your social media profiles (Twitter and Instagram) tagging #SafetyWeek or online at constructionsafetyweek.com."
Tip #6: Invest in High-Quality Safety Training
Last but certainly not least, we come to possibly the most important aspect of construction safety: quality training. When workers are properly trained and certified to operate heavy equipment, work around equipment, and perform tricky tasks, they are able to prevent the accidents that result in injuries and deaths on worksites.
Brent Wise agrees with us, and takes occasional training even further, stating that, "annual safety training isn't enough. At least once a quarter, you need to conduct a realistic scenario in a real rescue situation, up on a structure, in a place where your team does actual work. Then, work through your plan, from notifying emergency responders to gathering rescuers to accessing equipment to getting your colleague down and ready for transport."
If you're ready to make safety a priority in your workplace and put your safety plan into place, start with the top quality OSHA-compliant equipment training from CertifyMeOnline.net.
"Quality operator training that not only covers all of the most important topics of operating heavy equipment, like aerial lifts, scissor lifts and forklifts, but is also compliant with OSHA standards is the number one most effective tool for keeping workers safe and reducing accidents," says Tom Wilkerson, CEO behind CertifyMeOnline.net.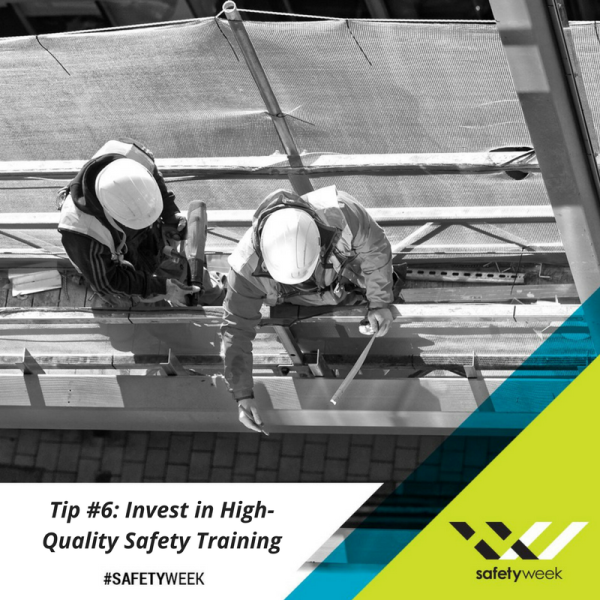 To learn more about the online training classes from CertifyMeOnline, click here.