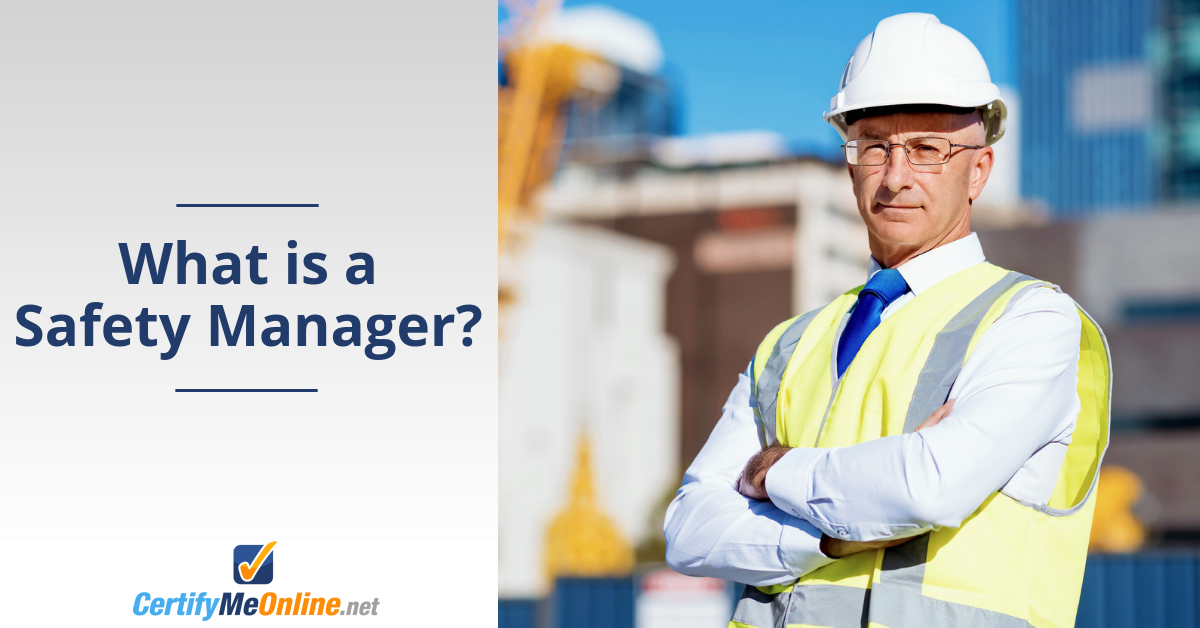 (Updated July 2020)
At warehouses, safety is always the top priority. But, creating a safe work environment requires three key elements:
1. A commitment to safety from senior management
2. Training that complies with OSHA process safety management guidelines
3. A safety manager, i.e. a trained professional who has full oversight of a company's safety program
Among these three elements, the safety manager is most important — and for good reason. Because, when a diligent safety manager takes the helm of a company's workplace safety program, a business is well-equipped to protect its employees against a wide range of on-the-job dangers.

What Is a Safety Manager? Here's a Closer Look
The safety manager job description contains a long list of duties. First and foremost, a safety manager is responsible for the safety of all workers and must provide them with a safe place to work. To achieve this goal, a safety manager:
Sets clear safety guidelines
Every company needs safety guidelines for workers to follow. A safety manager installs an OSHA-approved safety program that includes having a manual that outlines all safety policies and procedures.
Educates workers about safety protocols and procedures
A safety manager stays current with OSHA process safety management guidelines. The manager also updates safety equipment and keeps workers informed about new safety
Educates managers about safety protocols and procedures
A safety manager provides health, safety, and accident prevention training for all senior execs.
Explains OSHA guidelines to workers at all levels
A safety manager ensures that all workers comply with OSHA guidelines. This includes basic safety guidelines and the hazards related to equipment that workers use every day. With some equipment, like aerial lifts, OSHA requires workers to be trained and certified.
Conducts workplace inspections
At least once a year, a safety manager inspects a workplace to ensure working conditions are safe. He or she also conducts spot checks as needed.
Promotes workplace
A safety manager provides up-to-date materials to keep workers informed about new safety guidelines. He or she may also reward workers who abide by company safety rules.
Investigates on-the-job accidents
When an accident occurs, a safety manager first looks for the cause of the incident. Then, the manager creates a detailed report and develops measures to prevent the accident from happening once again.
Manages
When workers get injured on the job, they file claims to cover the cost of medical care. A safety manager oversees these claims and ensures that all injuries are posted in an OSHA logbook.
Safety manager job requirements are comprehensive. However, a safety manager who strives to go above and beyond the call of duty can create a safe work environment where employees thrive.
Why Are Safety Manager Job Requirements Vital for Workers to Succeed?
On a daily basis, the top priority for safety managers is keeping the workplace free of hazards. If hazards can't be removed, safety managers must find ways to limit risk. For example, adding extra lighting in dimly lit areas, putting non-slip tread strips or anti-slip coating on slippery floors, or adding pallet rack guards in storage areas may help lower the risk of workplace accidents and injuries. Safety managers also need to ensure that all hazards are clearly marked. This can be done with signs, posters, labels, floor markings, color codes, and more.
The next order of business is making sure that workers adhere to a company's safety guidelines. All workers need to know their employer's safety procedures. They also need to receive training that verifies they know how to safely operate equipment. This includes requiring workers to get the proper aerial lift certifications. It also involves enforcing lockout/tagout procedures, which help safeguard workers from the unexpected startup of machines or equipment.
Safety managers must analyze job hazards to reduce risk, too. This starts with listing the hazards related to each job. The next step is to determine what triggers these hazards. Then, the manager explores ways to improve workplace safety.
One of the best ways to improve on-the-job safety involves encouraging workers to report "near misses." accidents that almost happened but didn't. These close calls reinforce the need to work safely at all times.
Other common daily tasks for safety managers include:
Reinforce safety training
Safety managers can provide workers with daily reminders about safety. These can come in the form of booklets, brochures, fact sheets, posters, and more. Live workshops and online training courses also help keep safety top of mind with workers.
Keep a workplace clean and neat
OSHA states that all working surfaces should be free of hazards. These include sharp objects, loose floorboards, leaks, spills, snow, ice and more. "Clean" best practices include keeping all floor surfaces clean and well-maintained, seeing that storage areas are not crowded with items that belong elsewhere, and discarding seldom-used and unnecessary tools.
Enforce the everyday use of safety equipment
First, safety managers see that the company provides the right personal protective equipment (PPE) to its employees. This can include everything from hard hats and safety glasses to fall protection gear for aerial lifts. The safety manager also ensures that workers wear their PPE on the job.
Ensure that floors and pipes are properly marked
Floor marking can increase warehouse safety and worker efficiency. Safe floor marking consists of separate paths for forklifts and pedestrians, marking posts, speed bumps, and other hazards with reflective tape, using striped hazard tape around loading docks, curbs, and other exposed edges, and having dedicated storage areas for inventory, machines, and other equipment. A safety manager also ensures that all pipes have color-coded labels to indicate their contents.
Conduct safety inspections and audits
 With a safety inspection, a safety manager can look for hazards and unsafe practices at a worksite. The manager also ensures that safety measures are in place and being followed properly. Ultimately, a safety manager uses a safety audit to take a big picture look at the entire safety program. This includes measuring the results of the program to see if they meet the stated safety goals. Furthermore, a safety inspection allows a safety manager to identify outdated safety procedures, recurring safety problems, best practices that aren't being used, and ways to improve safety training.
Use signage to promote safety awareness
 Safety managers should post hazard warnings in highly visible areas. Signs that remind workers to wear PPE should also be posted. Signs that direct floor traffic and point out emergency exits are also important.
Recognize employees who prioritize workplace safety
Workers who follow company safety practices should be recognized for their good work habits. This will reinforce the desired behaviors and encourage other workers to practice good safety habits.
How To Become an OSHA Safety Manager
Most companies require an OSHA safety manager to have a bachelor's degree in engineering. The discipline could be in a variety of areas, such as:
– Electrical
– Chemical
– Mechanical
– Industrial
Many employers will offer a safety manager role to those who possess a degree in industrial hygiene or environmental safety as well. Employers also value real world experience obtained via a college apprentice training program.
High school students who aspire to become a safety manager may want to consider a heavy course load that includes advanced math and science courses such as calculus, chemistry, and physics. Entry-level safety manager jobs require a B.S. degree, while higher-level jobs usually require a master's degree. Many safety manager jobs require certifications, too.

Be Safe: Train and Certify
If you want to become an OSHA safety manager, you need to start preparing today. If you begin a workplace safety training program, you can gain the insights you need to promote a safe, collaborative work environment. Plus, you can take the first step toward teaching others how to minimize the risk of on-the-job accidents and injuries.
Regardless of whether you want to become a safety manager or become certified to use an aerial lift, CertifyMeOnline.net is here to help. We offer in-depth safety training courses that are affordable, OSHA-compliant, and easy to access at your convenience. To learn more about our safety courses or to sign up for one of our courses, please contact us online or call us today at (602) 277-0615.