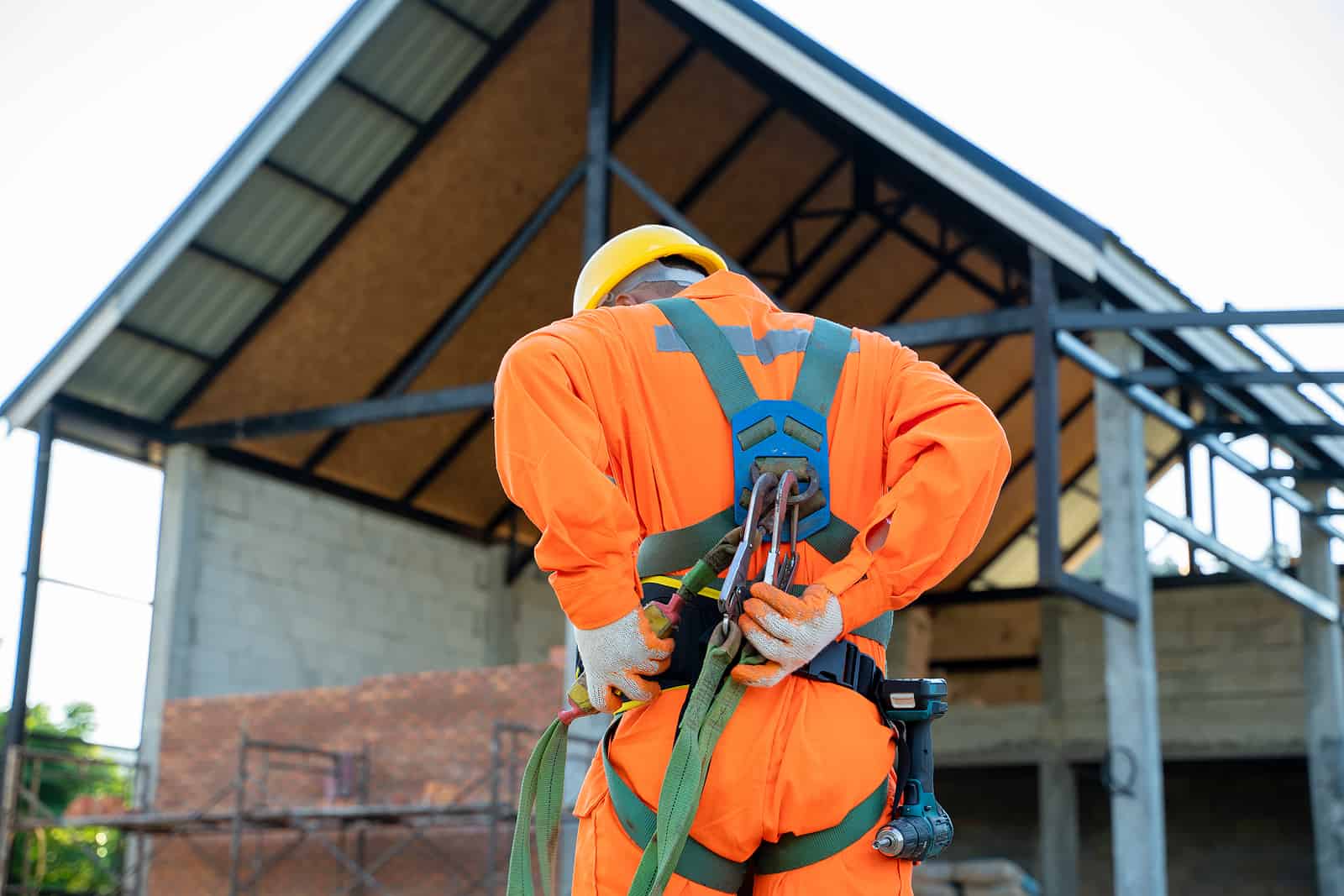 A large number (36.5%) of workplace fatalities are the result of a fall from a height. Any time an employee is exposed to a fall risk hazard, it's crucial that employers first explain the risks, train them appropriately, and ensure that they're equipped to navigate the challenges posed by the job.
An employee can get hurt or even killed, and your business might suffer, too. When OSHA identifies safety violations, they have the authority to charge fines, shut down your job site, and make you get a fall protection certification for every employee exposed to a fall risk before you may reopen.
We can help you meet any OSHA fall protection certification rules, OSHA scissor lift certification requirements, JCB training obligations, and more with our online training kits. Learn more about how our training materials can help you below.
Understanding Fall Protection Certification
Since falls are a significant work hazard, employees should be trained before handling these types of risks. Fall protection certification is the process of educating employees regarding fall hazards, how to remain safe around heights, and various procedures for different jobs.
Obtaining the proper fall protection certification for all your team members greatly benefits you, your team, and your business. For one, it creates a safer work atmosphere. Since everyone is more informed of the hazards and potential risks associated with falls, more employees will be vigilant. This will help prevent any work-related accidents, injuries, and fatalities. Proper training won't stop every accident. Still, it does help avoid ones that happen due to insufficient knowledge, a lack of safety measures, and haphazard employee behavior.
Another huge advantage is that by certifying your team, you'll be in compliance with OSHA's laws. OSHA regularly inspects job sites. If you're found violating safety standards by failing to obtain the proper certifications for your team, you could be fined or even have your job site shut down.
OSHA Fall Protection Training Requirements
Per OSHA standards, employees must receive the proper training before being exposed to a fall hazard. This includes any height that requires a fall protection system.
OSHA fall protection training certification comes in the form of a training course. Still, employers must be aware of the different types of fall hazards and training courses. Depending on the situation, different certifications and courses may be needed. For instance, aerial lift training requirements say that employees must have specific training to operate and use them. There needs to be more than a simple fall protection course to certify the employee to use an aerial lift.
OSHA fall protection certification may also require that the employee submits to an evaluation when operating equipment like an aerial lift or forklift. We offer a train the trainer kit to help you certify an evaluator on your team.
Fall Protection Certification Process
Using CertifyMeOnline.net's fall protection training certification program, your employees will get access to our training modules, checklists, forms, and tools. We'll go over in detail how to use personal protective equipment, identify fall hazards, and work safely around these risks.
We offer fall protection certification online, but depending on the type of certification you're after, you may also need to have your employers submit to an evaluation by a certified trainer. You can hire a certified trainer or train one of your existing employees using our modules.
Benefits of Fall Protection Certification
Obtaining a fall protection certification for employees exposed to fall risks is crucial to your business. It provides the following main benefits:
✓

Helps prevent work-related accidents

✓

Reduces workplace injuries and fatalities

✓

Keeps your job sites OSHA compliant

✓

Helps you gain more jobs and boosts your credibility

✓

Protects your business from legal liability
How Often is Fall Protection Training Required?
Fall protection certification does not last indefinitely. Updated training and refresher courses are required every two years. Sometimes, you'll need to recertify sooner than three years. For instance, if there are changes to the type of protection system you're using, you've failed a protection inspection, or circumstances have changed, you may need to recertify again. Here at CertifyMeOnline.Net, we offer refresher courses for:
Check out our site to see more of the courses we offer.
OSHA Fall Protection Training Online
The costs of obtaining a fall protection certification can vary depending on where you take your course, the extent of the lessons, and the subject material. Some courses may cost more based on the subject material. For instance, the aerial lift certification cost, will likely be higher than the costs of a fall protection course or a rough terrain refresher course. Our fall protection certification course comes at a one-time price of $49.00.
24-Hour Fall Protection Training Online
One of the best parts about using our 24-hour fall protection training online is that your employees can access our training material from anywhere with internet access. This is a huge advantage compared to employees attending a seminar or lecture off-site.
This 24-hour training material is also available with our aerial lift training certification kit!

Fall Protection Certification (FAQs)
Do you have more questions about fall protection, aerial lifts, boom lifts, or OSHA's rules and regulations? If so, check out the free resources on our aerial lift blog for more details and learn answers to some of the most frequently asked questions about fall hazards below.
Does OSHA Require Fall Protection Training?
Yes. Per OSHA's rules, employers must provide adequate training to any employee before they are exposed to a fall hazard. Training is also needed when the employee is expected to use personal fall protection systems. They must be trained on the equipment they're using for the circumstances of the job.
What are the Levels of Fall Protection Training?
According to OSHA, there are four classes of fall protection training. These levels include:
✓

Awareness

✓

Authorized-User

✓

Competent Person

✓

Qualified Person Training
How Often Does OSHA Require Fall Protection Training?
OSHA requirements state that workers who are regularly exposed to fall hazards be trained every two years. Depending on the circumstances, though, you may need to recertify sooner than that. You may not need to recertify for up to three years when you're using machinery like a forklift or aerial lift.
What Fall Protection is Required by OHSA?
Per OSHA's standards, any workers who are more than 10 inches below the level of the walking or working surface on which they are working must be protected by a guardrail system, safety net system, or a personal fall arrest system.
Are You Interested in Our Fall Protection Certification Course?
Every employee that has to navigate significant fall hazards as a part of their job duties should get a fall protection certification. As an employer, it's your duty to ensure that your employees get certified per OSHA's rules and regulations.
Meeting this obligation ensures that you don't face OSHA fines and consequences. It also helps to prevent work-related accidents.
If you have employees that you need to certify, then we can help. Contact our team now if you're ready to get started.