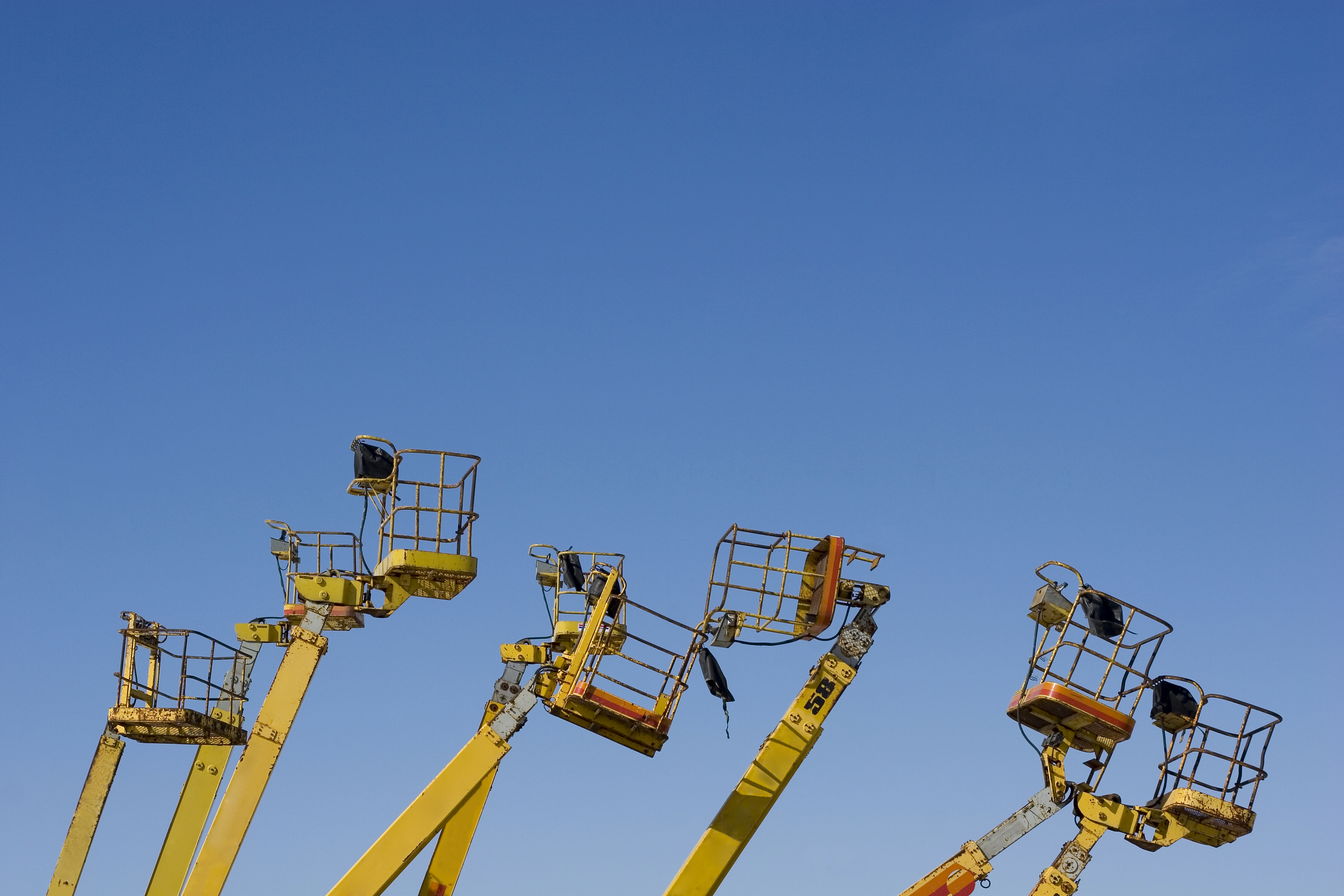 Get JCB Certification Training with CertifyMeOnline.net | Affordable Prices | Lifetime Support | And Much More
J. C. Bamford Excavators Limited is a family-owned business that operates internationally under the brand name JCB. It's one of the world's top three construction equipment manufacturers.
If you or your employees work with aerial lifts or scissor lifts, chances are you've heard of or used JCB's quality construction equipment. Headquartered in Staffordshire, England, JCB distributes its more than 300 types of machinery in over 150 countries through their 2,000+ dealers worldwide. Aside from defense & contracting, construction and agriculture, JCB aerial lifts are used for a wide variety of applications and industries. Their machinery is constantly evolving and changing, and you need JCB certification training to keep up with frequent manufacturer and OSHA updates. Look no further than CMO, the leader in online JCB certification training, to handle all of your OSHA compliance needs!


Operating a JCB scissor lift is much the same as operating other brands of lifts. If you hire aerial lift operators, there's a good chance you need JCB certification.CertifyMeOnline.net, the leading provider of OSHA-approved scissor lift and aerial lift training and certification offers four different job training courses for your employees who need JCB driving training. Here's the current lineup of our JCB training courses for scissor lift and aerial lift workers:
Online Aerial Lift and Scissor Lift Training & JCB Certification
This is one of our most popular JCB training courses.Our comprehensive aerial lift training program is 100%OSHA approved and covers everything you or your employees need to know about how to safely operate and maintain JCB scissor lifts, aerial lifts and other aerial work platforms. We can help train all of your employees on the proper, safe use of JCB aerial work platforms (AWPs) and mobile elevating work platforms (MEWPs). Think of CMO as your online JCB training school! Just follow these five easy steps and you'll be on your way to having a safer, OSHA-compliant workplace in no time at all! CertifyMeOnline's JCB  driving training courses for forklifts and aerial lifts are available in both English and Spanish. The cost is just $75 for either version.
Train the Trainer Certification
This JCB training class is exactly like it sounds – we train your company's designated trainer to become an in-house expert on everything from operating various types of aerial lifts to OSHA workplace safety requirements. Have you ever wanted an on-site safety expert to help with all aspects of JCB operator certification? We have everything you need! Once your designated employee completes CMO's Train the Trainer course, you'll enjoy the convenience of having your own in-house certified aerial lift safety expert who'll be qualified to administer your company safety program, as well as train and certify your other employees and future hires. From JCB scissor lift maintenance schedules to JCB driving training suggestions, this popular course has everything you need to get started with your company's internal safety program. The cost of CMO's Train the Trainer certification course is $75.
Class 7 Training
JCB specializes in many different types of industrial equipment, including rough terrain lifts and extended reach lifts, which is another kind of AWP & MEWP. As with our aerial lift and scissor lift courses, CMO's Class 7 training comes in both English and Spanish versions. The enrollment fee for either course is $75. If you or your employees need specialized JCB scissor lift training, contact us today to find out more about our Class 7 JCB driving training and other JCB training courses.
Fall Protection Training & JCB Certification Training
Fall protection is an extremely important part of OSHA safety training. OSHA requires all aerial work platform (AWP) operators and those who work from aerial platforms to be trained and certified in fall protection. It's an essential part of our combined JBC aerial lift certification and scissor lift certification training process. As with other CertufyMeOnline.net aerial lift operator training courses, CMO's JCB training for fall protection is fast, easy and at $149, a very affordable way to improve workplace safety and help protect your employees against on-the-job injuries.
Get Your JCB Certification & Scissor Lift Training Today – Sign up with CMO!
CertifyMeOnline.net is the fastest, easiest and most affordable way for you and your employees to become OSHA complaint. We provide all the training and materials you'll need for your employees to be trained and certified as OSHA-approved aerial lift and scissor lift operators.
This includes operating the full range of JCB lift equipment. Although our courses aren't specific to JCB aerial lifts, consider CMO to be your JCB training website. Each of our training modules contain a comprehensive review of the most important OSHA safety standards. If JCB aerial lifts or scissor lifts are used in your workplace and you need JCB scissor lift or aerial lift operator training, CMO is here to help. Simply put, CMO is the best source for convenient online JCB certification training!


For more information or to enroll in JCB aerial lift training, call CMO at (602) 277-0615, email us at infor@certifymeonline.net or contact us online. Enroll today and you and your employees can be OSHA-compliant in as little as an hour!