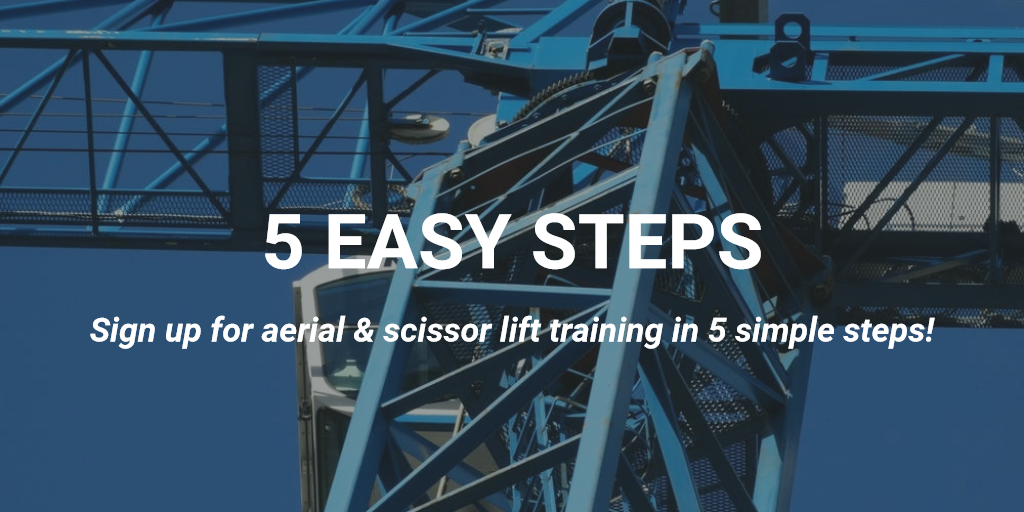 If you need OSHA approved certification to operate aerial and scissor lifts, you've come to the right place. CertifyMeOnline.net 's training simplifies the process of getting the quality aerial and scissor lift training that both new and experienced operators need. CMO's same day operator training and certification costs just a fraction of the cost of other programs.
You can be ready to enter the workforce as a certified aerial lift operator in just one afternoon! Here are the 5 Easy Steps to completing CMO's 100% OSHA-compliant online aerial lift operator training:

Step 1) Register Your Company
If you're a business owner or employer, begin by registering with CMO. There's no charge to enroll your company in our system. Once you've registered, pass the information along to  your employees so they can create their student log-in accounts.
Step 2) Register Your Operator
The cost is just $75 per operator trainee. Payment is made online by credit card  through our secure payment page.  After making your payment, create student usernames and passwords.
Step 3) Student Log In
Students can log into the company account from any computer or digital device any time and anywhere there's an internet connection. All aerial lift and scissor lift training materials are available online 24/7.
Step 4) 60-Minute Online Curriculum & Test
• There are no books or videos to buy, costly training facilities to rent, or special times to schedule. Simply work through the online modules, at your own pace, and pass the quizzes and tests as you go.
• The program DOES NOT time out – you can spend as much time as you need to complete the curriculum and test.
• Your operator may review and CORRECT any incorrect answers on the test – our pass rate is 100%!
Step 5) Automatically Print Operator Card/Certificate/Onsite Evaluation Checklist
As soon as you complete your aerial lift or scissor lift training course, you can download and print a temporary operator card. Your permanent operator card and certification will be mailed to you within seven to ten days.
Why Choose CMO Over Other Lift Training Programs?
We've specifically designed CertifyMeOnline.net's aerial and scissor lift training programs to be as convenient, effective and affordable as possible. Here are a few of the many reasons businesses across America choose CertifyMeOnline.net to train their operators:
•

We're 100% OSHA Compliant

•

Students Have 24/7 Access to All Training and Test Materials

•

Operator Cards and Certifications Are Available Immediately Upon Completion of the Training

•

Training takes Only About an Hour, and Can Be Completed Using a Smartphone or Other Digital Device Anywhere There's an Internet Connection

•

CMO Training Prepares Operators to Recognize and Avoid Hazards, Which Protects Their Safety and Prevents Damage to Equipment

•

Completing Our Aerial and Scissor Lift Operator Training Lays the Groundwork for You to Become a Certified In-House Lift Operator Trainer

•

You'll Gain the Skills You Need to Start a Rewarding and Virtually Recession-Proof Career Anywhere in the Country
What You'll Learn When You Enroll in CMO's Online Aerial and Scissor Lift Training
Here are some of the things our lift operator training courses offer:
•

How to operate various types of aerial lifts, including articulating and telescopic boom lifts, cherry pickers and other aerial work platforms (AWPs)

•

How to use lifts on rough, soft or uneven terrain

•

When and where not to use aerial lifts

•

How to perform daily equipment inspections

•

How to assess the surrounding environment for potential hazards

•

How to prevent accidents that can result in worker injuries or deaths, and equipment damage

•

How to use safety tools and personal protective equipment (PPE)

•

What's required to be OSHA compliant
This training will equip workers with the knowledge and skills they need to safely operate aerial and scissor lifts. It will also help employers avoid costly fines from OSHA, as well as avoid potentially serious lawsuits and legal problems.
Job Opportunities for Certified Aerial and Scissor Lift Operators
Here are some of the great job opportunities you'll qualify for after completing your CMO aerial and scissor lift training:
•

Lift operator and mechanic

•

Construction worker

•

Aircraft maintenance and cleaning worker

•

Special events employee

•

Building maintenance worker

•

Sign installer

•

Window installer and washer

•

Tree trimmer

•

Overhead lighting installer

•

And many more!
Some of the many well-known companies and organizations that trust and rely on CMO to train their aerial and scissor lift operators include:
•

Coca-Cola

•

Square D

•

Hilti

•

Harley Davidson

•

PPG Aerospace

•

Verizon

•

Siemens

•

Time Inc.

•

Major airports

•

Local, state and federal government agencies

•

And more!
CertifyMeOnline.net's Other Training Courses
In addition to aerial and scissor lift operator certification, CMO also provides training in the following areas:
Sign up for our aerial and scissor lift training – or any of our other online training courses – today, and you can be qualified to start a new exciting and rewarding career tomorrow! Contact us today online or call us at 602-277-0615 to learn more!