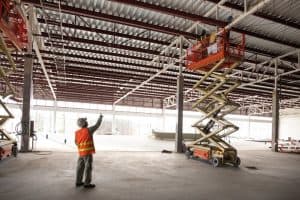 Employers play a vital role in ensuring that their workers have valid scissor lift certification cards and aerial lift certification cards. Not only is this good for employee safety, but it can also help to prevent damage to equipment and property. While most manufacturers provide training programs, these can be expensive and time-consuming. Fortunately, there are a number of ways that employers can help their employees earn an aerial lift and scissor lift training card. One option is to provide access to online courses. 
These courses can be taken at the employee's own pace, and they often include convenient features such as printable course materials and practice quizzes. Another option is to partner with a local training provider. This can be a cost-effective way to make sure employees have their lift certification card, and it also allows employers to schedule training around their own schedules. Regardless of the approach that is taken, helping employees earn an aerial lift and scissor lift training card is an important way to promote safety in the workplace.
When companies use aerial lifts or scissor lifts in their business, OSHA requires training certificates be kept on file for each operator, even if he or she operates the equipment only occasionally. OSHA also requires workers to carry current aerial lift certification cards whenever they operate aerial lifts or scissor lifts.
Aside from being an OSHA requirement, it makes good business sense to ensure that each of your operators has been properly trained and certified. An untrained or poorly trained lift operator is far more likely to be involved in an accident resulting in injuries or death than an operator who's been properly trained and certified by an OSHA-approved training institution such as CertifyMeOnline.net.

How to Earn a Scissor Lift Training Card
Your company may use scissor lifts. In this instance, anyone who uses a lift at your worksite must have a valid scissor lift training card. 
A scissor lift certification card verifies your operators know how to drive their equipment safely. The card is earned as part of an OSHA-compliant training program. 
During an OSHA-approved program, workers learn how to operate a scissor lift with precision and care. The program enables workers to get insights into safe use of a scissor lift and equipment inspections, maintenance, and repairs. Plus, upon successful completion of the program, a worker earns a scissor lift training card.  
A typical aerial lift certification card program can be completed in a single day. After a worker earns their aerial lift certification card, they can legally operate a scissor lift or other types of lifts at any jobsite in the United States. 
Meanwhile, an aerial lift certification card stays valid for up to three years. As the expiration date for a certification card approaches, a worker can enroll in renewal training. Or, if aerial lift training cards expire, workers will need to complete a new training program.
Why Your Employees Need Aerial Lift Training Cards
OSHA requires all employers to provide their staff with workplaces that are free from hazards that could cause accidents leading to serious injuries or fatalities. Having your aerial lift and scissor lift operators properly trained and certified plays a major role in keeping a workplace safe. Failure to comply with OSHA requirements can result in employers receiving hefty fines, prison time, or both. Even worse, lack of proper lift operator training can lead to serious injuries, disabilities, or even deaths.
Whenever a scissor lift or aerial lift is involved in a serious accident, OSHA immediately initiates an investigation into the circumstances surrounding the incident. The investigation will include an examination of all lift operator training records, including verification that all aerial lift and scissor lift operators have current certifications issued by an OSHA-approved trainer such as CertifyMeOnline.net. Here are some other items OSHA will look for during an employee records review:
1. Are there certifications on file for each lift operator showing they've been properly trained?
2. Were the workers involved with the incident familiar with current OSHA procedures for safely operating aerial lifts and scissor lifts in the workplace?
3. How much do the employees know about workplace safety standards? Did a lack of OSHA safety procedures or proper lift operator training contribute to the incident?
4. Who was ultimately responsible for the accident – the employer, the lift operator, the equipment manufacturer or other outside third party?
Aerial lift and scissor lift certification cards CMO issues to workers upon completion of our training will prove that your employees have been trained to the latest OSHA standards. Operator training certificates are an important part of each employee's HR training records, since in the event of an OSHA audit, the certifications provide proof that a worker has been trained in accordance with the latest workplace safety standards. CertifyMeOnline.net has been successfully training and certifying aerial lift and scissor lift operators for years, which is why it's the preferred choice for aerial lift operator online training. Here are a few highlights of CertifyMeOnline.net's online aerial lift and scissor lift training
✓
CMO Online Training is Flexible
Working at their own pace, students complete the training whenever and wherever it's convenient – during lunch breaks, at a coffee shop or at home. Most students can complete certification within a matter of days.
✓
Our Training is Affordable
Many employers mistakenly assume having their employees trained to legally operate aerial lifts and scissor lifts is expensive. CMO's streamlined online training process eliminates the middleman, which means there are no costly and inconvenient third-party training providers. When you need to have your operators receive aerial lift certification cards to operate your lift equipment, we have you covered!
✓
We Offer OSHA-Compliant Certification Training. 
Our staff is thoroughly familiar with OSHA regulations. We ensure that your workers can receive OSHA-approved certification training at any time. Regardless of when your employees enroll in our training, we'll verify they are up to date on OSHA aerial lift safety requirements. 
✓
We Provide All-Inclusive Certification Training. 
With our certification training, everything's included, so there are no books or other materials to buy. Training materials are online and can be easily accessed 24/7 using a laptop or other digital device, anywhere there's an internet connection.
✓

We Offer Immediate Certification. 

After your employees complete the training and pass the exam, their aerial lift or scissor lift training cards can be downloaded immediately. At this point, your workers are legally authorized to operate lift equipment – there's nowhere else that getting aerial lift certification card training is faster, easier or more convenient!
Why Is CMO the Best Choice for Aerial Lift Certification?
We've been certifying lift operators for more than 20 years and are the number one source around for OSHA-compliant aerial lift and scissor lift training cards. Since we first began offering classes in 1999, thousands of operators have successfully completed our training and received their aerial lift and scissor lift certification cards. And our pass rate is 100%. 

OSHA requires recertification training every three years or following an accident where a forklift is involved – refresher training is free for life when your operators receive their original training through CMO.Also, our online forklift and scissor lift training programs are 100% OSHA-compliant. They even come with a 30-day money back guarantee.
Scissor Lift Training Card FAQs
1. Is it easy to earn scissor lift certification?
Yes. With CMO, your workers can complete online scissor lift certification training. Once a worker passes our certification exam, he or she receives their certification card.  
2. What scissor lift certification training options are available?
We offer scissor lift certification, hands-on scissor lift training and certification, and renewal training. You can enroll a worker in any of our scissor lift certification training programs for the low price of $75.00.
Along with scissor lift certification training, we offer fall protection and aerial lift options. You can also sign your workers up for forklift certification training via CertifyMe.net, our sister site. We provide a Train the Trainer course that lets anyone on your team become an OSHA-approved certification trainer, too. 
3. When should I provide scissor lift certification training to my employees?
Don't wait to offer scissor lift certification training. If you have scissor lift operators on staff, ensure they have valid certification cards. And if you plan to add scissor lift operators to your team, provide them with certification training. 
4. When does my certification expire?
Aerial and scissor lift certification cards expire every three years. The date of expiration is printed on the card, along with the name of the operator and the company that certified them. There are a few different ways to renew your certification. You can retake the course and exams, or you can submit a new application with proof of experience. You will need to have at least 40 hours of experience operating a lift, or have completed an approved training program. Once your application is approved, you will be issued a new certification card. It is important to keep your certification card up to date, as it is required by law in some states. In addition, many employers will not allow you to operate a lift without a valid certification card.
5. How can I get a copy of my license?
If you're operating an aerial lift, it's important to make sure that you have a valid license. A license helps to ensure that you're properly trained and knowledgeable about the equipment, which can help prevent accidents. If you need to get a copy of your license, there are a few different options. You can contact the issuing agency directly and request a copy, or you may be able to access your records online. You can also try contacting your employer, as they may have a copy on file. Whatever method you choose, be sure to allow plenty of time for the process, as it can take several weeks to obtain a copy of your license.

Partner with CMO for Aerial Lift Certification
CertifyMeOnline.net is a fast, easy, and affordable way to certify your aerial lift and scissor lift operators. Each CMO online interactive training module has been approved by OSHA – having your employees train for and receive their scissor lift and aerial lift certification cards through CMO can make them OSHA-compliant in as little as an hour. 
CertifyMeOnline.net. is unquestionably the best choice for training and certifying your aerial lift and scissor lift operators. For more information on CMO's aerial lift and scissor lift certification cards, or any of our other OSHA-approved training programs, contact us online or call us at (602) 277-0615 to speak with one of our knowledgeable team members.