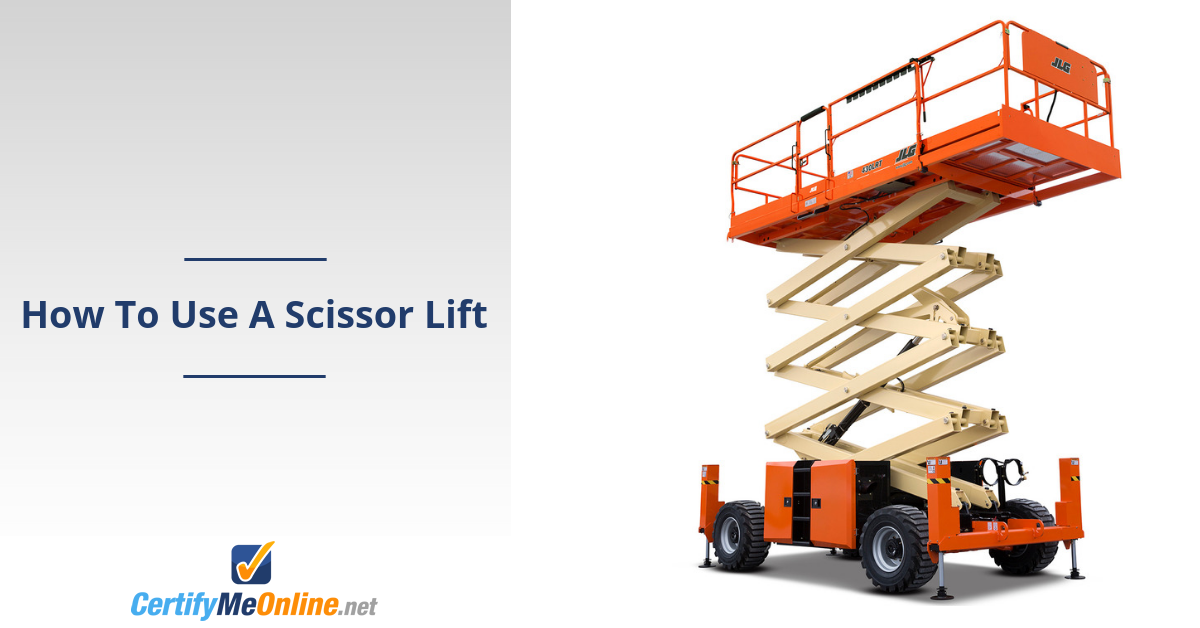 Scissor lifts are among the most popular aerial lifts, and for good reason. They feature an extendable platform and crisscross framework well-suited for construction, electrical work, building maintenance, and other industrial applications. In addition, scissor lifts are mobile and compact, and they offer a large, stable platform that is both safe and provides ample space.
There is a lot to like about scissor lifts. But, to realize their full benefits, it is crucial to teach workers how to operate a scissor lift.
A Closer Look at How to Operate a Scissor Lift
Learning how to operate a scissor lift is vital. If your employees are uncertain about how to move a scissor lift, they put themselves and others at risk of scissor lift accidents and injuries.
OSHA requires employers to teach workers how to operate a scissor lift. By offering scissor lift safety training classes, an employer can teach its workers the proper techniques and strategies to operate a scissor lift.
How to Use a Scissor Lift: Getting Started
One of the most important parts of learning how to operate a scissor lift is knowing what to do before starting a job. This applies to both new and experienced scissor lift operators.
Before raising a scissor lift, operators should:
– Ensure there are no drop-offs, holes, bumps, debris, and people around the worksite.
– Inspect the lift; this involves checking the lift's operational and functional components with the power off, then with the power on.
– Ensure lift safety equipment is in place, including guardrails.
– Ensure anyone working on the lift wears a hard hat, rubber-soled shoes, gloves, and OSHA-mandated personal protective equipment (PPE).
– Ensure the operator is certified to operate the lift.
The aforementioned steps should be routine for all scissor lift operators, at all times. If operators follow these steps each time they use a scissor lift, they can further reduce the risk of associated on-the-job accidents and injuries.
Scissor Lift Operation: How to Move a Scissor Lift
When moving a scissor lift, operators should:
– Ensure the surface on which the scaffold is being moved is level.
– Confirm a manager is available to supervise the move.
– Ensure outrigger frames (when used) are installed on both sides of the lift.
– When required to move the lift, ensure a power system is applied directly to the wheels, with a speed of no more than 1 ft. per second.
– Ensure workers are not on any part of the scaffold that extends outward toward the wheels, casters, and other supports.
– Keep the lift at a height that is double the width of the base.
– Apply manual force to move the scaffold as close to the base as possible and no higher than 5 ft. above the supporting surface.
– Ensure employees on or near the scissor lift are aware of the move.
If these requirements for safely moving a scissor lift cannot be met, workers must get down from the lift before they move it.
Scissor Lift Hazards
Common causes of scissor lift accidents include tip-overs, collapses, and malfunctions. However, OSHA-certified scissor lift operators can take steps to reduce or eliminate hazards that otherwise contribute to these issues.
Ultimately, to safely use a scissor lift, operators must focus on the following areas:
1. Fall Protection
OSHA requires the use of a scissor lift harness and lanyard when there isn't a working scissor lift guardrail system. Also, effective fall protection requires workers to check the guardrail system before they start a job.
Once in the air on a scissor lift, workers should remain on the platform. They must keep essential work items within easy reach from the platform as well.
2. Stability
Operators must ensure a scissor lift is stable. They should position the lift on a firm, level surface, keep the lift away from traffic, and work only in good weather conditions.
3. Positioning
Correctly positioning a scissor lift helps prevent tip-overs and other accidents. Operators should closely monitor fixed and moving objects close to the lift, keep an eye out for overhead objects like beams and door frames, and work on surfaces at least 10 ft. away from live power sources.
Scissor lift operators must dedicate time, resources, and energy to identify and resolve safety hazards. With proper scissor lift safety training, operators can learn to detect hazards and address such issues before they cause accidents and injuries.
Scissor Lift Maintenance Tips
Consistent maintenance is a key factor in preventing scissor lift accidents and injuries. Scissor lift maintenance involves:
– Inspecting and testing lift controls and components before use
– Ensuring the lift's guardrail system is in good working condition
– Ensuring the brakes are set and will hold the scissor lift in position
Scissor lift maintenance must be performed regularly. Otherwise, if a scissor lift does not work properly, the machine can put the operator and others in danger.
Why Is Scissor Lift Safety Training Important?
Only trained and certified workers should be allowed to operate a scissor lift. Fortunately, training programs are available to help workers quickly learn the ins and outs of scissor lift safety.
Employers are responsible for teaching workers to safely operate a scissor lift. The training they provide should include:
– Explanation of manufacturer's instructions for operating a scissor lift vertically and in transit
– Information about how to handle materials on the lift
– Insights into worksite hazards
– Details on how to report any equipment defects or maintenance issues
There is no need to wait to offer scissor lift safety training. Because, if an employer offers scissor lift safety training to its workers today, it can provide its workforce with the insights it needs to operate a scissor lift without endangering themselves or others.
Enroll in Scissor Lift Training from CertifyMeOnline.net
CertifyMeOnline.net provides a scissor lift safety training program that fulfills OSHA's mandates, can be accessed online 24/7 from any device with an internet connection, and requires only about an hour to complete. To learn more or to sign up for our program, please contact us online or call us today at (602) 277-0615.