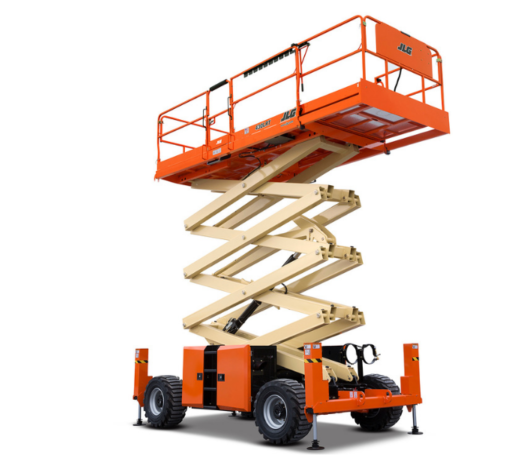 Scissor lifts are among the most popular aerial lifts, and for good reason. They feature an extendable platform and crisscross framework well-suited for construction, electrical work, building maintenance, and other industrial applications. In addition, scissor lifts are mobile and compact, and they offer a large, stable platform that is both safe and provides ample space.
There is a lot to like about scissor lifts. But, to realize their full benefits, it is crucial to teach workers how to operate a scissor lift.
What Is a Scissor Lift?
A scissor lift is a motorized vehicle with a platform that can be raised straight up. The lift has crisscrossing metal supports that extend as its platform is raised.
Scissor lifts are used by workers who need to repair tall buildings, clean gutters or windows, and perform other outdoor tasks at heights. They can also be used in warehouses and other indoor work environments.
A scissor lift tends to be smaller than comparable aerial lifts. Any worker who uses a scissor lift must receive proper safety training, too.

How Is a Scissor Lift Powered?
Scissor lifts vary based on their power source. Common types of scissor lifts include:
• Hydraulic: Use a hydraulic liquid to power their lifting mechanism
• Pneumatic: Use air pressure to raise and lower the lift
• Diesel: Use diesel fuel
• Electric: Use an electric engine
Regardless of how a scissor lift is powered, lift operators must understand scissor lift controls to ensure that they can use their lift to safely perform day-to-day tasks.
Scissor Lift Controls
Common scissor lift controls include:
– Lower-Neutral-Raise Switch: Used to raise or lower the platform
– Off-Platform-Base Key Switch: Used to power the platform or activate the platform or base control
– Emergency Stop Button: Used to disconnect power to the control circuit
Before using a scissor lift, an operator must activate the base control console. This requires the operator to pull out the emergency stop button from the base control unit and platform control unit. The operator must also turn the main power disconnect switch to the "on" position.
How to Move a Scissor Lift
To raise or lower a scissor lift's platform, an operator must select the off-platform-base key switch and move it to the base position. Next, select the lower-neutral-raise switch and move it to the raise or lower position. When the operator has raised or lowered the platform to their desired height, he or she can release the lower-neutral-raise switch.
As the operator uses the scissor lift, he or she can leverage a removable control unit mounted at the front of the platform. This unit includes the following controls:
– Lift-Drive-Steer Enable Trigger Switch: Must be held raise, lower, drive, or steer the lift
– Lift-Drive-Steer Controller Joystick: Used to control raise, lower, drive, and steer motions
– Inclined Drive-Level Drive Switch: Accounts for slanted or level driving
– Lift-Off-Drive Switch: Disconnects power from the lift and drive circuits
All scissor lift operators must receive in-depth training to ensure they can safely control a lift. This training offers insights into scissor lift controls and how to operate a scissor lift.
How to Operate a Scissor Lift: Do's and Don'ts
Driving a scissor lift can be tricky, regardless of an operator's experience. But, a clear understanding of scissor lift do's and don'ts can help an operator avoid accidents. 
Here are common do's and don't for how to operate a scissor lift. 
Do's
– Conduct an in-depth inspection. Verify that a scissor lift is in proper working order before using it. If any issues are identified, take the machine out of service. At this point, the lift should not be returned to service until it has been repaired by a qualified technician. 
– Assess the work area. Keep an eye out for uneven terrain. Remember, a scissor lift can easily become unstable and tip over if an operator drives it too fast or turns too quickly while traveling over uneven terrain. Meanwhile, a scissor lift operator should watch for any other work area hazards as well. 
– Maintain the lift's guardrails. Check out the lift's guardrails and if they are intact. If an operator intends to work outside the guardrails, he or she should always wear fall protection equipment. Otherwise, this operator risks falls that can result in serious injury or death. 
– Travel at a safe speed. Watch for posted speed limits for scissor lifts at worksites. A scissor lift operator should always lower their lift's basket before moving their machine as well. 
– Use safety chains as needed. Utilize safety chains for any tools stored inside of a scissor lift's basket. Because, if tools inadvertently fall out of a lift, they can put anyone beneath the machine in danger. 
– Verify the lift's load capacity. The load capacity for a scissor lift varies based on the model. Validate the lift's load capacity before using the machine. 
– Maintain a valid license. Scissor lift operators can earn OSHA certification at any time. This certification stays valid for up to three years and must be renewed to ensure an operator can legally drive a lift. 
Don'ts
– Keep the gates open. Ensure the gates at the back of a scissor lift are always closed. 
– Put ladders or step stools in the scissor lift's basket. Avoid using ladders and step stools inside the lift's basket. 
– Climb or lean on the guardrails. Operators can use a lift's guardrails to maintain balance inside the machine, but they should not climb or lean on them. 
– Watch for inclement weather conditions. Keep an eye on the weather forecast. If the weather calls for heavy winds, rain, snow, or other harsh conditions, do not let workers operate scissor lifts. Instead, wait for the weather conditions to improve before allowing operators to use scissor lifts outdoors. 
Learning how to operate a scissor lift with safety top of mind is vital. If your employees are uncertain about how to move a scissor lift, they put themselves and others at risk of scissor lift accidents and injuries.
OSHA requires employers to teach workers how to operate a scissor lift. By offering scissor lift safety training classes, an employer can teach its workers the proper techniques and strategies for how to use a scissor lift.
Can Anyone Learn How to Drive a Scissor Lift?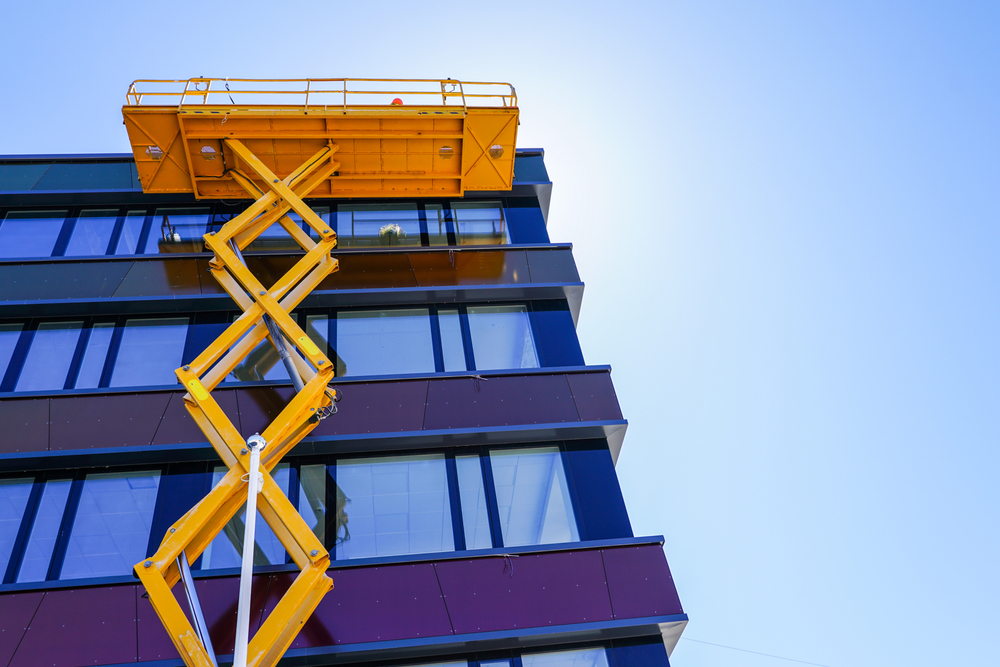 OSHA requires scissor lift operators to complete a scissor lift training course that verifies they can safely and reliably drive a lift. As such, only an operator who has completed an OSHA-compliant safety training program should drive a scissor lift.
It is an employer's responsibility to ensure that only OSHA-compliant operators use scissor lifts. In the event that an unauthorized worker uses a scissor lift, their employer could face OSHA fines and penalties. Even worse, the worker could inadvertently put himself or herself and others in danger.
One of the most important parts of learning how to operate a scissor lift is knowing what to do before starting a job. This applies to both new and experienced scissor lift operators.
Before raising a scissor lift, operators should:
– Ensure there are no drop-offs, holes, bumps, debris, and people around the worksite.
– Inspect the lift; this involves checking the lift's operational and functional components with the power off, then with the power on.
– Ensure lift safety equipment is in place, including guardrails.
– Ensure anyone working on the lift wears a hard hat, rubber-soled shoes, gloves, and OSHA-mandated personal protective equipment (PPE).
– Ensure the operator is certified to operate the lift.
The aforementioned steps should be routine for all scissor lift operators, at all times. If operators follow these steps each time they use a scissor lift, they can further reduce the risk of associated on-the-job accidents and injuries.
Scissor Lift Operation: How to Move a Scissor Lift
When moving a scissor lift, operators should:
✓ Ensure the surface on which the scaffold is being moved is level.
✓ Confirm a manager is available to supervise the move.
✓ Ensure outrigger frames (when used) are installed on both sides of the lift.
✓ When required to move the lift, ensure a power system is applied directly to the wheels, with a speed of no more than 1 ft. per second.
✓ Ensure workers are not on any part of the scaffold that extends outward toward the wheels, casters, and other supports.
✓ Keep the lift at a height that is double the width of the base
✓ Apply manual force to move the scaffold as close to the base as possible and no higher than 5 ft. above the supporting surface.
✓ Ensure employees on or near the scissor lift are aware of the move.
If these requirements for safely moving a scissor lift cannot be met, workers must get down from the lift before they move it.
Tips for How to Drive a Scissor Lift
Here are seven tips for how to drive a scissor lift safely.
1. Focus on the Task at Hand
Scissor lift operators should focus exclusively on operating their lift to the best of their ability. They should follow all safety precautions, every time they use a lift.
2. Evaluate Your Lift
Assess a scissor lift before each use. If any problems are identified during an inspection, take the lift out of use until repairs are completed.
3. Follow the Capacity Limit
Do not exceed a scissor lift's capacity limit. Account for the weight of the operator and any tools before using a scissor lift.
4. Use Your Lift on Level Ground
Avoid using a scissor lift on unstable ground. Otherwise, there is an increased risk that the lift could tip over.
5. Do Not Use Your Lift in Harsh Weather Conditions
Never use a scissor lift in heavy winds or other inclement weather conditions. If a storm makes it unsafe to operate a lift, wait until the storm passes.
6. Keep Your Lift Away from Other Equipment
When using a scissor lift, maintain as much space as possible from other equipment. This minimizes the risk of bumping into other equipment.
7. Be Proactive
Do not leave anything to chance when operating a scissor lift. If any hazards are identified or problems arise that hinder an operator's ability to safely use a scissor lift, they must be addressed immediately.
Scissor Lift Hazards
Common causes of scissor lift accidents include tip-overs, collapses, and malfunctions. However, OSHA-certified scissor lift operators can take steps to reduce or eliminate hazards that otherwise contribute to these issues.
Ultimately, to safely use a scissor lift, operators must focus on the following areas:
1. Fall Protection
OSHA requires the use of a scissor lift harness and lanyard when there isn't a working scissor lift guardrail system. Also, effective fall protection requires workers to check the guardrail system before they start a job.
Once in the air on a scissor lift, workers should remain on the platform. They must keep essential work items within easy reach from the platform as well.
2. Stability
Operators must ensure a scissor lift is stable. They should position the lift on a firm, level surface, keep the lift away from traffic, and work only in good weather conditions.
3. Positioning
Correctly positioning a scissor lift helps prevent tip-overs and other accidents. Operators should closely monitor fixed and moving objects close to the lift, keep an eye out for overhead objects like beams and door frames, and work on surfaces at least 10 ft. away from live power sources.
Furthermore, scissor lift operators must dedicate time, resources, and energy to identify and resolve safety hazards. With proper scissor lift safety training, operators can learn to detect hazards and address such issues before they cause accidents and injuries.
Scissor Lift Maintenance Tips
Consistent maintenance is a key factor in preventing scissor lift accidents and injuries. Scissor lift maintenance involves:
✓ Inspecting and testing lift controls and components before use
✓ Ensuring the lift's guardrail system is in good working condition
✓ Ensuring the brakes are set and will hold the scissor lift in position
Scissor lift maintenance must be performed regularly. Otherwise, if a scissor lift does not work properly, the machine can put the operator and others in danger.
Why Is Scissor Lift Safety Training Important?
Only trained and certified workers should be allowed to operate a scissor lift. Fortunately, training programs are available to help workers quickly learn the ins and outs of scissor lift safety.
Employers are responsible for teaching workers to safely operate a scissor lift. The training they provide should include:
– Explanation of manufacturer's instructions for operating a scissor lift vertically and in transit
– Information about how to handle materials on the lift
– Insights into worksite hazards
– Details on how to report any equipment defects or maintenance issues
There is no need to wait to offer scissor lift safety training. Because, if an employer offers scissor lift safety training to its workers today, it can provide its workforce with the insights it needs to operate a scissor lift without endangering themselves or others.

Enroll Your Staff in Scissor Lift Certification Training 
Operating a scissor lift can be challenging. But your business can help its scissor lift operators perform a wide range of tasks at heights without putting themselves or others in danger. In fact, if you provide OSHA-approved aerial lift certification training, you can teach your employees about all aspects of scissor lift safety. 
CertifyMeOnline.net provides a scissor lift safety training program that fulfills OSHA's mandates, can be accessed online 24/7 from any device with an internet connection, and requires only about an hour to complete. To learn more or to sign up for our program, please contact us online or call us today at (602) 277-0615.