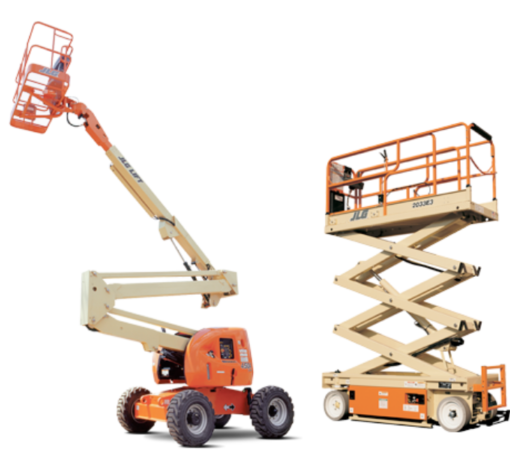 Scissor lifts and aerial lifts differ from one another. A scissor lift is a type of aerial lift that allows workers to complete tasks at heights. But, the lift moves only up and down. Comparatively, an aerial lift can move in different directions. It also comes in many forms. 
If you're feeling confused wondering, "what is a scissor lift? I thought they were technically aerial lifts," you're not alone. Even though scissor lifts and aerial lifts are often grouped together, they are completely different. And as far as OSHA is concerned, scissor lifts are not aerial lifts. There's been confusion about the classification of scissor lifts and aerial lifts across many worksites in the United States. Now, let's look at the scissor lift vs. aerial lift debate in detail. 
Scissor Lift vs. Aerial Lift: What's the Difference?
There are few differences between an aerial lift and aerial scissor lift (and also a vertical scissor). That's why so many people – aerial work platform (AWP) workers included – fail to recognize what makes each piece of equipment unique. 
OSHA defines an aerial lift as a machine used to lift workers. An aerial lift lets operators complete tasks at heights. In addition, the machine should only be used by an OSHA-approved operator. Otherwise, an unlicensed aerial lift operator risks operational or maintenance errors that can lead to accidents, injuries, and fatalities. 
A scissor lift is similar to a standard aerial lift. This type of lift can move workers and equipment vertically. As such, a scissor lift enables operators to safely access work areas that commonly require a ladder, tower, or scaffolding. 
It pays to know the similarities and differences between scissor and aerial lifts. Regardless of the type of lifts used across your business, your workers need OSHA-approved certification training, too. This training verifies that your employees know how to use different types of aerial lifts. It also confirms that your workers can do their part to identify scissor and aerial lift hazards and address them right away. 

Teach Your Workers About Scissor and Aerial Lifts
If you have scissor or aerial lifts for your business, you need to teach your workers about these machines. This ensures your workers can operate any type of lift in accordance with OSHA standards. 
It is mandatory for your workers to hold valid certification if they use any type of aerial lift, at any jobsite, at any time. Failure to comply with this requirement can result in costly penalties for your business. If your workers lack sufficient training, they are unlikely to know how to properly operate and maintain a lift as well. This increases the risk of aerial lift accidents. 
CertifyMeOnline.net, the leader in AWP training, offers comprehensive training and OSHA certification for aerial lifts, aerial scissor lifts, boom lifts, vertical scissor lifts, and much more. Our training answers key questions surrounding the scissor lift vs. aerial lift debate, including: 
1. What Is an Aerial Lift? 
OSHA's aerial lift definition is the same as the one from the American National Standards Institute (ANSI), which considers the following vehicle-mounted rotating and elevating platforms as aerial lifts:
– Vertical towers
– Aerial ladders
– Articulating boom platforms
– Any combination of the above
Aerial lifts, or boom lifts, are classified as vehicle-mounted devices used to elevate personnel. They can lift workers both vertically and horizontally to reach exterior building structures, windows, trees, and power lines. They can be articulated to reach up and over structures, as well as access the top of roller coasters. The difference between an aerial lift and a scissor lift is that scissor lifts can only extend horizontally, and do not have the same reach power. 
Think of aerial lifts as a more versatile elevated work platform. Aerial lifts, unlike aerial scissor lifts or vertical scissor lifts, are typically used outdoors. However, they're also used in some indoor facilities, such as heavy equipment manufacturing centers. 
2. What Is a Scissor Lift? 
Scissor lifts do not fall within any of the above categories of aerial lifts, nor are there any OSHA provisions exclusive to scissor lifts. They do, however, meet the definition of a scaffold. Unfortunately, if you look at the general requirements for scaffolds (§1926.451), you won't find scissor lifts mentioned. Anywhere on the page. Luckily, OSHA has made some improvements with their Scaffolding eTool. This page on the OSHA website makes it easier to understand what is a scissor lift and where it falls within the standards. It gives industry professionals some helpful background information on what makes a scissor lift, a scissor lift. 
According to OSHA, scissor lifts are "mobile supported scaffold work platforms used to safely move workers vertically and to different locations in a variety of industries including construction, retail, entertainment, and manufacturing." Unlike aerial lifts, scissor lifts can only move vertically, directly above the base. It's the recognizable criss-cross style beams that move the lift platform straight up and down. 
All scissor lifts are considered scaffolding, whether it's a vertical scissor lift or aerial scissor lift. 
Additional differences between what is a scissor lift and an aerial lift are the use of fall protection. OSHA requires that operators use body harnesses and lanyards on aerial lifts at all times, but these personal protection tools aren't requirements for scissor lifts. As long as there are functioning guardrails present, scissor lift operators don't need to wear harnesses while on the platform. This applies to aerial scissor lifts and vertical scissor lifts. 
3. What Does OSHA Say About Aerial and Scissor Lifts? 
In September of 1999, a safety officer in Fredericktown, Ohio, wrote to OSHA with a simple question basically asking what is a scissor lift, and which OSHA standard covered scissor lifts with extendable platforms. The way OSHA responded to his letter may have you going around in circles, so just remember the stability triangle and you should be okay. Here goes. 
In 1997, OSHA issued Directive CPL 02-01-023, "Inspection procedures for Enforcing Subpart L, Scaffolds Used in Construction – 29 CFR 1926.450-454," which, OSHA's letter to the safety officer claims "erroneously stated that "scissor lifts are addressed by §1926.453," which, just like the scaffolding document, makes no mention whatsoever of scissor lifts. That statement was then revoked by the very letter addressed to our man in Ohio, in which OSHA further declares that it is in the process of updating the 1997 Directive. The date of the letter was Aug. 1, 2000. 
In the words of Chandler Bing[1], "Could the OSHA regulations on scissor lifts be more confusing?" If understanding OSHA's scissor lift rules were a prerequisite to getting certified, there could be a problem. 
Fortunately, CertifyMeOnline knows exactly how to train and certify scissor lift operators. Our training courses are for all AWP workers. If your employees need OSHA certification for any of the following work platforms, contact us today!
What Aerial Lift Certification Training Offers
Our training courses are for all AWP workers. We offer OSHA certification training for any of the following types of AWPs:
– Aerial lifts
– Boom lifts
– Articulating boom lifts
– Telescoping aerial lifts
– Vertical scissor lifts
– Aerial scissor lifts
– And much more
We at CertifyMeOnline.net have made it our mission to understand all OSHA standards and regulations completely, and we want to share what we know with your team. Our scissor lift training program covers what is a scissor lift, how to operate the various types of scissor lifts, how to perform inspections, and how to recognize and avoid hazards. 
We cover all the necessary scissor lift topics to be 100% OSHA-compliant, including fall protection, stabilization, and positioning for scissor lifts. To ensure students retain the information they learn, our program is self-paced and can be reviewed at any time. However, it typically takes trainees only about one hour to complete. And once they've worked through all the modules and have passed all quizzes and tests, students can print their operator certification card. 
OSHA compliance is paramount. It's illegal to have anyone operate a scissor lift or aerial lift without proper training. With CertifyMeOnline.net, we'll take care of all your training needs. Plus, with refresher training, affordable prices and lifetime support, you'll enjoy an OSHA compliance partner for life! 

Get Your Workers OSHA-Certified
Scissor lifts and aerial lifts can benefit businesses of all sizes and across many industries. Yet, there may be times when a scissor lift is a better choice than a standard aerial lift, or vice versa.  
Don't be confused by scissor lifts and aerial lifts anymore. Your workers can learn from the number one online scissor lift training provider, CertifyMeOnline.net, and become scissor lift and aerial lift experts. 
Check out our certification training options today. To learn more or enroll your workers in our certification training, contact us online or call us at 1-888-699-4800.