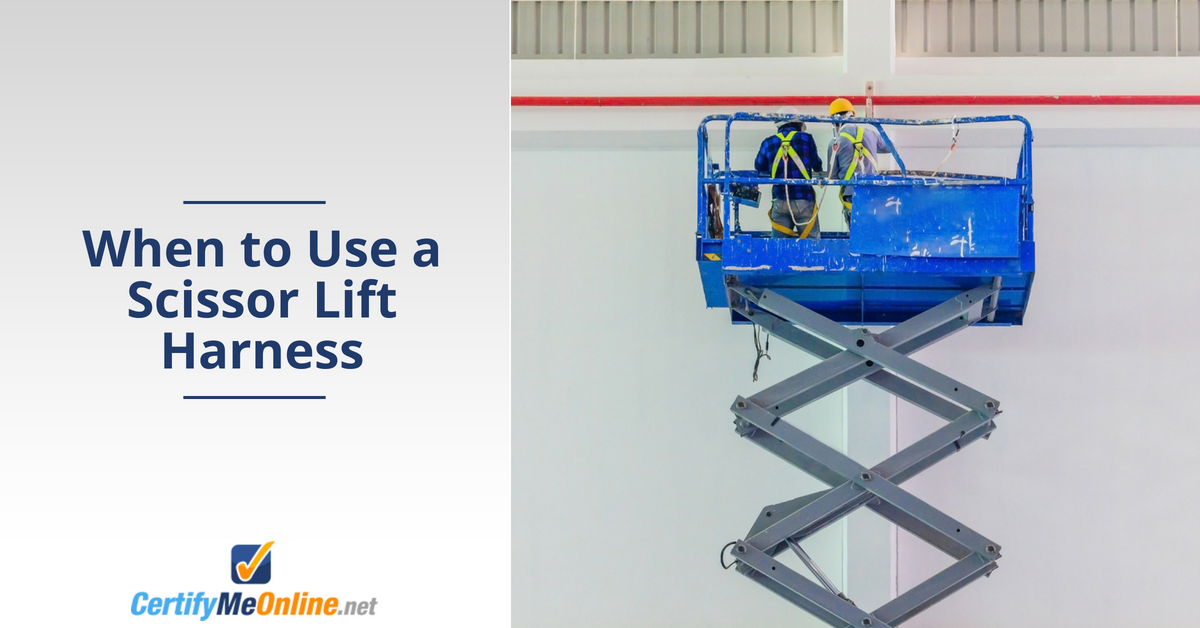 Working at heights on equipment always comes with risks. Falls continue to be the leading cause of death in the construction industry and one of OSHA's top ten most serious safety violations. OSHA usually requires a fall protection system, like a harness and lanyard, anytime a fall of 6 feet or more is possible.
But that leaves the question, "do you need a harness on a scissor lift?" The debate about when to use a fall protection harness on scissor lifts has been around for a while, and it isn't going away anytime soon. Scissor lift operators are often caught in the middle of the argument between safety and efficiency, wondering, do you need a harness in a scissor lift? Some say yes to be safe, others say it's not necessary at all. So which is it? Find out!
Do You Need a Harness on a Scissor Lift?
While the U.S. Occupational Safety & Health Administration (OSHA) does not require fall protection equipment or lanyards for scissor lift workers, some organizations and jobsite-specific standards do. That's the core of the scissor lift safety harness debate, which boils down to:
–Safety First. Employers and their workers want to adhere to safety regulations, and also prevent as many accidents as possible.
–Potential Inefficiency. Equipping scissor lift workers with a personal fall restraint system (PFRS) is cumbersome, inefficient, and perhaps unnecessary.
So, do you need a harness in a scissor lift? The answer depends on local safety standards and job site requirements. To help understand scissor lift harness requirements, let's look at OSHA's fall protection standards for aerial work platforms.
First, we'll see how fall protection requirements impact certain industries and business sectors for aerial lift workers. Then, we'll examine fall protection requirements from OSHA's perspective, along with local and site-specific regulations, and how they affect fall protection and PFRS safety standards for scissor lift operators.
Harness and Fall Protection for Aerial Lifts
OSHA has a specific set of guidelines for aerial lift platform (AWP) workers and aerial lift operators, particularly for the construction industry. Their Fall Protection Construction Standards and Resources lay out a comprehensive set of rules for construction workers that use aerial lifts.
But scissor lifts aren't considered aerial lifts, simply because the work platform for a scissor lift doesn't extend beyond the wheelbase. Because of this crucial distinction, scissor lifts are considered scaffolding giving workers more flexibility than other types of aerial work platform operators. Plus, given that most scissor lifts don't extend as high as AWPs, fall protection requirements aren't required.
Yet…that still doesn't mean you shouldn't use a fall protection harness when on a scissor lift. In fact, there are certain instances that require this type of worker safety accessory. Let us explain more.
Scissor Lift Fall Protection Requirements
Do you need a harness on a scissor lift? While OSHA does not require scissor lift workers to wear a fall protection harness or other PFRS, that doesn't mean you shouldn't. After all, there are numerous hazards associated with scissor lift activity. Given the risks scissor lift workers encounter, all operators are required to make sure scissor lifts are equipped with a guardrail system, according to OSHA regulations 29 CFR 1926.451(g) and 29 CFR 1910.29(a) (3) (vii). A guardrail device is one of the most important elements of effective scissor lift fall protection. Every scissor lift operator should make sure that some type of guardrail is available before working. If it isn't, immediately notify your supervisor. Without a guardrail, scissor lift fall protection will suffer, making accidents and injuries more likely.
Why aren't scissor lift workers required by law to have a fall protection harness? The answer, existing safety rules. According to the two previous guidelines, all scissor lift operators should:
– Ensure a guardrail system is in place and stable before working.
– Position the scissor lift to avoid overreaching away from the work platform.
– Always stand on the work platform, not the guardrails.
– Keep a firm stance with both feet on the platform floor.
Those are OSHA's basic rules for scissor lift fall protection. However, individual companies or job site rules might require the use of a PFRS or some type of scissor lift fall protection harness.
If you are required to wear one for any type of scissor lift operation, abide by the local laws and regulations. While OSHA doesn't make "blanket" guidelines for scissor lift workers, failing to adhere to on-site safety rules can still result in penalties and fines.
When Do You Need a Harness in a Scissor Lift?
Scissor lift operators need to wear a harness and attached lanyard when there isn't a guardrail system in place, it isn't adequate enough, or if the worker leaves the safety of the work platform.
So, the rule states that it's one or the other. If there's an adequate, fully functioning guardrail system, scissor lift workers don't need a harness. However, if the guardrail system is lacking, additional fall protection is needed. Workers must have one or the other for effective scissor lift fall protection. If you have access to a guardrail system and wear a harness, that's great – it's always better to go the extra mile with your scissor lift fall protection measures.
If a scissor lift comes with attachment points, it's best to contact the manufacturer for their instructions and recommendations for when the tie-off points may be necessary to use.
Is a Scissor Lift Harness Ever Unsafe?
When using a fall protection harness and lanyard for a scissor lift or aerial lift, it's important to understand how to use them properly and safely.
If an operator were to fall out of the scissor lift platform, because they were either reaching too far or standing on the guardrails, the force from the fall and reaching the end of the lanyard could cause the lift to tip over. The lanyard could also cause the fallen worker to swing back towards the lift and come into contact with it.
While scissor lift fall protection is usually always a safe bet, it's important for workers to only use a harness and lanyard that is made for a scissor lift or aerial work platform and is installed properly to the correct attachment points.
Sign Up for Fall Protection Training Today to Become an Expert!
CertifyMeOnline offers OSHA-compliant scissor lift, aerial lift, and aerial work platform (AWP) training, including extensive fall protection classes. Operators will become experts in proper scissor lift fall protection, how to use it, and when it is necessary. Your workers will no longer wonder, "do you need a harness on a scissor lift?"
Our training offers plenty of advantages for your company and employees, including:
– OSHA-aligned training content. All CMO aerial lift and scissor lift training sessions are designed to meet and exceed the latest OSHA safety regulations. When your employees take a CMO training course, you know they're getting the best possible instruction – many of our course authors are OSHA experts! Operators will receive all the answers to their questions, including, "do you need a harness in a scissor lift?"
– Affordable pricing. Our coursework is affordably priced, so you don't have to worry about blowing your entire safety budget on scissor lift or aerial lift training.
– Aerial lift and scissor lift fall protection training. Learn about unique on the job situations that would require scissor lift fall protection equipment, advanced safety techniques, and much more. Our fall protection training is ideal for both rookie aerial lift operators, veteran scissor lift workers, and everyone in between.
– Flexible learning environment. Your employees can take their OSHA scissor lift training whenever – and wherever – is most convenient. Plus, our learning pace ensures every employee can grasp the training content, from experienced scissor lift operators to rookie aerial lift platform workers.
– 3-year renewal training. According to OSHA's 1926.454 Subpart L, an employee should require renewal training whenever they think an employee lacks the skills or necessary knowledge to perform basic scissor lift of aerial lift operation. Just to be safe, we recommend renewing your workers' training certification every three years. All CMO classes have 3-year renewal compatibility.
If your workers need aerial lift or scissor lift training and are wondering "do you need a harness in a scissor lift?" look no further than CertifyMeOnline.net. Our proven OSHA training classes are the best way to ensure all of your employees understand OSHA guidelines for safe, efficient operation.
Sign up for our complete aerial lift training and scissor lift certification today and no longer wonder, "do you need a harness on a scissor lift?" Within a matter of minutes, you can start the important certification process for any employee – or all of your employees! To connect with our scissor lift and aerial lift platform OSHA training experts today, please call us directly at (602) 277-0615, or view our prices and courses to select your required training.
Want to Learn More About Scissor Lift Fall Protection? Visit Our Fall Protection Online Resource Page
Fall protection training and certification is one of the most talked about aspects of aerial lift and scissor lift operation. It's also one of the most confusing and controversial. That's why we created this all-in-one fall protection knowledge base. Here, you'll find everything you wanted to know about aerial lift and scissor lift fall protection – and much more! From the unique dangers of aerial lifts and scissor lifts to the unique fall protection requirements and OSHA regulations, this page covers all sorts of crucial information. We also review OSHA fall protection training, which benefits both employees and employers looking to increase safety awareness on the job. Visit our aerial lift and scissor lift fall protection page, and learn more about the common types of lift accidents, why scissor lift fall protection is important, techniques to reduce or eliminate falls, when fall protection equipment is required, and much more.
This post was originally published in 2017 and has been updated as of 2018 to provide more in-depth information.