When to Use a Scissor Lift Harness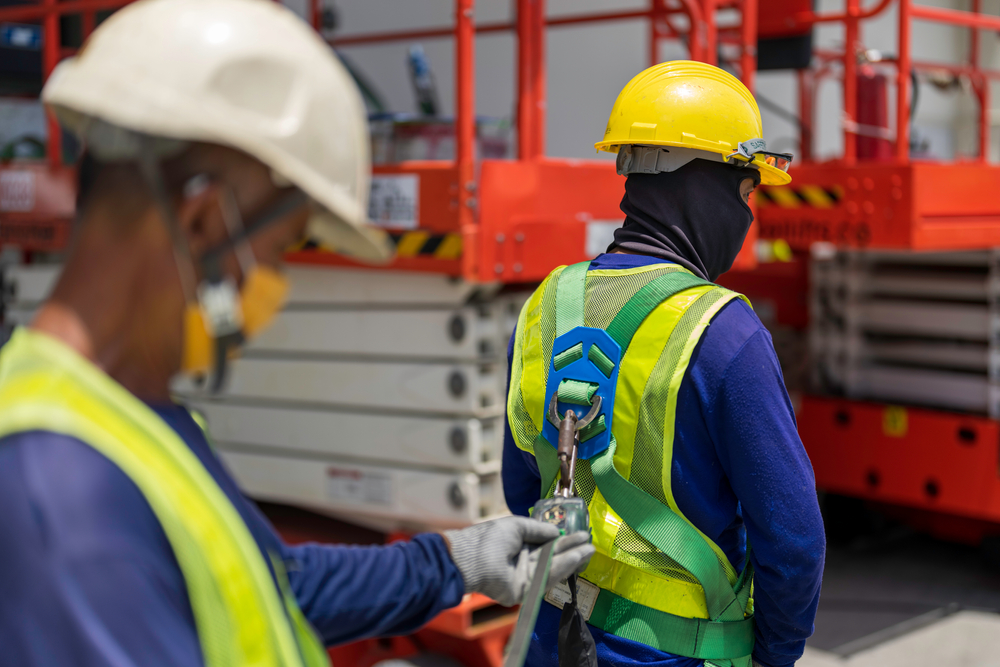 If you require your workers to use a scissor lift, you should provide them with harnesses. A scissor lift harness can protect your lift operators against accidents, injuries, and fatalities. Plus, it can help you comply with OSHA scissor lift safety requirements. Let's not forget about how harnesses can prevent serious falls from scissor lifts, either.
In order to get the most value out of scissor lift harnesses, you need to teach workers how to use them correctly. This ensures workers can wear harnesses on scissor lifts and avoid falls.
CertifyMeOnline.net, the leader in training & certification for aerial lifts, scissor lifts, aerial work platforms (AWPs) and other mobile elevating work platforms (MEWPs), provides OSHA compliant Fall Protection Training as part of our complete line of aerial lift training courses. 
Register your company today and get your workers certified! It's not only the law, but training & certification ensures your company is covered in case of an OSHA audit or investigation.

OSHA Prioritizes Scissor Lift Fall Protection
Falls are the leading cause of death in the construction industry, OSHA reports. They're also one of OSHA's top 10 most serious safety violations.
OSHA usually requires construction companies to install a fall protection system, like a harness and lanyard, any time a fall of 6 feet or more is possible.
You're responsible for providing scissor lift fall protection accessories, including safety harnesses, personal protective equipment and related accessories. When your employees know their safety is accounted for, the result is a happier, more productive workplace…a win-win for everyone involved!
The Scissor Lift Harness Debate: Here's What You Need to Know
The debate about when to use a fall protection harness on a scissor lift is ongoing, and chances are, it isn't going away any time soon. In this debate, scissor lift operators are often caught in the middle between safety and efficiency. One reason for the debate with scissor lift workers involves working height. Aerial lifts, boom lifts and other non-scissor lifts reach significantly higher than scissor lifts, so a safety harness is easier to justify. But remember, OSHA designates any working surface higher than 6 feet as a potential fall hazard.
Many scissor lift operators wonder if they need a harness on a scissor lift. Some say they need a harness to be safe. Others say a harness is unnecessary. So, which is it? To find out, let's take a closer look at all aspects of the scissor lift harness debate.
What Is a Safety Harness, and Why Is It Important?
Scissor lift harnesses don't prevent falls — their job is to stop a fall when it occurs. They're also designed to limit the forces on the body when a fall is arrested. They do this by using a system of straps and buckles to distribute forces to parts of the body that can best absorb them.
Harnesses also help workers stay upright during a fall, which allows a deceleration device to properly deploy. The deceleration device keeps the spine vertical, so it can absorb the force of the fall. However, this cuts off circulation to parts of the body and can cause blood to pool in the legs.
Safety Harnesses: What Are OSHA Scissor Lift Requirements?
One of the most common questions we receive at CMO is: "Do I need a harness in a scissor lift?" OSHA does not require harnesses or lanyards for scissor lift workers. However, certain jurisdictions, companies and job sites require wearing a harness in scissor lift. This contradiction of sorts sits at the core of the scissor lift fall protection debate, which is summarized by two key points:
1. Employers and workers want to adhere to safety regulations. They also want to prevent accidents.
2. Having scissor lift workers wear a personal fall restraint system (PFRS) is cumbersome and inefficient. It can interfere with their work and may be unnecessary.
So, do you need to wear a harness on a scissor lift? The answer depends on local safety standards and jobsite requirements. To better understand scissor lift harness guidelines, let's review OSHA's fall protection standards for aerial work platforms (AWPs).
Pros and Cons of Wearing an OSHA Safety Harness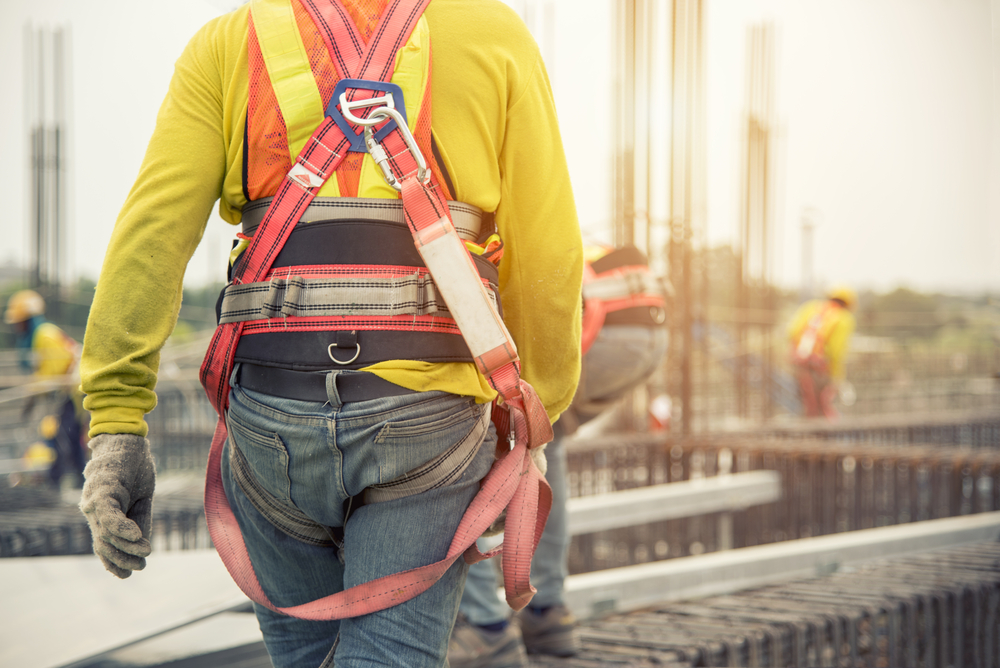 Scissor lift operators are subject to fall hazards, due to the fact that they perform tasks at heights. Thanks to an OSHA safety harness, these operators are well-equipped to avoid falls when they perform everyday tasks. Safety harnesses can help reduce the number of scissor lift operator falls, along with associated accidents, injuries, and fatalities. Wearing a harness in a scissor lift is one way your company can reduce the chance of falls and related accidents. 
Clearly, there are many reasons to wear a safety harness when operating a scissor lift. On the other hand, it is important to note that there may be some problems that can occur if scissor lift operators wear harnesses when they complete everyday tasks.
For instance, if a scissor lift operator is wearing a harness and goes over a lift's guardrail, they could accidentally cause a tip-over; that is bad enough for the platform worker, but this type of accident also jeopardizes nearby workers, pedestrians and anyone else in the job site vicinity. 
Along with using the aforementioned argument, those who are against requiring scissor lift operators to wear safety harnesses may point out that scissor lift manufacturers frequently do not provide an anchor point that operators can use to connect a snap hook to a lanyard. They may also note that OSHA prohibits tying off a harness to a guardrail.
Ultimately, the pros of wearing an OSHA safety harness on a scissor lift far exceeds the cons associated with doing so. If scissor lift operators consistently wear a safety harness while they work at heights, they can effectively protect themselves against falls.
Harness and Fall Protection Standards for Aerial Lifts
OSHA provides general guidelines for AWP workers. It has also created detailed guidelines for the construction industry, and OSHA's Fall Protection Construction Standards and Resources lay out a comprehensive set of rules for construction workers who use aerial lifts.
According to OSHA, scissor lifts aren't considered aerial lifts because the work platform for a scissor lift doesn't extend beyond the wheelbase. Instead, scissor lifts are considered scaffolding. This gives workers more flexibility than other aerial lift operators. Plus, most scissor lifts don't extend as high as AWPs. This is one of the most important OSHA scissor lift harness requirements to keep in mind.
Scissor Lift Fall Protection Requirements
While OSHA does not require scissor lift workers to wear a harness or other PFRS, that doesn't mean you shouldn't. After all, there are many hazards associated with scissor lift use. That's one reason OSHA requires scissor lifts to have guardrail systems, and also why it's an important part of fall protection for every type of scaffolding, scissor lift or aerial lift.
A guardrail is one of the most important types of scissor lift fall protection. Why aren't scissor lift workers required by law to wear a scissor lift harness? The answer: existing safety rules.
According to OSHA guidelines, all scissor lift operators should:
Ensure a guardrail system is in place and stable before working.

If you're not sure your guardrails are safe, notify your supervisor immediately.

Position the scissor lift so it won't move away from the work platform.

Stand on the work platform — not the guardrails — at all times.

Use caution when approaching the guardrails, and make sure you never lean over the guardrails to perform work; always move the base of the scissor lift to accommodate a different configuration.

Keep a firm stance with both feet on the platform floor.
OSHA has established the aforementioned guidelines for scissor lift operators, but some job sites might require the use of a PFRS or scissor lift harness. If you are required to wear a harness for any type of scissor lift operation, abide by the local laws and regulations. OSHA doesn't make "blanket" guidelines for scissor lift workers. But failing to adhere to onsite safety rules can still result in penalties and fines.
Do I Need a Harness in a Scissor Lift?
While OSHA doesn't require the use of a safety harness on a scissor lift (scaffolding), certain scenarios may require the use of one. Scissor lift fall protection with harnesses may be necessary, depending on external factors. There are many reasons why scissor lift workers need to wear a harness and attached lanyard, such as:
• No guardrail system is in place.
• The guardrail is insufficient.
• The worker has left the work platform.
If there's an adequate guardrail system in place, scissor lift workers don't need a harness. However, if the guardrail system is insufficient, additional fall protection is needed.
For those who have access to a guardrail system and wear a harness, that's great, since it's always better to go the extra mile with your scissor lift fall protection measures. In this instance, the scissor lift fall protection harness provides that extra measure of protection to avoid falls. 
How to Wear a Scissor Lift Safety Harness
Workers must receive proper training to ensure they can wear a scissor lift safety harness correctly. The training teaches workers how to take a harness on and off. It also explains why it is paramount to wear a harness any time they use a scissor lift. CMO's Fall Protection Training offers a comprehensive overview and OSHA compliant instruction regarding scissor lift harnesses. 
Meanwhile, if a scissor lift comes with attachment points, contact the manufacturer for information about when and how to use the tie-off points. You'll learn about this and much more if you enroll in our OSHA scissor lift harness requirements training program!

Sign Up for Fall Protection Certification Training Today!
CertifyMeOnline.net offers OSHA-compliant scissor lift, aerial lift, and AWP safety training, including fall protection classes. With our classes, you can become an expert in elevated work platform (EWP) harness requirements and scissor lift fall protection. To learn more or to sign up for one of our safety training classes, please contact us online or call us today at (602) 277-0615.