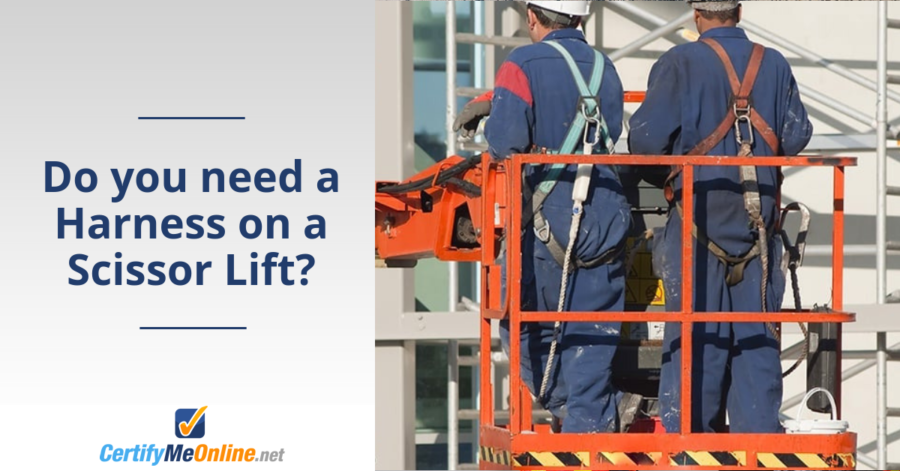 Falls are the leading cause of death in the construction industry, OSHA reports. They're also one of OSHA's top 10 most serious safety violations.
OSHA usually requires construction companies to install a fall protection system, like a harness and lanyard, any time a fall of 6 feet or more is possible.

But that raises the following question: Do you need a harness on a scissor lift?
The Scissor Lift Harness Debate: Here's What You Need to Know
The debate about when to use a fall protection harness on a scissor lift is ongoing, and chances are it isn't going away any time soon. In this debate, scissor lift operators are often caught in the middle between safety and efficiency.
Many scissor lift operators wonder if they need a harness on a scissor lift. Some say they need a harness to be safe. Others say a harness is unnecessary. So, which is it? To find out, let's take a closer look at all aspects of the scissor lift harness debate.
What Are OSHA Scissor Lift Harness Requirements?
Scissor lift harnesses don't prevent falls — their job is to stop a fall when it occurs. They're also designed to limit the forces on the body when a fall is arrested. They do this by using a system of straps and buckles to distribute forces to parts of the body that can best absorb them.
Harnesses also help workers stay upright during a fall, which allows a deceleration device to properly deploy. The deceleration device keeps the spine vertical, so it can better absorb the forces of the fall. However, this cuts off circulation to parts of the body and can cause blood to pool in the legs.
Do You Need a Harness on a Scissor Lift?
OSHA does not require harnesses or lanyards for scissor lift workers. Yet, some companies and job sites do. That's the core of the scissor lift safety harness debate, which boils down to two key factors:
1. Employers and workers want to adhere to safety regulations. They also want to prevent accidents.
2. Having scissor lift workers wear a personal fall restraint system (PFRS) is cumbersome and inefficient. It can interfere with their work and may be unnecessary.
So, do you need to wear a harness on a scissor lift? The answer depends on local safety standards and job site requirements. To better understand scissor lift harness guidelines, let's review OSHA's fall protection standards for aerial work platforms (AWPs).
Harness and Fall Protection Standards for Aerial Lifts
OSHA provides general guidelines for AWP workers. It has also created detailed guidelines for the construction industry, and OSHA's Fall Protection Construction Standards and Resources lay out a comprehensive set of rules for construction workers who use aerial lifts.
According to OSHA, scissor lifts aren't considered aerial lifts because the work platform for a scissor lift doesn't extend beyond the wheelbase. Instead, scissor lifts are considered scaffolding. This gives workers more flexibility than other aerial lift operators. Plus, most scissor lifts don't extend as high as AWPs. This is one of the most important OSHA scissor lift harness requirements to keep in mind.
Scissor Lift Fall Protection Requirements
While OSHA does not require scissor lift workers to wear a harness or other PFRS, that doesn't mean you shouldn't. After all, there are many hazards associated with scissor lift use. That's one reason OSHA requires scissor lifts to have guardrail systems.
A guardrail is one of the most important types of scissor lift fall protection. Why aren't scissor lift workers required by law to wear a scissor lift harness? The answer: existing safety rules.
According to OSHA guidelines, all scissor lift operators should:
✓ Ensure a guardrail system is in place and stable before working.
✓ Position the scissor lift so it won't move away from the work platform.
✓ Stand on the work platform — not the guardrails — at all times.
✓ Keep a firm stance with both feet on the platform floor.
OSHA has established the aforementioned guidelines for scissor lift operators, but some job sites might require the use of a PFRS or scissor lift harness. If you are required to wear a harness for any type of scissor lift operation, abide by the local laws and regulations. OSHA doesn't make "blanket" guidelines for scissor lift workers. But failing to adhere to on-site safety rules can still result in penalties and fines.
When Do You Need a Scissor Lift Harness?
There are many reasons why scissor lift workers need to wear a harness and attached lanyard, such as:
✓ No guardrail system is in place.
✓ The guardrail is insufficient.
✓ The worker has left the work platform.
If there's an adequate guardrail system in place, scissor lift workers don't need a harness. However, if the guardrail system is insufficient, additional fall protection is needed.
For those who have access to a guardrail system and wear a harness, that's great, since it's always better to go the extra mile with your scissor lift fall protection measures.
Meanwhile, if a scissor lift comes with attachment points, contact the manufacturer for information about when and how to use the tie-off points. You'll learn about this and much more if you enroll in our OSHA scissor lift harness requirements training!
Want to Become a Scissor Lift Harness Expert? Sign Up for Fall Protection Training Today!
CertifyMeOnline.net offers OSHA-compliant scissor lift, aerial lift, and aerial work platform training, including fall protection classes. With our classes, you can become an expert in elevated work platform (EWP) harness requirements and scissor lift fall protection. In addition, you will get an answer to the following question: Do you need a harness on a scissor lift?
Our OSHA scissor lift harness requirements training offers plenty of benefits for your company and employees. All CertifyMeOnline aerial lift and scissor lift training sessions are designed to meet the latest OSHA safety regulations.
When your employees take a CMO training course, you know they're getting the best possible instruction, as many of our course authors are OSHA experts. With CertifyMeOnline training, you also get:
✓ Low Pricing:
Our classes are affordable, so you won't have to break your safety budget to enroll in scissor lift or aerial lift training.
✓ Comprehensive Training:
Our classes offer insights into scissor lift fall protection equipment, advanced safety techniques, and more.
✓ Lessons for All Skill Levels:
Our classes are ideal for rookie aerial lift operators, veteran scissor lift workers, and others.
✓ Flexible Learning Environment:
Your workers can take their scissor lift training whenever – and wherever – they want.
✓ Easy Renewal Process:
All CMO classes have three-year renewal compatibility.
Sign up for our complete aerial lift training and scissor lift certification today. To connect with our scissor lift and aerial lift platform training experts today, please call us directly at (602) 277-0615. Or, view our prices and courses to select your required training.
Learn More About Scissor Lift Fall Protection
Fall protection training is one of the most talked about aspects of aerial and scissor lift operation. It's also one of the most confusing. That's why we created this all-in-one fall protection knowledge base. Check it out to learn more about scissor lift safety harness use.
To learn the ins and outs of scissor lift safety harness and OSHA scissor lift harness requirements, visit CertifyMeOnline.net today! Finally, if you have questions about scissor lift harness rules, fall protection, or other aerial work platform topics, give us a call at (602) 277-0615.