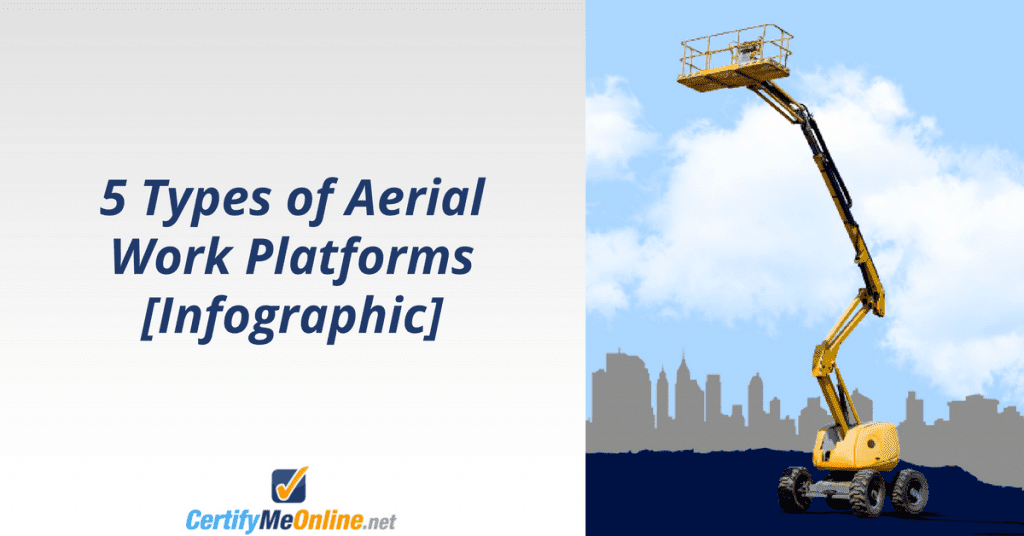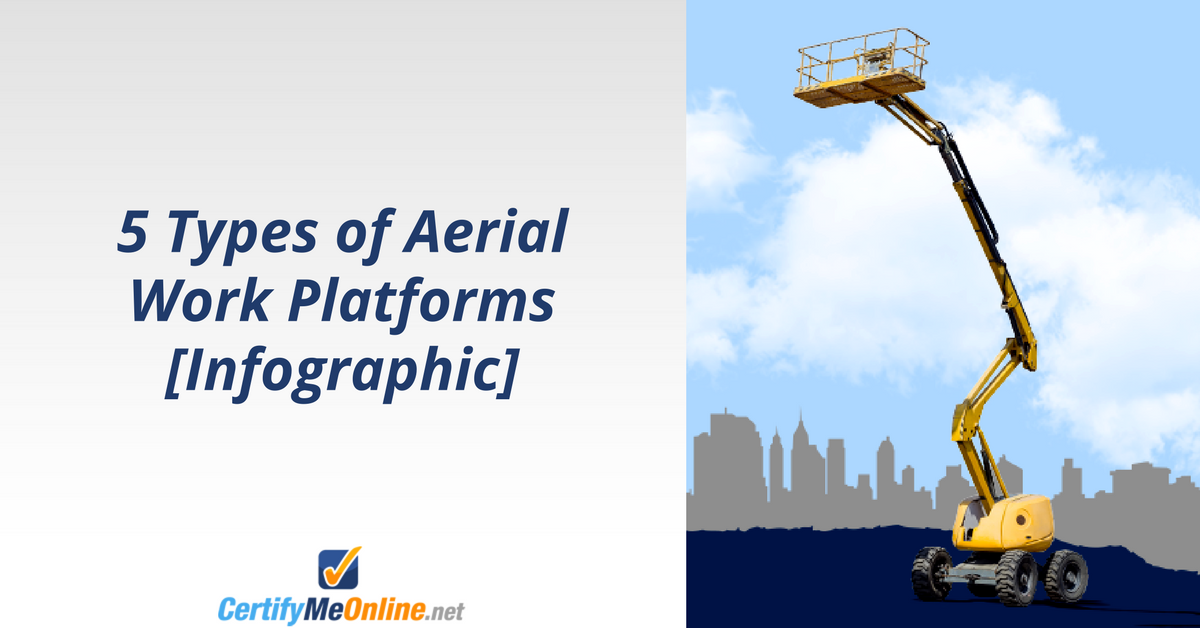 It's time to get to higher ground with an aerial lift — you just need to learn about the different types of aerial work platforms at your disposal.
Whether it's washing windows or rescuing lives from buildings, aerial lifts are used for a variety of reasons. With the right aerial platform, workers can perform myriad tasks to the best of their ability.

Aerial Work Platform Types: What Options Are Available?
Aerial work platforms come in a wide range of sizes. From a soaring aerial platform used for maintenance and construction to a lower elevated work platform, many aerial platforms are available.
Ultimately, you need to select an aerial work platform that allows you to perform a specific task, as quickly and efficiently as possible. To help you find the right aerial platform for the task at hand, let's examine five of the most popular options:


Share this Image On Your Site
1. The "Spider"
Originally designed for orchards, the "Spider" initially allowed workers to easily pick fruit that was high up in trees. Nowadays, the Spider is frequently used for overhead line maintenance, sprucing up tall trees, and even assisting firefighters in areas that are difficult to access.
The Spider consists of a boom lift that has a bucket at the end of the boom where workers stand to access a work area. Since it is mounted on a vehicle, the Spider comes with durable tires and can be driven on uneven terrain.
Aerial work platforms like the Spider must be maintained and operated correctly. Thanks to aerial lift safety training, workers can learn the ins and outs of an aerial platform — and how to avoid endangering themselves or others when they use it.
2. Articulated Boom Lifts
An articulated boom lift, also known as a knuckle lift, has a work platform on an extended arm that can reach up and over obstacles which resembles your finger when you bend it. The boom lift also has a turntable at the base which allows the lift to swivel in a full circle.
Articulated boom lifts are used mainly for maintenance work and other tasks where space is limited. Unlike a scissor lift, an articulated boom lift can be used for building repair jobs, including piping. An articulated boom lift can also be used on uneven terrain.
Workers can undergo articulated boom lift training as part of an aerial platform safety program. That way, workers can learn how to safely use an articulated boom lift during maintenance and building repair jobs.
3. Telescopic Boom Lifts
A telescopic boom lift is used for tasks that require maximum reach capabilities. With this type of boom lift, a work platform is mounted on a straight, long arm that sits on a movable turntable.
Unlike traditional aerial platforms, telescopic boom lifts can be used to access areas that are straight above or at a direct angle. As such, telescopic boom lifts are frequently used for electrical repairs, window washing, and other maintenance jobs in which an elevated work platform is required.
Before workers begin using a telescopic boom lift, they must complete a safety training program. Telescopic boom lift safety is a key tenet of worker training for elevated work platforms, and a safety training program teaches workers how to minimize risk when they use this type of aerial platform.
4. Scissor Lift
Typically, scissor lifts only move vertically. A scissor lift's upward motion is achieved by the application of pressure to the outside of its lowest set of supports, elongating the crossing pattern, and propelling the work platform vertically.
The use of scissor lifts is often limited in comparison to other aerial work platforms. Scissor lifts are commonly used for basic maintenance work and painting. Rough terrain scissor lifts are also available for outdoor work on uneven terrain.
Scissor lift safety training is available. With this training, workers can learn how to safely move a scissor lift up and down, operate the lift on rough terrain, and more.
5. Aerial Lift
An aerial lift resembles a cherry picker, and it makes it safe and simple for workers to reach higher ground. It is a vehicle-mounted, boom-supported aerial platform and may be used to access utility lines and other above-ground jobsites.
Types of Aerial Lifts
Aerial lift can be a blanket term used to describe boom lifts and scissor lifts. However, it is important to note that aerial lifts were originally designed to drive to outdoor jobsites to access electrical lines, trees, and other outdoor objects.
Common types of aerial lifts include:
✓ 

Personnel Lifts

Also referred to as "people lifts," personnel lifts function as mechanical ladders. They offer greater stability over traditional ladders and reach heights approaching 50 ft.
✓ 

Towable Boom Lifts

Towable boom lifts are lightweight and portable. They are frequently used at yards, gyms, and other light industrial worksites.
✓

Scissor Lifts

Scissor lifts are capable of reaching heights of 60 ft. They are ideal for workers who must paint buildings, wash windows, install HVAC systems, and perform other overhead tasks.

By completing an aerial platform training program, workers can gain the insights they need to use an aerial lift without disruption. They can also become more productive and efficient when they use an aerial lift, as well as take elevated work platform precautions to help make a jobsite safe.
Types of Construction Lifts
Along with aerial lifts, construction lifts are available. Common construction lifts include:
√ Bucket Trucks
A bucket truck features a boom that is mounted to the vehicle and a bucket at the end of the boom. It is often used by utility workers who need to reach transmission lines. Along with utility workers, bucket trucks may be utilized by landscapers and pruners who need to trim tall trees.
√ Articulated Boom Lifts
Knuckle lifts are useful for construction workers who need a work platform that allows them to reach around obstacles. For example, if a construction worker needs to repair exterior piping, an articulated boom lift will make it easy to access tough-to-reach spots around the piping. This type of lift is also ideal for construction workers who need to perform work on uneven terrain.
√ Telescoping Boom Lifts
For construction workers who need to complete work at a maximum height, they should consider a telescoping boom lift. This type of lift has an extendable arm and a rotating turntable that allows a single construction worker to complete tasks at high elevations. A telescoping boom lift is often a great choice for electrical repairs, maintenance tasks, and other work performed at extreme heights.
Elevated Work Platforms: Which One Is Right for You?
The right aerial work platform varies based on your application. So, you need to consider the task at hand, what you hope to accomplish, and which elevated work platform can help you complete your job safely and efficiently.
You need to look beyond the financial cost of elevated work platforms, too. An aerial platform may require a significant upfront investment, but you also need to consider workplace safety. If you invest in safety training for aerial work platforms, workers can learn how to properly use an aerial platform. Plus, workers can learn how to comply with aerial lift safety requirements.
Why Is Compliance Important for Aerial Work Platform Safety?
Safety is a priority with aerial lifts. OSHA states that the major causes of aerial lift fatalities are falls, electrocutions, collapses, and tip-overs, and employers must take measures to ensure the safe use of aerial lifts by workers who are required to use this equipment.
Compliance is paramount, particularly when it comes to aerial lift platform safety. Failure to comply with workplace safety requirements puts the health and wellbeing of workers in danger, as well as exposes a company to potential fines and penalties. Thankfully, aerial platform safety training is available to companies across the United States, and it teaches workers everything they need to know about how to properly operate an aerial lift.
If you allocate the necessary time and resources to learn about aerial platform safety, you can limit the risk of workplace accidents that put yourself and others in danger. You can also use your knowledge of aerial platform safety to foster a workplace culture that prioritizes safety. As a result, you, your peers, and your superiors can benefit from a work environment where safety comes first.

Sign Up for Aerial Platform Safety Training from CertifyMeOnline.net
If you're an aerial lift or aerial work platform worker and need to complete your aerial lift certification, check out CertifyMeOnline.net. Here, you can read about the different types of aerial lifts and how you can avoid elevated work platform hazards that lead to serious accidents.
Of course, if you're ready to enroll in aerial work platform safety training, we're here to help. To learn about our safety training courses, please contact us online or call us today at (602) 277-0615.