Types of Aerial Work Platforms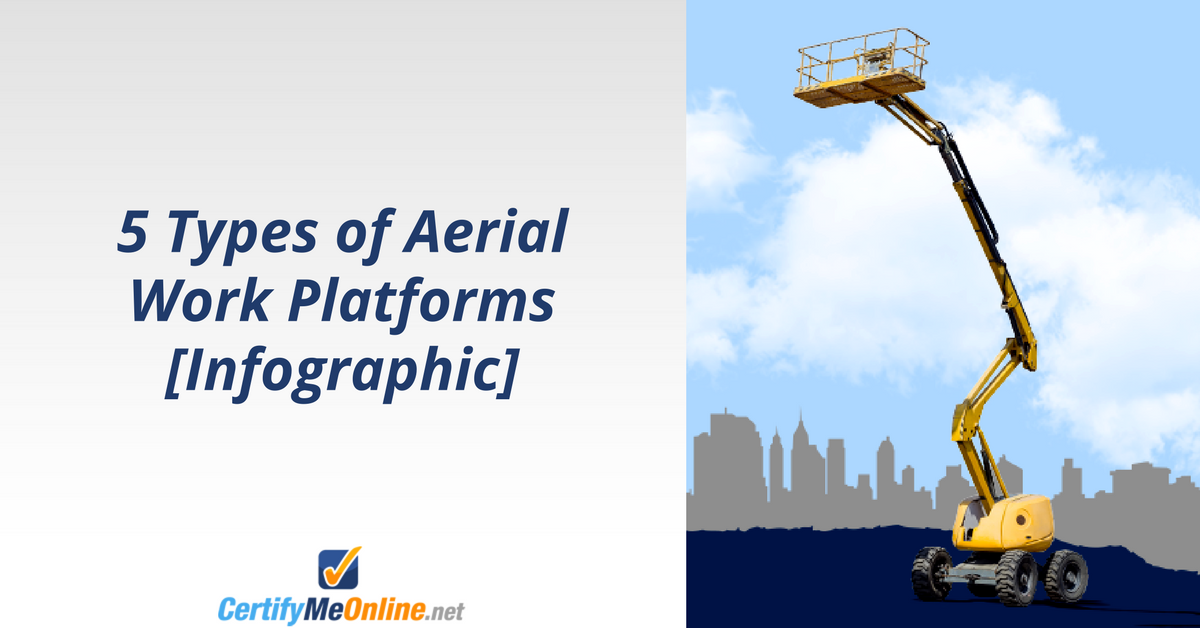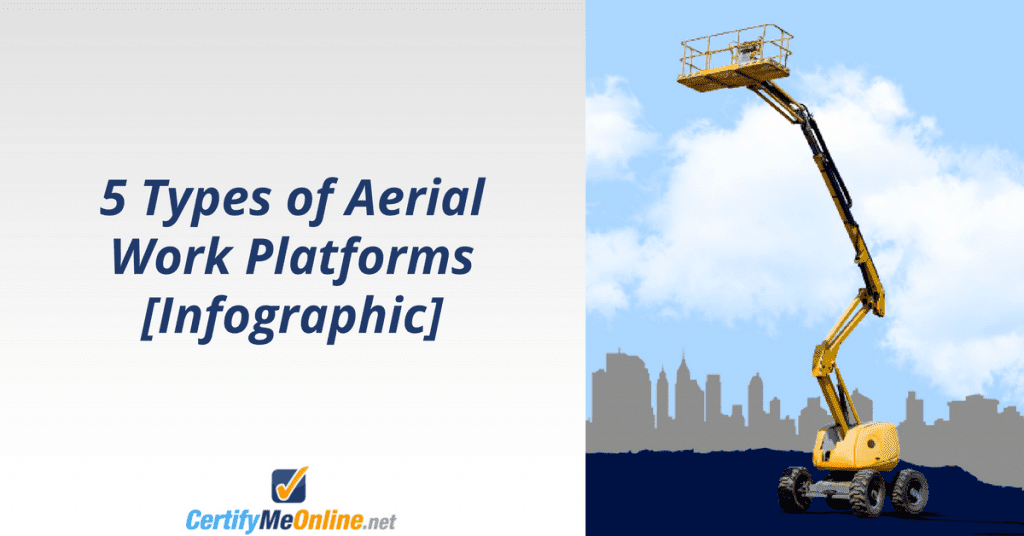 Aerial work platforms (AWPs) and mobile elevated work platforms (MEWPs) are used by thousands of workers across the country every day for a near-endless list of jobs. Everything from construction to maintenance to cleaning and a million other tasks would be impossible with aerial lifts, AWPs and MEWPs.
But which aerial platforms are the most popular? The aerial lift experts here at CertifyMeOnline.net did some research and came up with the following list…you'll probably recognize a few types on our list, and your company may even use these on a daily basis.
Regardless of which type of elevated work platform or aerial lift you use, you always need OSHA-compliant training and instruction. If you need to address some training & compliance gaps with your company, register with CMO today!
What Is an Aerial Work Platform?
Aerial work platforms – also known as AWPs – offer alternatives to ladders and scaffolding when workers need to complete tasks at great heights. A wide range of industries relies on these platforms. From landscaping companies to maintenance facilities, construction companies to industrial cleaning companies, there's no limit to the kinds of things you can accomplish with an aerial platform.
The main components of an aerial work platform include a base structure (typically a wheeled vehicle to move the MEWP or AWP into place), an extending structure with chassis, and a flat workspace with controls for the operator to control the lift. Keep in mind, this is a list of the major parts of an aerial lift. For a detailed glimpse into the different components and accessories that comprise an AWP, check out The Anatomy of an Aerial Lift.
Always take proper safety precautions when using an AWP. A body harness and fall protection gear can go a long way to prevent injuries at work. AWPs should also be kept far away from any overhead wires and other kinds of worksite hazards.
Workers should also undergo OSHA-compliant training before they begin using aerial platforms. Training courses help ensure that employees have the knowledge and experience necessary to safely operate an AWP.

Aerial Work Platform Options
Aerial work platforms come in a wide range of sizes. From a soaring aerial platform used for maintenance and construction to a lower elevated work platform, many aerial platforms are available.
Ultimately, you need to select an aerial work platform that allows you to perform a specific task, as quickly and efficiently as possible. To help you find the right aerial platform for the task at hand, let's examine five of the most popular options:


Share this Image On Your Site
1. Boom Lift
Sometimes called "the spider," boom lifts are characterized by their four legs and bucket on the end. They're mounted to a vehicle with durable tires, making it an excellent option for uneven or rough terrain. Boom lifts are among the most popular aerial work platforms, as they're incredibly durable and versatile.
The spider consists of a boom lift that has a bucket at the end of the boom where workers stand to access a work area. It was originally designed for orchards and allowed workers to easily pick fruit that was high up in trees. Nowadays, the lift is frequently used for overhead line maintenance, sprucing up tall trees, and even assisting firefighters in areas that are difficult to access.
Maintenance and inspections are important to ensure boom lifts and similar types of construction lifts run properly. CMO's aerial lift certification includes some helpful tips for adhering to a sensible maintenance schedule. 
2. Articulated Boom Lift
Also known as a knuckle lift, articulated boom lifts feature extended arms that allow workers to reach up and over obstacles. The boom lift uses a turntable base to swivel around 360 degrees. This makes it the best option for maintenance work and other jobs with limited access.
Unlike a scissor lift, an articulated boom lift can be used for building repair jobs, including piping. An articulated boom lift can also be used on uneven terrain.
Workers can undergo articulated boom lift training as part of an aerial platform safety program. That way, workers can learn how to safely use an articulated boom lift during maintenance and building repair jobs.
3. Telescopic Boom Lift
For workers who require maximum reach at heights, a telescopic boom lift is ideal. This type of AWP is a terrific option for window washers, electricians, and other workers who need to access areas that are directly above or parallel to them.
Telescopic MEWs are versatile enough to handle work areas directly above or at an angle from the base of the lift. The operator stands in a mobile cockpit to control and customize the lift's movements.
Before workers begin using a telescopic boom lift, they must complete a safety training program. Telescopic boom lift safety is a key tenet of worker training for aerial lifts, and a safety training program teaches workers how to minimize risk when they use this type of aerial platform.
4. Scissor Lift
A scissor lift is frequently used for indoor work. The lift has a set of supports in a crisscross pattern and offers limited reach in comparison to telescopic and articulated boom lifts.
Typically, scissor lifts only move vertically. A scissor lift's upward motion is achieved by the application of pressure to the outside of its lowest set of supports, elongating the crossing pattern, and propelling the work platform vertically.
Scissor lifts are commonly used for basic maintenance work and painting. Rough terrain scissor lifts are also available for outdoor work on uneven terrain.
While most people think of scissor lifts as a type of construction lift or another kind of elevated work platform, they're actually defined by OSHA as a type of scaffolding, since the operator/work platform doesn't extend horizontally away from the base. Even though scissor lifts aren't technically aerial lifts, they're still more versatile and useful than traditional scaffolding.
Meanwhile, scissor lift safety training is available. With this training, workers can learn how to safely move a scissor lift up and down, operate the lift on rough terrain, and more.
5. Aerial Platform
An aerial platform resembles a cherry picker and serves as a vehicle-mounted, boom-supported aerial platform. Workers can use an aerial platform at outdoor job sites to reach utility lines, trees, and more.
If you are considering an AWP, you should evaluate the aforementioned options closely. This will help you identify the right AWP for your worksite, and ultimately, enable you to maximize the return on your platform investment.
Regardless of which AWP you use, you need to safely operate the platform. Thanks to AWP safety training, workers of all skill and experience levels can become certified lift operators.
Types of Aerial Lifts
Aerial lift can be a blanket term used to describe boom lifts and scissor lifts. However, it is important to note that aerial lifts were originally designed to drive to outdoor job sites to access electrical lines, trees, and other outdoor objects. As the demand for construction projects across the world continues to grow, so too does the demand for aerial work platforms. In fact, the market is projected to grow by nearly seven percent by the end of 2026.
Common types of aerial lifts include:
✓

Personnel Lifts

Also referred to as "people lifts," personnel lifts function as mechanical ladders. They offer greater stability over traditional ladders and reach heights approaching 50 ft.
✓

 

Towable Boom Lifts

Towable boom lifts are lightweight and portable. They are frequently used at yards, gyms, and other light industrial worksites.
✓

Scissor Lifts

Scissor lifts are capable of reaching heights of 60 ft. They are ideal for workers who must paint buildings, wash windows, install HVAC systems, and perform other overhead tasks.

By completing an aerial platform training program, workers can gain the insights they need to use an aerial lift without disruption. They can also become more productive and efficient when they use an aerial lift, as well as take elevated work platform precautions to help make a jobsite safe.
Types of Construction Lifts
Along with aerial lifts, construction lifts are available. Common construction lifts include:
✓

Bucket Trucks

A bucket truck features a boom that is mounted to the vehicle and a bucket at the end of the boom. It is often used by utility workers who need to reach transmission lines. Along with utility workers, bucket trucks may be utilized by landscapers and pruners who need to trim tall trees.
✓

Articulated Boom Lifts

Knuckle lifts are useful for construction workers who need a work platform that allows them to reach obstacles. For example, if a construction worker needs to repair exterior piping, an articulated boom lift will make it easy to access tough-to-reach spots around the piping. This type of lift is also ideal for construction workers who need to perform work on uneven terrain.
✓

Telescoping Boom Lifts

For construction workers who need to complete work at a maximum height, they should consider a telescoping boom lift. This type of lift has an extendable arm and a rotating turntable that allows a single construction worker to complete tasks at high elevations. A telescoping boom lift is often a great choice for electrical repairs, maintenance tasks, and other work performed at extreme heights.
Elevated Work Platforms: Which One Is Right for You?
The right aerial work platform varies based on your application. So, you need to consider the task at hand, what you hope to accomplish, and which elevated work platform can help you complete your job safely and efficiently.
You need to look beyond the financial cost of elevated work platforms, too. An aerial platform may require a significant upfront investment, but you also need to consider workplace safety. If you invest in safety training for aerial work platforms, workers can learn how to properly use an aerial platform. Plus, workers can learn how to comply with aerial lift safety requirements.
The Importance of Compliance for Elevated Work Platforms
Safety is a priority with aerial lifts. OSHA states that the major causes of aerial lift fatalities are falls, electrocutions, collapses, and tip-overs, and employers must take measures to ensure the safe use of aerial lifts by workers who are required to use this equipment. Indeed, an increased focus on worker safety is one of the most prominent driving factors in the industry. Better functioning and more task-specific aerial work platforms help ensure the safest possible work experience. 
CMO's comprehensive aerial lift training and elevated work platform certification give you everything required for full compliance, regardless of the type of construction lifts or aerial lifts your company uses. 
Time and resources go a long way to helping employees learn about aerial platform safety. Reduce the odds of a workplace accident that put you and your colleagues in danger. With your knowledge of aerial platform safety, you can help empower others to prioritize safety, too. When safety comes first, the rest falls into place.
Enroll Your Workers in Elevated Work Platform Training Today
Employees who use AWPs are legally required to get certified before starting work. Failure to complete a thorough elevated work platform safety training program and your business may be the target of OSHA compliance fines and violations. Even if your organization manages to skirt such penalties, an untrained workforce is a dangerous one. People are far more likely to be involved in lift accidents and suffer injuries when they're unfamiliar with industry best practices.
CertifyMeOnline.net offers an extensive AWP safety training program that takes the guesswork out of becoming an OSHA-compliant lift operator. Our program is easily accessible and can be completed in a matter of hours. It allows workers to immediately earn their OSHA certification and ensure they can safely use a lift at any worksite.
We are happy to provide you with additional information about our OSHA-compliant AWP safety training program. To learn more or to sign up your workers for our training program, please contact us online or call us today at (602) 277-0615.

Test Your Knowledge of Elevated Work Platforms 
Ready to test your knowledge on aerial work platforms? CMO created a fun & informative quiz for just this purpose! 
We put together a short quiz of 10 true or false questions that will determine which type of elevated work platform you are. Just click through the questions, and we'll show you the results!
This is a great way to have some fun while learning more about boom lifts, cherry pickers, scissor lifts, telescopic lifts and other types of elevated work platforms.