Different Applications of Aerial Work Platforms
What are the top uses for aerial work platforms, and why are they so widely utilized in workplaces across America? Aerial work platforms, also called mobile elevating work platforms (MEWPs), feature:
Versatile applications. Indoors, outside, construction sites, landscaping, and a thousand other uses…name any instance where a worker needs to work at elevation, and AWPs & MEWPs fit the bill!
Relatively easy to use. The key word there is "relatively." The different applications of aerial work platforms are "easy," assuming the operator is well-trained and qualified to handle the job!
Affordability. AWPs offer outstanding return on investment. Even if your company isn't one of the industries that use aerial work platforms on a regular basis, the equipment can be rented for specific use, thus adding to their value!
Easy to move from one jobsite to another. Thanks to a wheeled base and intuitive controls, it's easy to transport AWPs to different sites for industries that use aerial work platforms. 
All employers are required to provide aerial lift training & certification to all AWP & MEWP operators. CMO provides a great selection of training courses for aerial work platform applications across the entire industrial spectrum. Sign up today and become OSHA compliant!

OSHA Requirements for
Applications of Aerial Work Platforms
No matter how or where an AWP is used, all operators are required to complete an aerial lift certification by OSHA. This training ensures that all workers are competent in operating all types of aerial machines properly, and are prepared to prevent accidents involving aerial work platforms in the following situations and industries.
This article will examine 10 real-life applications for AWPs. Some of the jobs might be familiar, while others aren't so obvious. One thing is for sure. If workers and material are required for work above ground, an AWP is usually the best bet to get work done!
But before you head into the air, you need a well-grounded (and well-rounded) knowledge of how to operate aerial lifts, scissor lifts, and other AWPs. That's where our training comes in – more on that later.
Aerial Work Platform Applications
Ultimately, AWPs are crucial in myriad industries. Here are 10 common AWP applications:
1. Construction and Building Maintenance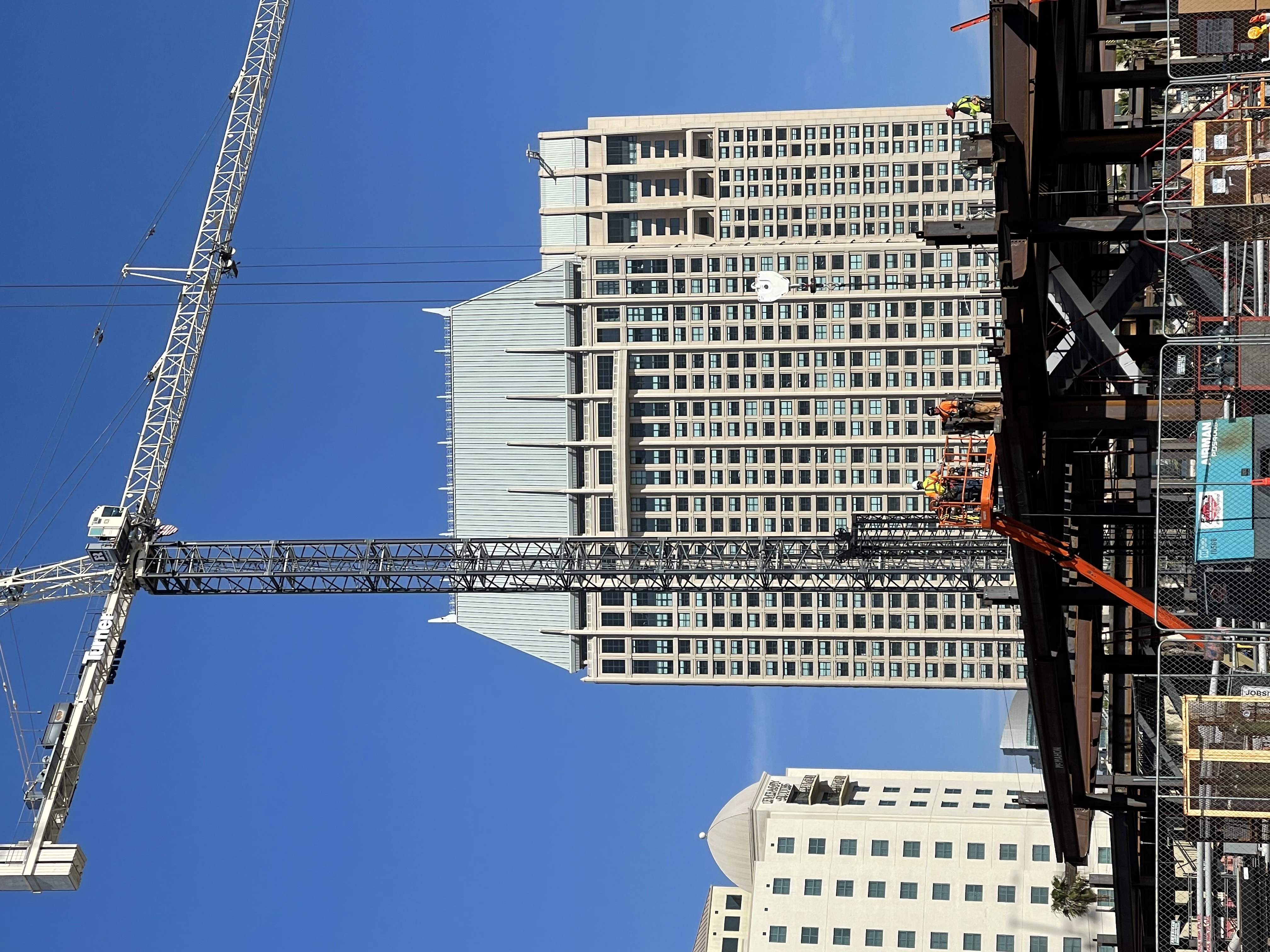 The types of aerial work platforms typically used in construction are aerial lifts, articulating boom lifts, and telescopic boom lifts. AWPs are made for reaching levels of heights that other types of machines cannot. Telescopic aerial lifts are designed for their maximum reach capabilities, and articulating boom lifts are helpful assets on construction and building maintenance sites that have structures in hard to reach areas. Articulating boom lifts have jointed boom arms that can reach up and around structures to access things like heat and cooling units, ductwork, piping, and more.
From installing and repairing ductwork, accessing high up wiring, or installing structural features at height, articulating and telescopic boom lifts are the machines for the job. These types of aerial lifts can work on even and uneven ground, making them suitable for rough natural terrain and semi-finished building sites.
When working on construction sites, it's very important that AWP operators are highly trained and certified. Being electrocuted by power lines and hit by other overhead structures are some of the top causes of aerial lift accidents, including fatal falls.
2. Safety Inspections
Think of a large airplane or a bridge. How do people get up there to make regular safety inspections? Safety inspections are one of the top uses for aerial work platforms. Aerial lifts are the best way to transport engineers, inspectors and other safety workers to where they need to be. Yes, even OSHA uses aerial lifts when making regular inspections at warehouses, production centers and other places all across the country. During accident investigations, OSHA also uses aerial lift platforms, scissor lifts, and other equipment to reenact incidents that caused an on-the-job mishap. Whether it's a bridge, airplane, or other safety inspection measure, AWPs are commonly utilized all across the country!
3. Window Washing/Repair
Next time you're in the city, take a look at a skyscraper. How are all those windows cleaned? You guessed it…AWPs and MEWPs! Large-scale industrial cleaning and window washing is one of the most common aerial work platform applications. From boom lifts to smaller scissor lifts (used for interior windows), AWPs help keep your "window to the world" squeaky clean!
Aerial lifts, articulating boom lifts, and telescopic boom lifts are made for reaching otherwise inaccessible heights. Designed with a basket or bucket on the end of the boom arm, these types of AWPs can hold workers and the necessary tools needed to install, repair, and clean windows. Telescopic boom lifts are often used for window work because they're equipped with the reach power to access the highest windows on a building. They can lift and situate the window washer directly in front of the work area.
Scissor lifts can also be used to wash and repair low to medium height windows because their large platform allows for multiple workers and plenty of tools. Scissor lifts can only extend straight up, so they need to be placed directly under the work area. Operators will need to move them around or across the work zone to wash and repair all windows on a building face.
No matter if you operate scissor lifts, articulating boom lifts, or telescopic boom lifts, you need to be trained to wash and repair windows on an AWP. Falls from aerial lift platforms and buckets are a top cause of deaths among workers, and understanding fall protection is the key to preventing these types of accidents.
4. Orchard Work
Also known as aerial lifts, cherry pickers got their name because they were first designed and used for work in orchards, reaching and picking fruit. And today's MEWPs and AWPs still pick cherries…and also almonds, lemons, apples, and many other fruits, nuts and foods! Cherry pickers are narrow enough to operate between the rows of fruit trees while accommodating one worker in the bucket. The boom arm and bucket are situated on top of a vehicle chassis, allowing workers to access often difficult to reach rural areas.
Being able to navigate around tricky work areas, like orchards, requires specialized training. When workers aren't trained and able to recognize hazards present, they increase their risk for accidents like being struck by overhead objects, being crushed by objects nearby, and falling from the lift.
5. Electrical Line Repair
Telescopic boom lifts are the most commonly used AWP for electrical work. This machine is designed with the longest reaching arm that can extend vertical and horizontal. The operator working the controls positions the boom lift directly underneath the work area, while another worker stands up in the bucket or basket and accesses the electrical line. 
Electricians use aerial lifts to access telephone wires, transformers and other equipment that's high above the ground. For indoor construction projects and common wiring jobs, scissor lifts are preferred, since a limited extension is required. For other electrical installation projects, aerial lifts are used to route conduit, fix electrical connections, and upgrade equipment. Telephone companies, industrial construction firms, and many others give their electricians AWPs to perform a ton of different tasks.
Electrical line repair is a common job for aerial lift operators, but it's also dangerous. With live power lines comes the risk of workers being electrocuted.  When tasked with working with power lines for electrical work, operators must be trained and certified in the related hazards. Training teaches workers how to handle and work near power lines safely, to stay clear of any lines by at least 10 ft., to consider all lines live, and to use safety equipment and proper clothing.
6. Mining Work
The common picture of aerial work platform applications is on the ground. That is, above ground. But AWPs are used for mining duties as well. For miners, maintenance workers and other support staff far below ground level, aerial lifts are used to access tunnels, shafts and other hard to reach spaces. The coal mining sector, for example, is just one of the industries that use aerial work platforms. Scissor lifts are also used by mining companies, especially for smaller tunnels and shafts. Everything from iron ore to gold to coal and many other mined commodities come courtesy of aerial work platforms! 
7. Special Event and Entertainment Work
Celebrities like Katy Perry have used aerial lifts to hoist them up above the crowd and transport them around a stage to boost the wow-factor in their performances. Aerial lifts certainly make a statement, no matter where they are. Performing artists have often relied on using one in their show to impress their fans and make headlines. Broadway and your local theater have probably used aerial work platforms at one point. While the entertainment industry isn't commonly thought of when talking about industries that use aerial work platforms, they certainly can be the star of the show!
Aerial lifts are often used in the set-up of special events behind the scenes. Workers use aerial lifts to install the lighting for concerts, hang speakers and banners, and more. They are also used in amusement parks like Disneyworld and Universal Studios to build and repair rides. As an aerial lift operator, you can be involved in special events around you much more often than a singer gets to ride one for a performance.
8. Sporting Events
Used for their power to lift and lower event staging and lighting, aerial lifts have been used for many sporting events across the country. Scissor lifts are often used for this application, from accessing scoreboards and arena structures to providing an eagle eye view of the stadium. East Carolina University (ECU) in Greenville, North Carolina has made interesting use of scissor lifts for sporting events.
ECU uses scissor lifts to upgrade their safety and security at Dowdy-Ficklen Stadium, the home field for their football team, known as the Pirates.
Police at ECU have come up with a better way to keep an eye on the crowds, both in the stadium and when everybody leaves. When ECU opens their regular season each year, university officials think everything will run more smoothly thanks to the scissor lifts.
"That scissor lift is a way to have eyes above the crowd to help should we see a need where we need to try and disperse or move the crowd," said Lt. Sutton.
ECU Police spokesperson Lt. Chris Sutton said, "Safety is our number one priority and while we want to see the Pirates win, we don't want to be the story after the game we want the Pirate win to be the story."
9. Roller Coaster Repair and Maintenance
Most amusement parks have their own AWPs on hand at the ready to access a roller coaster should any malfunctions occur, possibly trapping park goers on the ride. Telescopic boom lifts have the reach power needed to access the highest point of many roller coasters and can even bring guests down to safety during an emergency.
10. Indoor Retail Areas and Warehouses
Scissor lifts are smaller than aerial lifts, telescopic boom lifts, and articulating boom lifts, and they are often used indoors. Electric scissor lifts are propelled by a system of crisscrossing beams and can only extend vertically, straight up from the base. They are used in many retail settings to perform building maintenance and repairs. Many electric scissor lifts are made with narrow platforms and are also used in warehouses to handle various loads. They don't emit fumes so they are safe for work around citizens and workers.
Many packing plants have aerial lifts that can hold boxes, packages, equipment and other industrial products. These special aerial lifts have a larger platform with extra space. If you're a warehouse worker that knows how to use a forklift and AWP, you're a valuable employee!

Choose
CMO
for Aerial Work Platform Safety Training
So what is an aerial work platform used for? Practically anything and everything! The 10 applications of aerial work platforms listed above are just a small sampling of the amazing versatility of this industrial equipment.
No matter how or where AWPs are used, the key to performing all of these different types of jobs successfully and safely is to ensure all workers are trained and certified. Aerial lift certification is the number one tool for preventing accidents on the job and boosting productivity.
CertifyMeOnline.net offers the top-rated online aerial lift certification course on the market. Students work through the training modules at their own pace and can immediately print their certificate upon completion. For only $75 for aerial lift and scissor lift training in one convenient program, you or your workplace can be compliant with all OSHA regulations and prepared to operate all types of AWPs safely. To learn more or to sign up for our AWP safety training, please contact us online or call us today at (602) 277-0615.