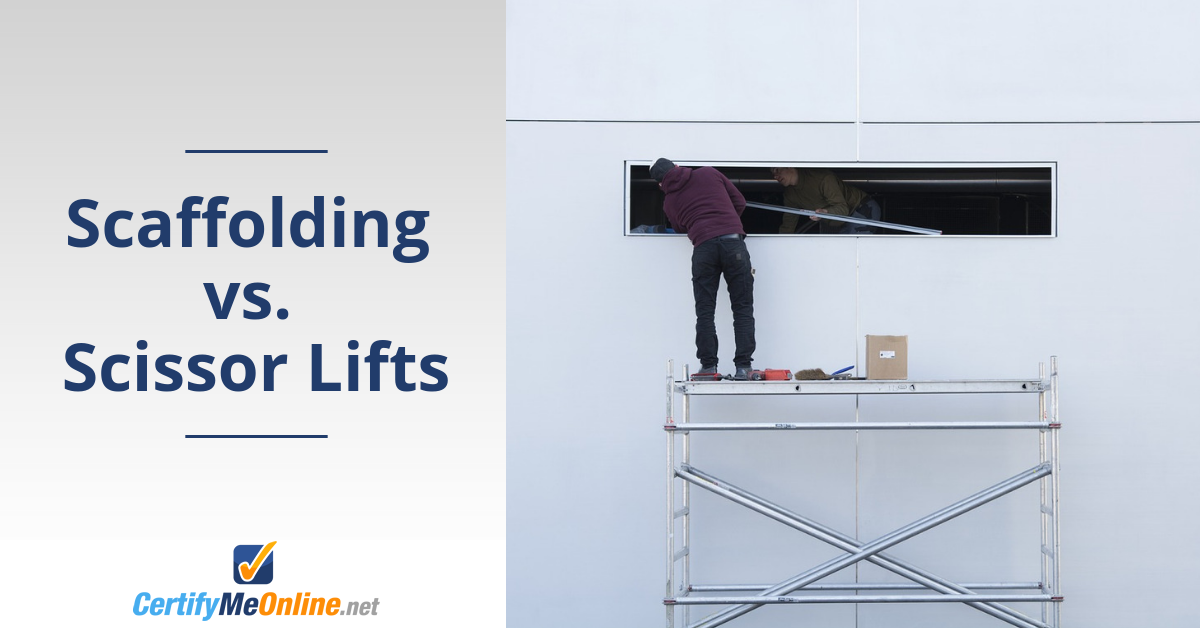 Working at height requires a keen focus on safety. This starts with having the right equipment for keeping workers safe on the job. For years, scaffolding was the safest way to work above ground. But since the invention of scissor and other aerial lifts, scaffolding has taken a back seat when it comes to worker safety.
A Closer Look at Scissor Lift Scaffolding
Scissor lifts are designed to help workers move safely at heights. They move vertically via a lifting mechanism that elevates or lowers a work platform as needed.
OSHA has established various standards for scissor lift scaffolding safety, including:
– 27: Outlines safety measures for general industry scaffolding and rope descent systems
– 20(b): Defines scissor lift accident prevention responsibilities in the construction industry
– 454: Clarifies the training requirements for construction workers who use scissor lift scaffolding
It is an employer's responsibility to teach workers how to properly use a scissor lift. With comprehensive training, workers can learn how to safely use a scissor lift and minimize the risk of associated accidents and injuries. They can also learn about scaffold lift differences.
Scaffold Lift Differences: What You Need to Know
Aerial and scissor lifts may seem identical at first, but there are notable differences between the two. With the ability to spot the differences between aerial and scissor lifts, workers can safely use the correct lift for the task at hand.
OSHA defines an aerial lift as any vehicle-mounted device used to elevate a worker. Aerial lifts offer mobility and flexibility, and as such, have replaced ladders and scaffolding at many worksites. They can also move vertically and horizontally.
Comparatively, a scissor lift is a scaffold work platform used to move workers vertically, according to OSHA. Scissor lifts are commonly used in construction, retail, and other industries for tasks that require workers to move up and down.
Regardless of whether an employer uses aerial lifts, scissor lifts, or both, safety training is crucial. By educating its workers about scaffold lift differences, an employer can help these workers stay safe when they use different lifts for everyday work.
Why Should You Choose Scissor Lifts Over Scaffolding?
Employers must evaluate scissor lifts and traditional scaffolding to find a safe, effective option for their worksites. Upon close evaluation, employers often find that scissor lifts are superior options in comparison to traditional scaffolding for several reasons, including:
1. You can enjoy greater access.
Scissor lifts can be used nearly the same ways as scaffolding, and scissor lift features like all-terrain wheels and self-leveling make them easy to operate at a wide range of jobsites. Plus, scissor lifts can often go where scaffolding cannot.
2. You can guard against worker accidents and injuries.
Scaffolding and ladders are risky, due to the fact that their bases are less stable in comparison to scissor lifts (which use outriggers for increased stability). Also, scaffolding and ladders do not provide as much grip in wet or adverse weather in contrast to scissor lifts.
3. You can boost public safety.
A scissor lift makes it simple for workers to safely navigate to a jobsite. Many scissor lifts also require less space than scaffolding, and they can be taken down and moved quickly.
4. You can help workers get the job done faster and more efficiently than ever before.
Scissor lifts can be lowered and moved to another location in just minutes. The end result: reduced labor time and increased productivity.
5. You can lower your operating costs.
Scissor lifts can be lowered and moved to storage with much less time and labor than scaffolding.
6. You won't have to worry about emissions.
Scissor lifts with electric engines produce no harmful emissions.
Scaffolding Dangers
Clearly, there are many reasons to choose scissor lifts over scaffolding. Along with the aforementioned reasons, businesses may shy away from scaffolding for a variety of reasons, such as:
1. Risk of Falls
OSHA mandates the use fall protection when working at 10 ft. or more. Yet, when using scaffolding, contractors often insist on fall protection starting at 6 ft. This is due to the risk of falls associated with poor weather conditions, lack of focus on safety procedures, and improper access to worksites.
2. Scaffold Collapse
When scaffolds aren't erected correctly, the platform can collapse or result in falling items. Proper setup must take many factors into account, such as the weight the scaffold will hold and stability of the foundation. Other setup factors to consider include placement of scaffold planks and the distance from the scaffold to the work area. Proper scaffold setup requires a highly trained worker who knows how to erect, dismantle, and move a scaffold.
3. Incorrect Planking
When setting up a scaffold, all planks must be cleated and tightly secured. Otherwise, they can slip off. Falling planks can also injure people below. Planking accidents can result from overloading and using the wrong grade of lumber as well. Furthermore, too little or too much overhang can cause planking to tip.
4. Failure to Inspect
OSHA requires scaffolding to be inspected on a regular basis. Inspections should be done by workers trained in scaffolding setup, dismantling, and maintenance.
Benefits of Aerial Lift Scaffolding and Scissor Lift Scaffolding
OSHA classifies scissor lifts and aerial lifts as scaffolding. However, scissor lifts provide mobility and versatility that traditional scaffolding does not.
Scissor lift scaffolding and aerial lift scaffolding offer many advantages over traditional scaffolding, such as:
– Fast setup and movement
– Can be used indoors and outdoors
– Can safely handle more weight than traditional scaffolding
– Provide ample room for tools and equipment
– Can be quickly lowered in high winds or rain
– Easy to pause at different heights
– Can be used on different surfaces
– Can provide access to difficult terrains
– Available in electric and diesel options
Ultimately, scissor lift scaffolding is the smart choice over traditional scaffolding. Scissor lift scaffolding provides better access, more mobility and terrain compatibility, and other benefits that traditional scaffolding cannot match.
The Bottom Line on Scaffolding vs. Scissor Lifts
Scissor lifts cannot stop accidents ⁠— that's why scissor lift operator training and certification is important. Thanks to CertifyMeOnline.net, workers can immediately earn their scissor lift operator.
We offer an affordable and efficient training program to help workers gain the skills they need to safely operate scissor lifts. To learn more or to sign up for our training and certification classes, please contact us online or call us today at (602) 277-0615.