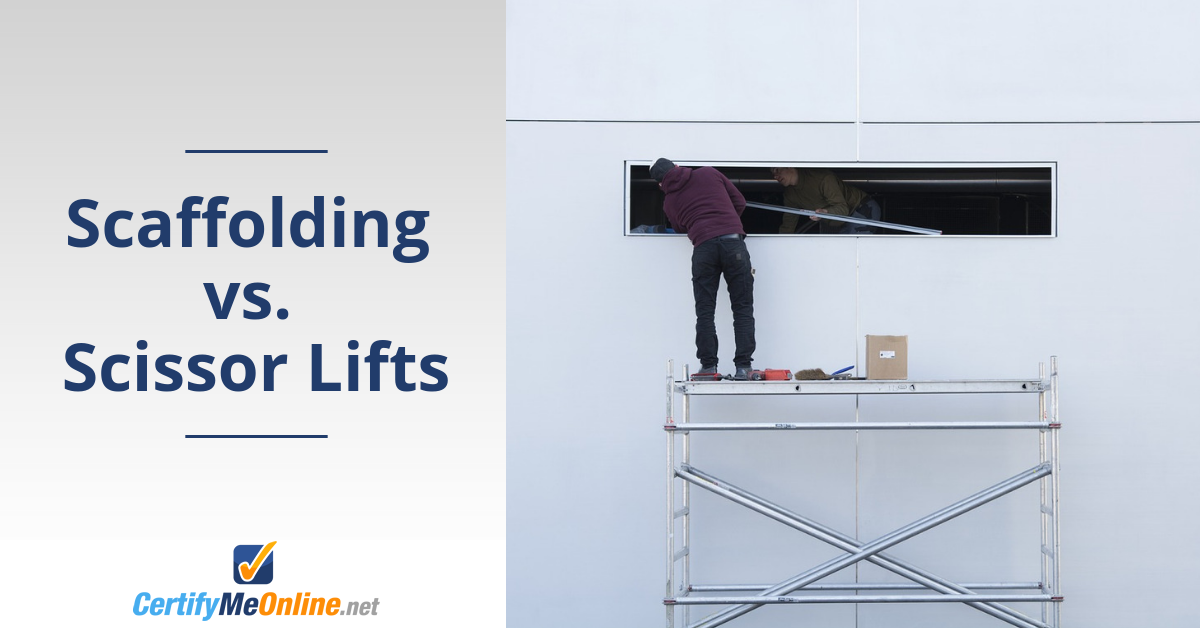 Working at height requires a keen focus on safety. This starts with having the right equipment for keeping workers safe on the job. For years, scaffolding was the safest way to work above ground. But since the invention of scissor and other aerial lifts, scaffolding has taken a back seat when it comes to worker safety.
Scaffolding is still commonly used in painting, window washing, building maintenance and other industries. And people will still debate the merits and drawbacks of using it. But the fact remains that scissor lifts make it safer to work at heights up to 60 feet. Here are six good reasons to choose scissor lifts over scaffolding.
Greater access. In the early days of aerial lifts, scissor lifts had limited application compared to scaffolding. These days, they can be used almost anywhere scaffolding can. New features like all-terrain wheels, self-leveling, and scissor lifts on tracks allow them to operate in places they previously could not go. In fact, scissor lifts can often go where scaffolding can't.
Safer for workers. Scaffolding and ladders are risky to work on. Their bases aren't as stable as scissor lifts, which can use outriggers for extra stability. They don't provide as much grip in wet or adverse weather. They don't come with the high siding that scissor lifts offer. And they often require extra supervisors staff to monitor safety.
Safer for the public. Outdoor above-ground worksites are often in the middle of pedestrian traffic. Using a scissor lift can make it easier for people to safely navigate the work area. Many scissor lifts take up less space than scaffolding. There's less danger of falling items. Also, the lifts can be taken down and moved much quicker, which reduces the amount of time they interfere with foot traffic.
Speed and efficiency. Working on all sides of a building requires dismantling and re-erecting the scaffolding. You could use multiple scaffolds, but you would still have the same amount of setup time. It would also involve more workers, which would drive up labor costs. Scissor lifts can be lowered and moved to another location in just minutes. The end result is reduced labor time and more productivity.
Cheaper to use. When work stops due to a holiday, bad weather or the weekend, it's safer to dismantle and re-erect scaffolding when work resumes. Every time you do this, it adds cost to the job. Scissor lifts can be lowered and moved to storage with much less time and labor.
No emissions.  If you're concerned about the environment, scissor lifts with electric engines have no harmful emissions.
The Dangers of Scaffolding
If you still think scaffolding offers the better option, consider the following:
Increased risk of falls. OSHA mandates the use fall protection when working at 10 feet or more. Yet, when using scaffolding, contractors often insist on fall protection starting at six feet. This is due to the greater risk of falls. Weather conditions and lack of focus on safety procedures often cause falls. Improper access to scaffolding can also cause them.
Scaffold collapse. When scaffolds aren't erected correctly, it can cause the platform to collapse or result in falling items. Proper setup must take many factors into account, such as the weight the scaffold will hold and foundation stability. Other factors include placement of scaffold planks and distance from the scaffold to the work area. Proper scaffold setup requires a highly-trained person who knows how to erect, dismantle and move a scaffold.
Incorrect planking. When setting up a scaffold, all planks must be cleated and tightly secured. Otherwise, they can slip off and cause a fall. Falling planks can also injure people below. Planking accidents can also result from overloading and using the wrong grade of lumber. Too little or too much overhang can cause planking to tip and lead to a fall.
Failure to inspect. To ensure with compliance regulations, OSHA requires all scaffolding to be inspected on a regular basis. Inspections should be done by workers trained in scaffolding setup, dismantling and maintenance.
Advantages Of Scissor Lifts
In addition to making the job site safer, scissor lifts offer the following advantages:
-Fast setup and movement
-Can be used indoors and outdoors
-Can safely handle heavier weights
-Large platforms provide ample room for tools and equipment
-Can be quickly lowered in high winds or when rain suddenly occur
-Easy to pause at different heights on the way up or down
-Ability to work on many different surfaces
-Four-wheel drive models provide access to difficult terrain
-Available in electric and diesel models
Scissor Lift Safety
Clearly, scissor lifts are much safe than scaffolding. Yet they can't prevent all accidents. That's why training and certification of scissor lift operators is so important. CertifyMeOnline provides fast affordable online training. There's no need for intense classroom training. Workers can complete the training in one afternoon. And they can receive their certification cards the same day they complete the training.