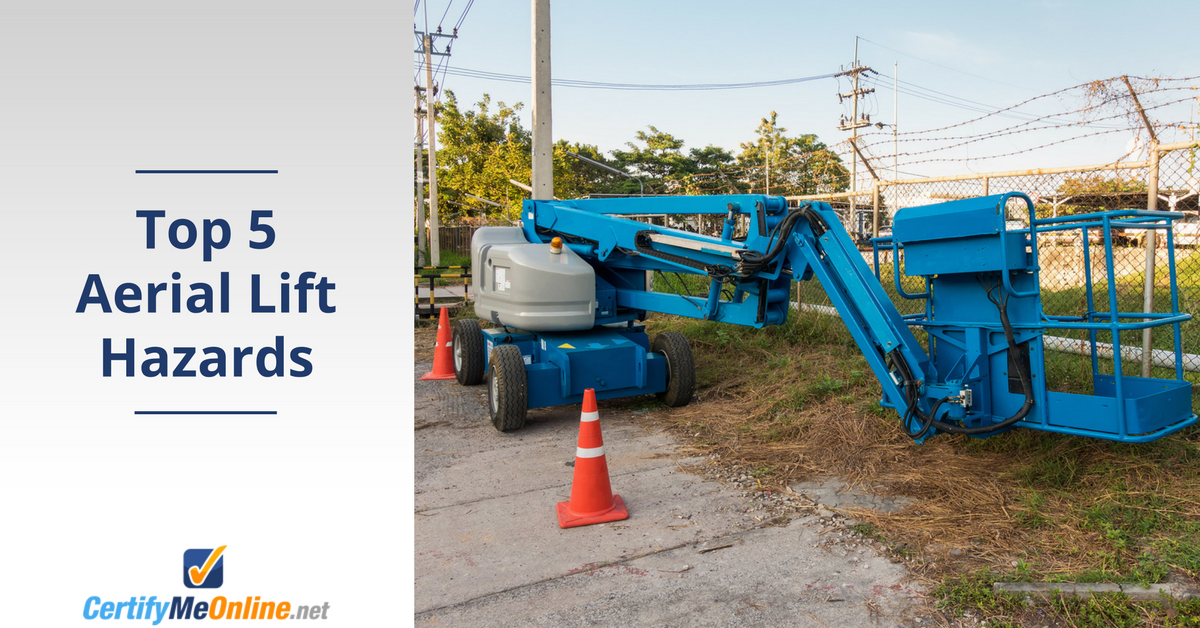 OSHA states that the top hazards associated with aerial lifts are electrocutions, falls from elevations, tip-overs, collapses, being struck by falling objects, and ejections from the aerial lift platform. If you're a construction worker and you operate aerial lifts or are consistently around them, it is essential to your safety to complete an aerial lift certification course and learn about the hazards that cause injuries and deaths every year. Complete your aerial lift safety training and you'll be properly prepared to recognize and avoid these top hazards associated with aerial lifts.
CertifyMeOnline.net is the online leader in OSHA-approved training. Our aerial lift training and certification course covers everything you need to avoid aerial lift hazards. Choose from seven different aerial lift hazard training sessions. All of our coursework is designed to help you and your co-workers become OSHA certified with no hassle – all with affordable prices!
Let's look at some of the most common aerial lift hazards. Remember, these impact a wide variety of job descriptions and roles, including:
– Maintenance
– Large machinery repair/refurbishment
– Window cleaning/glazing
– General construction work
– Painting
– And many more
Regardless of your job title, it helps to be aware of the following aerial lift hazards.
Aerial Lift Hazard #1: Electrocutions
According to a study regarding the top causes of deaths from aerial lifts between 1992-1999, nearly 50% of all fatalities were from electrocutions. In 2017, two of the top ten OSHA violations involved hazards related to electricity: improper lockout/tagout procedures and electrical wiring methods. Since 20% of the most common OSHA violations are in this area, you should be aware of all aerial lift hazards that could result in electrocutions. Many aerial lift operators are involved in overhead line work, and the risk of being electrocuted by live power lines and cables is a great one for these workers. In order to protect your life and prevent getting seriously injured or killed on the job, follow these tips provided by OSHA:
– Always wear fall protection equipment and never belt off to a pole or structure other than the lift's attachment points.
– Do not position the lift between overhead power lines if possible.
– Treat all overhead power lines and communication cables as live, and remain at least ten feet away from them at all times.
– Be sure to have workers de-energize power lines that are in the work zone before beginning tasks, and wear protective gear like insulated hard hats, gloves, boots, and clothing.
Aerial Lift Hazard #2: Falls from Heights
Aerial lifts are incredibly large pieces of equipment and falls are easy accidents when the proper preventative steps aren't carried out. To prevent falls from aerial lifts, workers need to assess their surroundings and make sure there are no objects, other vehicles, or workers nearby that may strike or come in contact with the lift. OSHA requires that all aerial lift workers wear adequate fall protection equipment that includes full-body harnesses and lanyards attached to the lift or basket. Additionally, workers need to do the following:
– Ensure all access gates or openings are closed when inside the lift basket or platform
– Stand firmly on the floor of the bucket or platform
– Never climb on or lean on the guardrails
– Never use ladders or planks in working position while in the aerial lift bucket or platform
– Never tie off to structures or poles while in the bucket
Always adhere to your company's personal protective equipment (PPE) policies. This includes the proper use of safety harnesses, fall protection equipment, and other devices designed to protect you from falls from heights. Some aerial lifts and boom lifts pose serious hazards, simply because they're so high. If you're unsure about your specific role and have questions about aerial lift hazards, always keep an open line of communication with your boss, site supervisor, or safety coordinator.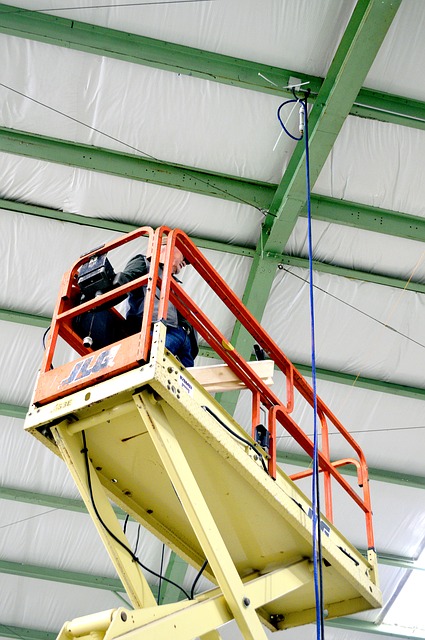 Aerial Lift Hazard #3: Tip-Overs/Collapses
Tip-overs and collapses of the aerial lift are caused by improper traveling and handling of the lift. Sometimes they are caused by inadequate pre-start vehicle and mechanical inspections.
Tip-overs can result from:
– An exceeded load capacity
– Carrying too large of objects
– Driving the lift with the platform raised
– Exceeding the vertical and horizontal height limits
– Operating the lift in severe weather conditions
Collapses may occur due to mechanical failures and can be prevented by workers completing thorough pre-operation inspections of the vehicle and lift to ensure all controls are working properly. To prevent tips overs and collapses, workers should not exceed manufacturer's load capacity limits, never travel to a job site with the lift raised, never drive near holes or drop-offs, and never raise the platform on uneven or unstable surfaces, on sloped ground, or in windy weather.
A widely cited study from 2013 illustrated the importance of measures to avoid tip-overs. In this case, a Montana aerial lift worker was killed when his equipment fell over on its side. Despite the potential for numerous violations, OSHA only imposed one on the company, which was failure to report the accident within eight hours. Bottom line: aerial lift safety is a responsibility everyone shares. Employers, employees, and all personnel involved with workplace safety play a role. Aerial lift hazards – including tip-overs – are waiting to happen. It's up to alert, properly trained employees to take the steps necessary to avoid injuries and fatalities in the first place.
Aerial Lift Hazard #4: Objects Falling from Lifts
In addition to the operators being at risk, workers on the ground are also at risk if any of these hazards take place. Most often, on-foot workers are injured or killed by objects falling from the aerial lift bucket or platform. It is often caused by lifts carrying objects that are larger than the platform, carrying unstable objects, workers not making sure all openings on the bucket or platform are closed, and coming into contact with a fixed object like a sign that causes objects on the lift to come loose and fall. If possible, aerial lift operators should avoid positioning the lift underneath overhead objects, and workers on the ground should be aware of their surroundings and avoid working underneath or in close proximity to the lift when it is raised.
Aerial Lift Hazard #5: Ejections from Lift Platform
Ejections from an aerial lift occur when a lift comes into contact with another object like a sign or moving vehicle next to a highway, or from inadequate stability assurance. Before operating an aerial lift, workers need to ensure:
– Outriggers are set on pads or on a level surface on solid ground
– Brakes are set when outriggers are used
– Wheel chocks are used on sloped surfaces when it is safe to do so
– Work zone warnings are set up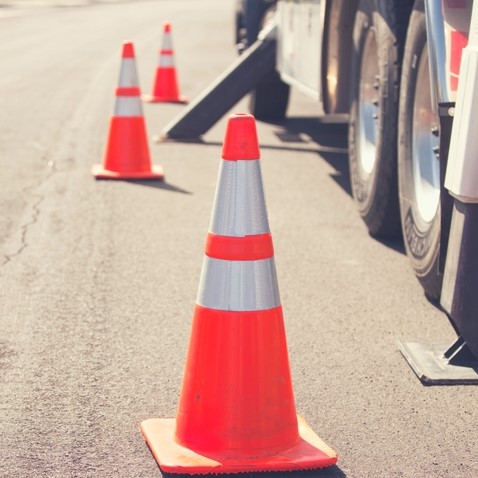 When controlling and moving the aerial lift, operators must be aware of their surroundings and ensure they have clear visibility of everything on all sides of them, especially when working near a highway. In all cases, workers must always wear adequate fall protection equipment to prevent them from falling from the lift. This equipment involves wearing a full-body harness with a lanyard that is attached to the bucket or platform.
Many of these aerial lift hazards – falls from heights, tip-overs, and ejections from lift platform, just to name a few – are directly related to one of the most widely-cited OSHA violations of 2017: Fall Protection Training Requirements. CertifyMeOnline.net helps everyone involved with aerial lift and scissor lift operation with a solid base of knowledge in all aspects related to safe, efficient aerial lift operation.
In order for any pieces of safety equipment to be useful at preventing these aerial lift accidents, workers need to complete comprehensive aerial lift training to fully prepare them for avoiding these hazards and protecting everyone's life on a work site. Check out CertifyMeOnline.net for aerial lift training that teaches everything you need to know about these dangers.
If you'd like to learn more about aerial lift hazard safety training, please call our OSHA training experts today at (602) 277-0615. We look forward to helping you and your company become OSHA compliant – and thanks for stopping by the CMO blog.
Sources:
https://www.osha.gov/Publications/aerial-lifts-factsheet.pdf
https://www.osha.gov/SLTC/etools/electric_power/overheadlinework_useofaeriallifts.html
https://www.osha.gov/SLTC/etools/hurricane/aerial-lifts.html#index