Staying in compliance with OSHA regulations means avoiding expensive penalties and fines. Compliance also helps foster a safe work environment. When it comes to warehouse safety, following industry best practices can keep employees safe and productive. Fail to live up to such guidelines and your warehouse can quickly become a dangerous place to work. If you're hoping to up the safety standards in your warehouse, allow CertifyMeOnline to be your guide.
Why Warehouse Safety Matters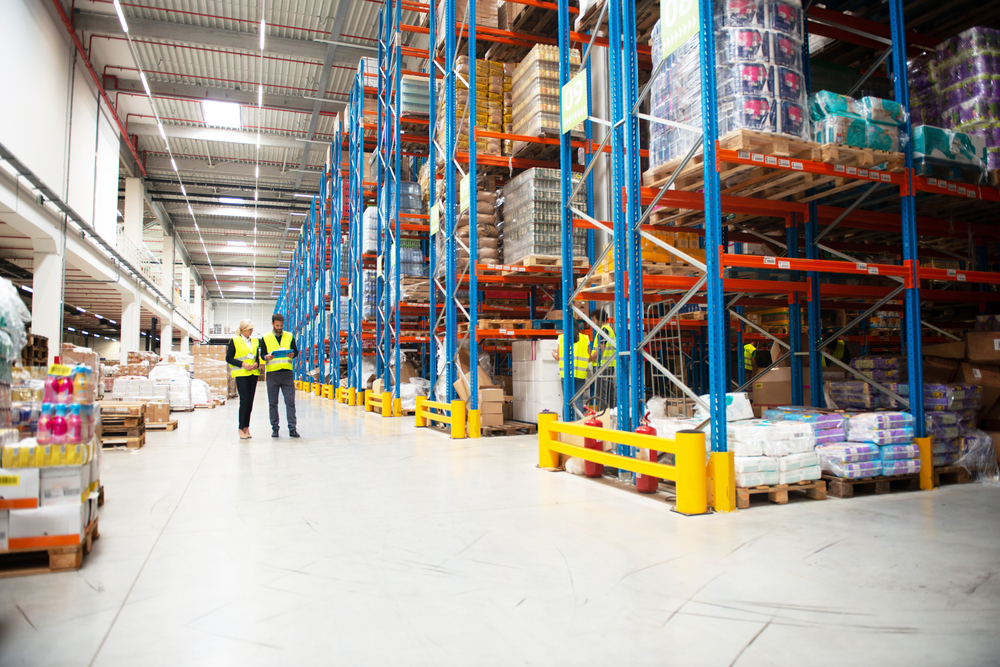 There are more than 20,000 warehouses in the United States employing more than eight million workers, and these figures continue to increase. The rate of fatal injuries due to accidents in the warehouse industry is higher than the national average for all industries as well. These statistics speak volumes about why warehouse safety matters.
OSHA is responsible for the implementation of warehouse health and safety guidelines in the USA. This agency has the power to levy fines as high as $30,000 to employers for willful or repeated violations of OSHA guidelines for warehouses.
When it comes to being compliant and preventing accidents in your warehouse, you need to take certain precautions and follow our tips for OSHA warehouse safety. OSHA's general warehouse rules and regulations are a big part of this learning and training process. Since OSHA warehouse regulations constantly change – updated rules and regulations are common with OSHA – you need a training program that'll keep you on top of OSHA warehouse regulations and safety guidelines. Remember, CMO's training and certification courses automatically include any updates to OSHA guidelines for warehouses. Our classes are created by people with decades of experience dealing with OSHA warehouse safety, guidelines & regulations and much more!

Warehouse Safety Hazards
Warehouse safety relies on workers being aware of their surroundings and being prepared to respond to hazards that arise. OSHA warehouse rules and regulations address the varying dangers that can affect the safety of workers. Here are a few of the most common hazards faced by warehouse employees:
✓ 

Slips, Trips, and Falls
Forklifts, slips and falls, and falling objects are among the most prominent hazards in warehouses. Each is associated with thousands of injuries and fatalities every year but may be prevented. Slips and falls are high-occurring hazards in warehouses that cause major injuries. Unsafe areas in a warehouse can contribute to slips and falls, but they often result from workers not having the proper training.
✓ 

Falling Objects
A falling object from aerial lifts and shelves in warehouses is another prominent warehouse hazard. Falling objects can seriously injure or kill workers when they aren't properly cared for on a forklift or haven't been properly handled and stacked.
✓ 

Repetitive Motion Injuries
 Repetitive motion injuries from lifting, reaching, pushing, and pulling inside of a warehouse are often the result of poor ergonomics. Training can teach workers how to properly handle tasks on the job and avoid strenuous activities.
✓ 

Inadequate Fire Safety Provisions
Various operational practices along with proper worker safety equipment can help prevent fire-related accidents and injuries.
✓ 

Improper Product Stacking
Stacking products improperly in a warehouse can affect the efficiency of a warehouse and put workers at risk. Improper product stacking can lead to unstable products that become crushing hazards, too.
✓ 

Failure to use Protective Clothing and Equipment
Personal protective clothing and equipment protects workers from many types of hazards, including respiratory, impact, and crushing hazards. One of the most commonly cited violations in warehouses is the lack of respiratory protection for workers.
There are many different aspects of OSHA warehouse health and safety guidelines. Some OSHA regulations directly impact warehouse operations. The key is to find a training partner that keeps you ahead of the curve with OSHA warehouse safety guidelines.
OSHA Warehouse Safety Regulations
A look into OSHA warehouse safety regulations can help shed light on the kinds of standards that warehouse teams must live up to. A list of the most common safety violations offers unique insight into the challenges faced by warehouse workers:
Hazard Communication
This standard addresses chemical hazards and the communication of these hazards to workers. By clearly identifying the hazards nearby, signage can help workers avoid injury while staying in compliance with OSHA warehouse regulations.
Electrical Wiring Methods
The standard covers the grounding of electrical equipment, wiring, and insulation. It includes temporary wiring and splicing.
Electrical System Design
This covers the general safety requirements for designing electrical systems. Given how dangerous improperly installed electrical systems can be, this is one OSHA safety rule that should not be overlooked.
Guarding Floor and Wall Openings and Holes
Properly protecting workers from hazards from floor and wall openings and holes is what this standard addresses. When not informed of possible hazards, workers may forget about openings and fall through.
Exits
This standard addresses the importance of establishing exits for workers in the case of an emergency. Clearly labeled exit doors can help warehouse employees stay in compliance with OSHA warehouse safety recommendations.
Respiratory Protection
The respiratory protection standard addresses the establishment or maintenance of respiratory protection problems. This is a critical safety aspect in regards to OSHA guidelines for warehouses.
Lockout/Tagout
This standard outlines the minimum performance requirements for the control of hazardous energy during servicing and maintenance of machines and equipment.
Portable Fire Extinguishers
The requirements of this section apply to the placement, use, maintenance, and testing of portable fire extinguishers. While these warehouse safety recommendations might seem like common sense, they can be a real life saver to employees.
Emergency Management
OSHA warehouse regulations require all employers to have a crisis plan in place for all emergencies. You never know when disaster may strike. One of the smartest warehouse safety tips is to have an actionable, easy to follow emergency plan ready to go. Have a warehouse safety checklist easily accessible for any situation that endangers employees. This includes everything from fire & electrical hazards to severe weather protocols and more. For more information, check out CMO's article on this subject.
For more information on each of the areas of OSHA warehouse regulations, the various hazards associated with each, and how to avoid them, read OSHA's Worker Safety Series Warehousing guide.
Warehouse Safety PPE
Employers are responsible for providing warehouse workers with appropriate PPE based on worksite hazards. Because PPE is so instrumental to warehouse safety, it can't be overlooked. Protective equipment that may be required at a jobsite include:
– Eye and Face Protection
Safety glasses and other eye and face protection is crucial for warehouse workers who perform tasks in which foreign objects can get into the eyes or strike the face. Proper eye protection is required for employees who work with concrete or harmful chemicals or are exposed to electrical hazards as well.
– 
Foot Protection
Shoes or boots with slip- and puncture-resistant soles are critical for many warehouse workers. They can also help these workers minimize the risk of crushed toes due to falling objects or heavy equipment. 
– 
Hand Protection
Work gloves should be worn based on the task; for instance, insulated gloves and sleeves are necessary for warehouse workers who face electrical dangers. While warehouse health and safety guidelines like this might seem like overkill, proper PPE can truly save lives.
– 
Head Protection
Hard hats are required for warehouse workers who are exposed to falling objects, bumps to the head caused by fixed objects, or electrical hazards.
– 
Hearing Protection
Earplugs or earmuffs are vital for warehouse workers who are exposed to loud noises. Warehouse safety rules have to factor in all aspects of worker health, which is why hearing protection isn't neglected in OSHA's recommendations. 
– 
Respiratory Protection
Respirators safeguard warehouse workers against toxic substances, and they are necessary in workspaces where there is insufficient oxygen or dangerous substances are present in the air.
In addition to supplying appropriate PPE, employers must ensure that warehouse workers understand how to use this equipment and wear their protective equipment when they complete everyday tasks. That way, employers can comply with OSHA warehouse rules and regulations, as well as minimize the risk of on-the-job accidents, injuries, and fatalities.
Meeting Warehouse Safety Standards
If you're eager to stay in compliance with OSHA warehouse regulations, be sure to follow these recommendations:
Make Preventative Maintenance a Priority
Lifts should be inspected daily for any condition that might adversely affect the safety of the vehicle. Vehicles should be clean and free from grease, lint, or excess oil. If at any time a powered industrial truck is found to be in need of repair or in any way unsafe, it should be removed from service immediately.
Ensure Workers are Adequately Trained
All aerial lift and scissor lift operators should be trained, evaluated and certified to ensure they can safely operate the equipment. No one under the age of 18 should be allowed to drive an aerial lift or scissor lift truck. This is one warehouse safety rule that should never be violated, as the outcomes can be deadly.
Mitigate Hazards When Possible
Warehouse floors, surfaces, and aisles must be free of debris, clutter, hoses, electrical cords, spills, and other materials that can cause falls, slips, and trips. Encourage proper ergonomics for all workers, including MEWP & aerial lift operators. Poor ergonomics are a leading cause of injuries on the job, and OSHA's guidelines for warehouses address different ways to improve ergonomics.
Prioritize a Culture of Safety
Guardrails must be provided for exposed or open loading dock doors and other areas that can cause workers to fall 4 ft. or more. All facilities must have proper lockout/tagout procedures. By taking a proactive approach to OSHA warehouse regulations, employees can help promote a safer work environment for everyone.

Make Warehouse Safety a Priority with CMO
If you and your team are eager to make warehouse safety a true priority, consider partnering with CertifyMeOnline.net. We can assist with the training and certification your workers need to perform their duties in accordance with OSHA warehouse regulations. Our course catalog is robust, with offerings for experienced and inexperienced operators alike. Our Train the Trainer class, for instance, is great for organizations looking to bring future safety trainings in-house. Fall Protection courses are available in both English and Spanish, allowing learners of all backgrounds to discover safety best practices. Best of all, most of CMO's courses can be completed in the span of an afternoon. 
Each of our course offerings provides your organization with the OSHA warehouse safety training necessary to keep your workplace accident and injury-free. To learn more or to enroll your employees in our certification training program, please contact us online or call us today at (602) 277-0615. CMO looks forward to getting your company OSHA compliant.