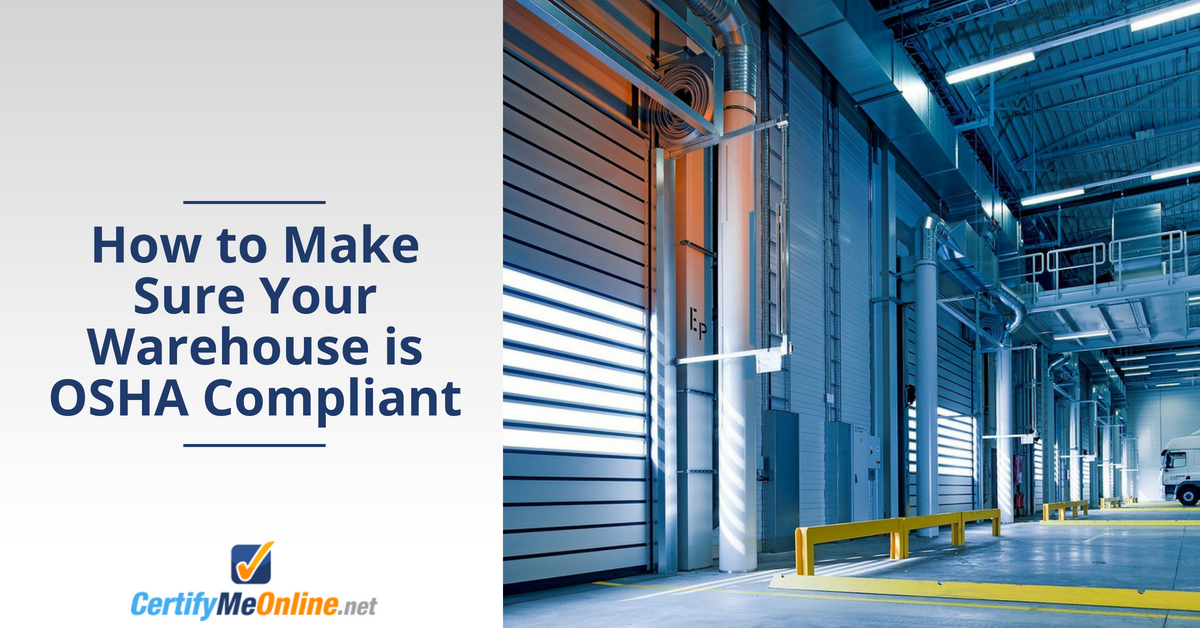 Being compliant with OSHA warehouse safety regulations is crucial, particularly when it comes to avoiding devastating fines for your business. However, compliance is just as important and relevant to the safety of your warehouse. That's why OSHA has established warehouse rules and regulations. Without these guidelines in place, every warehouse (including yours) would truly be in the "wild west" in terms of safety standards and general warehouse rules and regulations.
How do OSHA warehouse regulations and safety guidelines impact your distribution center? Let's take a look!

Why Does My Facility Need to Be Compliant with OSHA Warehouse Rules and Regulations?
There are more than 7,000 warehouses in the United States employing more than 140,000 workers, and these figures continue to increase. The rate of fatal injuries due to accidents in the warehouse industry is higher than the national average for all industries as well.
OSHA is responsible for the implementation of workplace health and safety regulations in the USA. This agency has the power to levy fines as high as $30,000 to employers for willful or repeated violations of OSHA regulations for a warehouse.
When it comes to being compliant and preventing accidents in your warehouse, you need to take certain precautions and follow our tips for OSHA warehouse safety. OSHA's general warehouse rules and regulations are a big part of this learning and training process. Since OSHA warehouse standards are subject to changes – updated rules and regulations are common with OSHA – you need a training program that'll keep you on top of OSHA warehouse regulations and safety guidelines.
Common Warehouse Hazards
Warehouse safety relies on workers being aware of their surroundings and being prepared to respond to hazards that arise. OSHA warehouse rules and regulations address the varying dangers that can affect the safety of workers.
Forklifts, slips and falls, and falling objects are among the most prominent hazards in warehouses. Each is associated with thousands of injuries and fatalities every year but may be prevented.
Slips and falls are high-occurring hazards in warehouses that cause major injuries. Unsafe areas in a warehouse can contribute to slips and falls, but they often result from workers not having the proper training.
A falling object from aerial lifts and shelves in warehouses is another prominent warehouse hazard. Falling objects can seriously injure or kill workers when they aren't properly cared for on a forklift or haven't been properly handled and stacked.
In addition to the hazards explained above, these hazards also plague workers in the warehousing industry, and should be covered in all warehouse rules and regulations:
✓ Repetitive Motion Injuries: Repetitive motion injuries from lifting, reaching, pushing, and pulling inside of a warehouse are often the result of poor ergonomics. Training can teach workers how to properly handle tasks on the job and avoid strenuous activities.
✓ Inadequate Fire Safety Provisions: Various operational practices along with proper worker safety equipment can help prevent fire-related accidents and injuries.
✓ Improper Product Stacking: Stacking products improperly in a warehouse can affect the efficiency of a warehouse and put workers at risk. Improper product stacking can lead to unstable products that become crushing hazards, too.
✓ Failure to use Protective Clothing and Equipment: Personal protective clothing and equipment protects workers from many types of hazards, including respiratory, impact, and crushing hazards. One of the most commonly cited violations in warehouses is the lack of respiratory protection for workers.
There are many different aspects of OSHA warehouse guidelines and safety guidelines. Some OSHA regulations directly impact warehouse operations. The key is to find a training partner that keeps you ahead of the curve with OSHA warehouse guidelines and safety guidelines.
OSHA Warehouse Regulations: Most Frequently Cited OSHA Regulations for Warehouse Safety
Warehouses present a wide range of hazards for employees who operate large equipment and handle materials on foot.
The remaining citations in terms of general warehouse rules and regulations are as follows:
– Hazard Communication: This standard addresses chemical hazards and the communication of these hazards to workers.
– Electrical Wiring Methods: The standard covers the grounding of electrical equipment, wiring, and insulation. It includes temporary wiring and splicing.
– Electrical System Design: This covers the general safety requirements for designing electrical systems.
– Guarding Floor and Wall Openings and Holes: Properly protecting workers from hazards from floor and wall openings and holes is what this standard addresses.
– Exits: This standard addresses the importance of establishing exits for workers in the case of an emergency.
– Respiratory Protection: The respiratory protection standard addresses the establishment or maintenance of respiratory protection problems. This is a critical safety aspect in regards to OSHA guidelines for warehouses.
– Lockout/Tagout: This standard outlines the minimum performance requirements for the control of hazardous energy during servicing and maintenance of machines and equipment.
– Portable Fire Extinguishers: The requirements of this section apply to the placement, use, maintenance, and testing of portable fire extinguishers.
For more information on each of the areas of OSHA warehouse guidelines and safety, the various hazards associated with each, and how to avoid them, read OSHA's Worker Safety Series Warehousing guide.
OSHA Warehouse Safety: What Types of Personal Protective Equipment (PPE) Are Necessary for Warehouse Workers?
Employers are responsible for providing warehouse workers with appropriate PPE based on worksite hazards. Protective equipment that may be required at a jobsite include:
✓ Eye and Face Protection: Safety glasses and other eye and face protection is crucial for warehouse workers who perform tasks in which foreign objects can get into the eyes or strike the face. Proper eye and protection is required for employees who work with concrete or harmful chemicals or are exposed to electrical hazards as well.
✓ Foot Protection: Shoes or boots with slip- and puncture-resistant soles are critical for many warehouse workers. They can also help these workers minimize the risk of crushed toes due to falling objects or heavy equipment.
✓ Hand Protection: Work gloves should be worn based on the task; for instance, insulated gloves and sleeves are necessary for warehouse workers who face electrical dangers.
✓ Head Protection: Hard hats are required for warehouse workers who are exposed to falling objects, bumps to the head caused by fixed objects, or electrical hazards.
✓ Hearing Protection: Earplugs or earmuffs are vital for warehouse workers who are exposed to loud noises.
✓ Respiratory Protection: Respirators safeguard warehouse workers against toxic substances, and they are necessary in workspaces where there is insufficient oxygen or dangerous substances are present in the air.
In addition to supplying appropriate PPE, employers must ensure that warehouse workers understand how to use this equipment and wear their protective equipment when they complete everyday tasks. That way, employers can comply with OSHA requirements, as well as minimize the risk of on-the-job accidents, injuries, and fatalities.
How Can I Make Sure My Warehouse is Compliant with OSHA Standards Regarding Aerial Lifts?
Below are some suggestions for keeping your warehouse compliant with OSHA general warehouse rules and regulations regarding aerial and scissor lifts:
– Lifts should be inspected daily for any condition that might adversely affect the safety of the vehicle.
– Vehicles should be clean and free from grease, lint, or excess oil. If at any time a powered industrial truck is found to be in need of repair or in any way unsafe, it should be removed from service immediately.
– No one under the age of 18 should be allowed to drive an aerial lift or scissor lift truck.-
– Safe procedures should be followed for stacking, picking up or putting down loads.
– All aerial lift and scissor lift operators should be trained, evaluated and certified to ensure they can safely operate the equipment.
OSHA guidelines for warehouses are clear: anyone violating these rules are subject to fines, penalties, and legal action.
General Guidelines for OSHA Warehouse Safety: The Importance of OSHA Warehouse Regulations
In addition to following the OSHA warehouse safety regulations, there are also some general guidelines you can follow to keep your workplace safe.
✓ All facilities must have proper lockout/tagout procedures.
✓ Warehouses must be properly
✓ Warehouse floors, surfaces, and aisles must be free of debris, clutter, hoses, electrical cords, spills, and other materials that can cause falls, slips, and trips.
✓ Guardrails must be provided for exposed or open loading dock doors and other areas that can cause workers to fall 4 ft. or more.
Keep your workplace safe from warehouse accidents and be compliant with all OSHA guidelines for warehouses with the training courses from CertifyMeOnline.net .

Get Aerial Lift, Scissor Lift, and Forklift Training, Evaluation, and Certification from CertifyMeOnline.net
CertifyMeOnline.net can help you train, evaluate and certify your scissor, aerial, or forklift operators in only a few hours. To learn more or to enroll your employees in our certification training program, please contact us online or call us today at (602) 277-0615.