In Case of Emergency: Smart, Safety-First Warehouse Management Techniques for Crisis Situations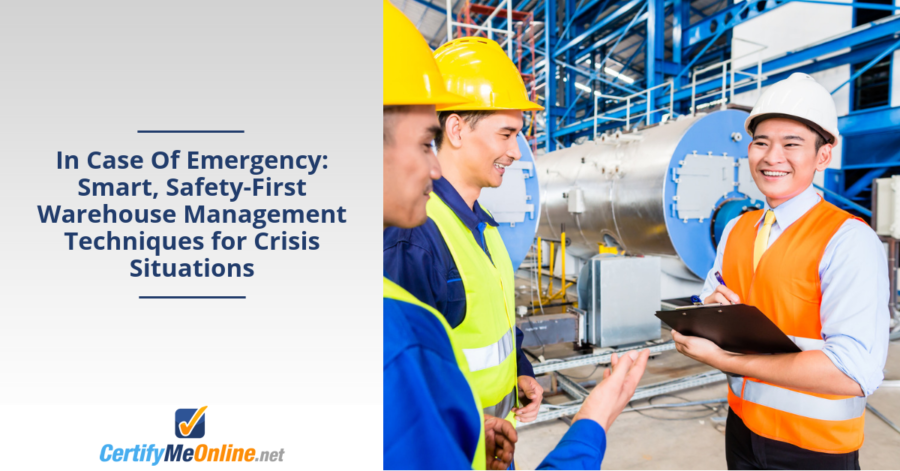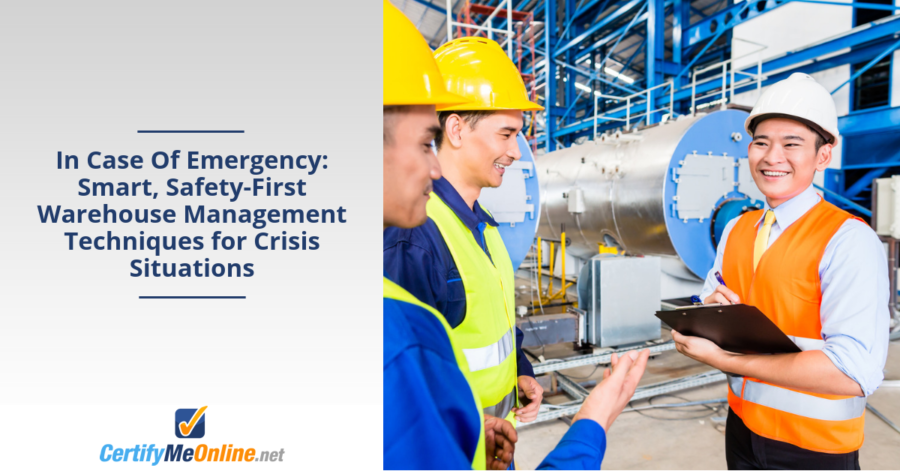 Is your warehouse prepared for an emergency situation?
If not, you're tempting fate. Should disaster strike, a bad situation could quickly become 100 times worse without a warehouse emergency response plan.
Having an emergency plan in place for anything that comes your way isn't just a smart, sound safety practice – it's literally the difference between injuries and serious injuries, or life and death!
The U.S. Occupational Safety and Health Administration (OSHA) has guidelines, precautions, and instructions in regards to workplace emergencies and evacuations. Their e-book, How to Plan for Workplace Emergencies and Evacuations, remains one of the most widely referenced and cited publications for warehouse preparedness.
In addition to OSHA rules and regulations, training is essential to being prepared in the event of an emergency at the workplace, particularly warehouses. That's where CertifyMeOnline.net helps – we're the preferred training partner for aerial lifts and scissor lifts all across the United States.
With so much cargo, equipment, and employees to account for, having a plan in place allows everyone from site supervisors to scissor lift operators to act with purpose during emergencies. Proper training lessens chaos and confusion, which are considered "fuel to the fire" during crisis events.
If your company doesn't have a clear set of defined emergency plans, the time to acquire them is yesterday. The safety experts here at CertifyMeOnline.net put together this resource in order to promote awareness for preparedness. In conjunction with our aerial work platform (AWP) training programs, we recommend having an emergency preparedness plan for your workplace.
What is a Workplace Emergency
?
Before you can create a plan, you should be able to answer the question, "What is a workplace emergency?" For a business, the definition should be based on how OSHA defines a workplace emergency, which is any situation, that causes a threat to the workers, customers or others. An emergency in a workplace may shut down operations or cause disruptions to the normal day and result in physical damage or environmental issues.
When creating a definition for "What is a workplace emergency?" recognize that it can be natural or manmade. Hurricanes, floods, tornadoes, earthquakes, and severe winter weather are all examples of natural emergencies. Man-made emergencies may include chemical spills, explosions, and other hazards. Many of these emergencies cannot be predicted, but they can be planned for in how to respond when one does occur.
What is an Emergency Action Plan?
Employers need to have an emergency action plan in place for workplace emergencies. This plan is designed to organize actions of the employer and workers during an emergency. The plan works with training to ensure workers know their roles in such a situation. When the plan is well-designed, it results in fewer injuries and reduced damage. If the plan is either poorly designed or poorly executed, the emergency response is likely to be disorganized, causing more injuries and damage.
OSHA outlines which employers are required to have a written emergency response plan. However, it can be beneficial for any company to create one even if it isn't required. Such a plan protects workers and provides peace of mind, knowing that everyone is prepared to act if an emergency should occur. How detailed it will be depends on what emergencies can be identified for the company. By creating an in-depth plan, it shows that you have a safety-first warehouse.
Warehouse Preparedness: Crisis Management 101
OSHA Publication 3088 is the definitive guide for warehouse emergency preparedness. With so many situations to account for, it can be difficult to strike a balance for your plan that's:
– Detailed enough to explain tactics and emergency response actions for specific situations
– General enough to give your employees clear purpose and direction, regardless of the emergency at hand
What's more, emergency scenarios continue to evolve and develop. Sure, emergency plans should always include events like tornadoes and floods. But did anyone think workplace shootings and other related violence would be such a relatively common problem?
To develop warehouse preparedness plans, you have to think ahead of the curve. Here are some things to keep in mind when creating your own emergency plans:
Categorize your warehouse emergency plans
For example, you can use severe weather, fire, workplace violence, and medical emergencies to streamline how your warehouse personnel deals with each situation. As stated earlier, you don't want details and micro-management to derail your safety program. Stick with 4-8 sub-categories and go from there!
When in doubt, err on the side of OSHA
The blueprint for warehouse emergency plans already exists. Feel free to reference OSHA's How to Plan for Workplace Emergencies and Evacuations for tips & tricks on getting safety/emergency plans that fit your particular warehouse. Every workplace is different, but OSHA's guidelines apply everywhere.
Do the bare minimum
Your warehouse emergency plans should be comprehensive enough to provide detailed instructions, while also providing base guidelines for everyone involved. Per OSHA, every warehouse emergency policy should include:
– Specific methods for reporting fires, natural disasters and other emergencies.
– Clear, easy to understand evacuation routes and means of egress
– Warehouse floor plans at all occupied areas of your building
– Phone numbers and contact information for site safety coordinators and other individuals responsible for emergency warehouse response
– Well-defined rescue and medical response instructions and directives
– Assembly points for employees to report to in the event of an emergency
– Regular training for all warehouse employees on emergency response techniques
"Drill" down your emergency response policy
Smart, sound safety practices during emergencies doesn't happen by accident. Only by going through safety drills and other emergency response simulations will your company embrace – and promote – the best possible outcomes. Schedule regularly scheduled and random emergency response drills, and make sure to log the results. Always compare this data to see if your warehouse emergency plans and warehouse preparedness plan is regressing. If so, address the deficiencies to improve your safety plan. You never know when a real emergency will happen; in the meantime, it's always best to implement safety drills to optimize warehouse safety.

Along with Emergency Plans, Aerial Lift & Scissor Lift Training is a Safety Essential!
CertifyMeOnline.net offers OSHA compliant training courses for all of your aerial lift, scissor lift, and AWP employees. Aside from unexpected emergencies, workplace accidents are the biggest threat to safety. And the lack of training is usually to blame.
It's illegal for your company to use aerial lift or scissor lift workers who lack the proper OSHA equipment operating credentials. CertifyMeOnline.net is a trusted training source for your complete AWP training and compliance needs. With an affordable, online accessible selection of training courses, we'll get your workers trained and compliant in less time – and for much less cost – than you think.
Our OSHA approved training courses are, indirectly, your own set of emergency plans. That's because aerial lift and scissor lift accident emergencies are prevented with comprehensive training. Give your employees the training they deserve – and the extra peace of mind for your management team – with our aerial lift and scissor lift training today.
Register your company with CertifyMeOnline.net, and see how our OSHA compliant instruction benefits your overall safety plan. It's the best investment in safety for today, and the future. Thanks for considering CertifyMeOnline.net for your complete aerial lift and scissor lift training requirements!