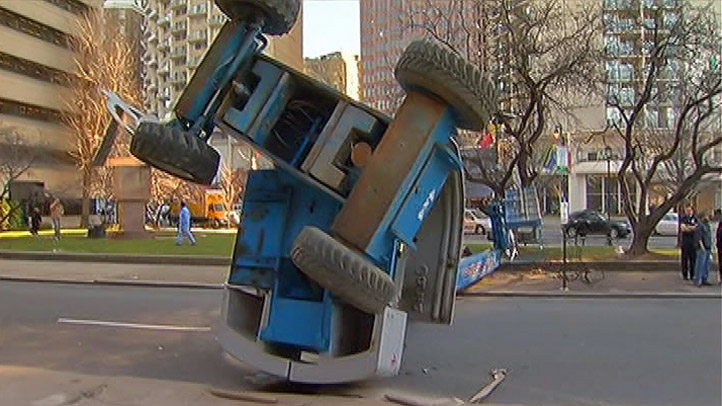 How to Avoid an Aerial Lift Tip Over
How to Avoid an Aerial Lift Tip Over
Have you ever wondered, "Can a scissor lift tip over?" The answer is yes. In fact, one of the most common types of aerial lift accidents is man lift tip-overs. Tip overs are also the second leading cause of injury and death from working on aerial lifts. Boom lift tip-overs can be avoided, but only when all workers are properly trained and certified.
To avoid man lift tip overs or boom lift tip overs, training is essential. The U.S. Occupational Safety and Health Administration (OSHA) requires every employer to provide training and certification for all types of aerial work platforms (AWPs) and mobile elevating work platforms (MEWPs).
If your company is out of compliance, register with CertifyMeOnline.net. Our 100% OSHA compliant training ensures your employees are up to date with the latest OSHA safety standards. It's against the law to have anyone operate a MEWP without aerial lift training – sign up today!
What Causes Man Lift Tip Overs
The first step in avoiding aerial lift tip-overs is knowing what causes them. Plenty of factors cause man lift tip overs – everything from uneven terrain to careless operation. Scissor and boom lift tip-overs can occur due to the following reasons:
✓ Untrained workers driving or operating the lift
✓ Setting up the lift on uneven or soft terrain
✓ Raising the work platform on a slope
✓ Using the wrong kind of lift for the job
✓ Moving the lift with the work platform in the air
✓ High wind and bad weather conditions
✓ Exceeding load weight limits for the lift
✓ Excessive pushing or pulling of the platform while it is in the air
Man lift tip-overs happen more often when the work platform is raised above 15 feet. The higher a platform is raised, the more unstable the lift structure becomes. This increases the wobbling caused by movement on the MEWP.
Adding weight to the platform also increases the chances of a scissor lift tip-over. The extra weight acts as a force on the end of a lever. Extending the scissor lift increases the force, making the lift less stable.
Whether you're the employer or an aerial lift worker, learning the causes of aerial lift tip-overs can help prevent them. It also helps create a safe and compliant job site for all.
Avoiding Boom Lift Tip Overs Due to Excess Weight
To prevent boom lift tip-overs, avoid going over the max weight limit of the lift. This information is found in the AWP or MEWP operating manual. The max load capacity includes the weight of the workers, tools, and equipment used for the job.
Max load limits will vary by the type lift. The employer must ensure all workers can read and understand the load chart. Workers should never use visual signs of tipping as indicators of the lift capacity.
How Hard Is It to Tip Over a Scissor Lift? Setup Tips to Avoid Scissor Lift Tip Overs
Can a scissor lift tip over? Absolutely, even though this type of aerial lift tip over is less common than man lift tip overs and similar boom lift accidents. Unsafe lift setup is a major cause of man lift tip-overs and scissor lift tip overs. To improve safety, give the lift a full inspection before job site setup. Look for missing parts, structural problems, or other issues that could cause a tip over. During the setup:
✓ Inspect the job site for hazards before starting work
✓ Do not place the lift on unstable or soft terrain
✓ Do not place the lift under overhead obstacles or near power lines
✓ Check the weather forecast for high winds or heavy rains
✓ Make sure equipment loaded onto the platform does not exceed max weight limits
✓ Don't use the lift to support other scaffolding
When stabilizing the lift, set outriggers on pads or a level surface. Do not exceed the lift's max slope rating – usually 5% or less. Always use wheel chocks and brakes when setting up on a slope. Other setup safety tips include:
✓ Workers should know which type of stabilizers to use with the lift
✓ Never move or adjust the stabilizers with a raised platform
✓ Load the weight on the platform in a manner that maintains a stable center of gravity
Operational, Moving, and Loading Safety Tips to Avoid Aerial Lift Tip Overs
Unsafe work practices are another leading cause of man lift tip-overs. Workers should not:
✓ Carry objects that are larger than the lift platform
✓ Drive with the lift raised (unless the lift is designed for this purpose)
✓ Never exceed horizontal or vertical reach limits
✓ Never override safety devices
✓ Never operate the lift in poor weather, including high winds
When traveling, workers should be on the lookout for debris and potholes, overhead wires and cables. They should not exceed the lift's speed limits. They should also avoid horizontal work tasks that put too much strain on the lift.  This can cause the platform to become unstable and lead to a boom lift tip over.
The Need for Fall Protection Gear
Despite the best safety precautions, man lift tip overs can still happen. That's why lift workers should always wear fall protection gear. OSHA requires aerial lift workers and MEWP operators to wear full-body harnesses attached to lanyards. Connect the lanyards to the boom or basket. This helps prevent workers from being ejected from the bucket during an aerial lift tip over. Fall arrest gear helps minimize injuries by stopping a fall before workers hit the ground.
Every job site should have written rules for when and how to use fall protection gear. Check the safety gear before every job. Once in the air, workers should never sit, stand, or climb on the guardrails.
Get Fast, Affordable Man Lift Tip Over Safety Training with CMO
Proper safety practices are often all it takes to prevent aerial lift tip overs. Learning and staying up to date on these safety guidelines is easy with CertifyMeOnline.com.
Our programs are OSHA-compliant. They teach safety guidelines for all types of MEWPs, including boom lift tip over safety. Take our courses anywhere with an internet connection. And workers can print their certification cards as soon as they complete the course. Keep your workers safe from boom and scissor lift tip overs with safety training from CMO.
Register your company today for free, and get started with our OSHA compliant safety training. Avoid man lift tip overs. Be prepared for anything that comes your way, including OSHA audits and investigations. And most importantly, protect your workers from accidents like aerial lift tip overs.
Thanks for visiting CertifyMeOnline.net!