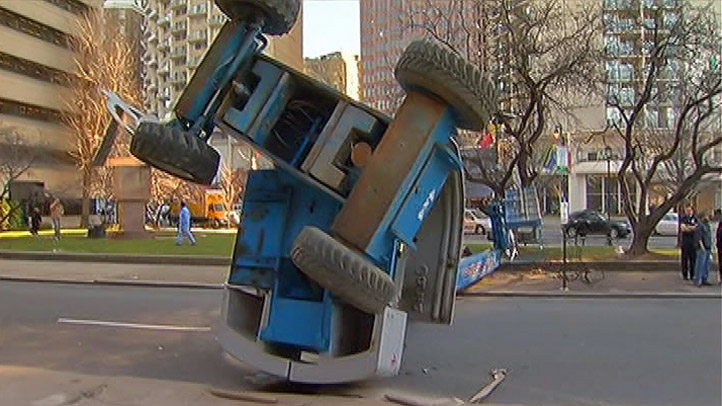 According to OSHA, one of the most common types of aerial lift accidents is tip overs, and the second leading cause of injury and fatality involving aerial lifts. While preventing aerial lift tip overs is largely in the hands of the operators, employers can do their part by ensuring all workers are properly trained and have a safe working environment. 
Whether you're the employer or aerial lift operator, get educated on how you and your workplace can prevent aerial lift tip overs to create a safe and compliant working environment for everyone.
Ensure Load and Weight Capacities Aren't Exceeded
To prevent tip overs, it's crucial to avoid exceeding the capacities of the aerial lift, which is the specified maximum load capacity documented by the manufacturer. The maximum load capacity includes the weight of the worker and all tools, materials, and equipment that is on the platform. The manufacturer load chart details the load capacities for each lift, and it is the employer's responsibility to ensure all workers can read and understand the load chart. Workers should never use visual signs of tipping as indicators of the lift capacity.
Use Proper Stabilization Techniques
When stabilizing the lift, workers must set outriggers on pads or on a level surface, and must not exceed the manufacturer's maximum slope recommendations, which is about 5% or less. It's also important to use wheel chocks and brakes whenever operating on a slope, and the following: workers should know the type and proper usage of the stabilizing mechanisms of the specific lift; must not move or adjust the mechanisms with an elevated platform, and should maintain the intended center of gravity to stabilize the lift by dispersing loads on the platform correctly. Workers should also avoid horizontal work tasks that can cause too great of force and cause the platform to sway and become unstable.
Use Safe Operational, Traveling, and Loading Practices
Unsafely prepared loads can cause the aerial lift to become unstable and tip over. It's essential for workers to not carry objects or materials that are larger than the lift platform, to not drive with the lift elevated unless the lift is specifically designed for this purpose, to not operate lower controls unless the workers on the platform allow it, to never exceed horizontal or vertical reach limits, to never override safety devices, and to never operate the lift in poor weather including high winds. Additionally, workers must be careful of debris and potholes, overhead wires and cables, and to not exceed the manufacturer's speed limits.
The proper safety practices are often all it takes to prevent aerial lift tip overs and avoid injuries and fatalities. However, learning and staying up to date on these practices can feel overwhelming. To make sure all employees on your worksite are using proper operational and safety practices, get them trained and certified with CertifyMeOnline.net. Our programs are OSHA-compliant and teach all safety procedures for operating aerial lifts.