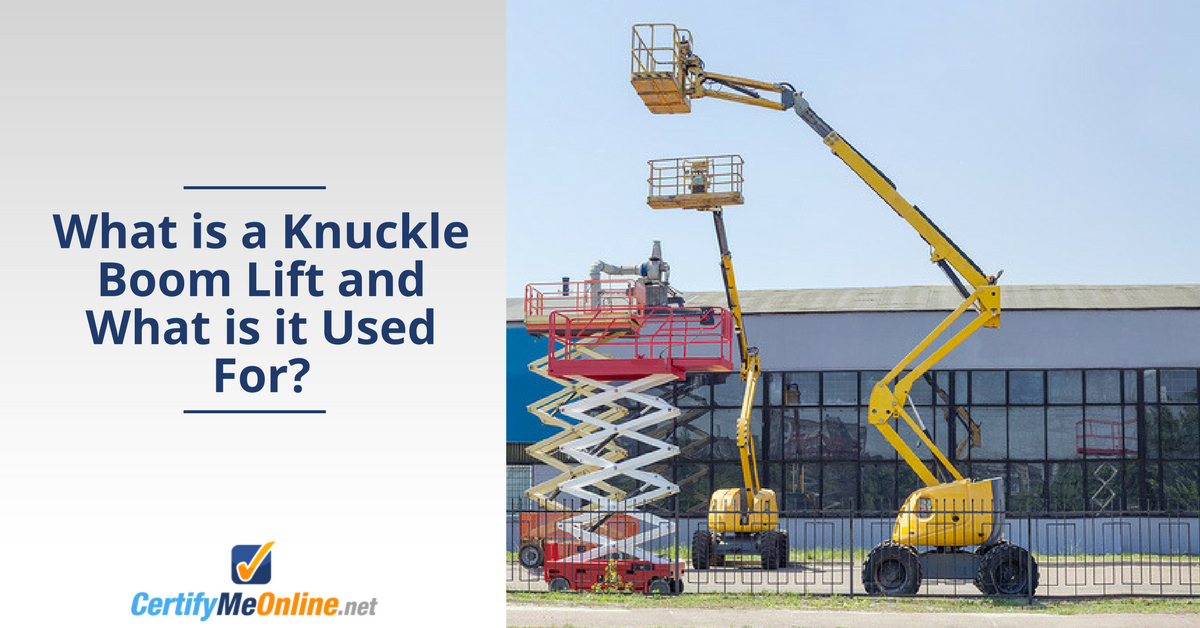 There are about five main types of aerial work platforms in existence, and each type of platform is designed for different applications and has different strengths. The knuckle boom lift is one type of aerial work platform, and it is built to be extremely versatile and flexible for worksites.

What Is a Knuckle Boom Lift, and How Does It Work?
The knuckle boom lift is a type of articulated boom lift. It gets its name from the jointed boom arm that enables the boom to bend and has many features that make the knuckle boom truck flexible and versatile.
Once in the air, a knuckle boom crane can extend and bend. It has a work platform rather than a bucket, which gives workers extra room to perform their job tasks. The lift also comes with a turntable at the base that allows the boom to swivel. This allows the operator to shift the platform to different areas of a worksite. As a result of these features, the knuckle boom lift can be used in many different types of jobs.
Brands that make knuckle boom lifts include Snorkel, Genie, JLG, NiftyLift, Teupen, MEC, and Haulotte Group. 
What Types of Jobs Is a Knuckle Boom Lift Used for?
Knuckle boom lifts are ideal for jobs where the work area is hard to access. Examples include ductwork that is partly hidden and other structures high up on a building. With the ability to reach over and around obstacles, these lifts can be positioned right in front of the hard to reach the work area. Knuckle boom trucks can often be found on jobsites involving:
√ Construction projects
√ Maintenance and cleaning work
√ Electric wiring or piping work
Small knuckle boom lifts provide a safer alternative to ladders and scaffolding. They allow lift workers to easily navigate through doorways and in tight spaces. Electric knuckle boom lifts are quiet and don't emit harmful fumes They work well in airports, shopping centers, and other sites where loud noise can be a problem. Mobile boom lifts are designed for jobs that require mobility around the worksite.
How Does a Knuckle Lift Differ from Other Types of Lifts?
A knuckle lift has a jointed boom arm; other types of aerial work platforms do not have a jointed boom arm. Furthermore, perhaps the biggest difference between knuckle lifts and other types of lifts is that a knuckle boom truck can bend toward the middle of the boom arm.
Cherry pickers, bucket trucks, and telescopic boom lifts have extended boom arms. This allows them to reach various heights both vertically and horizontally. But, they can't reach up and over structures. Scissor lifts are even less versatile because they only raise up and down above the base. They must be positioned directly under the work area.
What Are the Benefits of a Knuckle Boom Lift?
Common reasons for using a knuckle boom lift include:
✓ Work takes place in a confined area. Knuckle boom lifts are specially designed to work in tight, confined areas. Also, their small base can fit within congested areas.
✓ You need to reach over obstacles and structures. Knuckle boom lifts can't reach as far horizontally as some lifts. Yet, they can reach up, over, and out better than most.
✓ The work area is indoors. Electric knuckle boom lifts do not emit toxic fumes. They also use non-marking tires, so they won't damage floors.
✓ The work area features rugged terrain. Rough-terrain articulating boom lifts can safely handle uneven terrain.
✓ The work requires extra reach from the platform. Some knuckle lifts have a boom extension, also called a jib. This adds another point to move the platform up and down.
Knuckle boom cranes can also be used to move heavy weights from one location to another, which is one of the reasons why they are commonly used in industrial and construction zones. Due to a knuckle truck's superior lifting capacity, many companies rely on this lifting machine. The ability to move weight can also improve warehouse management and help workers complete tough lifting tasks on time.
Despite being smaller and lighter than most weight-moving machines, knuckle boom lifts provide great payload space than other types of lifts. The small base doesn't take up a lot of space but offers ample room to load and carry materials. A knuckle lift can sometimes do jobs that would often take two or three machines, too.
Thanks to their design, knuckle boom cranes offer superb control as well. They are easy to operate and highly maneuverable, even in tight spaces. Plus, they can easily switch from one task to another.
Is a Knuckle Boom Lift the Right Choice for Your Jobsite?
The benefits of a knuckle boom lift can be significant. However, this type of lift is not intended for all jobsites.
To determine if a knuckle lift is the right choice for your jobsite, consider these questions:
○ Can a knuckle boom lift handle the loads that workers will need to haul at my worksite?
○ Can a knuckle boom lift help my workers reach the proper heights to perform everyday tasks?
○ Do my employees possess the training necessary to safely operate and maintain a knuckle lift?
A knuckle boom lift can be a substantial investment, and your business needs to plan accordingly. If you find that a knuckle boom lift suits your worksite, you can explore different knuckle lift options. You can also find a training program that teaches your employees how to safety use a knuckle lift. Once workers undergo this training, they will be well-equipped to use a knuckle boom lift and ensure that you can maximize the value of your knuckle lift investment.

Do I Need Knuckle Boom Lift Training?
All types of aerial lifts require training and certification for safe handling. Every operator should be trained on the model of lift they use on the job.
CertifyMeOnline.net teaches workers the skills they need to safely use a knuckle lift. These skills include how to:
√ Handle the lift's many capabilities
√ Inspect the equipment prior to each shift
√ Recognize and avoid hazards that can lead to accidents
√ Assess the work site for potential hazards
Are you looking to start working with knuckle boom cranes? Are you an employer looking to train or recertify your workers? Look no further than CertifyMeOnline.net. Our online training classes are easy, convenient and affordable. They also comply with all OSHA guidelines. To learn more about our knuckle boom lift training classes or to enroll your workers in one of our training programs, please contact us online or call us today at (602) 277-0615.