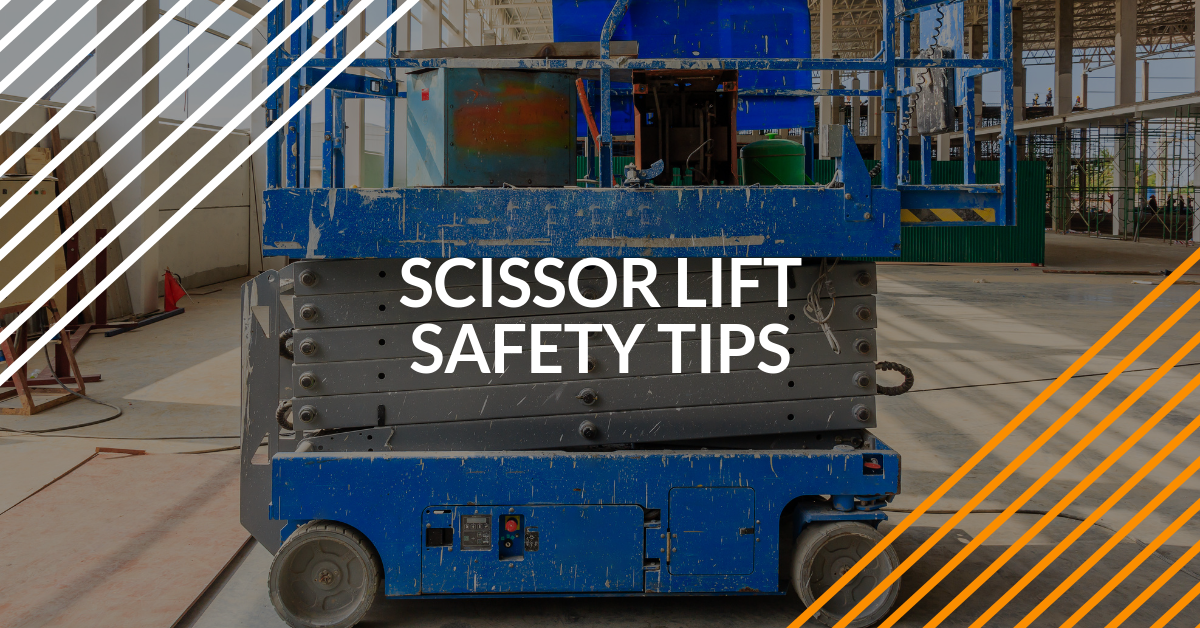 Safety is crucial for businesses that leverage scissor lifts, as well as the employees who use these machines. To understand the importance of scissor lift safety, let's answer some of the key questions surrounding this topic.

What Is a Scissor Lift?
A scissor lift is a motorized vehicle that consists of a platform that can be raised straight up. It consists of crisscrossed metal supports, which elongate as the lift's platform is raised.
Scissor lifts can be gas- or electric-powered. They have folding arms which can be used to elevate a platform to help lift operators complete tasks at heights.
Can a Scissor Lift Be Used Outside?
Scissor lifts can be used indoors and outdoors. However, scissor lifts should only be used outdoors if the weather conditions are good, according to OSHA.
Severe wind, heavy rain, or other inclement weather can make it exceedingly difficult to safely operate a scissor lift. If the weather becomes too dangerous, it could cause a scissor lift to tip over. Or, extreme weather conditions may cause a scissor lift operator to fall while working at heights.
How Safe Are Scissor Lifts?
The safety of scissor lifts varies based on the employer and lift operator. If an employer provides workers with proper training, it can boost scissor lift safety across its worksites. On the other hand, if scissor lift operators are untrained or ignore safety protocols, they can put themselves and others at risk.
According to the Bureau of Labor, scissor lifts are responsible for eight workplace fatalities each year. The Health and Safety Executive (HSE) has issued a safety alert focusing specifically on the need to regularly maintain, inspect, and test safety equipment. The HSE warning applies to operators of scissor lifts, scissor lift engineers, and rental and training companies.
However, all it takes to prevent accidents are some scissor lift safety tips.
Top Causes of Scissor Lift Accidents
When workers ignore scissor lift safety requirements, injuries and accidents are more likely to occur. That's why training and a basic comprehension of scissor lift safety rules is important. According to OSHA's Hazard Alert scissor lift bulletin, there are different factors that cause scissor lift accidents, including:
– Stability concerns
– Overhead hazards
– Bad weather
– Improperly working safety devices
– No fall protection harness
OSHA's scissor lift safety rules help prevent the most obvious accident causes. Your employees will learn about these and other scissor lift safety requirements with our OSHA approved training. Sign up today!
Scissor Lift Safety Tips: Why It's Important to Follow Scissor Lift Safety Rules
With the goal to prevent scissor lift accidents and reduce the number of injuries and fatalities that occur on worksites across the country, OSHA has created a few categories for using scissor lifts safely and keeping workers away from harm. These scissor lift safety categories are Fall Protection, Stabilization, Positioning, Maintaining Scissor Lifts, and Training for Operators.
Before operating a scissor lift, employers are responsible for assessing the work area to identify any hazards that can cause accidents. It is essential to ensure there are no loose, damaged, or faulty parts of the equipment, and that the surrounding environment is free of hazards. A quick, five-minute risk assessment at ground level could be all it takes to prevent an injury, or worse.
Fall Protection
Falls are one of the top causes of accidents involving large equipment, and certain aerial lift and scissor lift safety tips need to be considered to prevent workers from falling and getting injured or killed.
– Scissor lifts must have functioning guardrails to prevent operators from falling out of the platform
– Scissor lift workers are not required to have body harnesses and lanyards when guardrails are present
– Workers must stand only on the platform, and not on the guardrails
– Workers should keep the work area close to the list to avoid having to lean away from the scissor lift
– Workers should never operate a lift alone
Stabilization
Making sure scissor lifts are stable is the key to preventing tip overs and collapses. As one of the most effective ways for preventing the majority of scissor lift accidents, stabilization of the lift can be achieved using the following scissor lift safety tips:
– Follow all manufacturer's instructions for moving on a scissor lift safely
– Make sure the scissor lift is not close to traffic or other equipment that can come into contact with the lift
– Position the scissor lift on solid, stable ground away from drop-offs, holes, bumps, slopes, and debris
– Only use scissor lifts in good weather conditions and not high winds
– Never exceed weight or height limits
Positioning
Proper positioning of a scissor lift will help prevent crushing and electrocution accidents. Workers both on and near a scissor lift are at risk for crushing hazards, which can happen when a moving scissor lift is near a fixed object, a scissor lift is close to moving vehicles, a scissor lift passes underneath a fixed object. Electrocutions can happen to workers on the platform who are near power lines, even if neither the lift nor the worker comes into contact with the live line. Scissor lift workers can prevent electrocutions and crushed-by accidents with the following scissor lift safety tips:
– Position the scissor lift at least ten feet away from power lines to avoid electrocution
– Use traffic control measures to separate the scissor lift from other workers or vehicles
– Use ground guides around the scissor lift in the work zone
– Ensure your overhead is clear of electrical wires and other fixed objects
Maintaining Scissor Lifts
Scissor lifts are only kept safe for use through regular maintenance. Workers should review the manufacturer's instructions to learn how to:
– Perform pre-inspection checks and environment inspections
– Perform maintenance on the equipment
– Ensure safety systems are not bypassed
– Ensure guardrails are in good condition
– Verify the emergency stop button is functional
– Test the brakes to ensure the scissor lift can be safely stopped at any time
Training for Operators
All employers of scissor lift operators are required to provide training to teach workers how to operate scissor lifts safely and understand all scissor lift safety rules. Training should consist of the following scissor lift safety tips and instructions at the minimum:
– How to understand the manufacturer's instructions for operating a scissor lift while in the raised position and while traveling
– How to handle materials on the scissor lift, and be aware of the weight limitations
– What worksite hazards to look for and how to avoid them
– How to report any defects that require repairs
Scissor lift training also teaches workers how to perform a thorough assessment of the surrounding environment to check for any red flags. Scissor lift safety tips come into play not only when inspecting the equipment, but also the work area because you truly can never be too careful. Even if the work zone has already been deemed as safe, it is each worker's responsibility to perform their own inspections to confirm their safety.
The Bottom Line on Scissor Lift Safety Procedures
Scissor lift safety procedures can benefit employers and workers alike. For employers, they can teach workers about scissor lift safety to minimize the risk of accidents, injuries, and fatalities. Meanwhile, for workers, they can learn scissor lift safety procedures to safely operate a lift and maximize their worksite productivity.
It won't take long for workers to complete scissor lift safety training, too. With the right training partner, employers can ensure their workers can learn how to safely operate a scissor lift in a matter of hours.

Scissor Lift Certification Can Prevent Accidents
The best way to prevent accidents is to ensure workers are properly trained with scissor lift certification and understand all scissor lift safety requirements. This specialized education is the most effective way to prevent accidents that lead to injuries, fatalities, and costly equipment damage because it teaches all of the essential scissor lift safety tips, including how to operate a scissor lift, how to recognize and avoid hazards, and how to inspect the equipment and surrounding environment.
Employers are required to provide comprehensive, OSHA-compliant scissor lift training for their employees. In addition to preventing worksite accidents, scissor lift training that includes scissor lift safety tips and scissor lift safety requirements also prevents costly equipment damage, and can improve a company's bottom line. Scissor lift training and a solid understanding of scissor lift safety rules boosts workplace productivity.
Scissor lift safety and awareness of scissor lift safety rules is everybody's responsibility. OSHA regulations state that aerial and scissor lift operators must complete their initial scissor lift certification training before being allowed to operate, and must be recertified every three years. At CertifyMeOnline.net, we offer scissor lift safety training for new operators, teach about scissor lift safety rules, and provide lifetime support for all your scissor lift safety requirements. The program costs only $75 and takes only about one hour to complete from any device with the internet. Refresher training at CertifyMeOnline.net is quick, easy, and affordable as well. If you have any questions about scissor lift safety rules or want to learn more about our OSHA compliant training and scissor lift safety requirements instruction, give our safety expert a call at (602) 277-0615. Thanks for stopping by CertifyMeOnline.net, the leader in scissor lift safety rules training and complete OSHA compliance!