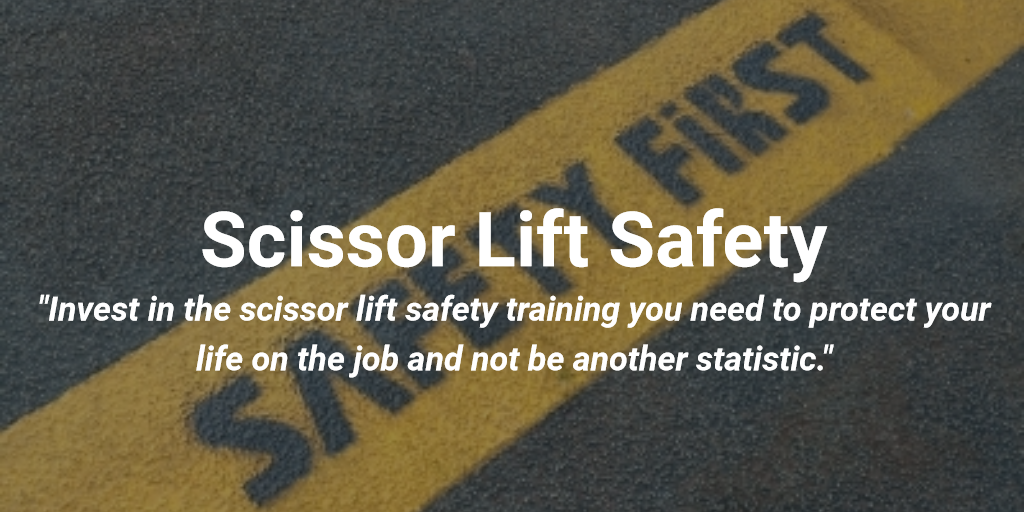 In order to understand proper safety, you need the best scissor lift safety training for your scissor lift and aerial lift operators. At CertifyMeOnline.net, we're all about making your workplace as safe as possible. So what's our secret? When it comes to scissor lift safety, training is the most important "building block." Without a solid foundation to work with, your safety can be affected in a big way. You also need to know the OSHA scissor lift safety regulations and requirements that can impact your entire enterprise.
Thanks to CMO's affordable, accessible scissor lift safety regulations training, your employees are better equipped to avoid hazards and accidents. A safer workplace is a better workplace. And with scissor lift safety regulations changing all the time, it helps to have a safety expert in your corner!

Why is Scissor Lift Safety Important?
While scissor lifts may not seem as dangerous as aerial lifts and boom lifts, they do cause their fair share of accidents every year. On average, scissor lifts cause 25% of deaths related to aerial lifts. While they do not typically cause nearly as many electrocutions as boom lifts, scissor lifts were right up there in the number of deaths caused by falls and collapses or tip overs.
In regards to operating all types of equipment, this one fact remains the same: the majority of deaths and injuries are linked to operator error and a lack of proper training. When workers do not receive the training and certification they need to work the equipment, they are much more likely to be involved in an accident, whether mild or severe.
Invest in the scissor lift safety training you need to protect your life on the job and not be another statistic.
OSHA Scissor Lift Safety and Aerial Lift Safety Guidelines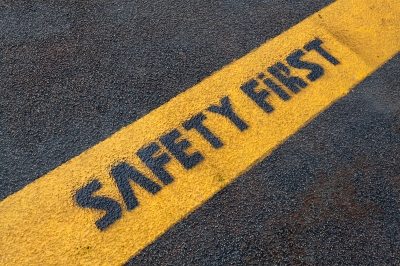 Because of the unique work involved with scissor lifts and aerial lifts, OSHA (Occupational Safety & Health Administration) makes rules and regulations for companies that use these machines. There are many hazards and potential accidents from working high up in the air.
Aerial lift workers have to be concerned with dangerous power lines, other large equipment (cranes and buckets) and strong winds. Aerial lift hazards include falling from heights, being hit with falling objects, tip-overs, ejections from the lift, electrocution, and contact with overhead objects. According to OSHA, aerial lift operators must be properly trained on a variety of scissor lift situations and tasks to safety operate the equipment.
Scissor lift operators are commonly injured by unstable loads, sudden movements and other risky situations. Hazards involving scissor lifts involve operating in poor weather like strong winds, placing the scissor lift on unstable ground, and coming into contact with overhead objects. Scissor lift workers must understand scissor lift safety to prevent accidents and follow protocols, including proper fall protection, stabilization and positioning. Workers must also keep the lift at least ten feet away from power lines, never operate in bad weather, use traffic control measures, and must all be trained.
Knowing how to deal with the everyday demands of this work helps prevent accidents, and an OSHA scissor lift safety and aerial lift safety program can teach you how.
Even when safety regulations change, CMO keeps you compliant. When guidelines changed for Mobile Elevating Work Platforms (MEWPs) regarding ANSI A92.22 Safe Use and A92.24 Training Standards, safety supervisors and scissor lift operators didn't know what to expect – or how this would impact training. At CMO, we keep constant tabs on changing safety standards, and incorporate those into our training modules.
Whenever updates are in the works, rest assured CMO is on top of all scissor lift safety regulations. We'll keep an eye on your training, so you can concentrate on other things!
The 3 Components of Scissor Lift Safety: Fall Protection, Stabilization, and Positioning
All aerial lift operators must use body harnesses and lanyards when working with aerial lifts at all times. But do scissor lifts require fall protection equipment? According to OSHA, scissor lifts are classified as scaffolding, not aerial lifts, and harnesses and lanyards are not required if there are proper working guardrails on the scissor lift. If there aren't, then these personal protection tools are needed. When working on the platform of a scissor lift, operators must never stand on the guardrails and must keep work within easy reach of the lift.
Stabilization of a scissor lift involves making sure a scissor lift is stable and will not fall over. The practices for scissor lift stabilization include: Following the manufacturer's instructions for safe movement, isolating the scissor lift from traffic, choosing level work surfaces, and using scissor lifts outside only in pleasant weather.
Positioning a scissor lift correctly will help to prevent crushing and electrocution hazards. Operators need to be careful of: Moving a scissor lift near a fixed object, moving vehicles near a working scissor lift, and driving a scissor lift under a fixed object like a door frame or support beam.
CertifyMeOnline.net has created a scissor lift safety course that teaches workers everything they need to know to operate scissor lifts safely, properly position and stabilize the lift, and recognize and avoid hazards. We are also completely compliant with all OSHA scissor lift safety regulations, protecting both operators and employers.
Why You Need Scissor Lift Safety Training
When you choose CertifyMeOnline.net for scissor lift safety training, you receive everything you need to operate scissor lifts safely, perform equipment inspections, assess the environment for hazards, and prevent accidents. It is offered online for a very affordable, one-time cost.
With our convenient and affordable program, you get to take advantage of these benefits:
– Improved safety and fewer accidents that cause injuries, deaths, and damages
– Reduced risk of being fined by OSHA
– Increased bottom line
– More positive and safety-minded work force
– A productive and efficient workplace

Easy, Online Aerial Lift and Scissor Lift Safety with CertifyMeOnline.net
CMO takes your safety seriously. That's why we're the #1 choice for popular firms like Siemens, Coca-Cola, Dow, Penske and many more. Since 1999, we've trained thousands of aerial lift and scissor lift operators, just like you. Our safety training program can work with any size company, on any budget. Large companies like the convenience we offer (along with our special group discounts), while smaller businesses like the cost-saving benefit of having us do all the work for a great price!
Our 60-minute OSHA scissor lift safety course and scissor lift safety training are combined into one easy-to-use package, with a few easy steps:
– Login at your convenience on any device with an internet connection
– Complete the material on your schedule, at your own pace
– Print out your certification when you're done
– That's it! Plus, our pass rate is 100% — if you or your workers need extra time to take the test, they can go back and make sure their answers are correct.
Let us manage your workplace safety program. CMO is the leader in online OSHA instruction, and our scissor lift and aerial lift training courses cover all the bases. Don't trust your safety with just anyone; CertifyMeOnline.net works with you every step of the way, including initial training, recertification, 3-year renewals and more. Becoming OSHA compliant doesn't have to cost an arm and a leg. We'll help get you up to speed in no time, with OSHA scissor lift safety training.
What's more, CMO also has fall protection courses and other classes, so make sure you check out our entire training program lineup. If you're ready to start your scissor lift safety training or aerial lift safety program, give us a call at (888) 699-4800 or (602) 277-0615. Or, just visit our contact page for additional information. We're happy to help you out in any way possible.
Thank you for considering CMO as your preferred aerial lift and scissor lift safety training provider. From changing scissor lift safety regulations & requirements to updated training, CMO is your company's premier OSHA training partner.