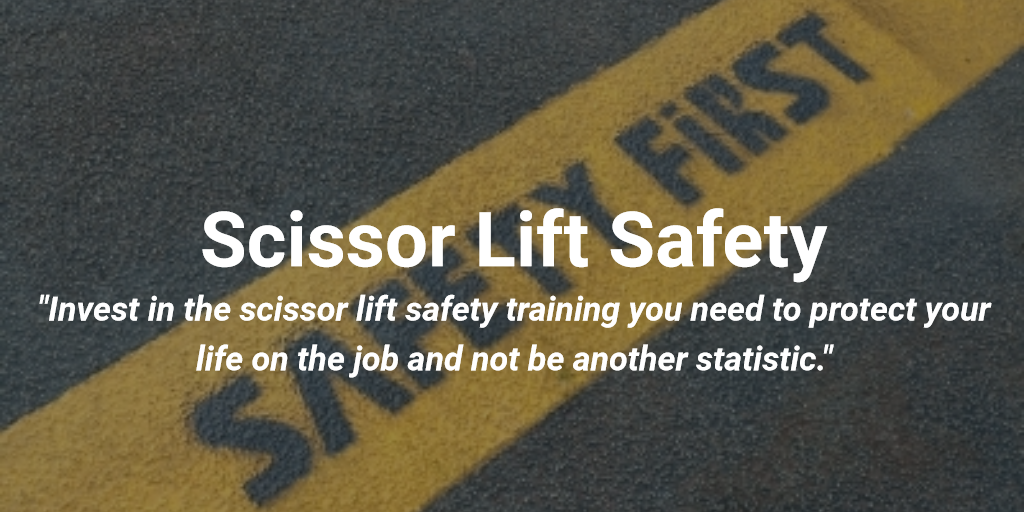 Proper training is absolutely essential when it comes to scissor lift safety. As an employer, you're required under OSHA regulations to arrange the best training available for your scissor lift and aerial lift operators. Without OSHA-approved scissor lift safety training designed and delivered by experienced industry professionals, the safety of your workplace and employees could be in jeopardy.
Our goal at CertifryMeOnline.net is to help you make your workplace as safe as possible by teaching your employees how to identify hazards and avoid workplace accidents while operating aerial lift equipment. As a business owner, you also need to understand how avoiding or disregarding OSHA's scissor lift safety requirements can negatively affect your operation. With scissor lift safety requirements constantly changing, it's imperative that you have a team of experts like CertifyMeOnline.net in your corner.

Why You Need Scissor Lift Safety Training
When you choose CertifyMeOnline.net to provide scissor lift safety training for your workers, they'll learn everything they need to know about safely operating scissor lifts, performing equipment inspections and routine maintenance, assessing the environment for potential hazards and preventing workplace accidents. Our online scissor lift training is available for a very affordable, one-time payment, which also includes free renewal training that OSHA requires every three years or whenever a scissor lift is involved a workplace accident.
Here are a few of the many benefits you and your entire workforce will receive when you enroll your equipment operators in CMO's fast, convenient and affordable scissor lift training program:
✓ A safer working environment
✓ Fewer accidents resulting in worker injuries or fatalities
✓ Less damage to property and equipment
✓ A reduced risk of incurring OSHA penalties and fines
✓ A reduction in downtime, which translates to increased productivity and profits
✓ A more productive and safety-minded work force
OSHA Scissor Lift and Aerial Lift Safety Guidelines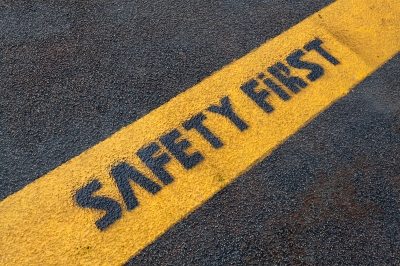 Because of the many hazards associated with using and working around scissor lifts and aerial lifts, OSHA has established specific rules and regulations for operating and maintaining these pieces of equipment.
Operators and others who work from scissor lifts, cranes, bucket lifts and other types of aerial lift equipment need to be extremely careful when working under or near power lines. This is especially true when working in strong winds. Potential hazards include falling from the lift, tip-overs, electrocution, being hit with falling objects, being ejected from the lift or coming into contact with overhead objects. OSHA regulations require scissor lift and other aerial lift workers to be properly trained to safely operate their equipment under these and other potentially hazardous situations.
Other hazards faced by scissor lift operators include hauling unstable loads, working in heavy rain or strong winds, operating on uneven ground, navigating around pedestrians and coming into contact with overhead objects. Scissor lift operators need to be properly trained to thoroughly understand the scissor lift safety measures that will help prevent accidents when working under these and similar conditions. These include proper fall protection training, equipment stabilization methods and lift positioning techniques. Additional safety measures include keeping the lift at least ten feet away from power lines at all times, never operating in bad weather and implementing traffic control measures.
Training your employees to deal with these and other potentially dangerous everyday situations will reduce the risk of workplace accidents. An OSHA-approved scissor lift safety program will provide you and your workers with everything you need to know about how to safely operate scissor lifts. As regulations change from time to time, you can depend on CertifyMeOnline.net to keep you up to date and OSHA compliant.
When you enroll your employees in CMO's scissor lift safety training and certification course, they'll learn how to avoid workplace accidents by identifying potential hazards in the workplace or on the jobsite. A safe workplace is better for employers and employees alike, and with OSHA's scissor lift safety requirements always undergoing changes and updates, it helps to have an expert like CMO on your team.
When American National Standards Institute (ANSI) A92.22 Safe Use and A92.24 Training Standards changed in December 2018, employers, safety supervisors and lift operators didn't know how these changes would impact the training of mobile elevated work platform operators, including scissor lift operators. At CMO, we are constantly monitoring changing safety standards, which are then incorporated into our online training modules. Whenever there are scissor lift safety procedure updates, you can rest assured CMO is on top of the situation. We'll keep an eye on the latest training requirements and pass along scissor lift safety tips so you can concentrate on running your business.

The Three Basic Components of Scissor Lift Safety
The scissor lift safety checklist has three components for safely operating scissor lifts, which are fall protection, stabilization and positioning. Each is discussed below.
Fall Protection
OSHA scissor lift safety procedures require all aerial lift operators to use body harnesses and lanyards when working from elevated lift platforms. An exception is that scissor lift operators aren't required to use either harnesses or lanyards if the lift is equipped with proper guardrails. The reason for the exception is that OSHA classifies scissor lifts as scaffolding rather than aerial lift platforms. If there aren't guardrails, however, scissor lift operators are required to wear harnesses and lanyards. Operators must never stand on the guardrails when working from a scissor lift platform, and must always keep work within easy reach.
Stabilization
Stabilizing a scissor lift means taking measures to ensure the lift is steady and won't tip or fall over. These measures include following the manufacturer's instructions for safely moving the lift, keeping the lift away from vehicle traffic, operating the lift only on level surfaces and never using scissor lifts outside in stormy or windy weather.
Positioning
Positioning a scissor lift correctly will help prevent workers from being crushed by a tipover or electrocuted from the equipment coming into contact with overhead power lines. Operators also need to exercise extreme caution when operating or moving a scissor lift near a column or other fixed object, vehicle or pedestrian traffic or other scissor lifts. Operators also need to take extra care when driving a scissor lift under fixed overhead objects such as door frames or support beams.CertifyMeOnline.net offers online scissor lift safety training that will teach your workers everything they need to know to properly and safely operate scissor lifts, as well as how to position and stabilize lifts and recognize and avoid potential hazards that could result in serious accidents.
CertifyMeOnline.net's Online Aerial Lift and Scissor Lift Training is Fast, Easy and Affordable
At CMO, we take workplace safety seriously. Over the past twenty years, we've provided aerial lift and scissor lift safety procedures to literally thousands of lift operators throughout North America. That's why CMO continues to be the number one safety training choice of well-known international brands such as Siemens, Coca-Cola, Dow, Penske and more. Our online safety training program has been designed by industry professionals to work with any size company and fit any size budget. Larger companies appreciate both the convenience of our online training and our special group discounts, while smaller businesses enjoy the cost-saving benefits of our providing 100% OSHA-approved aerial and scissor lift operator training at prices they can afford.

Our Online Scissor Lift Training and Safety Courses Are Combined into One Easy-to-Use Package
Here are the few simple steps that are all that's needed to have your scissor lift and aerial lift  operators certified through our OSHA-approved online training program:
1. Log in to our website with a digital device and create an account at your convenience – it takes just a couple of minutes.
2. Have your employees complete the training materials. All materials are available online 24/7, so they're accessible using a smartphone, tablet, laptop or other digital device anywhere there's an internet connection. There are no time limits, which allows each employee to work at his or her own pace. If more time is needed, students are welcome to go back to re-check their answers.
3. One they've passed the exam (our pass rate is 100%!), download and print their lift operator certificates.
That's all there is to it! Once the certificates are issued, your operators will be OSHA compliant and certified to safely operate aerial lifts.
Do yourself a favor – let CMO manage your company's workplace safety program. As the leader in online OSHA-approved lift operator instruction, our scissor lift training courses cover all the bases. Don't trust your scissor lift safety training to just anyone. CertifyMeOnline.net will work with you every step of the way, including initial training, free OSHA required operator recertification every three years and more. Becoming OSHA compliant and improving workplace safety doesn't have to cost an arm and a leg. We'll help get you up to speed in as little as just one hour with our OSHA-approved scissor lift safety training program.
CMO also offers Fall Protection Training along with several other classes, so be sure to check out our entire selection of training programs. If you're ready to enroll your employees in CMO's scissor lift safety training or aerial lift safety program, call us at 888-699-4800 or 602-277-0615 to speak with one of our OSHA experts, or you can also visit our online contact page for more information. We're here to help you with all your company's scissor lift safety training needs!