Are Aerial Lift Accidents Preventable?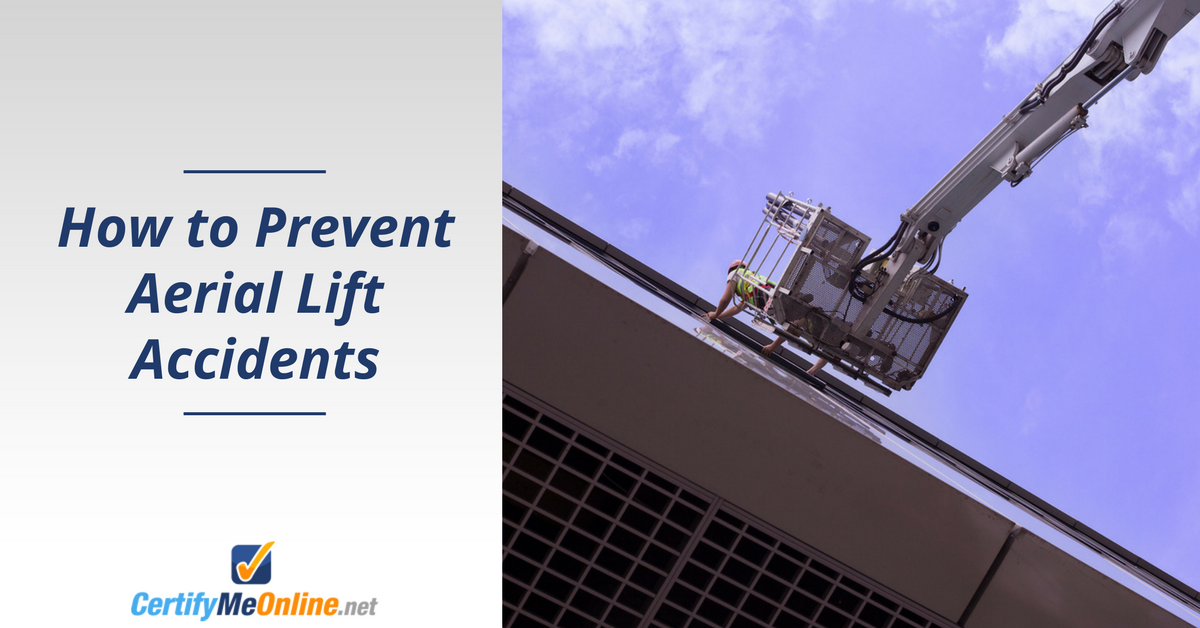 Aerial lift accidents can be problematic for companies of all sizes across the United States. Thousands of electrocutions, falls from heights, tip-overs/collapses, and ejections from aerial lifts occur annually. The sheer volume of aerial lift accidents can be overwhelming, to the point where these incidents may seem inevitable. But, the truth is that most are preventable.
Aerial Lift Accident Statistics
Research indicates electrocutions, falls, and tip-overs are among the leading causes of aerial lift fatalities in the construction industry. Boom lifts account for the majority of aerial lift fatalities in this sector, and construction workers are also susceptible to scissor lift fatalities. Aerial lift accidents can cause big problems, but they may be prevented. If aerial lift operators prioritize safety, they can take the proper measures to keep themselves and others safe.
Aerial lift accidents can cause big problems, but they may be avoided. If aerial lift operators prioritize safety, they can take the proper measures to keep themselves and others safe.

Why Do Aerial Lift Accidents Occur?
There is no surefire cause of aerial lift accidents. Yet, in many instances, these accidents can be attributed to operator carelessness and/or lack of training.
For employers, it is paramount to employ trained and certified aerial lift operators. In doing so, businesses can guard against accidents that otherwise lead to serious injury or death.
The best aerial lift operators are true professionals. They understand the dangers associated with operating an aerial lift. Plus, they know how to identify and address aerial lift hazards before they can cause accidents.
Can Your Workers Avoid Aerial Boom Lift Accidents?
Even trained and certified aerial lift operators cannot always avoid accidents. However, these operators can still do their part to limit the impact of these accidents on all parties involved. They can also comply with OSHA requirements and do everything in their power to prevent aerial boom lift accidents from becoming recurring problems.
How to Prevent a Scissor Lift Accident
It can be difficult to strike the balance between safe work practices and getting the job done on time. Many workers feel pressured to speed up their tasks to make their employers happy. But, the truth is that employers won't be pleased when unsafe practices cause a scissor lift accident or costly equipment damage!
OSHA provides insights into what your workers should and shouldn't do when it comes to properly operating aerial lifts. What's noteworthy about their data is that it aligns with something CertifyMeOnline.net (CMO) has been stressing for years – nothing trumps a properly trained, OSHA-compliant worker.
According to OSHA, only trained workers can operate aerial lifts. And, OSHA requires aerial lift training include:
– Explanations of electrical, fall, and falling object hazards
– Procedures for dealing with hazards
– Details about how to recognize and avoid aerial lift hazards in the workplace
– Instructions for the correct operation of the aerial lift, which should include the documentation of the maximum intended load and load capacity
– Demonstrations of the skills and knowledge needed to operate an aerial lift
– How and when to perform equipment inspections
– All manufacturer's requirements
Properly trained operators are valuable contributors in a workspace, especially when it comes to aerial lift accident prevention. They can take actions to stop aerial lift accidents, as well as reduce the risk of fines from OSHA and prevent expensive damage to your equipment and worksite.
The bottom line: accidents involving aerial lifts cannot be prevented if workers do not know the proper methods for operating, loading, and stabilizing a lift. Sign your workers up for a training program and protect your workplace.
A Closer Look at Aerial Lift Accident Statistics
Aerial lift-related injuries and deaths and accidents are often linked to one another. To understand the correlation between them, let's review a few accidents to see what might have gone wrong.
1. Employee Falls Out of Aerial Lift and Dies
On March 3, 2020, an aerial lift operator was using an aerial lift to remove static wicks from the back of an airplane. The lift's boom broke, which caused the platform to fall approximately 17 ft. The accident caused the aerial lift operator to fall directly onto concrete, resulting in the operator's death.
2. Employee Suffers Fatal Injuries from Aerial Lift Accident
An aerial lift accident that occurred Feb. 15, 2020 caused fatal injuries for the lift operator. The accident happened while the operator was working from an aerial lift basket to remove bridge column formwork. The operator attempted to step out of the lift and onto a plywood platform, but the operator did not have a lifeline connected to an anchor point. When the plywood platform's surface shifted, the operator fell 30 ft. The operator suffered a punctured lung and other injuries and later died as a result of these injuries.
3. Employee Pinned Between an Aerial Lift and a Metal Rack
An accident that took place Feb. 13, 2020 caused a lift operator to get stuck between a lift and a metal rack. The operator positioned the lift beneath a light fixture but inadvertently was pinned between the lift and a metal rack. This operator was crushed and killed during the accident.
Tips to Prevent Aerial Lift Accidents
Some of the best things that aerial lift operators can do to prevent accidents include:

– Avoid leaning on a lift's guardrails
– Leverage fall protection equipment
– Keep an eye out for power lines and other overhead dangers
– Use a lift exclusively on stable surfaces
– Avoid exceeding a lift's weight capacity
A safety training program teaches aerial lift operators about myriad dangers and how to mitigate these issues, too.
Aerial Platform Safety: How to Avoid Aerial Lift Hazards That Can Cause Accidents
Aerial boom lift accidents are tragic. If you want to prevent these accidents, keep the following factors and aerial lift hazards top of mind, in addition to ensuring all workers have completed an OSHA-compliant aerial lift certification:
?

Power Lines

One of the most hazardous elements of an aerial lift operator's day, power lines are the cause of many workplace injuries and fatalities. OSHA advises that all employees working near power lines consider all lines as live, position themselves at least ten feet away from all wires, and wear protective clothing.
?

Harnesses

Fall protection is one of the top violations cited for aerial lifts, and harnesses are a big part of proper fall protection. The best way to prevent aerial lift accidents from falls is to not fall in the first place. Safety harnessing ensures comprehensive safety in a variety of work situations.
?

Lift Maintenance

A malfunctioning or improperly cared for component of a lift is an inexcusable aerial lift hazard. Low oil, leaky fluids, low tire pressure and other maintenance related issues can make an aerial lift unsafe. Keep up with your maintenance, and you're halfway to a safer aerial lift, along with the daily pre-start inspections operators are trained to carry out.
?

Max Load Capacity

Unstable loads and falling objects hitting workers are two of the top causes of aerial lift accidents. When a lift is carrying a load that exceeds the load capacity, the weight capacity, and is larger than the size of the platform, it can potentially cause objects to fall from the lift, as well as tip-overs and collapses. Ensure you're aware of your manufacturer's suggested load weight. Don't exceed it, and you'll be able to avoid tip-overs.

Other OSHA resources describe the best methods for safe AWP operation. These points are crucial for preventing aerial lift accidents, but prevention starts with one important thing: training.
Why Does Your Business Need to Teach Its Workers About Aerial Boom Lift Accidents?
No business is immune to accidents on aerial lifts. If an aerial lift accident happens, the company and its employees can suffer the consequences.
For instance, an aerial lift accident can cause severe property damage, to the point where it forces a company to temporarily or permanently shut down. The accident can also harm employees and bystanders. It can even result in brand reputation damage and revenue losses.
By teaching your employees about aerial lift safety, your company can empower its workers like never before. An aerial lift safety training program provides workers with best practices to guard against workplace accidents and hazards. It also shows employees incorporate safety into their everyday activities and help your company foster a culture of safety.
Aerial lift safety training helps your business comply with OSHA standards, too. As a result, the training enables your company to avoid compliance fines and penalties, since your workers can operate aerial lifts in accordance with OSHA mandates.

Provide Your Employees with OSHA-Compliant Aerial Lift Training from CertifyMeOnline.net
Choosing the right training program for your aerial lift workers is the most important way to prevent accidents on aerial lifts. Our online course complies with all OSHA standards and regulations and teaches how to operate the different types of aerial lifts properly, how to assess the environment, and how to recognize and avoid aerial lift hazards. We cover how to operate all types of AWPs, including cherry pickers, telescopic boom lifts, articulating boom lifts, and scissor lifts.
To complete your safety profile, check out the complete line of CertifyMeOnline.net training courses. From Train a Trainer programs to superior fall protection instruction, CMO is the online leader in OSHA scissor lift, AWP, and aerial lift training. With affordable prices, flexible course scheduling (always on your terms), and easy renewals, see why CertifyMeOnline.net is the go-to option for companies all over the country.
In only about one hour from any device with an internet connection, operators can be trained and certified to drive aerial lifts and prevent aerial lift accidents. To learn more, please contact us online or call our OSHA aerial lift specialists today at (602) 277-0615.