Learn How to Charge a Scissor Lift Now

Do you know how to charge a scissor lift? Allow us to guide you through the process. For further instruction, an OSHA-approved scissor lift certification training program is advised. Such a course will teach you everything you need to know about properly charging electric forklifts. Once they have completed the class, students will be in compliance with OSHA regulations, allowing your organization to avoid expensive fines. Properly trained workers contribute to an overall safer work environment, so this is one learning opportunity you won't want to miss. 
How to Charge a Scissor Lift Safely
Here are five tips for how to charge a scissor lift without damaging the machine or putting others in danger.
1. Park the Scissor Lift
Ensure the scissor lift is parked in a designated work area. Verify this area is well-ventilated and provides quick, easy access to an electrical outlet. 
2. Turn the Lift-Off
Power down the scissor lift. Also, activate the lift's emergency shut-off switch; this prevents another operator from unknowingly driving away in the lift while the machine is charging. 
3. Connect the Lift to a Battery Charger
Find the battery charger in the scissor lift. Oftentimes, the charger is located on the right side of the lift's base. But, there may be instances in which the charger is mounted in the lift's rear. From here, plug the charger into an AC extension cord and plug the cord into an electrical outlet. Keep the length between the electrical cord and charger as short as possible. This minimizes the risk of damage if the cord inadvertently gets run over while the charger is in use. 
4. Confirm the Charger Is Working
Look at the scissor lift's battery charger and verify its light is illuminated. Once a lift is fully charged, the light will typically turn green. At this point, the charger will automatically shut off, too. 
In older scissor lift models, there may be a meter that displays voltage. With these models, the voltage will read zero when the lift is fully charged. 
5. Disconnect the Charger
Unplug the battery charger as soon as the scissor lift is fully charged. 

Scissor Lift Battery Charging FAQs
If you're still feeling unsure about how to charge a scissor lift, our FAQ section may help answer any remaining questions: 
How Long Does a Scissor Lift Take to Charge?
Your workers may wonder how long does a scissor lift take to charge — and rightfully so. If they know the ins and outs of charging a scissor lift, they can ensure their lift has sufficient battery power throughout the work day.  
The length of time it takes to charge a scissor lift varies. In some instances, it can take about six hours to charge a lift before an operator can use it for a full work day. Comparatively, Genie lifts and other types of electric aerial work platforms (AWPs) can take approximately 12 to 16 hours to charge. 
It may be possible to use a scissor lift while the machine is being charged, too. However, those who do so must take proper precautions. That way, they can avoid scissor lift accidents, injuries, and fatalities.
If there are concerns regarding how to charge a scissor lift, review the owner's manual. Here, scissor lift operators can find plenty of information about how to correctly recharge their equipment. They can also get information about a scissor lift's battery life. 
How Long Do Scissor Lift Batteries Last?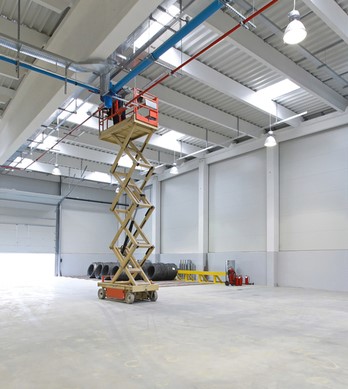 The lifespan of scissor lift batteries depends on how often the equipment is used. For instance, a lightly used battery may perform as expected for many years. On the other hand, a scissor lift battery that needs to be frequently recharged may last anywhere from six to 48 months. 
Scissor lift operators can prolong a battery's lifespan. To do so, they can perform the following routine scissor lift battery maintenance:
– Look for corrosion beneath a battery's rubber grommets 
– Remove a filler cap and top off a battery as needed 
– Eliminate dirt and debris from a battery bank 
– Conduct battery charge tests
Battery inspections and testing is a key part of scissor lift maintenance. Examine a scissor lift's battery regularly. If there are any signs of battery damage or wear and tear, address them immediately. 
Where Do You Plug in a Scissor Lift to Charge?
A scissor lift operator can plug their equipment's battery charger into an AC wall outlet. From here, the operator should give the scissor lift battery sufficient time to charge. 
Follow the scissor lift manufacturer's requirements for plugging in scissor lift batteries. These may include:
Avoid using an external charger or booster battery

Charging a scissor lift in a well-ventilated area

Using the proper AC input voltage for charging as designated on the battery charger; 

Utilizing a battery and charger that is appropriate based on the scissor lift's make and model
Scissor lift operators can sometimes use a generator to recharge their equipment, too. 
Can You Use a Generator to Charge a Scissor Lift?
There may be times when there is no plug-in power to charge a scissor lift. In these instances, an operator can utilize a generator to recharge their scissor lift battery. 
As always, safety is key when it comes to how to charge a scissor lift. If a generator is used, take appropriate safety precautions. This ensures a scissor lift operator can safely use a generator to recharge their equipment. 
What Should I Do When the Scissor Lift Won't Charge?
If your scissor lift won't charge, think back to the last time they were working properly. When equipment is sitting unused for a length of time, scissor lift batteries can discharge. The voltage gets too low for the charger to recognize. To remedy this common issue, use a 6v commercial charger to charge each battery one at a time for a few minutes. This will help recharge the voltage enough for the charger to recognize the 48v system and recharge batteries to their fullest capacity.
If this doesn't work, refer back to the manufacturer's recommendation. Your manual should include information on batteries and how to get the most out of them. Calling the manufacturer is another option. If you're really feeling stuck, asking for help from the professionals is always a good way to get clarification and insight. 
How Many Batteries Does a Scissor Lift Take?
Most scissor lifts require four 6v batteries for operation. Larger boom lifts and scissor lifts require a bank of eight 6v batteries. Given that a scissor lift battery is the true lifeblood of these powerful machines, it's important to do your research and understand the needs for your fleet. Picking the right battery means getting the most out of your scissor lift, so be sure to check the manufacturer's recommendations first.

Teach Workers How to Charge a Scissor Lift
Knowing how to charge a scissor lift can make all the difference in your day as a lift operator. When machines work as intended, there's no limit to what you can achieve in a day. Conversely, when faced with a scissor lift that won't charge or other common challenges, workers can find their productivity rates slashed. Education is the key – by training workers on battery charging best practices, you'll set your entire organization up for success. 
CertifyMeOnline.net offers a convenient and affordable scissor lift safety certification program for workers of all skill and experience levels. 
Our online certification program provides insights into the different types of scissor lifts and how to safely use and maintain them. Upon completion of our program, your workers can serve as OSHA-compliance scissor lift operators. Your scissor lift operators can take advantage of our renewal certification training every three years as well. 
To learn more about our scissor lift certification training or to enroll your workers in it, please contact us online or call us today at (602) 277-0615.