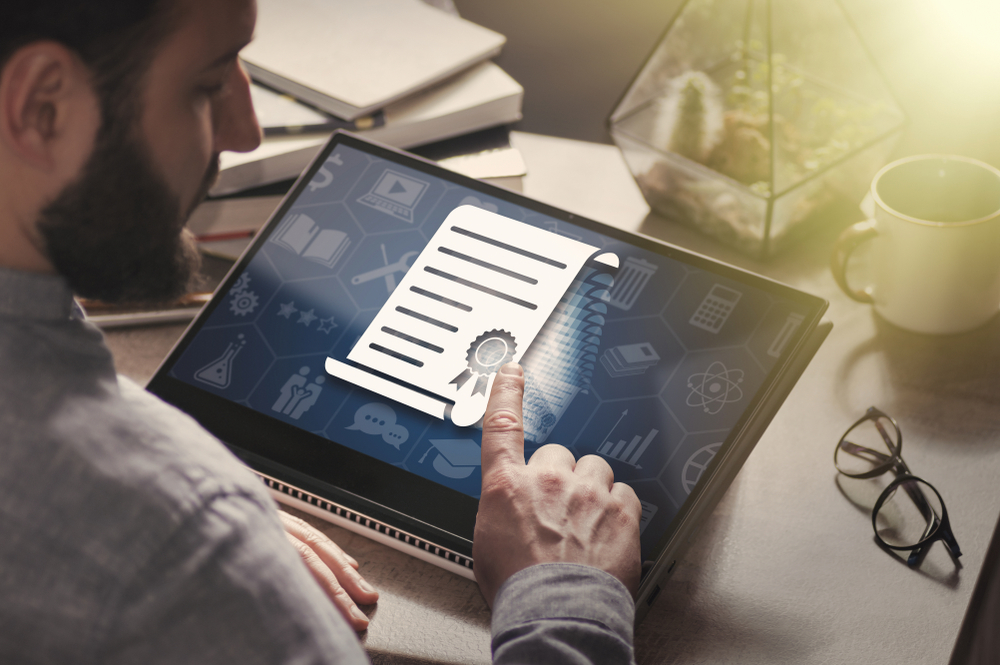 Become Fully OSHA Compliant with CMO | We'll Show You How to Get Your Aerial Lift Certification | Full Customer Support | Unbeatable Aerial Lift Certification Cost | Free Renewal Training & More!
Aerial lifts, which are also called Mobile Elevated Work Platforms (MEWPs) and Aerial Work Platforms (AWPs), are by their very nature inherently dangerous pieces of equipment. Each year, dozens of workers lose their lives in accidents involving lifts. The most common causes of these deaths are electrocutions, falls and lifts tipping over or collapsing. Boom lifts are involved in over 70 percent of these fatalities.
As a result, OSHA demands that every employer with MEWP and AWP operators provide safety training and certification. Without aerial lift certification, your company is subject to severe fines and penalties. If you're not sure how to get your aerial lift certification, you've come to the right place!
CertifyMeOnline.net (CMO) is a recognized leader in aerial lift certification, safety training and OSHA compliance. We'll show your workers how to avoid aerial lift accidents, adhere to a maintenance plan, and much more.  
CertifyMeOnline.net offers a full selection of OSHA compliant aerial lift certification courses. With convenient online access, affordable prices and lifetime support, no other online training resource comes close to CertifyMeOnline.net. Sign up today!

Five Easy Steps to Full OSHA Compliance: We'll Show You How to Get Your Aerial Lift Certification with Ease!
Looking for information on how to get your aerial lift certification? In just 5 easy steps, you'll have 100% OSHA compliance with our aerial lift certification program. Here are the steps:
1. Register Your Company
There's no charge to enroll your company. After you've registered, your employees can log in to their accounts.
2. Register Each Operator
The cost is only $75 per trainee, and payment can be made online by credit card. Create usernames and passwords for each student.
3. Students Log In To The Company Account
Students can sign in from any computer or digital device any time and anywhere there's an internet connection. After that, they're on their way to full OSHA compliance with our aerial lift certification!
4. Take the Test and Pass Hands-On Evaluation
Trainees work through the training modules at their own pace, taking the quizzes and tests as they go along. Although there are no time limitations, some students finish the course and tests in about an hour. CMO's pass rate is 100%. Once the online test is complete, you'll perform a hands-on evaluation to ensure they can safely operate your aerial lifts, AWPs and MEWPs!
5. Download Operator Cards and Onsite Evaluation Checklists
After completing the aerial lift training course, download and print temporary operator cards.
Getting Aerial Lift Certification for Your Employees
CertifyMeOnline.net's 100% OSHA-compliant aerial lift certification program is the most convenient and affordable lift operator training available anywhere. Your workers will receive all the information they need to avoid hazards, safely route foot traffic on the job site, prevent workplace accidents and safely operate aerial lifts. This means that as an employer, your workplace will be in compliance with OSHA standards, and you'll have protection against paying costly fines and defending against expensive legal actions.
Our simple, streamlined process means you and your employees can be fully certified to operate aerial lifts in about an hour using a smartphone, laptop, tablet, PC or similar device. All training materials are available online 24/7, which means training can be completed any time that's convenient and anywhere there's an Internet connection. After completing the training and passing the written exam and hands-on evaluation, the aerial lift certification and operator's card can be immediately downloaded and printed. Best of all, CMO's aerial lift certification is affordable!
Why Aerial Lift Operator Certification & Training Is Important
Employers that hire workers to operate aerial lifts without aerial lift certification are subject to heavy fines being imposed upon them by OSHA. If you're an employer who has workers on the payroll without aerial lift certifications, CertifyMeOnline.net can train them in accordance with OSHA standards far more quickly and for a lot less money than you might think. The process takes about 15 minutes of your time to create an account and about an hour for each trainee to complete the online course. The cost is just $75 per employee.
CertifyMeOnline.net's Other Aerial Lift Certification & Training Courses
In addition to aerial and scissor certification, here are some of CMO's other training programs:
✓

Fall Protection Training
Enroll your employees In CMO's Fall Protection Training and Certification to protect them against serious injuries and even death from falls. Having employees complete Fall Protection training can also help avoid OSHA fines and civil lawsuits.
✓

Train the Trainer Instruction
Our OSHA-approved Train the Trainer certification program lets employers qualify a designated individual to train and certify aerial lift operators in-house.
✓

Refresher and Recertification Training
OSHA requires all aerial and scissor lift operators to be recertified every three years. Aerial lift operators who complete their certification through CMO are entitled to free Three Year Renewal Training for life.
Our Fall Protection, Train the Trainer and Refresher & Recertification Training are essential to help your company operate safely. Achieve 100% OSHA compliance with any of our training programs today. Plus, the aerial lift certification cost for all Spanish-language equivalent courses is the same as English!  Register your company today – it's the best decision you can make for your employees' safety!
The Cost of Getting Aerial Lift Certification
CMO believes every company deserves a safe workplace. That's why we've made aerial lift certification costs so affordable. Our training courses cost between $75.00 and $149.00. This price includes retraining, along with the industry's best support. Here's a general rundown of our course lineup with prices:
✓ MEWP/Aerial lift Supervisor/Trainer Certification: $149.00
✓ Aerial Lift and Scissor Lift – English: $75.00
✓ Aerial Lift and Scissor Lift – Spanish: $75.00
✓ Class 7 Lifts (Includes Rough Terrain Forklift Trucks, Straight Mast Lifts, and Extended Reach Trucks): $75.00
✓ Class 7 Lifts – Spanish: $75.00
✓ Fall Protection – English: $75.00
✓ Fall Protection – Spanish: $75.00
Consider the true cost of non-compliance: hefty OSHA fines and penalties, and worse yet, accidents and injuries to your employees. Ensure your company is compliant – sign up with CMO today.

Affordable Aerial Lift Certification Costs, Full Compliance & More – Sign up with CMO Now!
If you're not sure how to get aerial lift certification, or if you're unsure about your current compliance situation, contact CertifyMeOnline.net today.
There's no easier, faster or more efficient way for employers to keep the workplace safe than by having their employees complete aerial lift certification training through CMO. Enroll them today and you can be OSHA-compliant by tomorrow! For more information on CMO's aerial lift certification & training or any of our other online training courses, contact us today online or call us at 602-277-0615. If you're ready to launch your aerial lift certification program today, click here. Thanks for visiting CMO, and we look forward to hearing from you soon!