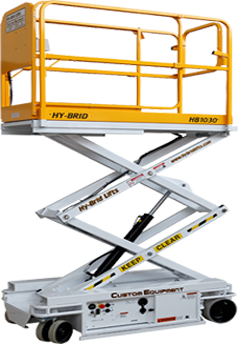 Aerial lifts are inherently dangerous and claim the lives of dozens of workers each year. The most common causes of fatalities are electrocution, falls, and lifts collapsing or tipping over. More than 70 percent of fatalities involve boom lifts. For this reason, OSHA has stringent aerial lift training requirements. All employees who work on an aerial lift, even occasionally, must be trained in the hazards associated with aerial lifts as well as how to operate them and perform daily inspections.
If you're wondering how to get aerial lift certification to protect your life on the job, you've come to the right place.
Why Is Aerial Lift Certification Important?
If you are looking for a career with steady employment anywhere in the country that you choose to live, you need your aerial lift certification training. Aerial lifts are used in construction, in industry, and at the dockside. You can choose a work environment that you like best and customize your career around your interests.
Many aerial lift workers receive pay, due to potential hazards related to their job. From construction sites to landscaping, aerial lift operators must deal with strict job site requirements, overhead power lines, restricted work areas, high winds, unique weather challenges, and much more. With your aerial lift certification training, you'll be prepared for anything that comes your way.
Any company that hires workers to operate aerial lifts without aerial lift certification may be subject to heavy OSHA fines. When a prospective employee with an aerial lift certification card comes looking for work, they are considerably more likely to hire that individual as opposed to someone without the necessary aerial lift certification. As an employer, if you have people in your crew who do not already have aerial lift certification, CertifyMeOnline can train them in accordance with OSHA aerial lift training requirements in a lot less time and for a lot less money than you may think. The entire process takes as little as 15 minutes of your time and just one hour per trainee's time and costs only $75.00 per employee.
How to Get Aerial Lift Certification
CertifyMeOnlne.net offers the most convenient and affordable online aerial lift training program that is 100% OSHA-compliant. This means that operators receive all the most important information they need to operate aerial lifts safely and prevent accidents. For employers, this means your workplace remains in compliant with OSHA standards and is protected from costly fines and legalities.
Our training portion is conducted online at a time and place of the trainee's convenience. All they need is a computer and an Internet connection. Training can be done during a lunch break or before or after work. There is no need to interrupt production so your employees can conduct the training. When the employee completes the training, they can print out their certificate and aerial lift certification card right then and there.
CMO makes it easier than ever to obtain aerial lift certification training. Our courses are designed to provide the skills and knowledge necessary to become OSHA certified. That's a beneficial two-way street, for you and your employer! Workers will have the safety know-how to avoid accidents, and employers will have comprehensive training records, just in case OSHA ever stops for an audit or accident investigation.
For workers to receive their aerial lift certificate, all it takes is the following to get started:
1. Create an account.
2. Choose and purchase a training package. Workers have a few options when it comes to our online training. They can choose our English or Spanish Aerial Lift and Scissor Lift certification program, our Fall Protection course in English or Spanish, or even one of our Forklift Training programs for a comprehensive equipment operation education.
3. Work through the lessons. The course is at your own pace, but many students finish it in about an hour.
4. Take the test.
5. Print your certificate.
6. Pass the practical assessment.
7. Start work!

Register For Aerial Lift Certification With Us!
That's as easy as it gets to complete an aerial lift certification and be prepared to operate aerial lifts as safely as possible in the workplace.
If you're an employer, keep your work force safe and get your employees aerial lift certified.
CMO offers the following courses for anyone looking to become OSHA certified with aerial lift certification training:
Train the Trainer Certification
Aerial Lift and Scissor Lift Training
Class 7 (rough terrain lifts, straight mast lifts, extended reach lifts)
Fall protection
Thanks for visiting CMO. For any questions about our aerial lift or scissor lift certification training, give us a call at (602) 277-0615.
[1] ANSI A92.2 – Vehicle Mounted Elevating and Rotating Work Platforms