Aerial lifts, which are also called Mobile Elevated Work Platforms (MEWPs), are by their very nature inherently dangerous pieces of equipment. Each year, dozens of workers lose their lives in accidents involving lifts. The most common causes of these deaths are electrocutions, falls and lifts tipping over or collapsing. Boom lifts are involved in over 70 percent of these fatalities. Because of the dangers, OSHA has imposed stringent training and certification requirements on aerial lift operators. All employees who work on aerial lifts, even if only occasionally, are required to be trained to recognize and avoid the hazards associated with operating or working from aerial lifts, as well as how to perform daily inspections and routine maintenance.
If you're interested in learning how to get your aerial lift certification to protect your life and the lives of your coworkers, or if you're an employer whose workers need aerial lift certification training, you've come to the right place!

Why Aerial Lift Operator Training and Certification Is Important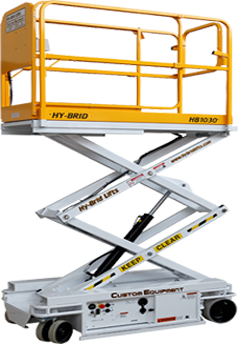 If you're interested in an exciting and rewarding career with solid employment opportunities wherever you choose to live, becoming an aerial lift operator is a great choice. You will, however, need to complete OSHA-approved aerial lift operator training and certification, which will allow you to work in a field that interests you.
Aerial lift operators are generally well paid, due partially to job-related hazards encountered on a daily basis. From construction site workers to tree trimmers and everything in between, aerial lift operators must deal with demanding job site requirements, high-voltage overhead power lines, cramped or confined indoor work areas, high winds, changing weather conditions and more. With proper aerial lift certification training, operators are prepared to handle just about anything that happens to come their way. An individual looking for work who already has an aerial lift certification card is far more likely to be hired than someone who lacks the proper training.
Employers that hire workers to operate aerial lifts without aerial lift certification are subject to heavy fines being imposed upon them by OSHA. If you're an employer who has workers on the payroll without aerial lift certifications, CertifyMeOnline.net can train them in accordance with OSHA standards far more quickly and for a lot less money than you might think. The process takes about 15 minutes of your time to create an account and about an hour for each trainee to complete the online course. The cost is just $75 per employee.
Getting Aerial Lift Certification for Your Employees
CertifyMeOnline.net's 100% OSHA-compliant aerial lift certification program is the most convenient and affordable lift operator training available anywhere. Your workers will receive all the information they need to avoid hazards, prevent workplace accidents and safely operate aerial lifts. This means that as an employer, your workplace will be in compliance with OSHA standards, and you'll have protection against paying costly fines and defending against expensive legal actions.
Our simple, streamlined process means you and your employees can be fully certified to operate aerial lifts in about an hour using a smartphone, laptop, tablet, PC or similar device. All training materials are available online 24/7, which means training can be completed any time that's convenient and anywhere there's an Internet connection. After completing the training and passing the written exam and hands-on evaluation, the aerial lift certification and operator's card can be immediately downloaded and printed. Best of all, CMO's aerial lift certification is affordable!
Six Easy Steps to Lift Operator Certification
Looking for information on how to get your aerial lift certification? Here's all it takes for your workers to receive their OSHA-approved lift operator certifications:
• Create an Account. There's no charge to enroll your company. After you've registered, your employees can log in to their accounts.
• Register Each Operator. The cost is only $75 per trainee, and payment can be made online by credit card. Create usernames and passwords for each student.
• Students Log in to the Company Account. Students can sign in from any computer or digital device any time and anywhere there's an internet connection.
• Take the Test. Trainees work through the training modules at their own pace, taking the quizzes and tests as they go along. Although there are no time limitations, some students finish the course and tests in about an hour. CMO's pass rate is 100%.
• Download Operator Cards and Onsite Evaluation Checklists. After completing the aerial lift training course, download and print temporary operator cards.
• Pass the Hands-On Evaluation. Once the company's designated safety coordinator determines the student is capable of safely operating an aerial lift, the newly certified operator is ready to start working!
CertifyMeOnline.net's Other Training Courses
In addition to aerial and scissor certification, here are some of CMO's other training programs:
• Fall Protection Training. Enroll your employees In CMO's Fall Protection Training and Certification to protect them against serious injuries and even death from falls. Having employees complete Fall Protection training can also help avoid OSHA fines and civil lawsuits.
• Train the Trainer Instruction. Our OSHA-approved Train the Trainer certification program lets employers qualify a designated individual to train and certify aerial lift operators in-house.
• Refresher and Recertification Training. OSHA requires all aerial and scissor lift operators to be recertified every three years. Aerial lift operators who complete their certification through CMO are entitled to free Three Year Renewal Training for life.

Enroll Today in CMO's Aerial Lift Certification Training
There's no easier, faster or more efficient way for employers to keep the workplace safe than by having their employees complete aerial lift certification training through CMO. Enroll them today and you can be OSHA-compliant by tomorrow! For more information on CMO's aerial lift certification training or any of our other online training courses, contact us today online or call us at 602-277-0615.
Thanks for visiting CMO, and we look forward to hearing from you soon!