Telehandlers are incredible machines that make a wide variety of tasks possible. For this reason, many companies have started designing and manufacturing different types of telehandlers, boom lifts, forklifts and other large machinery in order to appeal to the various industries that use them. SkyTrak is a company that builds telehandlers for a variety of uses outdoors. Many warehouses, dockyards, shipping terminals and other companies use SkyTrak forklift telehandlers to transport, store, and manage cargo. For this reason alone, SkyTrak certification is more important than ever!
What is a SkyTrak Forklift?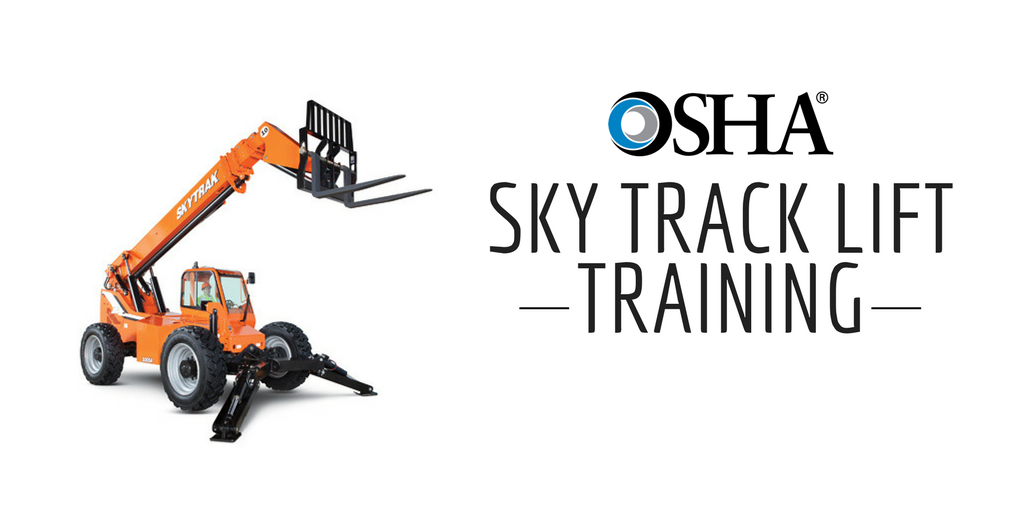 A SkyTrak forklift, also known as a telehandler, is a type of boom lift that is designed to handle and carry objects on outdoor worksites. We use both "forklift" and "boom lift" to describe the Skytrak because a telehandler is very similar to a forklift except that it has a boom arm which makes it look more like a crane than a forklift. Usually mounted on a four-wheel drive chassis, Skytrak telehanders have a few typical forklift characteristics, like pallet forks, rough terrain tires, and a lifting jib.
Skytrak lifts are utility lifting machines, with one driver operating the controls and do not come with a bucket or platform where another worker can stand and perform tasks. Instead, the ends of the boom arm have pallet racks for picking up, carrying, and loading pallets and other heavy loads. Skytrak forklifts do come with optional attachments, like the earth-moving bucket and the work platform. They are very versatile machines and for that reason, require that operators obtain their Skytrak certification to ensure they are prepared to handle the machine and it's many capabilities. 
What is a SkyTrak Lift Used For?
SkyTrak forklifts are mostly used on construction sites for lifting and carrying materials and other objects, as well as in warehouses that are large enough to accommodate the larger body and boom arm. In spaces that are large enough and for loads that are too large for a regular-sized forklift, a SkyTrak forklift is the machine for the job and can lift and handle pallets and loads and bring them through a warehouse building, accessing maximum heights.
Skytrak designs all of their forklift telehandlers to provide top notch comfort and efficiency. The Skytrak forklift features new and improved boom function speeds, a single joystick for ease and multifunction capability, an added arm rest, and the option of air conditioning for added comfort when working outdoors in harsh weather conditions. Each of these features make the Skytrak lift ideal for heavy duty work outside in the construction and agriculture industries.
Do I Need Training to Drive a SkyTrak Forkift? What Kind?
SkyTrak forklifts can be just as dangerous to operate as any other type of large equipment and it's important for all aspiring operators to complete a SkyTrak forklift training. The task of handling and carrying heavy, large loads is risky business and requires absolute accuracy. One wrong move or inaccurate calculation can lead to catastrophic results, including serious injuries and fatalities.
Since telehandlers are made with the rugged capabilities of a forklift and the reach power of a boom lift, they come with their own unique strengths and hazards. Operators who work with or near a Skytrak forklift need to know the specific nuances of how to work with these machines safely and properly. Skytrak certification training teaches workers this information, and ensures they are capable and competent to use the equipment and avoid Skytrak-specific hazards.
Why is SkyTrak Forklift Training Important?
If your company is ever audited by OSHA, or if one of your employees is involved in a SkyTrak lift accident, you'll have to provide paperwork that shows training certification. If you can, you'll likely avoid ultra-expensive fines and penalties, not to mention potential legal action. If you can't, your entire enterprise could be shut down due to safety violations. When you weigh the would-be consequences against getting your SkyTrak forklift drivers trained, it's a no-brainer solution: get Skytrak certification for your entire workplace!
Not only is this specific type of training crucial for avoiding costly OSHA fines, but it's also the most effective tool for keeping workers safe and reducing the number of accidents that occur in the workplace every year.
Choose CertifyMeOnline.net for Skytrak Forklift Training
If you want to move up the ranks in your position and operate SkyTraks, you need SkyTrak forklift certification training. The program with CertifyMeOnline.net is the most comprehensive, convenient, and affordable option you can find. Completely online and self-paced, our Skytrak lift training and forklift certification courses are available 24/7 and can be accessed on any device with an internet connection. All you have to do is create an account on our website, and work through the training modules which only take on average one hour to complete.
Here are more reasons to choose CertifyMeOnline.net for SkyTrak certification training:
– Skip the hassle traveling to an offsite facility
– Receive instant access to our specialized training
– Save hundreds of dollars with our automated online course
– Be OSHA-compliant
– Feel confident and prepared to operate SkyTrak forklifts as safely as possible
Sign up today for SkyTrak forklift training and begin a new and exciting chapter in your career!
If you need SkyTrak certification training for your employees, the best time to sign up was yesterday. Enjoy the peace of mind that comes with knowing your workers have the latest OSHA-compliant SkyTrak lift training. Plus, CMO offers free 3-year renewal training – our OSHA experts are with you every step of the way.
To get started and sign up for SkyTrak forklift training today, check out all the courses we offer. If you'd like to speak directly with our SkyTrak forklift training consultants, please call us at (602) 277-0615. Thanks for considering CMO for your SkyTrak certification needs!