Telehandlers, which are sometimes also called teleporters, reach forklifts, boom lifts or cherrypickers are amazing machines. They have articulating boom arms that the operator can extend both vertically and horizontally. Various attachments, such as buckets, winches, pallet forks, work platforms and more can be fitted to the end of the boom arm, depending upon the job. Usually mounted on a four-wheel drive chassis, these incredible pieces of equipment are capable of extending upward to heights of more than 50 feet, making it feasible to accomplish tasks that once would have been considered impossible.
There are several heavy equipment manufacturers that build telehandlers, including SkyTrak, which is the most popular brand of telehandler on the market today. Skytrak lifts are utility lifting machines. Rather than having a driver operate the controls while another worker performs tasks while in a bucket or standing on a platform, the ends of the boom arm have pallet racks for picking up, carrying, and loading pallets and other heavy loads. Known for being user friendly, SkyTrak forklift telehandlers can be found transporting, lifting, storing, and managing materiel in warehouses, dockyards, shipping terminals, construction sites and other workplaces across the country.
✓ Some of the many benefits of SkyTrak lifts include:
✓ Ability to move loads that are too large for a regular-sized forklift
✓ Accessing heights not reachable with most other types of lift equipment
✓ More than 30 optional attachments are available, including buckets, forks, carriages and augers, which make SkyTrak telehandlers truly versatile pieces of equipment
✓ SkyTrak telehandlers with outriggers can lift loads of up to 4,000 lbs. up to a maximum height of 53 feet

SkyTrak lifts will hold loads of up to 1,400 lbs. at their maximum horizontal reach of 39.75 feet
SkyTrak forklifts are used mostly on outdoor construction sites for lifting and carrying materials, although they can also be found inside warehouses and other facilities with enough clear height and aisle widths to accommodate a telehandler's larger body and boom arm.  Inside a warehouse building, telehandlers can lift, move and retrieve pallets and loads at maximum heights. For loads that are too large for a standard size forklift, a SkyTrak forklift is the right machine for the job.
Do My Employees Need Formal Training to Drive a SkyTrak Forklift?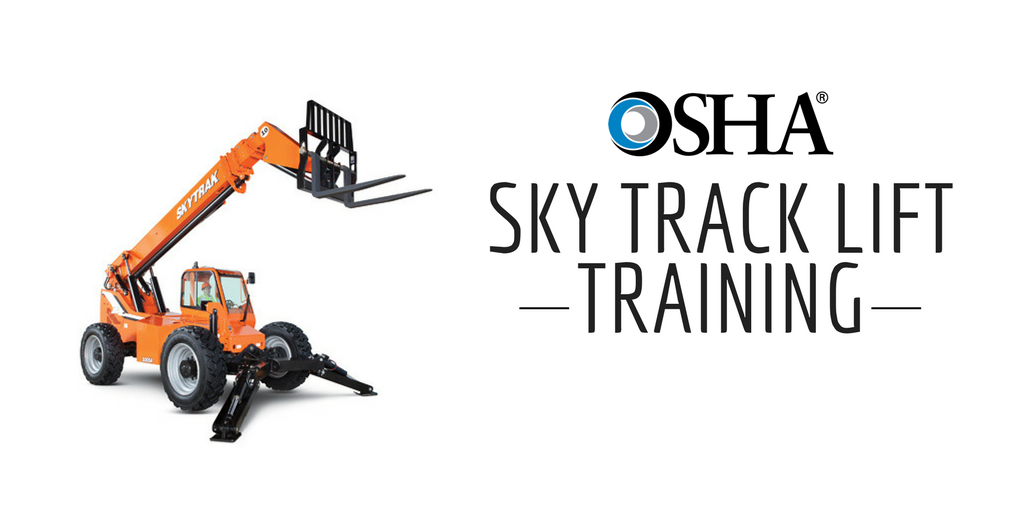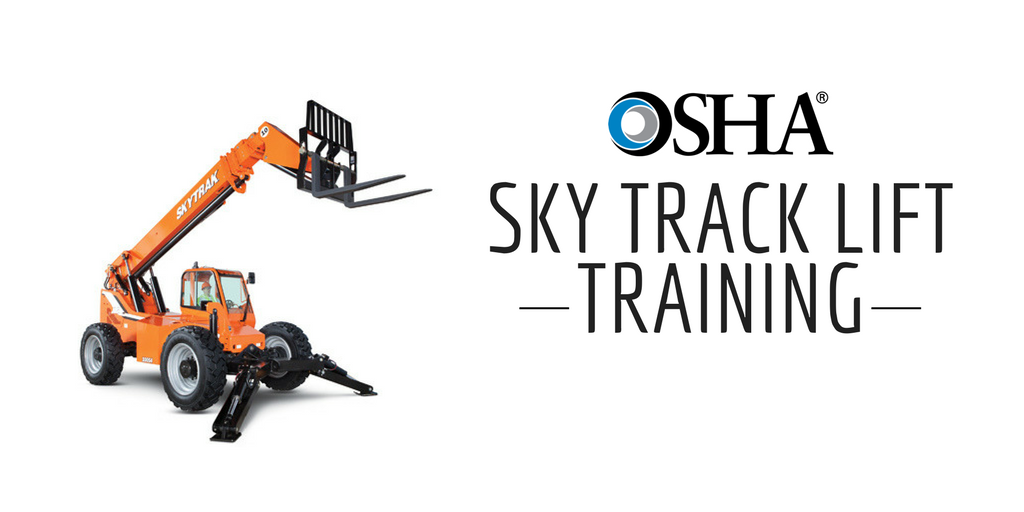 Skytrak telehandler operator training and certification is required by OSHA. In the hands of an untrained or improperly trained operator, SkyTrak forklifts can be just as dangerous to operate as any other type of heavy equipment, so it's important for all your operators to complete OSHA-approved SkyTrak forklift training.  Handling and carrying large, heavy loads is risky business and requires operator proficiency. One wrong move or inaccurate calculation can lead to catastrophic results, including damages to property and equipment and serious employee injuries or even deaths.
Telehandlers combine the rugged capabilities of a forklift with the reach power of a boom lift, which means they come with their own unique strengths and operating hazards. Employees who operate or work near a SkyTrak forklift need to be thoroughly familiar with how to properly and safely operate these machines. CertifyMeOnline.net's Aerial Lift Training & Certification program will provide your operators with everything they need to know to competently use the equipment and avoid hazards, including those specific to SkyTrak lifts.
Why It's important to Enroll Your Employees in CMO's SkyTrak Forklift Training Program
CMO's aerial lift operator lift certification will also help protect you in the event of an OSHA audit or if one of your employees in an accident where a SkyTrak lift is involved. You'll have the paperwork to show that your employees have been properly trained, which can help you avoid severe penalties and fines, as well as potential expensive litigation.
Without our OSHA-approved training, your business could be shut down due to safety violations. When you consider the consequences of allowing your SkyTrak forklift drivers operate the equipment without having been properly trained, you're placing both the well-being of your workforce and your business itself at risk. It's a no-brainer decision – enroll your employees in CMO's SkyTrak forklift operator training today!

Reasons to Choose CertifyMeOnline.net To Train Your Skytrak Forklift Operators
CertifyMeOnline.net offers Skytrak telehandler training and other SkyTrak operator certifications your business needs to become and remain OSHA compliant, including free three-year recertification training for life. We're the preferred training partner for companies everywhere, and what's more, our SkyTrak lift programs are affordable!
You can't afford the cost and other consequences of non-compliance. Sign up today to enroll your operators in SkyTrak lift certification training through CertifyMeOnline.net. It's the best decision you can make for the safety of your employees and your peace of mind!
Our Skytrak lift training and certification courses are conducted entirely online. All materials are available 24/7 and can be accessed using a smartphone, tablet, laptop or similar device any time that's convenient and anywhere there's an internet connection. All you need to do to enroll your operators is create an account on our website (it takes just a couple of minutes), and have them work through the training modules, which on average only take about an hour to complete, although there are no time limits. Your employees can complete the training any time and anywhere that's convenient. Once your operators complete the training and they've passed the exam (our pass rate is 100%!), simply download and print their certification cards and they'll be legally allowed to operate SkyTrak lifts and other lift equipment in your workplace.
Here are a few more reasons to choose CertifyMeOnline.net to certify and train your SkyTrak telehandler operators:
1. There's no need for your employees to take time away from work and go through the hassle of traveling to and from an offsite training facility
2. Receive instant "on demand" access to our specialized training program
3. Save your company hundreds of dollars by using our automated online course to certify your operators
4. Become OSHA-compliant in as little as one hour (this is the most important reason for Skytrak telehandler and lift training!)
5. Instill the confidence in your workers to safely operate SkyTrak forklifts
If your employees haven't received SkyTrak certification training, the best time to sign up was yesterday! Enjoy the peace of mind that comes with knowing your workers have the latest OSHA-compliant SkyTrak lift training. Plus, CertifyMeOnline.net offers lifetime free three-year renewal training. Our OSHA experts are on your team and with you every step of the way.
To get started and sign up for SkyTrak forklift training and Skytrak telehandler certification today, choose the courses that match your business's needs. If you'd like to speak with one of our SkyTrak forklift training consultants, please call us at (602) 277-0615. Thanks for considering CertifyMeOnline.net, and we look forward to assisting you with all your SkyTrak certification needs!