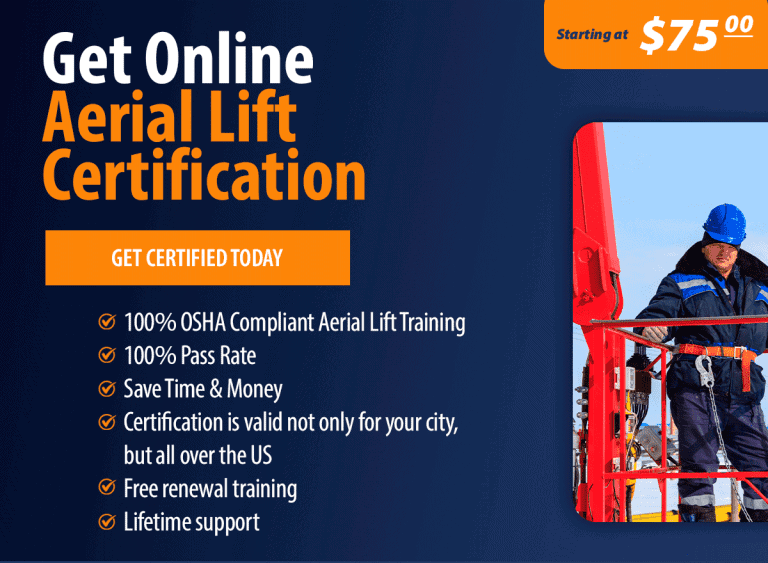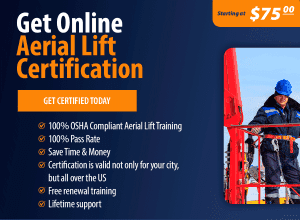 CertifyMeOnline offers comprehensive Atlanta aerial lift training for just $75.00. So long as you have a device connected to the internet, you can learn how to operate aerial lifts and get certified to start working in Atlanta, throughout the Peach State, and everywhere in the United States. Our online aerial lift courses make it easy to train from any place at any time. There's never been an easier, faster, or more convenient way to get certified!
How Online Aerial Lift Training in Atlanta Works
It's easy to get employees aerial lift certified online in Atlanta. Instead of sending aerial lift operators off-site to expensive, time-consuming training programs, bringing learning in-house. Follow these steps to get started:
Sign Up

– You can sign up each operator by first creating an account on CertifyMeOnline.

Select the Appropriate Aerial Lift Course

– We feature a range of aerial lift training depending on which type your operator will be driving. Simply choose the class that best applies and then check out.

Undergo Online Training

–  Operators may complete training at their own pace, on their own time, from any device connected to the internet. Once the class is complete, workers will need to take and pass an online skills exam. There's zero pressure, as they can take the test as many times as necessary to pass.

On-Site Evaluation

– An on-site employee of yours must next offer a hands-on evaluation. If you don't have an operator trained to give these hands-on evaluations, check out our

train-the-trainer course

. It teaches operators how to train others and perform evaluations. 

Print Operator Cards

– After this final step is complete, operators will be certified to drive aerial lifts in Atlanta and across the country. Simply print off operator cards to serve as proof of certification.

Why Choose CertifyMeOnline for Atlanta Aerial Lift Training
Each aerial lift operator working in Atlanta – and across the country – must be trained in accordance with OSHA standards. OSHA frequently levies expensive fines against companies that employ untrained, uncertified operators. Don't put the safety of your employees or the future of your business at risk.
Our comprehensive online course for Atlanta aerial lift training comes with a number of key benefits, including 
✓ 24/7 Access – Our convenience enables employees to learn whenever and wherever works best for their busy lifestyles. So long as they have a device connected to the internet, employees can learn at their own time and place. 
✓ Fast and Simple – Most people complete the class in about an hour, and the final exam may be taken as many times as necessary to earn a passing score.
✓ Certification Cards – Once training is complete, employees can immediately print off proof of training and compliance with OSHA regulations.
✓ Free Renewals – CertifyMeOnline is the only company that offers free lifetime access to our training classes. Since OSHA requires operators to recertify every three years, this adds up to a significant savings over time.
✓ An Undeniable Value – Our courses start at $59.95, a fraction of what it might cost to send employees off-site for training. 
For these reasons, traditional aerial lift training courses just can't compare to CertifyMeOnline! Also, remember, all of our courses come with a 100% money back guarantee if you aren't completely satisfied.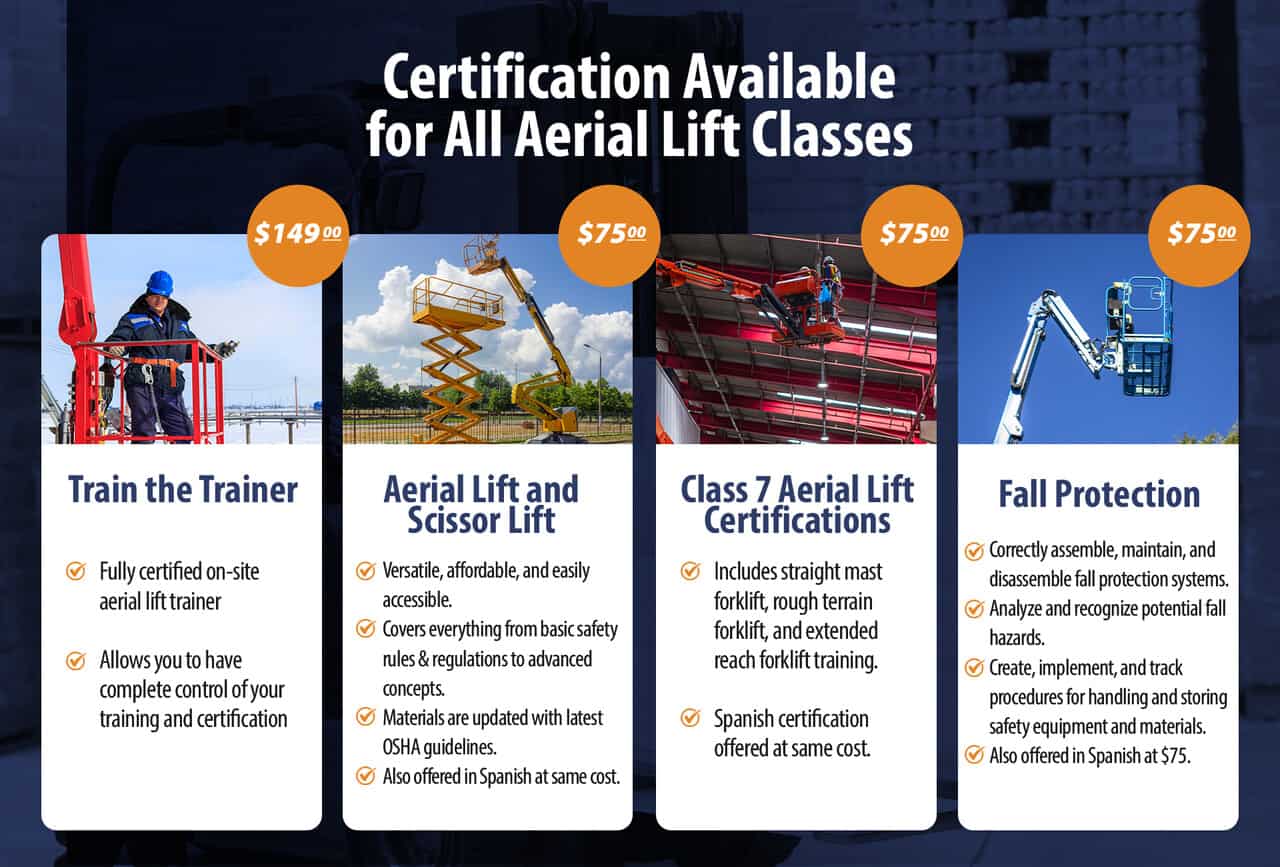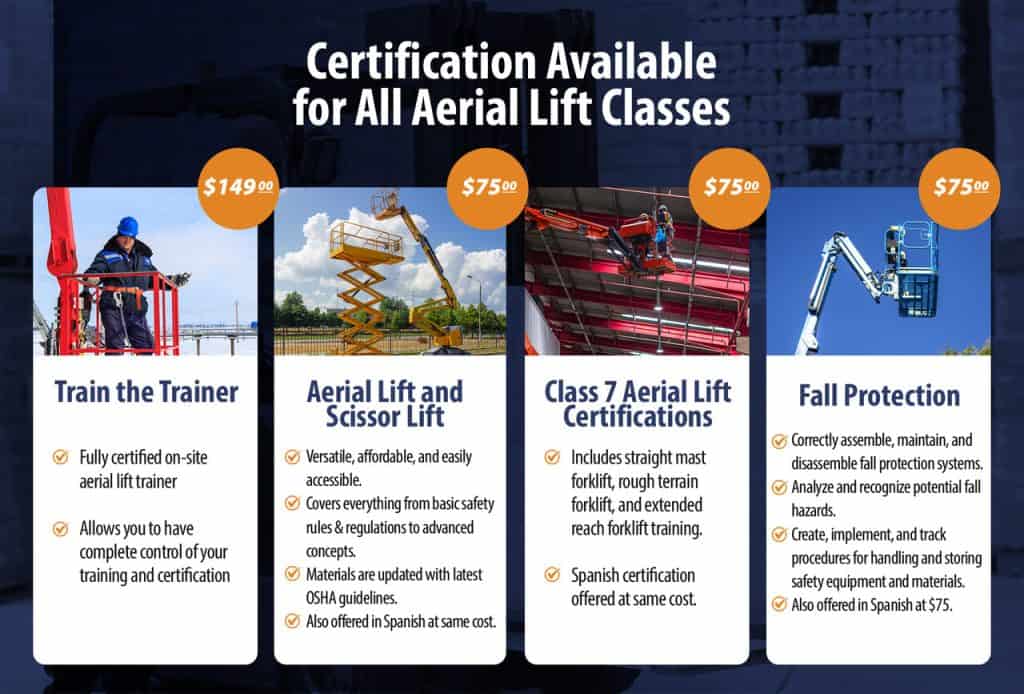 Frequently Asked Questions About Aerial Lift Training in Atlanta
Are you unclear about how to get aerial lift certified in Atlanta? Here are the answers to a few frequently asked questions on the subject:
Do I Need an Aerial Lift License in Atlanta?
All aerial lift operators in Atlanta and throughout the rest of country are required to be be trained and evaluated according to the OSHA standards specified in 29 CFR 1910.178(I)(1). 
Do I Need Experience to Earn My Aerial Lift Certification in Atlanta?
No experience is needed to start aerial lift training with CertifyMeOnline. 
Can I Register for Training, Or Does My Employer Need to Sign Me Up?
OSHA requires all employers to provide aerial lift certification in Atlanta for their operators. Though you may be eager to train, it's probably best to find an aerial lift job first and get certified through your employer.
Can Small Deviations in Training Cause Deaths?
Yes, even slight variations on training standards can result in serious accidents, injuries, and fatalities. A look at recent aerial lift accidents in Atlanta reveals just how deadly these machines can be when not operated in the correct way.
Is Fall Protection Needed At All Times?
Absolutely. Failure to abide by OSHA fall protection regulations can result in accidents, injuries, fatalities, and fines. Businesses are frequently cited by OSHA for failing to meet safety standards. Don't risk putting your organization or the lives of your employees on the line. Prioritize fall protection, no matter what.

Get Atlanta Aerial Lift Certification For Your Employees Today!
There's no shortage of aerial lift training programs out there, most of which will run you hundreds of dollars and warrant in-person attendance at a facility off-site. CertifyMeOnline.net, on the other hand, is a convenient and affordable way to earn your Atlanta aerial lift certification. 
Still have questions about CMO's aerial lift certification and training in Atlanta? Call us at (602) 277-0615 to speak with one of our knowledgeable aerial lift training experts. You can also click here to contact us online to register your business and enroll your employees in our Atlanta aerial lift training program. CMO is here to help you with all your Atlanta aerial lift certification needs!