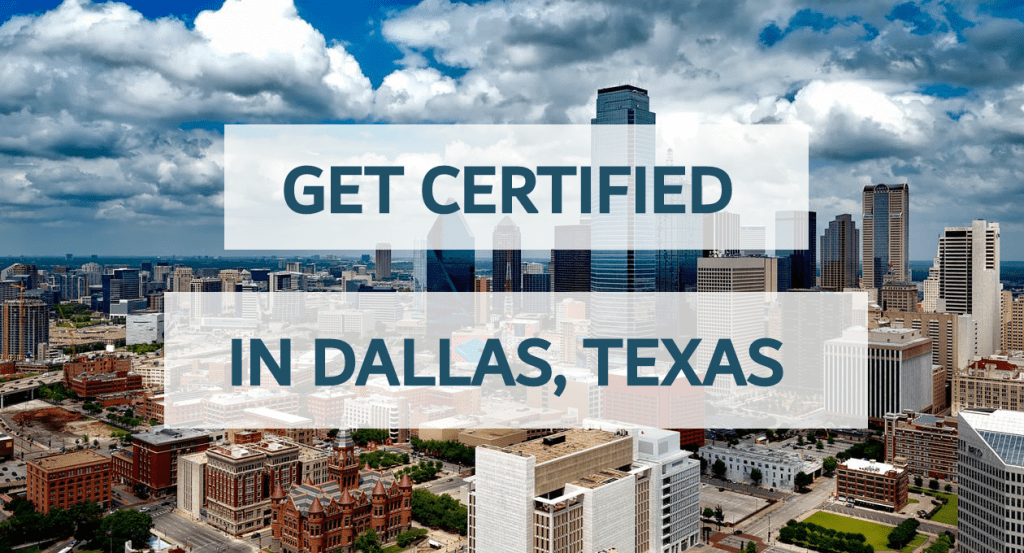 There's a saying that everything in Texas is big, and Dallas, or "BIG D" is no exception. The Greater Dallas region is the fourth largest municipal area in the United States, the country's sixth largest metropolitan economy and is ranked 14th in terms of Gross Domestic Product (GDP). The Dallas Quality of Life Index is more than twice as high as that of the Big Apple. The index takes into account things such as purchasing power, health care, CPI, safety, home price to income ratio, commute time and pollution. In terms of education, shopping and things to do, Dallas has it all.
Your company may be involved with aircraft maintenance or logistics at Dallas/Fort Worth International Airport or Love Field, trimming trees in and around the city, working with the City agencies or some of the area's many private enterprises. As an employer, you need to be aware that OSHA requires your workers to undergo Dallas aerial lift certification before they're legally allowed to operate aerial lift equipment at your workplace.

If you're a business owner who hires aerial lift or scissor lift operators in and around Dallas, having your workers properly trained and certified by CertfiyMeOnline.net is your best option for becoming 100% OSHA compliant. With CertifyMeOnline.net's Dallas aerial lift certification training, your employees will have all the necessary safety skills and OSHA training they need to operate in many different fields. Here are a few of them:
✓ Construction
✓ Engineering
✓ Maintenance
✓ Window washing
✓ Sign installation
✓ HVAC maintenance and repair
✓ Overhead utility line maintenance
✓ Arborist
✓ Assembly
✓ Event planning
✓ Engineering inspection (bridges, towers, and other structures)
✓ And a lot more
Why Dallas Aerial Lift Certification is Important to You as an Employer
Aerial lift equipment operators who are untrained and aren't up to date on the latest OSHA regulations can be dangerous. They're simply unable to recognize potential workplace hazards, and therefore present a threat to themselves, their coworkers and from a liability standpoint, you as a business owner. To keep your workforce and workplace safe, you'll need to have your equipment operators complete OSHA-approved scissor lift training and receive official Dallas aerial lift certification to ensure they're capable of safely operating the equipment.
Ask any business owner, foreman, shift supervisor or safety expert in Dallas why an employer who has aerial lift operators on his or her payroll should arrange OSHA compliant training for them, and you'll get various answers. Here's a sampling:
"I don't like being fined or penalized. Without having properly trained personnel, I'm opening up my company to potential fines, lawsuits, on the job injuries and more – it's just not worth it."

"Trained workers are more productive and better for business."

"Aerial lift jobs require skill, poise under stressful conditions, common sense and smarts with properly trained and certified equipment operators, I know what I'm getting."
These are all great answers, but the real reason you should have your equipment operators receive aerial lift certification Dallas training is that it limits your risk exposure and helps increase your company's bottom line. In the event of an accident or injury where a scissor lift or aerial lift is involved, OSHA investigators will ask to see the operator training records in your HR files. Ensure you're covered by enrolling your operators in CMO's Dallas scissor lift and aerial lift certification training program!
As an employer, having properly trained and certified lift operators is your best bet for keeping the workplace safe and reducing the risk of serious workplace accidents that result in injuries to employees and damages to property and equipment. Having your workers trained and certified will also reduce the risk of OSHA imposing substantial penalties and fines, as well as avoid costly litigation arising out of accidents where employees are injured.
Where to Get Dallas Aerial Lift Certified For Your Workers
The best place to get aerial lift certified in Dallas – or anywhere else – is CertifyMeOnline.net. We help businesses and contractors of all sizes certify their operators for just $75 per employee. All that's needed is for you to create an account, choose a training package, have your employees complete the lessons and take the final test, and you're done! You can immediately download and print their aerial lift certification Dallas and they're authorized to legally operate aerial lift equipment – that's all there is to it!
Various Types of Aerial Lift Certification Dallas
Talk about easy! Our Dallas aerial lift certification program is 100% OSHA approved, and training can be completed in about an hour. There's no need for your employees to take time off work to complete training at an offsite facility, nor do they have to spend their valuable days off to become certified – CMO's aerial lift training in Dallas can be completed using a digital device any time and anywhere there's internet access. These are just a few of the many reasons why Dallas area employers choose us to train and certify their scissor lift and aerial lift operators.
Our operator training classes are taught online, cost just $75 each, and are available in both English and Spanish versions. Here's a summary of our affordable and easy-to-complete courses:
This course is designed to protect your workers from injuries and your business from losses due to accidental injuries or deaths
If you're interested in having an in-house trainer qualified to certify your other operators and new hires as they come on board, we also offer a Train the Trainer Certification class, which costs just $110.

Enroll Your Operators in Dallas Aerial Lift Certification Training Today!
As a business owner, you can't afford the consequences of having untrained and uncertified workers operating lift equipment in your workplace. If you have training gaps or need to shore up your safety program, the best time to get started was yesterday. Sign up for our Dallas aerial lift certification training today! Scissor lift certification Dallas ensures your firm is compliant in this vibrant Texas city. It has never been easier, more convenient or more affordable to receive your  Dallas scissor lift training in just one day!
If you're ready to enroll your equipment operators in Dallas aerial lift certification and scissor lift training, give our aerial lift certification experts a call at (602) 277-0615. CertifyMeOnline.net is the only training resource your company needs for OSHA-approved aerial lift training Dallas, as well as your scissor lift and aerial work platform training. To get started, contact CMO  now and your workplace can be OSHA-compliant today!