They say that everything in Texas is big, and Dallas is no exception. Dallas is the fourth largest metropolitan area in the United States, the sixth largest metropolitan economy, and it is ranked 14th in terms of GDP. For those with an aerial lift certification Dallas, you won't have a hard time landing and securing a stable job, one that is financially rewarding and always in demand.
Whether you want to work with aircraft at Dallas/Fort Worth International Airport, with trees in the areas just outside the city, or with the city of Dallas as a traffic control employee or maintenance professional, Dallas has a virtually unlimited amount of opportunities for workers with Dallas aerial lift certification.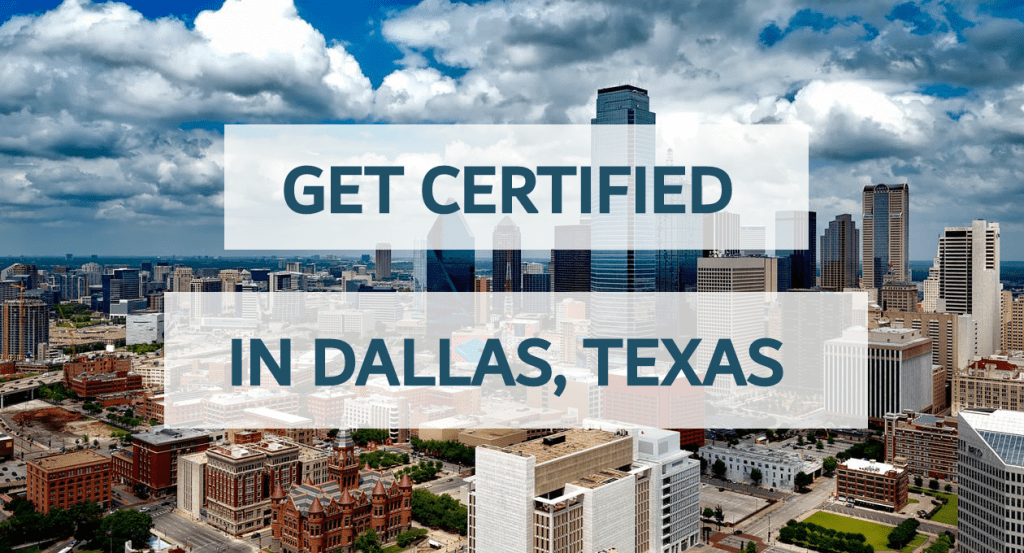 With CertifyMeOnline's Dallas aerial lift certification, you'll have the safety skills and OSHA training to perform in many different fields, including:
• Construction
• Engineering
• Maintenance
• Assembly
• Event planning
• Engineering inspection (bridges, towers, and other structures)
• And many more
Why is Dallas Aerial Lift Certification Important?
Aerial lift workers are always in demand in Dallas, to keep the city safe and continuously improving. They are used to work on utility lines, build and repair structures, and even clean airplanes. But one thing for certain with aerial lifts is, they can be dangerous.  There are deadly aerial lift accidents that occur every year on worksites, and the most common cause is operator error. This means that operators who weren't properly trained were involved in unsafe practices on the aerial lift, or simply unable to recognize present hazards. It's safe to say, if you want to operate aerial lifts or scissor lifts and protect your life, you will need to get aerial lift training and an official Dallas aerial lift certification. But that's not the only reason to look into aerial lift training.
Ask any foreman, supervisor or safety expert in Dallas about why an aerial lift worker should get OSHA compliant training, and you might get different answers:
– "I don't like being fined…without trained personnel, I'm opening up my company to fines, lawsuits, on the job injuries and more."
– "Trained workers are just better for business."
– "Aerial lift jobs require skill, poise under fire and smarts – with a trained worker, I know what I'm getting."
All great answers – but here's the real reason you should get aerial lift certification in Dallas: It's good for you and your career outlook.
Top companies and organizations are looking for workers with an aerial lift certification Dallas. This is because properly trained and certified workers are their best bet at keeping a safe workplace and reducing accidents. They also help to prevent devastating equipment damage, in addition to fines and legalities from OSHA. In short, if you want to be considered for the best aerial lift jobs in Dallas, including construction jobs in Dallas, you need your Dallas aerial lift certification.
What is it Like to Live in Dallas with Aerial Lift Certification?
Quantitatively speaking, the Quality of Life Index for Dallas is more than twice that of the Big Apple. This takes into account things like purchasing power, health care, CPI, safety, property price to income ratio, traffic commute time, and pollution. In terms of education, shopping and things to do, Dallas totally rocks as well.
The Consumer Price Index, excluding rent, as rated by Numbeo, is approximately three-quarters the CPI in New York City, while rents are less than half. Local purchasing power is 1.74, which means that if you have aerial lift training and live in Dallas you can afford a high quality of life. In numbered terms, if a New Yorker can afford to buy 100 beers, you can afford 174. Dallas aerial lift certification is looking pretty good.
Employment Opportunities for Aerial Lift Certification in Dallas
Dallas is leading the pack of the overall nationwide demand for new construction. Construction spending is at its highest within the last three years, and nonresidential projects are in high demand to keep big cities like Dallas running at their peak potential. And with construction jobs in Dallas, as well as manufacturing and warehouse jobs Dallas showing positive trends, there are great opportunities for aerial lift operators and aerial work platform (AWP) employees in the Dallas and Ft. Worth area. Employers will be searching for workers with up-to-date, OSHA-compliant certification to increase productivity, reduce costs, and lower the risk of injuries on their work site.
Dallas/Fort Worth International Airport is among the top ten in the world and is always looking for trained aerial lift operators. There is also the Dallas Love Field Airport. Where there are airports, there is air freight, meaning plenty of work for anyone in Dallas with aerial lift certification.
Other major Dallas aerial lift certification employers in Dallas include White Wave Foods, Standard Pacific Homes, and Gulfstream Aerospace, all of which are on the Indeed list of best places to work in Dallas.
Where to Get Aerial Lift Certified in Dallas
The best place to get aerial lift certified in Dallas, or anywhere else, is CertifyMeOnline.net, where we help small businesses and contractors certify their operators for just $75 per employee. In most cases, this can be accomplished in just one day. All you have to do is create an account, choose a training package, complete the lessons, take the final test, and you're done! You can immediately print your aerial lift certification Dallas and qualify for the best aerial lift jobs in Dallas!
The Different Types of Aerial Lift Certification
Our online Dallas aerial lift certification is approved by OSHA, and training can be completed online and in about one hour. Talk about easy! You don't have to take any time off work to complete training, nor do you have to spend your valuable off-days to complete education– aerial lift training in Dallas can be completed during a lunch hour at work, from any computer with internet access.
If you wish to advance your career in Dallas and increase your paycheck, be sure to check out our easy-to-complete, affordable courses available:
Aerial Lift and Scissor Lift – $75
Class 7 – $75
* Rough Terrain Forklift Trucks
* Straight Mast Forklift
* Extended Reach Forklift
If you're interested in becoming a trainer for those looking into their Dallas aerial and scissor lift certification, we also offer a Trainer Certification class:
Train the Trainer Certification – Aerial Lift/Scissor Lift – $110
All of our courses can be taken in Spanish, and will teach students exactly the same material for the same price.
Start Your Dallas Aerial Lift Certification Training Today!
With CMO's affordable and flexible training, you'll have all the aerial lift training needed to compete in the competitive Dallas job market. What's more, aerial lift certification in Dallas is one of the most portable assets you can own. If you ever leave the Dallas area or Texas for other aerial lift or scissor lift opportunities, your Dallas aerial lift certification travels with you! CMO's training is valid in all 50 states, and with our OSHA training program, you'll have the knowledge and safety awareness to perform at a high level (no pun intended), regardless of where you work!
Scissor lift certification in Dallas can open the door to so many opportunities. If you wish to become a valuable part of this thriving city in Texas, it has never been easier, more convenient, or more affordable to receive your scissor lift training in Dallas within a single day!
If you're ready to get your Dallas aerial lift certification today, please visit our pricing page, or give our aerial lift certification experts a call at (602) 277-0615. CMO is the only training resource you need for aerial lift training in Dallas, and we can also help with your scissor lift and aerial work platform OSHA training, too. Contact us today and see how a Dallas aerial lift certification makes all the difference!