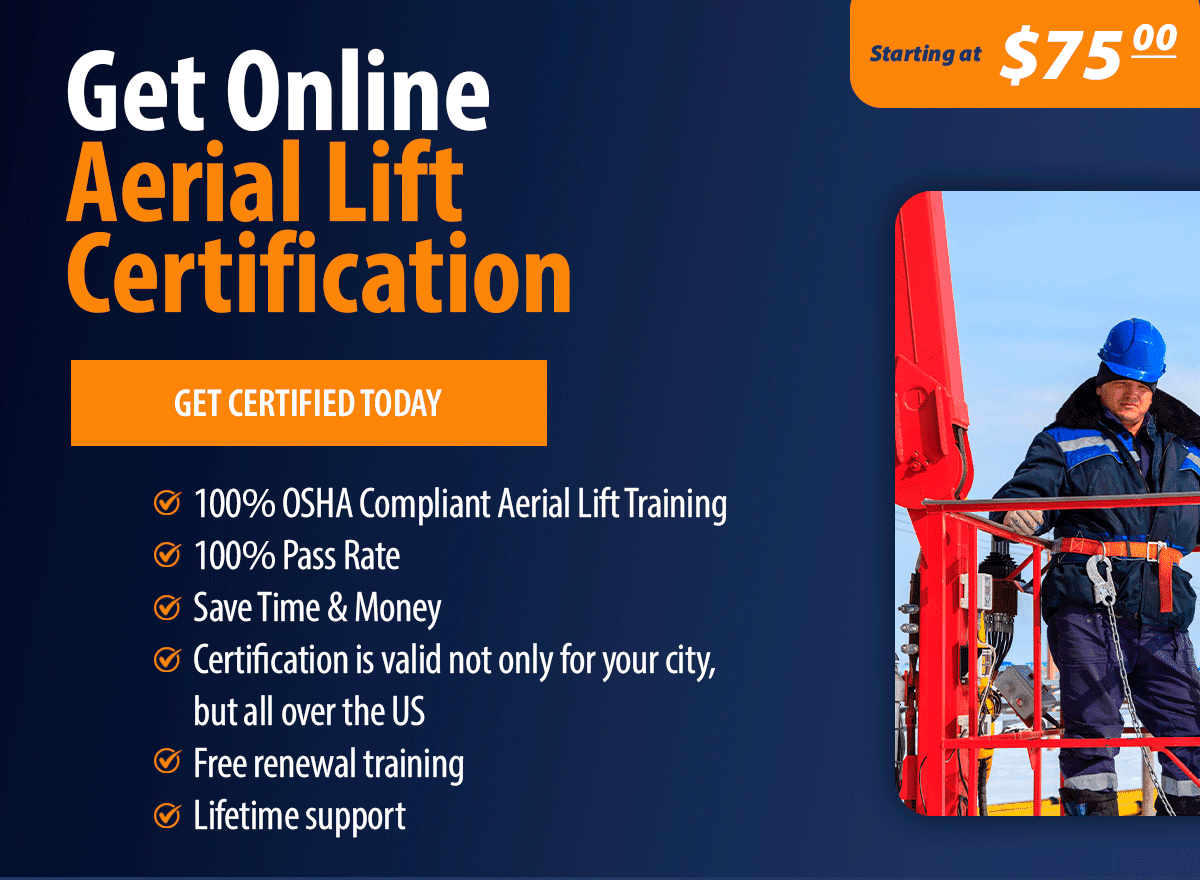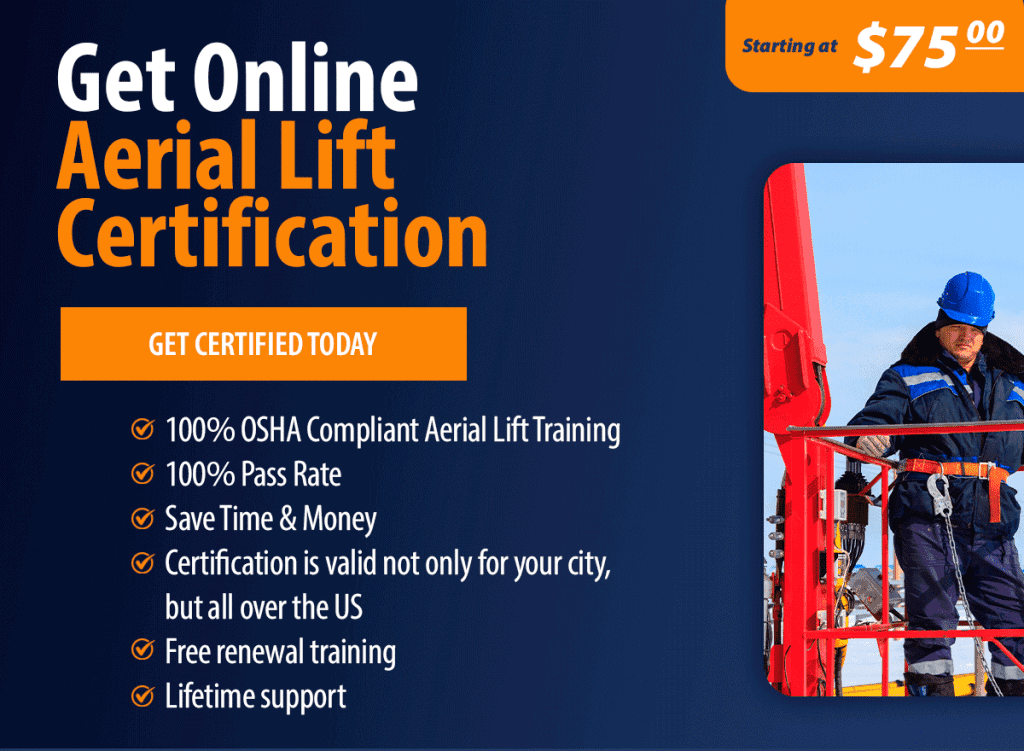 Thanks to CertifyMeOnline, getting your Dallas aerial lift certification is more convenient than ever. For just $75.00, you can start aerial lift certification training from anywhere with an internet connection. Once you finish training, you'll be ready to operate aerial lifts throughout Dallas and the Lone Star State, but throughout the rest of the country as well. Our online aerial lift certification courses make it easy to learn new skills from any place at any time. Getting certified has never been easier or quicker.
How Online CertifyMeOnline in Dallas Works
It's easy to get aerial lift certified in Dallas with CertifyMeOnline. Skip the expensive, time-consuming off-site training programs. Instead, get started by following these simple steps:
Sign Up

– Register your employees by creating an account on CertifyMeOnline.

Select Aerial Lift Course

– Choose the course that best applies to the type of aerial lift your operator will drive. Add to cart and then check out.

Complete Online Training

–  Your workers may complete training from any device at any time. Once they finish training, they'll need to take and pass an online skills test. There's no pressure to perform well the first time, as the test can be retaken as many times as necessary to earn a passing score.

On-Site Evaluation

– Choose an on-site employee of yours to conduct a hands-on evaluation. If you don't have someone in mind, our

train-the-trainer course

can teach your operators how to train and perform evaluations.

Print Your Operator Card

– After the final steps are complete, operators will be ready to drive aerial lifts in Dallas and throughout the rest of the countr yas well. They can print off their operator cards and certificates directly from our site for proof of certification.

Why Choose CertifyMeOnline for Dallas CertifyMeOnline
Each aerial lift operator in Dallas and the rest of the country must be properly trained to OSHA standards. Untrained, uncertified employees who operate aerial lifts may attract the attention of OSHA inspectors who are ready to levy expensive fines. Don't put your business or the lives of your workers at risk by allowing untrained workers to operate lifts.
Our handy online course for Dallas CertifyMeOnline comes with a number of perks: 
✓ 24/7 access to the curriculum – allows employees to learn at any time or place that's convenient. The courses can also be accessed from any device with an internet connection.
✓ Fast and Easy – The course only takes about an hour to complete, and the test at the end can be taken as many times as an employee needs until they pass.
✓ Certification Cards – Upon completion of the training, employees can print their certification cards that serve as proof of training and OSHA compliance.
✓ Free Renewals – We're the only company who gives free lifetime access to the training course. OSHA requires an evaluation of aerial lift drivers' performance every three years. If a refresher course is needed, with CertifyMeOnline there is no need to pay again. Use our course again every three years or whenever you need a refresher.
✓ Affordable – Not only do our courses start at $59.95, you'll save time and money by not having to send your operators to an off-site location for training.
These reasons all highlight why you should choose certifymeonline.net for your team. Even better, we offer a 100% money back guarantee for anyone who chooses our program and isn't completely satisfied.

Frequently Asked Questions About Certify Me Online in Dallas
Still confused about how to get aerial lift certified in Dallas? Allow us to further clarify by answering a few frequently asked questions:
Do I Need an Aerial Lift License in Dallas?
Yes, OSHA requires all operators train and certify before starting work. For more information, see the standards outlined in 29 CFR 1910.178(I)(1). 
Do I Need Experience to Earn My CertifyMeOnline in Dallas?
No experience is necessary to complete CertifyMeOnline training with CertifyMeOnline. 
Can I Register for Training, Or Does My Employer Need to Sign Me Up?
Employers are legally required to provide aerial lift certification in Dallas for their operators. Though you're welcome to register for yourself and pay the course fees out of pocket, you may want to wait to find an aerial lift job first and get certified through your employer.
Are OSHA Fines Really That Common?
OSHA inspectors can pop in at any time to assess safety standards in your facility. If they find violations, they may fine your business thousands of dollars. A Fort Worth construction company learned this lesson the hard way after being fined $118,000 for safety violations. Don't make their mistakes!

Get Certified in Dallas Today!
As a business owner, you can't afford the consequences of having untrained and uncertified workers operating lift equipment in your workplace. That's why you need aerial lift certification in Dallas! If there are training gaps you need to fill or you need to bring your safety program into compliance, the best time to get started is now, so sign up for our Dallas aerial lift certification training today! Scissor lift certification Dallas ensures your firm is OSHA compliant. It's never been easier, more convenient or more affordable to receive your same day Dallas scissor lift training!
Ready to enroll your equipment operators in Dallas aerial lift and scissor lift certification training? Contact us online or give our aerial lift certification experts a call at (602) 277-0615 to get started. CertifyMeOnline.net is the only resource you need for OSHA-approved aerial lift training in Dallas.