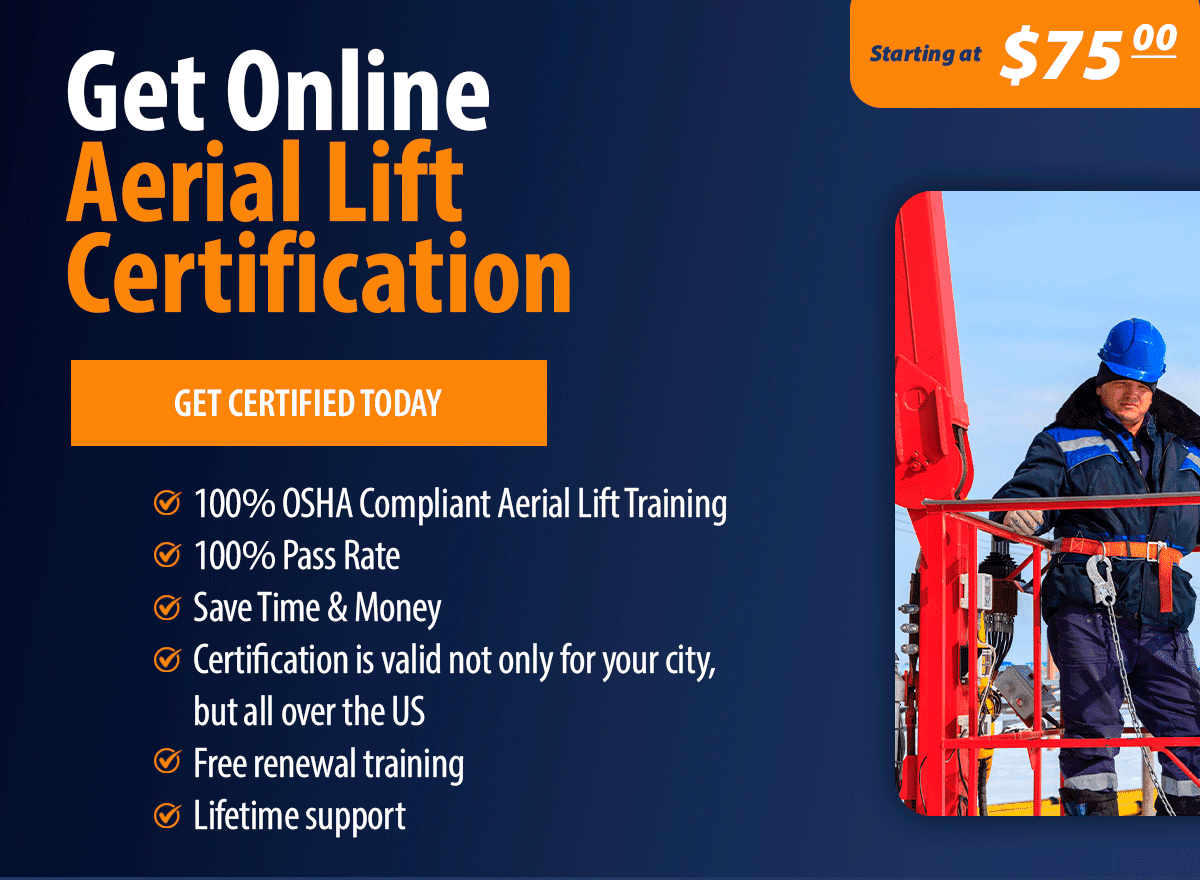 CertifyMeOnline offers the most convenient and affordable way to learn how to operate aerial lifts in Los Angeles. For just $75.00, you can begin training to operate aerial lifts in Los Angeles and the rest of the Golden State, as well as across the country. Our online Los Angeles aerial lift certification courses make it easy to train from any place at any time. Getting certified with CertifyMeOnline is convenient, fast, and simple.

How Online Aerial Lift Certification in Los Angeles Works
It's easy to get aerial lift certified in Los Angeles thanks to CertifyMeOnline.net. Instead of sending employees off-site for expensive and time-consuming training programs, you can bring training in-house at a fraction of the cost. Simply follow these steps to certification:
Sign Up – Employers can sign up each operator by creating an account. their workers up with CertifyMeOnline by creating an account.
Select an Aerial Lift Course – CertifyMeOnline offers a wide range of courses that reflect the various types of aerial lifts. Simply choose the course the best applies and then check out.
Complete Online Training – Learners can complete training at their own pace, in their own time, from any device connected to the internet. Once complete, they will need to take and pass an online exam to demonstrate what they've learned. There's no pressure, as the test can be taken as many times as necessary to earn a passing score.
On-Site Evaluation – A hands-on evaluation must be performed by an on-site employee of yours. Don't have an operator trained to perform such evaluations? Our Train the Trainer course teaches operators how to train others and give this evaluation, complete with a checklist.
Print Your Operator Card – Upon completion of the final exams, operators will be certified to use aerial lifts in Los Angeles and throughout the rest of the country. Simply print off each operator card as proof of certification.

Why Choose CertifyMeOnline for Los Angeles Aerial Lift Certification
Each aerial lift operator in Los Angeles and throughout the United States must be trained in accordance with OSHA standards. Untrained, uncertified workers may attract the attention of OSHA, which may levy expensive fines and penalties. Don't put your business or the safety of your employees at risk. 
Our convenient online course for Los Angeles aerial lift certification comes with a number of perks:
✓ 24/7 Access – This enables learners to work through the content at any time or place that's convenient for them. The courses are accessible from any device with an internet connection.
✓ Quick and Easy – The material typically takes about an hour to complete, and the exam at the end may be taken as many times as necessary to earn a passing score.
✓ Certification Cards – Once training is complete, workers can print off proof of training and OSHA compliance immediately.
✓ Free Renewals – CertifyMeOnline is the only company that offers free lifetime access to our training materials. Since OSHA requires workers to recertify every three years, this means a significant savings over the decades.
✓ Affordable – Starting at just $59.95, our courses are a fantastic value. You'll also save time and money by not needing to send operators off-site for training.
Traditional aerial lift training classes just don't measure up to our standards. Since all our courses come with a 100 percent money-back guarantee, there's no risk in giving us a try.
Frequently Asked Questions About Certify Me Online in Los Angeles
Still curious about how to get aerial lift certified in Los Angeles? Allow us to further clarify by answering a few frequently asked questions:
Do I Need an Aerial Lift License in Los Angeles?
Yes, all aerial lift operators must be trained and evaluated in accordance with standards outlined in 29 CFR 1910.178(I)(1). 
Do I Need Experience to Earn My CertifyMeOnline in Los Angeles?
No experience is necessary to complete aerial lift training with CertifyMeOnline. 
Can I Register for Training, Or Does My Employer Need to Sign Me Up?
OSHA requires employers to provide aerial lift training for their workers. While individuals may sign up for CertifyMeOnline in Los Angeles independently, it may make more sense to find an aerial lift job and get certified through your new employer.
Is it Possible to Die by Electrocution in Aerial Lifts?
Yes. An incident in South Los Angeles highlights the risks associated with aerial lifts and electricity. While there is always some degree of danger associated with this kind of work, many of the biggest risks can be mitigated with proper training and certification.

Get Certified in Los Angeles Today!
Register today to begin your fast, easy and convenient online training with the best aerial lift school in Los Angeles! After you complete your training, you'll be able to keep your certification current with our free lifetime 3-year renewal classes! There's no reason to put off starting your new career in Los Angeles as a well-trained, certified and highly qualified aerial lift operator.
All Los Angeles aerial lift certification courses are 100% OSHA compliant and include lifetime free renewal training as required by OSHA every three years. Most of our training programs can be completed online in about an hour, and many are available in both English and Spanish versions. With bilingual capability, no other aerial lift certification in Los Angeles can touch CertifyMeOnline.net.
Have questions or need more information about our aerial lift certification in Los Angeles? Contact us online or call us at (602) 277-0615 – we're here to help you get started on the road to an exciting and rewarding new career!