Easy Online OSHA Compliant Aerial Lift Certification in Los Angeles.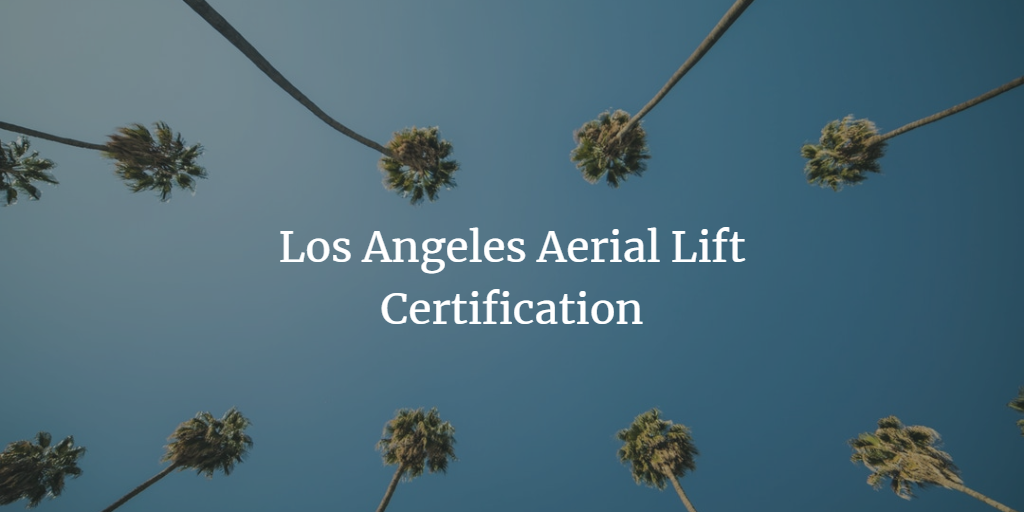 The greater Los Angeles/Long Beach area is home to an estimated 18.7 million people. With more than four million residents, Los Angeles is second only to New York City in terms of U.S. population Many Fortune 500 companies make this area their headquarters while hotels, theaters, and other entertainment venues require aerial lift operators to keep up the structures in this city. Managers must find certified aerial lift operators for the job. CertifyMeOnline.net provides online courses for aerial lift certification in Los Angeles, so companies can maintain OSHA compliance and provide a safe working environment.
Our courses provide:
? Free lifetime renewals
? Affordable prices on courses
? 24-hour support
? 100% compliance with OSHA
? And much more
When you use CertifyMeOnline.net for your aerial lift certification in Los Angeles, you can rest assured that we have you covered for the latest OSHA regulations.
– Los Angeles Aerial Lift Certification Courses
CMO provides the following aerial lift certification in Los Angeles:
– Train the Trainer Certification
Our Train the Trainer certification teaches evaluators how to conduct an evaluation for workers on aerial lift operation. Cost is $149.
Aerial Lift and Scissor Lift – Los Angeles Aerial Lift Certification – this course teaches workers how to operate an aerial and scissor lift and is also offered in Spanish for the same cost at $75.
– Class 7 Los Angeles Aerial Lift Certification –

$75
This course teaches workers about the straight mast forklift, rough terrain forklift trucks, and extended reach forklifts.
– Class 7 – Spanish Los Angeles Aerial Lift Certification –

$75
This course is conducted in Spanish on training of extended reach forklifts, straight mast forklifts, and rough terrain forklift trucks.
Workers learn to recognize safety risks in the workplace and ways to minimize them.
Fall Protection Spanish – $75

A Growing Need for Aerial Lift Training in Los Angeles
The Los Angeles metropolitan area is served by five major airports, which are LA International, Long Beach Airport, Bob Hope/Burbank Airport and John Wayne Airport in Orange County, all of which need trained and certified aerial lift operators. The huge Port of Los Angeles in San Pedro occupies 4,300 acres of land, has a 3,200-acre harbor and 43 miles of waterfront. The Port of Los Angeles moves more containers than any other U.S. port. The second busiest is the immediately adjacent Port of Long Beach. Both Ports have lots of need for people who have completed OSHA-approved Los Angeles aerial lift operator training and certification.
Top Reasons to Get Certified with CertifyMeOnline.net
CMO offers many reasons to choose our certification programs.
? Online access
No special equipment is necessary, just a secure internet connection, and your workers can get certified from anywhere.
? Fast certification
It takes just about an hour to complete the course, but your workers can take as long as they need and study whenever they want.
? Free renewal certification
When it's time for your workers to get their certification renewed, CMO makes it easy at no extra cost.
? 100% OSHA Compliant
CMO stays up to date on any changes OSHA makes in regulations for aerial lifts.
Don't Put Off Your Los Angeles Aerial Lift Certification Any Longer!
Register today to begin your fast, easy and convenient online training with the best aerial lift school in Los Angeles! After you complete your training, you'll be able to keep your certification current with our free lifetime 3-year renewal classes! There's no reason to put off starting your new career in Los Angeles as a well-trained, certified and highly qualified aerial lift operator.
All Los Angeles aerial lift certification courses are 100% OSHA compliant and include lifetime free renewal training as required by OSHA every three years. Most of our training programs can be completed online in about an hour, and many are available in both English and Spanish versions. With bilingual capability, no other aerial lift certification in Los Angeles can touch CertifyMeOnline.net.
Have questions or need more information about our aerial lift certification in Los Angeles? Contact us online or call us at (602) 277-0615 – we're here to help you get started on the road to an exciting and rewarding new career!