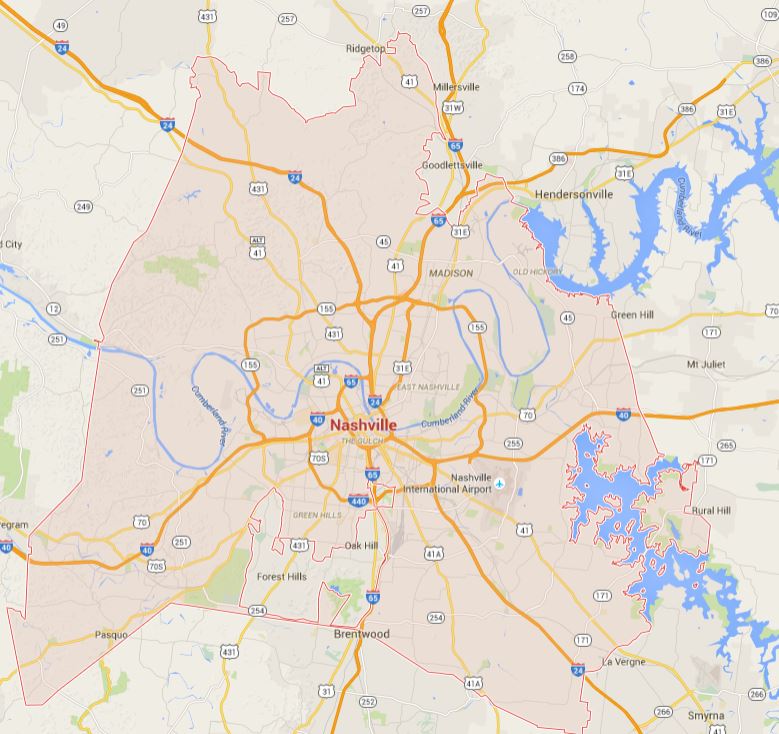 Nashville is more than the just the home of Country Music – it's also a vibrant business and manufacturing center.
The economy of Nashville, Tennessee is one of the most diversified and fastest-growing economies in the United States. In fact, Nashville ranks third highest in the US for gross metropolitan product, or GMP, and is 25th overall for job opportunities. These are two of the reasons Nashville has a huge range of career opportunities available for those workers with a background and experience in a special trade or skill. One career category that continues to experience high demand and growth is OSHA-certified aerial and scissor lift operators. One of the top employers of aerial lift operators in the Nashville area is warehouse operations. Those workers with a Nashville aerial lift certification consistently make more money and have more employment opportunities than their peers without certifications.
Aerial and Scissor Lift Certification in Nashville
One reason that Nashville's GMP has grown so quickly is its diverse economy, which includes the automotive industry. General Motors, Volkswagen and Nissan all have manufacturing facilities in Tennessee. Nashville is also home to more than 900 auto parts suppliers, including many well-known brands such as Bridgestone and Hankook tires, Denso Manufacturing and Yorozu Automotive. Business Facilities  magazine has named Tennessee as the leading state in auto manufacturing five out of the last eight years, due largely to the area's highly trained workforce. Adding to Tennessee's remarkable growth rate and booming economy is the fact that it has the second lowest tax burden in the nation.
Skilled workers, including aerial work platform (AWP)  are in high demand in Nashville, because strict industry standards and OSHA safety requirements all demand aerial and scissor lift training and certification. Potential employees with the right credentials, like CertifyMeOnline.net's  Nashville aerial lift training and certification programs are essential for reducing the risk of liability associated with workplace injuries in any business where lifts are used. Proper training and certification  also helps  maximize productivity and profits.
Why Do I Need an Aerial and Scissor Lift Certification in Nashville?
Working with heavy equipment such as aerial lifts, scissor lifts and other AWPs can be very dangerous, especially in the hands of operators who lack proper, OSHA-approved training. In Nashville and other major urban areas, only authorized and properly trained workers are allowed to operate aerial or scissor lifts because of the risks from hazards such as structural failures, ejections from lift platforms, falls and line entanglements. Improper or unauthorized operation of aerial and scissor lifts is not just physically dangerous; it can also expose companies to legal actions and OSHA violations that can lead to heavy fines, imprisonment or both. Nashville aerial lift and scissor lift training and the certifications that come with them will prove to prospective employers that you have the needed skills and experience to safely operate aerial and scissor lifts, assess risks, and properly handle tasks associated with the equipment.
Aerial and Scissor Lift Jobs in Nashville
There are many excellent, high paying aerial lift and scissor lift operator jobs available in the Nashville area. Some of the major employers such as UPS, Amazon.com, Nissan and General Motors are always looking for people qualified to operate aerial lifts, scissor lifts or both. There are also lots of other growing businesses and industries in the greater Nashville area that are always looking for operators who have received their Nashville aerial lift and scissor lift certifications. That's one of the many reasons a career as a professional aerial or scissor lift operator is so well-paid, stable and satisfying.
Nashville Aerial Lift Certification Requirements
If you've made the decision to become a certified aerial or scissor lift operator and take advantage of the booming Nashville economy, you can start the training to receive your aerial lift certification right away. There's no reason to put it off. If you can show a prospective employer that you're pre-certified to operate AWPs and similar equipment, you'll go the head of the line of applicants for the job.
OSHA requires all employers to provide workers with a safe work environment free from potential hazards that can cause injuries. That includes making sure all aerial lift and scissor lift operators are properly trained and certified. OSHA cracks down hard on workplaces that allow untrained employees to operate equipment such as aerial lifts. If you're already employed as an aerial or scissor lift operator but not certified, bring the information in this article to your boss. and let him or her know that they can become OSHA compliant and avoid fines by having all operators trained and certified through CertifyMeOnline's Aerial Lift Training & Certification program. They'll only have to pay a one-time fee of $75 to train and certify each operator, and that includes free lifetime renewals for the recertifications OSHA requires every three years. At a one- time cost of only $75 per employee for aerial lift and scissor lift training and certification, it's absolutely a no-brainer decision for your employer!
How Can I get My Aerial and Scissor Lift Certification?
It's easy. You'll receive instruction that's affordable and comprehensive when you choose CertifyMeOnline.net for your aerial lift  and scissor lift certification. After you've completed your courses and passed the skills evaluation, you'll receive your valid, OSHA-compliant aerial lift certification and scissor lift certification in Nashville.
All it takes are a few easy steps once you tell your employer you'd like to complete your Nashville aerial lift certification. It's as simple as this:
– Your boss will register the company where you work
– You create your own log-in profile and sign in to the training account
– Work through each module of the training at your own pace from any device wherever there is an internet connection
– Pass the written test and receive an in-person evaluation led by a qualified Trainer
– Immediately print your operator card and certification upon completion – that's all there is to it!
Choose CertifyMeOnline.net for Top Quality Nashville Aerial Lift Certification!
It takes employers just a few minutes to register their company and employees. Once this is done, you can complete the online training in as little as one hour! Learn everything you need to know about operating aerial lifts safely and be 100% OSHA compliant
This kind of education offers you choices that are flexible enough to let you work around your existing schedule. Start to explore the many options that are available to you. Your new career path is waiting!