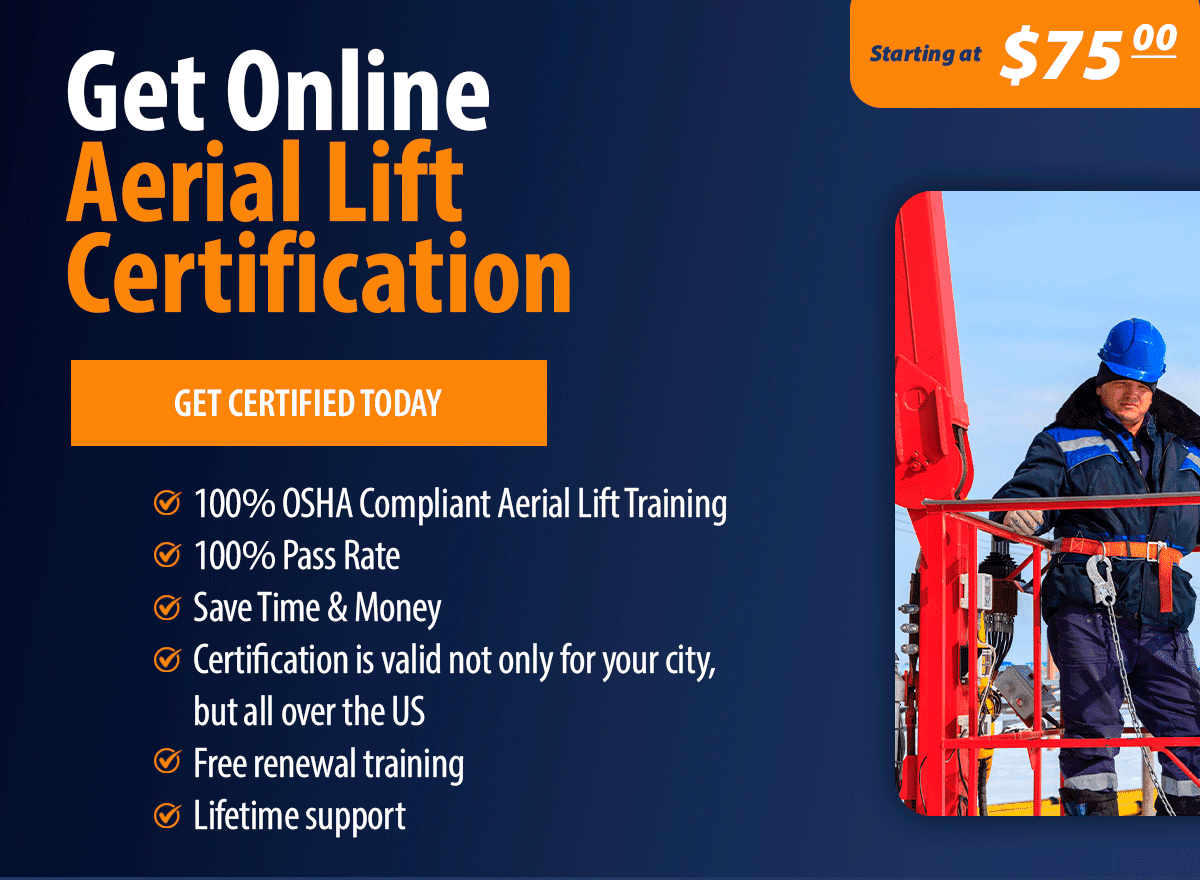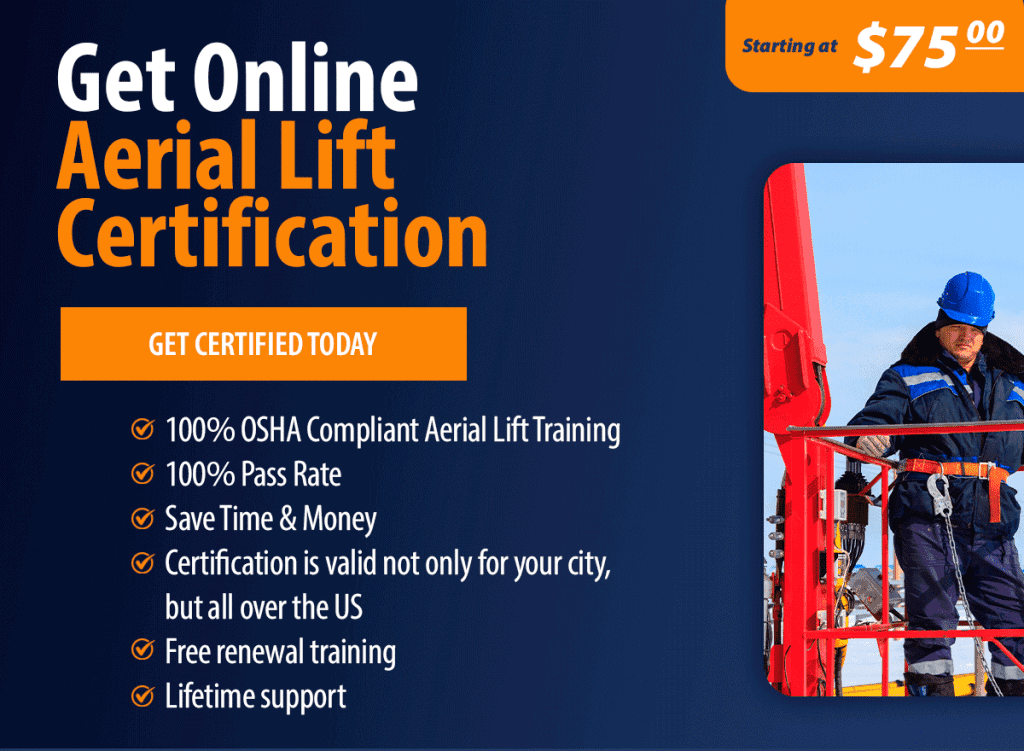 The internet has forever changed the way we train for work. In-person aerial lift certification is no longer necessary. Nashville aerial lift certification can now be pursued online.
CertifyMeOnline features convenient training solutions for organizations of all sizes and industries. Our online training program allows you to get certified to operate aerial lifts throughout Tennessee and the rest of the nation. Training options include:
Train the Trainer
Hoping to invest in your organization's culture of safety? Designate employees to become trainers for just $149. The course will teach them how to train colleagues and foster the strongest in-house safety program possible.
Aerial Lift Training
The convenience of online aerial lift training can't be understated. In about an hour, trainees can learn how to operate lifts, prevent accidents, and abide by safety best practices. At just $75, the value is undeniable. 
Scissor Lift Training
Scissor lift operators can get trained and certified online, too. They'll learn scissor lift operation fundamentals and learn how to maintain them for your organization. This online scissor lift training course is an excellent investment in safety, priced at $75.
Class 7 Aerial Lift Training
Class 7 aerial lift training covers everything, from rough terrain forklift trucks to straight mast lifts and extended reach forklifts. Safe, effective operation of these vehicles comes down to quality training.
Fall Protection Training
Fall Protection Training is one of the best investments you can make in workplace safety. Employees will learn to prevent accidents and keep in line with OSHA requirements. Knowledge can go a long way to creating a safe work environment.
How Online Aerial Lift Certification in Nashville Works
Skip the expensive, time-consuming classroom training sessions and get certified online instead. CMO courses allow trainees to access content from anywhere and complete the class at their own pace. This makes it easy to train on the go. Aerial lift training in Nashville is simple – follow these steps, and you'll be certified in no time:
Register Trainees:

Managers should sign up any employees who need aerial lift training and certification.

Choose Courses:

Select from a wide range of options.

Finish Online Training:

Most people finish the content in about an hour.

Pass the Online Exam:

Trainees may take the test as often as needed to earn a passing score.

Undergo a Hands-On Evaluation:

An on-site employee of yours must oversee a hands-on evaluation for trainees. Don't have anyone in mind for the job? Our

Train the Trainer course

is the best way to teach an employee to oversee all future training.

Print Proof of Training:

After completing the prior steps, certification cards will be ready to be printed.
Once training is complete and the written and hands-on evaluations are passed, operators will be officially recognized as fully trained and certified to OSHA standards.

Why Choose CMO for Nashville Aerial Lift Certification
Pursuing your Nashville aerial lift certification online lets you learn much about common workplace hazards. Employing certified operators will significantly reduce the risk of workplace accidents. Quality training also helps your organization comply with OSHA regulations, preventing costly fines. Discover other reasons to train with FLC below:
✓

24/7 Online Access:

Learn whenever and wherever is most convenient.
✓

Fast and Easy:

Most trainees complete the course in about an hour.
✓

Immediate Proof of Certification:

You can print off certification cards  as soon as training is complete. 
✓

Free Renewals:

Aerial lift operators are required to recertify every three years to stay OSHA compliant. CMO members enjoy a lifetime of free renewal training.
✓

Incredible Value:

Our courses are competitively priced and are typically just a fraction of what classroom training costs.
Our courses come with a 100 percent money-back guarantee. 

Frequently Asked Questions About Certify Me Online in Nashville
Still feeling uncertain about how to get aerial lift certified in Nashville? Allow us to address some frequently asked questions:
Do I Need to be Aerial Lift Certified to Work in Nashville?
Yes, all aerial lift operators must be certified before using these machines.
Do I Need Experience to Start Training?
No experience is necessary for Nashville aerial lift certification training.
Are Aerial Lifts Really That Dangerous?
They can be very dangerous, especially in the hands of untrained operators. Fatal accidents in Tennessee highlight the risks involved with using such technology.

Sign Up for Nashville Aerial Lift Certification Training Now
Still wondering how to get aerial lift certification in Nashville? Allow the CMO team to guide you through every step of the process. CMO's aerial lift certification in Nashville offers you choices that are flexible enough to let your employees complete the training working around their own schedule and at their own pace. 
Start exploring the many training options that are available to you as an employer. If you have questions about CertifyMeOnline.net's Nashville aerial lift certification and training program, call us at 602-277-0615 to speak with one of our knowledgeable OSHA experts, or you can contact us online. At CMO, we're always available to give you the help your company and aerial lift operators need to become OSHA compliant.