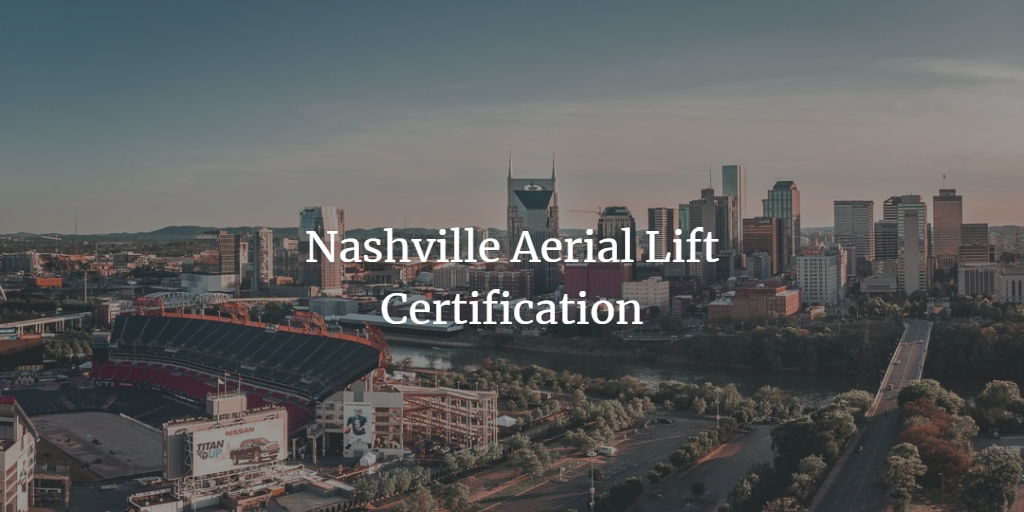 Nashville, which is sometimes also called "Music City USA"  is much more than the just the home of Country Music – it's also a vibrant business and manufacturing center.
The economy of Nashville, Tennessee is one of the most diversified and fastest-growing economies in the United States. In fact, Nashville ranks third highest in the US for gross metropolitan product or GMP, and it's also ranked 25th overall for job opportunities. Warehouse operations are one of the city's largest employers, which opens up lots of opportunities for aerial lift and forklift operators who have completed OSHA-approved aerial lift certification Nashville training.

Nashville Aerial Lift Certification Training
Nashville, which is one of the most business-friendly cities in the United States, has a thriving commercial district.  Add to that the fact that Tennessee has one of the lowest tax burdens in the country, you'll understand why the city continues to attract well-known businesses of all types and sizes. This economic growth has created a shortage of skilled workers, including qualified aerial work platform operators, which has resulted in huge demand and competition among area businesses for their services.
To gain an advantage over your competitors, it makes good business sense for you as an employer to consider setting up a program that allows you to hire new operators and have them immediately trained and certified in house. By doing this, you'll attract the very best talent and create a safer, more productive working environment. Nashville aerial lift certification training programs are essential for reducing the risk of liability associated with workplace injuries in any business where lift equipment is used. Proper training and certification also help maximize productivity and profits. By enrolling one or more of your workers in CertifyMeOnline.net's Train A Trainer program, your business can have its own fully qualified in-house trainer in virtually no time at all!
Why Nashville Aerial Lift Certification Training is Important For Employers
If you're a business owner in the Nashville area who hires aerial lift or scissor lift operators, it's important to verify that they have completed proper aerial lift or scissor lift operator training before bringing them on board, since it's an OSHA requirement. If you currently have operators on the payroll who haven't been trained and certified, CertifyMeOnline.net provides the fastest, easiest and most affordable means of having them properly trained and certified to operate aerial lifts and scissor lifts, which will bring your business into compliance with OSHA regulations.
Under the law, all employers are required to comply with OSHA regulations pertaining to workplace safety, which includes providing your employees with a workplace that's free of potential hazards that could result in serious bodily injury or death. This also includes the responsibility for seeing that your workers who operate aerial lift equipment, even if only infrequently, receive proper aerial lift certification Nashville training. With CertifyMeOnline.net's help, your workplace can become totally OSHA compliant as soon as today!. Once they've completed CMO's online training, you and your employees will enjoy a safer and more productive workplace.
Why You Need Scissor Lift and Aerial Lift Certification  Nashville
Working with heavy equipment such as aerial lifts, scissor lifts and other AWPs can be very dangerous, especially in the hands of an operator who hasn't received  OSHA-approved Nashville aerial lift certification training. In Nashville as in other areas throughout the state of Tennessee, only those workers who have been properly trained and certified are allowed to operate aerial or scissor lifts in the workplace or at construction sites. This is due to the inherent risk of injuries from hazards such as structural failures, ejections from lift platforms, falls and line entanglements that normally are a result of operator error.
Improper or unauthorized operation of aerial and scissor lifts is more than just physically dangerous; it can also expose companies to legal actions and OSHA violations that can lead to heavy fines, imprisonment or both.
Nashville aerial lift and scissor lift training and the certifications that come with them will give your equipment operators the needed skills and experience to safely operate aerial and scissor lifts, assess potential risks, and properly handle tasks associated with operating the equipment. Enroll your employees in CMO's aerial lift certification training today. For a one-time fee of just $75 to train and certify each of your AWP operators, which also includes free lifetime renewals for the retraining and recertifications OSHA requires every three years. It's absolutely a no-brainer decision, so there's no reason to put it off any longer.
How Do I Go About Getting My Employees Scissor Lift and Aerial Lift Certification Nashville?
It's really very easy. When you choose CertifyMeOnline.net for your equipment operators' aerial lift and scissor lift certification training, your employees will receive top quality instruction that's affordable and comprehensive. After your workers complete their courses and pass a "hands-on" skills evaluation, they'll receive valid, OSHA-compliant Nashville aerial lift certification and scissor lift certification.  All it takes are a few easy steps just once to complete aerial lift certification in Nashville. It's as simple as this:
1. Register your company (it only takes a couple of minutes).
2. Employees create their own log-in profile and sign in to the training account.
3. Have your employees work through each of the training modules at their own pace using a digital device wherever there is an internet connection. There are no time limits for finishing the instruction. Aerial lift training Nashville has never been easier!
4. The next crucial steps toward completing our Nashville aerial lift certification program is to pass the written test and receive an in-person equipment operating evaluation led by a qualified Trainer.
5. Once they've completed the written test and passed the hands-on evaluation, employees can immediately download and print your operator card and certification – that's all there is to it!

Why CertifyMeOnline.net is Your Best Choice for Top Quality Nashville Aerial Lift Certification
It takes employers just a few minutes to register their company and aerial lift operators. After you've done this, your employees can complete their aerial lift training Nashville in as little as one hour! They will have learned everything they need to know about operating aerial lifts safely and be 100% OSHA compliant, and nothing less than 100% compliance will stand up in the event of a workplace accident or injury. With CertifyMeOnline.net's online training and certification, the chances of a serious workplace incident will be drastically reduced!
CMO's aerial lift certification in Nashville offers you choices that are flexible enough to let your employees complete the training working around their own schedule and at their own pace. Start exploring the many training options that are available to you as an employer. If you have questions about CertifyMeOnline.net's Nashville aerial lift certification training program, call us at 602-277-0615 to speak with one of our knowledgeable OSHA experts, or you can contact us online. At CMO, we're always available to give you the help your company and aerial lift operators need to become OSHA compliant.