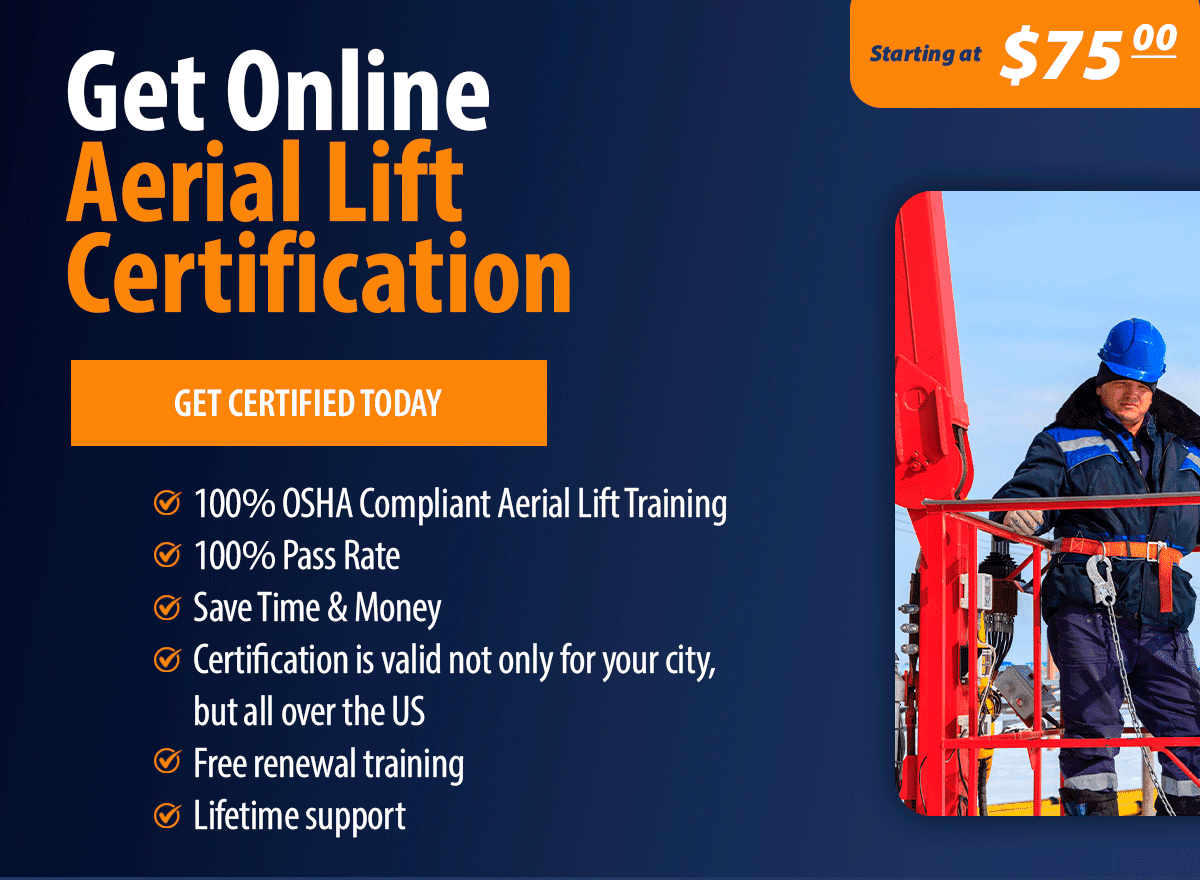 CertifyMeonline offers the easiest and most convenient way to earn your aerial lift license. New York City aerial lift training allows you to train from anywhere at any time, so long as you have an internet connectin. Once you finish training, you'll be ready to operate lifts in New York, throughout the rest of the state, and across the entire country. Our online courses make it simple to learn new skills and get in compliance with OSHA. If quick, easy, and convenient training is the goal, CertifyMeOnline is the only choice.
How Online Aerial Lift Certification in New York Works
It's easy to get employees aerial lift certified online in New York City. Instead of outsourcing training and sending operators off-site for time-consuming, expensive learning experiences, you can bring the process in-house. Follow these simple steps to get started:
Sign Up – Register your employees on CertifyMeOnline by creating an account.
Select the Aerial Lift Course – CertifyMeOnline offers a range of different aerial lift courses for your team. Simply select the most applicable class and then check out.
Undergo Online Training – Employees may undergo training at their own pace, on their own time, from any device connected to the internet. Once they're finished, they need to take and pass an online skills test to show what they've learned. There's no pressure, since they can take the exam as many times as necessary to earn a passing score.
On-Site Evaluation – Select an on-site employee of your to provide a hands-on skills evaluation. If you don't have someone trained to perform these evaluations, our train-the-trainer course can teach your employee to train others and perform this evaluation.
Print Your Operator Card – After final steps are complete, operators will be certified to drive aerial lifts in New York City and across the country. Simply print off their operator cards as proof of certification.

Why Choose CertifyMeOnline for New York Aerial Lift Certification
Aerial lift operators in New York City and throughout the United States must be trained in accordance with OSHA standards. If you have untrained, uncertified workers operating aerial lifts, your organization may be heavily fined by OSHA. Don't put the safety of your workers or the future of your business at risk. Instead, have employees train with New York City CertifyMeOnline. Our convenient online course comes with a number of benefits:
✓ 24/7 Access – This enables learners to work through the content at any time or place that's convenient for them. The courses are accessible from any device with an internet connection.
✓ Quick and Easy – The material typically takes about an hour to complete, and the exam at the end may be taken as many times as necessary to earn a passing score.
✓ Certification Cards – Once training is complete, workers can print off proof of training and OSHA compliance immediately.
✓ Free Renewals – CertifyMeOnline is the only company that offers free lifetime access to our training materials. Since OSHA requires workers to recertify every three years, this means a significant savings over the decades.
✓ Affordable – Starting at just $59.95, our courses are a fantastic value. You'll also save time and money by not needing to send operators off-site for training.
The standard aerial lift training classes can't measure up to CertifyMeOnline.  Keep in mind that all our courses come with a 100 percent money back guarantee if you aren't totally satisfied.


Frequently Asked Questions About Aerial Lift Certification in New York City
Still wondering how to get aerial lift certified in New York City? Allow us to shed a little more light on some frequently asked questions:
Do I Need an Aerial Lift License in New York City?
Absolutely. All aerial lift operators in the United States must be trained and assessed in accordance with standard 29 CFR 1910.178(I)(1).
Do I Need Experience to Earn My Aerial Lift Certification in New York City?
No experience is necessary to complete aerial lift training with CertifyMeOnline.
Can I Register for Training, Or Does My Employer Need to Sign Me Up?
OSHA requires employers to provide aerial lift certification in New York Cityfor their workers. While nothing is stopping you from training independently, it may be better to find an aerial lift job first and have your new employer pay for training.
Is Aerial Lift Training Really Necessary?
While you might think of aerial lift training as unnecessary, the reality is that accidents happen around the city constantly. Proper training can help workers avoid workplace incidents and injuries.
How Much Can You Be Fined for an Incident?
A single fine in this incident resulted in almost $80,000 and totaling over $135,000 to one company.

Get Your Workers Certified with New York City Aerial Lift Certification Today!
CMO training is ideal for businesses of all sizes, and especially small businesses with limited time and resources. You don't need to spend a lot of money sending your workers to an expensive offsite training program. – our New York City aerial lift certification training costs only $75 per student, payable online by credit card. What's more, with CMO the 3-year renewal training required by OSHA is free for life.
For more information on our New York City aerial lift operator certification training, contact us online or call us at (602) 277-0615 to speak with a CMO team member. We're here to help you get started on the road to fewer accidents, a safer, more productive workforce, and compliance with OSHA's New York City aerial lift worker regulations. Check out our Aerial Lift Certification, Train the Trainer, and Fall Protection for your company.