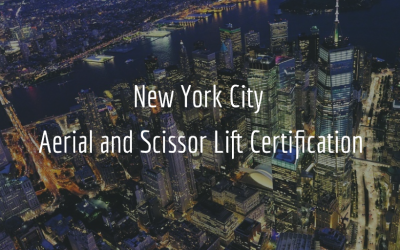 Have Your Workers Complete Our Online Aerial Lift Certification in About an Hour
Just about the only place left to build in New York City is up, which requires a well-trained workforce of aerial lift operators for hotels, office buildings, and other structures. CertifyMeOnline.net (CMO) makes it fast, easy and affordable to certify employees already on your payroll, which means you won't have to look elsewhere to find qualified lift operators for your business. OSHA requires anyone operating a scissor or aerial lift to be properly trained and certified. Employers that fail to comply with this mandate risk incurring severe penalties and costly fines, as well as increases in workers' comp costs and expensive lawsuits.
Our courses provide:
✓ Free renewal training
✓ Affordable pricing
✓ Lifetime support
✓ 100% OSHA compliant
✓ And much more
When you choose CertifyMeOnline.net, your company receives the resources necessary to achieve 100% OSHA compliance for aerial lift certification in New York City.

New York City Aerial Lift Certification Courses
CMO provides the following aerial lift certification in New York City:
Train the Trainer Certification
Our Train the Trainer Certification educates management on OSHA regulations and ensures supervisors and managers know Best Practices and have the ability to conduct evaluations of students completing the certification program for operating an aerial lift. The cost is $149.
Aerial Lift and Scissor Lift
New York City Aerial Lift Certification – this course is also offered in Spanish for the same cost at $75.
Class 7 New York City Aerial Lift Certification
This course includes straight mast forklift, rough terrain forklift trucks, and extended reach forklift training. $75
Class 7 – Spanish New York City Aerial Lift Certification
This course also includes extended reach forklifts, straight mast forklifts, and rough terrain forklift trucks. $75
Fall Protection 
In our Fall Protection course, workers learn to recognize safety risks and how to minimize those risks. $75
Fall Protection Spanish – $75
Why Aerial Lift Certification is Necessary in New York City
It's simple. CMO's New York City scissor lift training and aerial lift certification programs were created with you and your workers in mind. We understand the importance of employers and lift workers adhering to OSHA standards, but we don't want learning to be a burden on your employees or your business. That's why we've designed our New York City aerial lift certification courses to be fast, convenient and affordable.
Best Reasons to Choose CertifyMeOnline.net for your Aerial Lift Certification in New York City
Properly trained and certified lift operators are essential for providing a safe working environment for your employees, and workplace safety in New York City begins with aerial lift certification from CertifyMeOnline.net. When you choose CMO to train your drivers, you've chosen the best aerial lift worker training in NYC available. Here are some of the many reasons why our certification programs just can't be beat:
CMO online aerial lift training is fast:
All course materials are available online 24/7, and can be accessed with a digital device such as a smartphone or tablet anywhere there's an internet connection. Some students, however, complete our New York City aerial lift training in about an hour. Since there are no time constraints, your employees are welcome to work at their own pace.
Our pass rate is 100%:
Most students pass the exam the first time it's taken, but the course can be repeated as many times as necessary. The exam is open book, so students can refer to the training materials if they're unsure of an answer.
CMO training is 100% OSHA compliant:
After your operators complete our NYC aerial lift certification training, you'll have a safer and more productive workplace. Your business is also less likely to be fined by OSHA.
Our online training is affordable:
There's no need to spend a lot of money when your workers train with CertifyMe.net. CMO's aerial lift operator training classes cost just $75 each, which includes all training materials and evaluation forms, so there's nothing more to buy.
CertifyMeOnline.net training is convenient:
When you have your workers get their New York City lift certifications through CertifyMeOnline.net, there's no need for them to take time off work traveling to and from an expensive offsite training facility. Our online training can be taken during a lunch break, at a coffee shop or at home – any time and place that's convenient!
What's Covered in CMO's Online Aerial Lift Certification Training
To comply with OSHA's requirements for NYC aerial lift operator certification, drivers must successfully complete an aerial lift training program that includes classroom-style instruction, a written exam and a "hands-on" operating skills evaluation. Here is some of what we cover in our New York City online aerial lift certification training:
✓ Identifying and using the lift's controls
✓ Operating various types of lifts, including cherry pickers, boom lifts and scissor lifts
✓ Using personal protective equipment (PPE) such as body harnesses and lanyards
✓ Maneuvering and driving across different types of terrain under varying conditions
✓ Maneuvering around and under fixed obstacles
✓ Recognizing and avoiding potential hazards
✓ Conducting equipment inspections and performing routine maintenance
✓ Operating aerial lifts when pedestrians are present

Get Your Workers Certified with New York City Aerial Lift Certification Today!
CMO training is ideal for businesses of all sizes, and especially small businesses with limited time and resources. You don't need to spend a lot of money sending your workers to an expensive offsite training program. – our New York City aerial lift certification training costs only $75 per student, payable online by credit card. What's more, with CMO the 3-year renewal training required by OSHA is free for life.
For more information on our New York City aerial lift operator certification training, contact us online or call us at (602) 277-0615 to speak with a CMO team member. We're here to help you get started on the road to fewer accidents, a safer, more productive workforce, and compliance with OSHA's New York City aerial lift worker regulations. Check out our Aerial Lift Certification, Train the Trainer, and Fall Protection for your company.