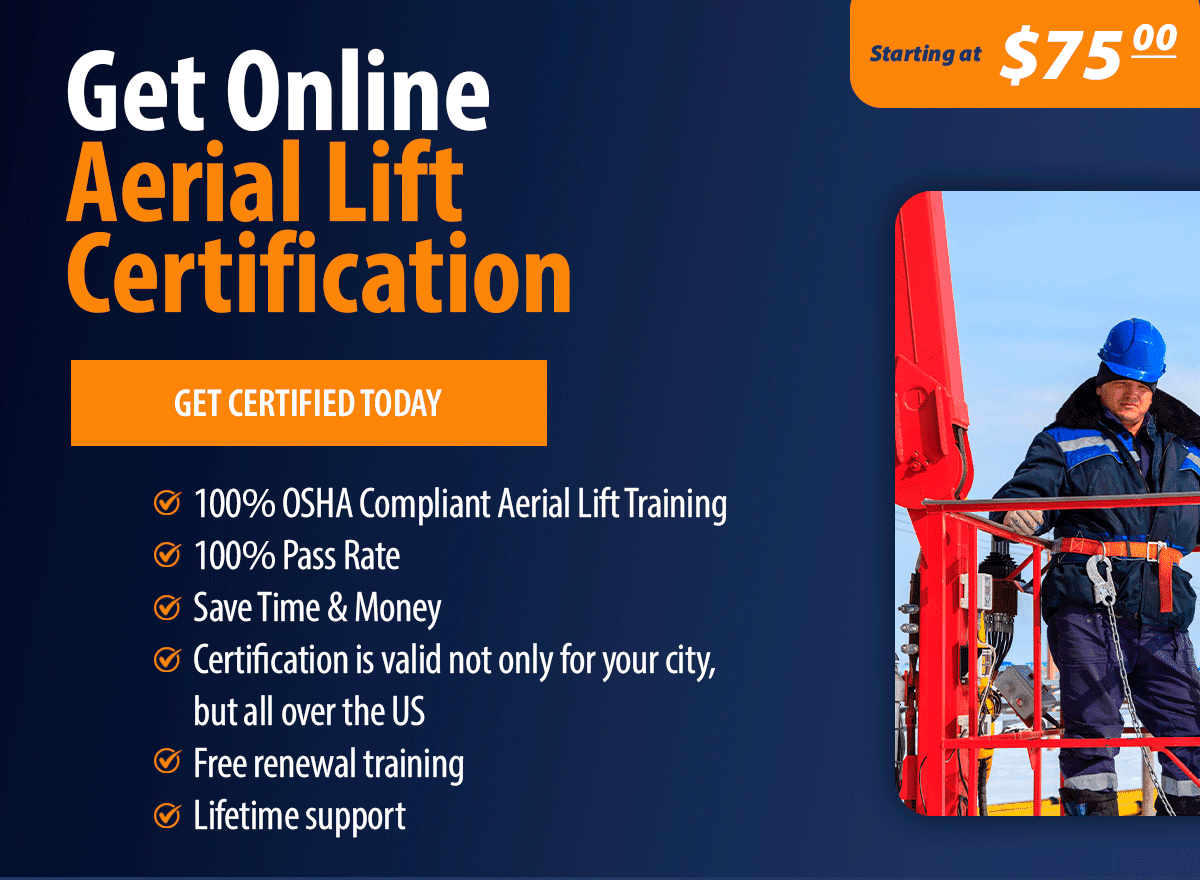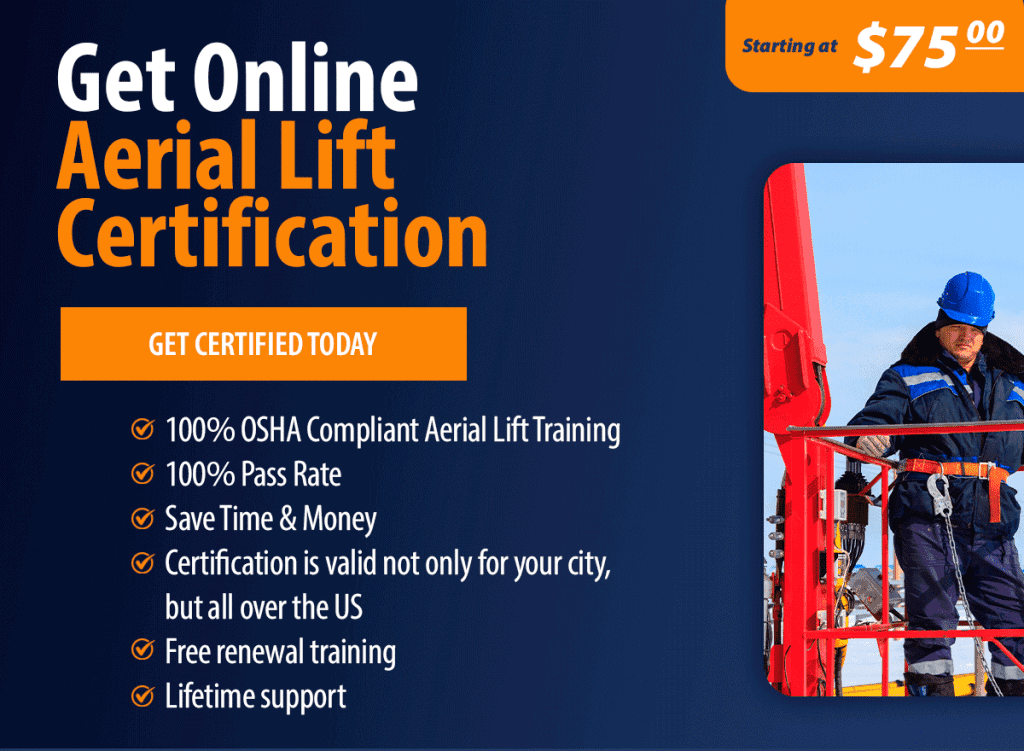 Consider our online training options if you're looking for Orlando aerial lift certification. CertifyMeOnline offers reliable, accessible solutions to many of the most common training pain points. With our online program, you can get certified to operate aerial lifts in Florida and throughout the country. Training options include:
Train the Trainer
Invest in your organization's safety program by training selected employees to become trainers for just $149. They will learn how to teach forklift fundamentals to co-workers. This helps you build a strong in-house safety program for all future training.
Aerial Lift Training
Discover the benefit of online aerial lift training. Participants learn lift operation, accident prevention, and safety best practices in just an hour. The cost is a very affordable $75. Upon completion, receive practical experience, certification and printable certification cards.
Scissor Lift Training
Train and certify your scissor lift operators – they'll gain thorough knowledge of operating and maintaining scissor lifts for your organization. At just $75, this online scissor lift training course is an unbeatable value.
Class 7 Aerial Lift Training
Equip your team with Class 7 aerial lift training, covering rough terrain forklift trucks, straight mast forklifts, and extended reach forklifts. Ensure the safe and efficient operation of these specialized vehicles to enhance workplace productivity and safety.
Fall Protection Training
Invest in Fall Protection Training to safeguard your employees from potential accidents and ensure compliance with safety regulations. Equip your team with essential knowledge and skills to prevent falls and create a safer work environment.
How Online Aerial Lift Certification in Orlando Works
Instead of attending in-person training sessions, online certification offers a flexible and convenient alternative. With online courses, learners can access materials from anywhere at their own pace. It's training that is easy to fit into busy schedules. Getting started with aerial lift training in Orlando is easy – follow these simple steps:
Register Employees: Employers should sign up any operators needing aerial lift training and certification.
Choose Necessary Courses: Choose from a wide range of applicable courses.
Complete Online Training: Most people complete the coursework in about an hour.
Pass the Online Skills Test: Employees may take the exam as many times as necessary to earn a passing score.
Complete a Hands-On Evaluation: An on-site member of your team must provide a hands-on evaluation for trainees. If you don't have anyone certified for the task, our Train the Trainer course is the ideal way to train an employee for all future training.
Print Proof of Certification: Certification cards are ready to be printed after completing these steps.
Upon completing training and passing the written and hands-on evaluations, employees will be recognized as trained and certified by OSHA.

Why Choose CMO for Orlando Aerial Lift Certification
You can learn to avoid the most common workplace hazards by obtaining your Orlando aerial lift certification online. Trained and certified workers significantly reduce the risk of workplace accidents, ensuring safer operations. Training also keeps your organization compliant with OSHA standards, preventing costly fines. Discover more reasons to train with FLC below.
✓

24/7 Access: Train from wherever is most convenient.
✓

Quick and Easy: Most people complete training in about an hour.
✓

Instant Proof of Certification: You can print off certification cards to add to employee HR files as soon as training is complete.
✓

Free Renewal Training: Aerial lift operators must recertify every three years to stay OSHA compliant. CMO members enjoy a lifetime of free renewal training.
✓

Incredible Value: Our courses are a fraction of what classroom training typically costs.
Our training courses come with a 100 percent money-back guarantee. That means there is no risk on your part when trying out our resources.

Frequently Asked Questions About Certify Me Online in Orlando
Struggling to understand how to get aerial lift certified in Orlando? Let us address some frequently asked questions:
Do I Need to be Aerial Lift Certified to Work in Orlando?
If your job involves operating aerial lifts, then the answer is yes. All aerial lift operators must be certified before beginning work.
Do I Need Experience to Start Training?
No experience is necessary for Orlando aerial lift certification training.
Are Aerial Lifts Really That Dangerous?
They can be – especially in the hands of untrained operators. Fatal accidents in Orlando have made headlines that highlight the risks involved.

Aerial Lift Certification in Orlando
Sign up today and receive your Orlando aerial lift certification! For more information about our aerial lift certification in Orlando, give our office a call today at (602) 277-0615,0615 or email us at info@certifymeonline.net. We're the premier provider of aerial lift certification in Florida, including the greater Orlando area and other major Sunshine State cities!