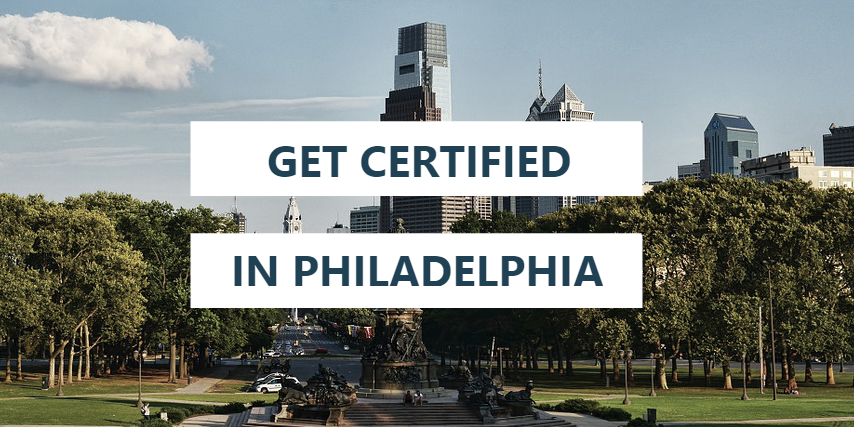 Philadelphia – the city of Brotherly Love, passionate sports fans, historic colonial-era landmarks, cheese steaks, Ben Franklin and…aerial lift employers? What do aerial lifts and Philadelphia aerial lift certification have to do with the city? Here's what.
As Pennsylvania's most populous city and the 5th most populous in the U.S, Philadelphia enjoys an advantageous position along the eastern seaboard, with endless shipyards, docks, warehouses and other commercial developments. This means that large equipment operators are always in demand. As part of the most populous part of the country, Philly typically ranks at the top for manufacturing and industrial employment opportunities.
If you're interested in starting a new and recession-proof career as an aerial lift operator, it makes sense to gain the best training possible. To that end, CertifyMeOnline.net presents smart aerial lift operators, aerial work platform workers and scissor lift operators a tremendous advantage over untrained workers. With our convenient online Philadelphia aerial lift certification courses, Philadelphia aerial lift workers can qualify for the best jobs in Philly and protect their safety on the job.
Why Do I Need Philadelphia Aerial Lift Certification?
The simple and straight forward answer to this question is… to save your life. Once you become an aerial lift operator, you'll be asked to perform a number of different tasks at height that all come with their fair share of dangers, including electrocution hazards, falls, collapses and tip-overs, and collisions. Deaths involving aerial lifts happen every year, and the majority of them are caused by operator error. This means that the operator wasn't given the proper training they needed to understand how to recognize and avoid hazards, and prevent accidents. It's simply not worth your life to skip out on Philadelphia aerial lift certification.
Another huge reason to take this training is to appeal to potential employers and qualify for the best jobs. Employers do not want an employee who is a liability to them, and likely to cause preventable accidents. These accidents not only add to their bottom line with medical expenses and legal action, but they also catch OSHA's attention which can write costly fines for untrained operators.
The Only Philadelphia Aerial Lift Certification & Scissor Lift Training You Need
Once you're ready to take action and complete your Philadelphia aerial lift certification training, you'll need to look for a specific type of program. One that will teach you everything you need to know to operate aerial lifts and scissor lifts safely and properly, prevent accidents, and remain up to date on industry regulations. This training is an OSHA-compliant aerial lift program. Not only does it ensure workers receive the most up to date information possible and helps to further keep them safe, but it also protects employers from being hit with fines.
Luckily, with CertifyMeOnline.net, you will have instant online access to our program that is 100% compliant with OSHA regulations.
Job Opportunities for Those with Philadelphia Aerial Lift Certification
Taking the time to train in operating an aerial lift and accessing your surroundings for hazards gives workers credibility in their field. Employers feel confident hiring certified workers because they understand they have completed the training needed to perform efficiently and safely while on the job.
Once you complete your Philadelphia aerial lift certification training, you will qualify for warehouse jobs Philadelphia and construction jobs in Philadelphia, including these positions: aerial lift operator, aerial lift mechanic, scissor lift operator, construction worker, utilities worker, aircraft washer/mechanic, museum worker, arborist, field service technician, cable technician, construction photographer, structural ironworker, maintenance mechanic, sign installer, window installer/washer, and much more!
Great companies and organizations like these are hiring trained and certified aerial lift workers all the time in Philadelphia:
•

Comcast

•

Bartlett Tree Experts

•

Aero Communications

•

Girard College

•

Villanova University

•

Keystone Aerial Surveys

•

Philadelphia International Airport

•

Philadelphia Museum of Art

•

And more!

Make More Money and Enjoy More Job Opportunities with Philadelphia Aerial Lift Certification!
According to Salary.com, Philadelphia aerial lift operators make a medium salary of $35, 624, the highest paying city in Pennsylvania. Other smaller cities including Pittsburg make an average yearly salary of $32,548. However, a larger city means there will be more competition among other candidates, so aerial lift certification is necessary to set yourself apart. Employers will have more job applicants to choose from, and they won't accept an employee without proper training.
Formal aerial lift certification will open doors not only to higher paying positions but more opportunities to choose from than those without training. In addition to aerial lift operator and forklift mechanic positions, employees may also qualify to be a Production Supervisor, Warehouse Manager, and Project Manager in a wide range of warehouse jobs Philadelphia and construction jobs in Philadelphia.
Choose CertifyMeOnline.net for Easy, Fast & Affordable Philadelphia Aerial Lift Certification
Aerial lift and scissor lift training is tough for companies to handle alone. Expensive 3rd party training solutions can be effective, but not without significant expense. For an affordable price, 5 steps and about an hour of time, your workers will have their Philadelphia aerial lift certification. Plus, 3-year renewal training ensures no dreaded "training gaps" that could come back to haunt you during a safety inspection.
Your Philadelphia aerial lift certification provides everything necessary to establish a strong foundation of strong safety practices, OSHA-accepted workplace policies and more. It only takes about one hour for workers to complete the online course, from any device with an internet connection. Once they're all done working at their own pace, they can immediately print their temporary operator card.
Contact Us Today for Flexible Online Training!
To get started with your OSHA aerial lift instruction in Philadelphia today, give our team of OSHA experts a call at (888) 699-4800 or (602) 277-0615. You can also visit the CMO contact page for a convenient message portal. We'll answer any questions you have about scissor lift training for your Philadelphia operation.
If you have facilities outside Philly, CertifyMeOnline's flexible training and instruction – we used an internet-based format – allows your entire operation to get up to speed. Quickly. Affordable. Effectively. The CMO way – it works, plain and simple. See why companies like Coca-Cola, PPG and other rely on CMO for their aerial lift instruction, scissor lift training and fall protection courses.
There are many benefits to completing your Philadelphia aerial lift certification. From higher paying positions, more career opportunities, and increased employee satisfaction, there are no reasons not to get aerial lift training in Philadelphia. CertifyMeOnline.net offers the most convenient, affordable, and fastest aerial lift certification you'll find. They have trained thousands of workers to qualify for many great jobs in some of Philadelphia's top industries and companies.