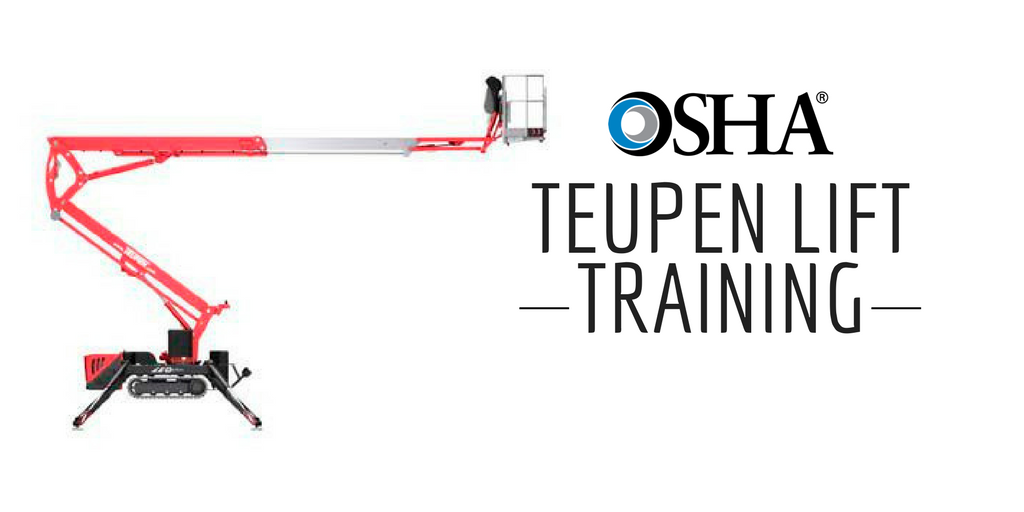 With the modern world making more and more tasks possible that we previously thought were unimaginable, the options for equipment are expanding to follow suit. Large machinery is becoming more adaptable for specific types of jobs, improving efficiency as well as safety. Teupen USA is a brand that specializes in their signature product the Teupen lift, which is helping to change and improve the workplace for many businesses in the US and all over the world.
You've probably heard the term "Teupen lift," or maybe you've worked with an industrial equipment operator who has used one before. Since they're becoming so popular, CertifyMeOnline.net has a great selection of OSHA safety training programs for supervisors, regular operators and everyone in between who works with the Teupen products. Let's take a look at the Teupen lift, what it's used for, why Teupen spider lift training is so important, and more below!
What is Teupen?
Teupen is a large equipment company that revolves around the strength and reliability of German engineering. Their signature tracked lift can reach as much as 163 feet into the air, is available in diesel, electric and battery, and is compact enough to fit through a doorway!
The signature Teupen product is a spider-like machine that uses four articulating legs to stabilize itself instead of four tires. Also called access lifts, aerial lifts, articulated lifts and boom lifts, Teupen lifts involve an innovated design that is meant to be versatile for a wide variety of work environments. Teupen spider lifts are made with impressive reach capabilities, lightweight and low-floor load pressure with non-marking tracks.
Teupen lifts are technically aerial lifts, which fall under OSHA's 1926.453 standard for aerial lifts. Because of this, all operators must follow OSHA's requirements and receive training with aerial lift certification to use them.
What Makes Teupen Lift Unique?
Teupen takes safety very seriously. They pass all of their products through a multi-step quality control process, and design all of their lift models to be easy to get in and out of and set-up, saving workers many hours of work and frustrations. Teupen has made a machine that is far safer and more productive than the use of scaffolding, which cause injuries and fatalities every year.
The Teupen spider lift can be separated into two model series, the LEO Series and Canopy Series.
LEO is built for the construction and facility maintenance industries, and offers up to 163 feet reach power, minimal transportation needs, and great weight distribution.
The Canopy Series is made for the tree care industry and has been designed to address the various reach access needs of the many types of tree work.
Both Teupen lift series are compact in size, have easy set-up processes, are versatile with adjustable heights and widths, are safe with a computer monitored stability system, are lightweight, and come with flexible power sources. 
What is a Teupen Lift Used For?
Scaffolding used to be one of the best ways to access buildings, and make them bigger and taller. However, scaffolds aren't the best solution any more, and Teupen lifts are a much safer and more efficient alternative. Easier to get in and out of, Teupen lifts are easier to use and set up than scaffolds, and use far less hours to coordinate. The Teupen spider lift is used in the construction industry both indoors and outdoors, on sloped sites, in narrow accesses, and in areas with extreme floor load restrictions. Teupen lifts are also used for tree care, interior and exterior facility maintenance, and other specialty tasks like window washing, sign installation, lighting installation, and sporting and concert venue setup.
Teupen lifts specialize in these working industries:
•

Construction – Wherever there is sloped ground and narrow access points on a construction site, Teupen is the brand for the job.

•

Tree Care – Tree care professionals constantly deal with safety and access issues. The Teupen Canopy series is made specifically for this type of work, increasing the safety and productivity of this industry.

•

Facility Maintenance – Commercial buildings and homes with both tight access and plenty of space can benefit from the efficiency of the compact Teupen spider lift.

•

Specialty Solutions – The window cleaning, sign and lighting installation industries and others that consistently deal with height access issues require the unique capabilities of the Teupen lift.
Why is Teupen Lift Training Important?
Teupen aerial lifts are increasingly commonplace in all sorts of work environments like construction sites, warehouses, industrial clean-up projects, specialized outdoor engineering projects, and many more. The lack of proper Teupen lift training can severely limit your capability to meet project deadlines. But more importantly, your employees will operate more efficiently – and safer – with Teupen lift training from CertifyMeOnline.net.
If avoiding productivity losses, injuries, fatalities, and costly OSHA fines is a priority for you, then you and your employees need Teupen lift certification.
Where Can I Get Teupen Spider Lift Training?
Just like other types of aerial lifts, you will need Teupen USA training to qualify to operate Teupen lifts. They come with their own share of hazards and can be dangerous to control if you aren't properly trained, especially considering Teupen lifts use only one operator.
If you're ready to complete your Teupen spider lift training to add another valuable skillset to your resume, check out the aerial lift certification program at CertifyMeOnline.net. The online program is self-paced but only takes about one hour to complete from any device with the internet. For only $75 for aerial lift and scissor lift training, you can be qualified to operate a Teupen lift with your certificate in hand in less than one afternoon.
Create an account and get started today to complete your Teupen lift training! To get the ball rolling with your own internal OSHA safety program, CertifyMeOnline.net provides all the resources you need for comprehensive & complete Teupen training. Browse our Teupen lift training classes here, or give our OSHA industrial equipment training experts a call at (602) 277-0615. Thanks for visiting CMO, the home of convenient, cost-savings Teupen lift training!