About Teupen USA Aerial Lifts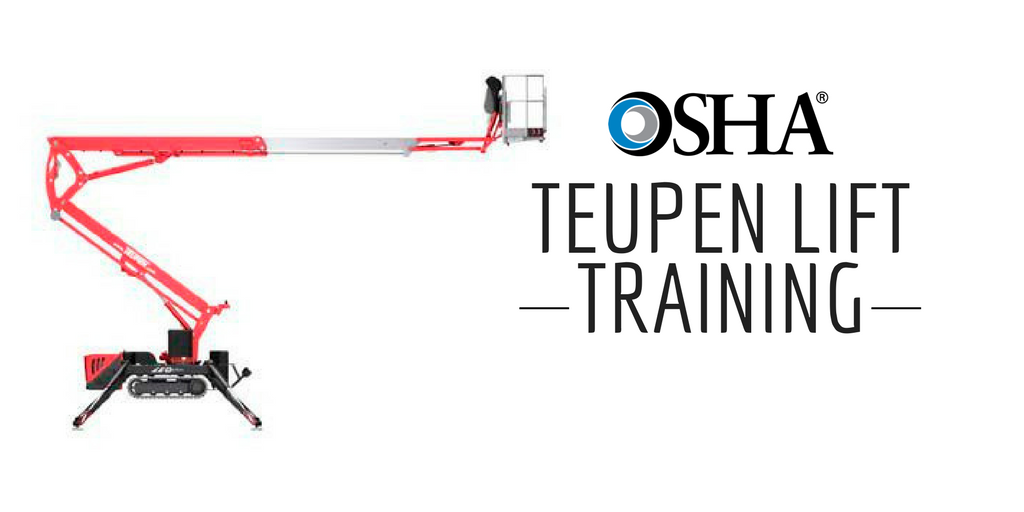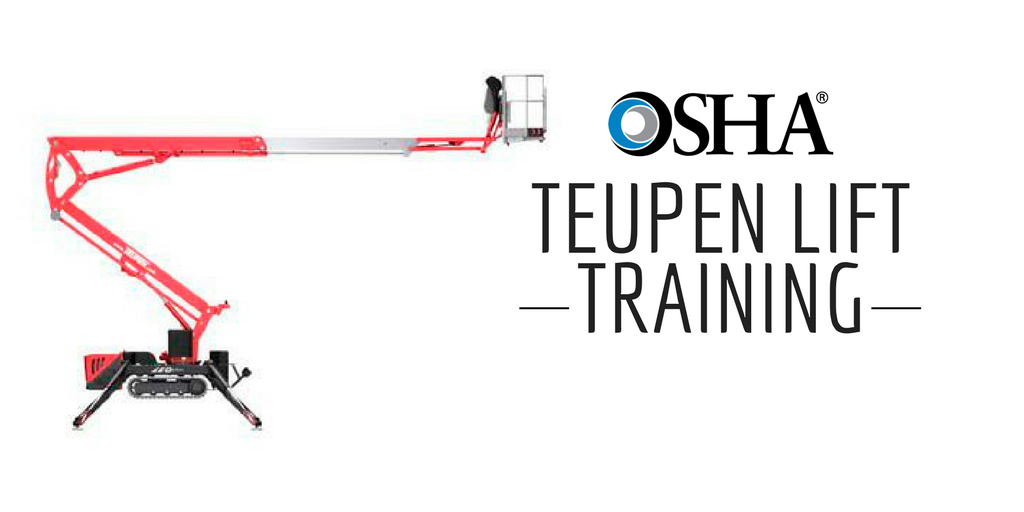 Parent company Teupen, which is the world's leading manufacturer of compact tracked lifts, is headquartered in Gronau, Germany and has outlets in Europe, Asia and the United States. The company's signature product is the Teupen Aerial lift, which has helped businesses throughout the world change and improves workplace productivity and safety. Teupen USA's North American Sales and Service Support Center is located in Pineville, NC, which also supplies genuine Teupen parts.
Chances are, you've heard the term "Teupen lift," or maybe you've worked with an industrial equipment operator who has used one. CertifyMeOnline.net has a complete selection of OSHA-approved safety training programs for supervisors, lift operators and everyone else who works with Teupen aerial lift products. CMO's Teupen USA lift certification courses and training materials include everything you need as an employer to become OSHA compliant. Enroll your operators today and you'll understand why businesses throughout the country choose CertifyMeOnline.net to train and certify their aerial lift operators!
Read on to find out more about Teupen aerial lifts, their uses and the importance of OSHA-approved Teupen spider lift training and certification.


About Teupen Aerial Lifts
Teupen's outstanding reputation as a large equipment company revolves around the ingenuity, strength and reliability of German engineering and workmanship. Their signature tracked lift lets workers reach heights of up to 163 feet (49.4 m), and talk about versatility – Teupen lifts are available in diesel, electric and battery powered combinations, and are compact enough to fit through a standard single doorway!
Teupen is perhaps best known for its spider-like machines that use four articulating legs rather than tires for stabilization, which make them ideal for working on rough terrain and uneven surfaces. Variously called access lifts, aerial lifts, articulated lifts, and boom lifts, Teupen spider lifts are adaptable to varying jobsite conditions. Their innovative design, impressive reach capabilities, lightweight construction and low floor load pressure with non-marking rubber tracks make them ideal for a wide variety of indoor and outdoor work situations.
Technically classified as aerial lifts, Teupen USA lifts fall under OSHA Standard Number 1926.453, which requires all operators to receive OSHA-approved aerial lift training and certification, such as is offered by CertifyMeOnline.net. The bottom line for employers and safety supervisors is that they are the parties responsible for seeing that all employees receive proper Teupen USA aerial lift training. Realistically, very few businesses have the time, resources and expertise to provide the training in-house. The fastest, easiest and most affordable solution is to contact CertifyMeOnline today!
What Makes Teupen Lifts Unique?
Teupen takes safety very seriously. All Teupen USA products must undergo a thorough, multi-step quality control process before they are sold and enter the workplace. Each of Teupen's lift models is specifically designed to be simple to set up and easy to get in and out of, which results in saving your operators many hours of unnecessary work and frustration.
Teupen spider lifts come in two basic models, which are the LEO® Series and Canopy® Series.
   • Teupen LEO lifts are designed primarily for construction and facility maintenance work. LEOs can reach 163 feet overhead, have excellent weight distribution and are easily transported.
   • Teupen's Canopy Serieslifts are made for the tree care industry. They're specially built to access hard to reach areas of trees often encountered by tree trimmers and arborists while carrying out their work.
   • Teupen USA's LEO and Canopy series lifts are compact, have self-leveling outriggers that make them easy to set up and are highly versatile. Both types have tracks that are adjustable for height and width and come with a computer monitored stability system for increased workplace safety.
   • Teupen LEO lifts are also lightweight, which helps keep them from marring or damaging sensitive flooring and are compact enough to fit through standard single or double doors. The standard Teupen aerial lift power source is a 230-volt electric motor and gas combination. Optional power sources are 230-volt motors with either diesel or battery backup.
Teupen Aerial Lift Uses
At one time, scaffolding was the preferred means of accessing high, hard-to-reach areas of building interiors and exteriors. Scaffolding, however, is no longer the best solution for working overhead. Teupen aerial lifts offer a much safer and more efficient alternative.
The Teupen spider lift is used in the construction industry both indoors and outdoors, on sloped sites, areas with narrow accesses, and in buildings with extreme floor load restrictions. Other uses for Teupen USA lifts include tree trimming, interior and exterior facility maintenance, overhead signage and lighting installation and maintenance, HVAC ductwork installation and repairs, along with specialty tasks like window washing and concert and sporting venue setups and dismantlings.
Here are some of the industries and working conditions where Teupen aerial lifts are used:
   • Construction – On job sites with sloped or uneven terrain and narrow access points, Teupen USA lifts are the solution to the problem. If your construction company uses Teupen USA aerial lifts, get in touch with CertifyMeOnline.net, open an account and enroll your lift operators in CMO's aerial lift operator training and certification program today!
   • Tree Trimming & Tree Care – Tree trimmers and other tree care professionals are constantly dealing with serious safety and access issues. Teupen Canopy aerial lifts are made specifically for this type of work, which has helped increase the industry's safety and productivity records.
   • Facility Maintenance – Operators who work in and around commercial buildings, homes and other structures with tight or limited access appreciate the efficiency and maneuverability of compact Teupen spider lifts.
   • Specialty Situations – Window cleaners, painters, sign and lighting installers and others who regularly deal with height and access issues will find that the unique capabilities of Teupen USA lifts make their work easier, safer and more productive.
 The Importance of Teupen Lift Operator Training
The lack of proper Teupen aerial lift training can severely limit your business's ability to meet project deadlines. More importantly, however, your employees will operate more safely and efficiently after receiving Teupen aerial lift training and certification through CertifyMeOnline.net.
You can reduce the risks of employee injuries, damages to equipment and inventory, increase your business's productivity and avoid costly OSHA fines and litigation by enrolling your operators in CMO's Teupen lift certification training.
How Can I Arrange Teupen Spider Lift Operator Training for My Employees?
As with all types of aerial lifts, OSHA requires operators of Teupen USA lifts to receive proper operator training before they're qualified to legally operate Teupen lifts in the workplace. If you're ready to enroll your company's operators in Teupen spider lift training, check out the aerial lift training and certification program at CertifyMeOnline.net. Although there are no lime limits, CMO's self-paced course can be completed using a digital device in as little as one hour any time and any place there's an internet connection. For just $75 per operator, your employees can be fully trained, certified and qualified to operate Teupen USA aerial lifts in less than one afternoon. What's more, the refresher lift operator training that OSHA requires ever three years is free for life!


Get Started Today!
The starting point for you and your employees to become OSHA compliant is to create a CMO account and enroll your operators in CertifyMeOnline.net's Teupen lift training course. We'll provide all the resources you need to complete our comprehensive Teupen aerial lift training in as little as one hour. Click here to browse CMO's Teupen lift training classes or call us at 602-277-0615 to speak with one of our knowledgeable OSHA training experts.
Thanks for visiting CertifyMeOnline.net. We look forward to helping you with all your business's aerial lift training and certification needs!