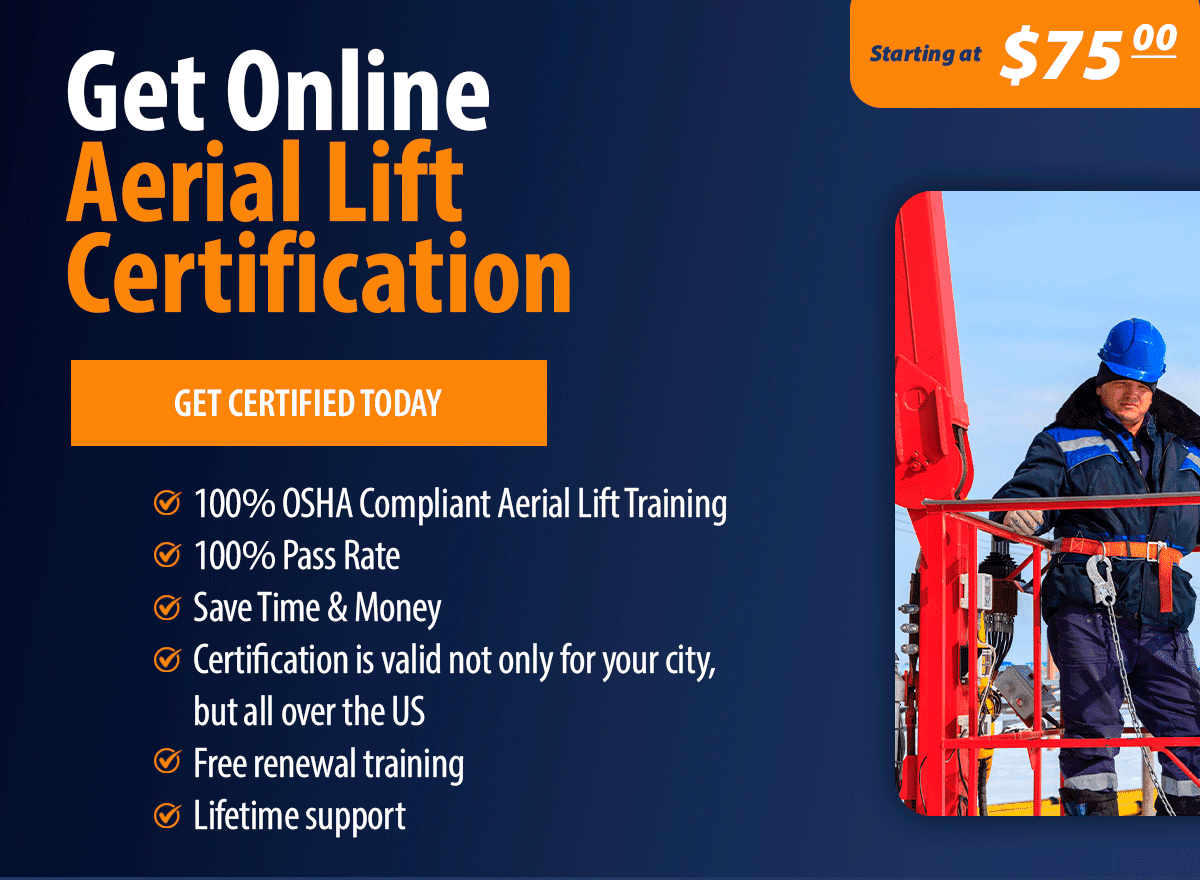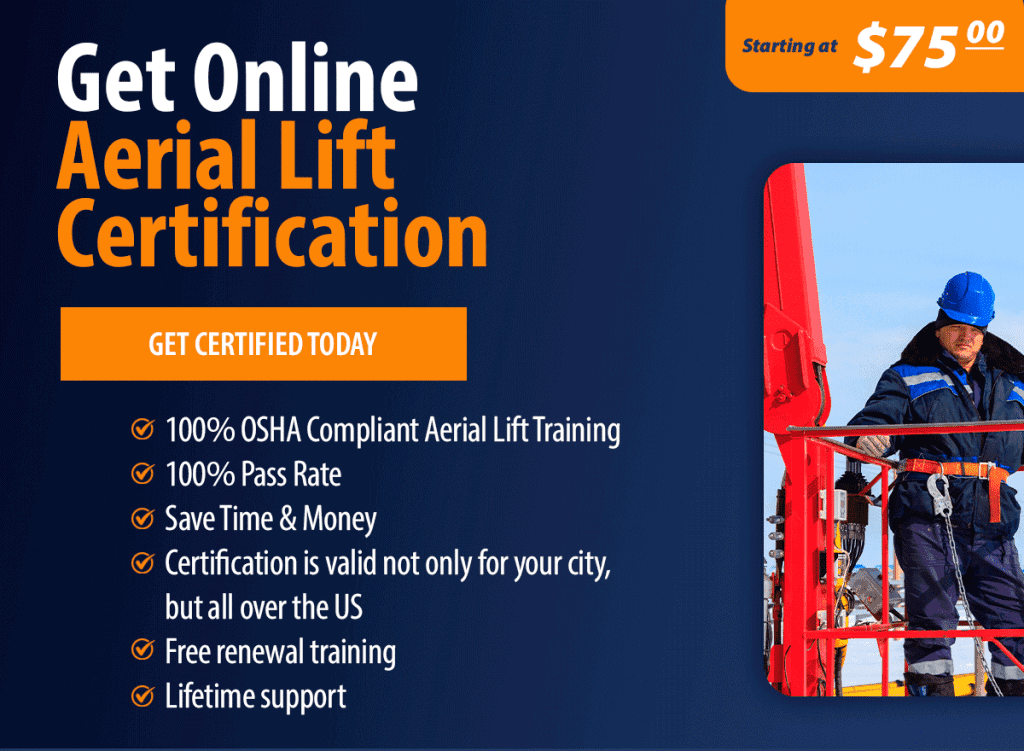 To use an aerial lift on your job site and remain legally compliant, you must first learn how to get aerial lift certified in Pittsburgh. Every aerial lift operator must obtain a Pittsburgh aerial lift certification for safety and legal reasons.
The good news is that you and your team can meet the proper aerial lift certification requirements using CertifyMeOnline.Net's online training materials. You can obtain our operator certification training kit for a one-time low fee of $75.00. Once completed, your employees will be certified to operate aerial lifts legally. Learn more about how your team can get certified entirely online below.
How Online Aerial Lift Certification in Pittsburgh Works
Considering the costs of certification, you'll likely want to know more about how to obtain your Pittsburgh aerial lift certification online before paying for the course. When you get your certification online, you can access the educational training materials 100% online. While your training is entirely online, you must demonstrate your abilities in person (more on that below). Here is a step-by-step guide on how our process works:
Employers Sign Up With Our Platform
Pick the Course That Fits Your Needs
Employees Get Educated: Employees can access our training and educational material 24/7 online
Employees Pass Online Exams: Employees will need to pass several online quizzes to prove that they understand the course material
Employees Take an In-Person Evaluation: Employees must submit to an in-person on-site evaluation conducted by a certified trainer. If you don't have a qualified trainer, consider purchasing our train the trainer course to certify one of your team members to become a certified trainer.
Print an Operator Card: Print off your official proof of certification and training
After completing these steps, employers will officially certify the employee's training. This will make them legally certified to operate aerial lifts per OSHA's standards. These certifications are good for up to three years, and employers can print off proof of their employee's certifications directly from our program. Employees will then be certified to operate aerial lifts in Pittsburgh and throughout the country.

Why Choose CertifyMeOnline.Net for Pittsburgh Aerial Lift Certification
Do your employees need to go through the process of getting an aerial lift certification in Pittsburgh? The answer is a very hard 'yes.' Employees need to get certified because it's a legal requirement. OSHA has these standards in place for a good reason. Common aerial lift hazards can result in fatal accidents. The right training makes employees more aware of these risks and helps them to avoid accidents. In this way, the proper certification and training saves lives.
Here are a few reasons why you should choose to work with us here at CertifyMeOnline.Net:
✓

Print Instant Proof of Training

✓

Fast & Easy: Complete our program within 1 hour

✓

24/7 Access to Training: Access course materials anywhere with internet access at anytime

✓

Free Renewals: Get your free three-year renewals by using our program

✓

Affordable: Our program comes at a very low cost. You can train an unlimited number of employees with our online certification program
Moreover, we'll give you your money back if you decide you aren't satisfied with our program materials.

Pittsburgh Aerial Lift Certification FAQs
Do you have more questions about aerial lifts, OSHA's standards, and why certification is necessary? Get answers to some of the most frequently asked questions below.
Have Aerial Lift Accidents Caused Fatalities in Pittsburgh?
Yes. Aerial lifts regularly cause accidents, serious injuries, and even fatalities. In October of 2022, for instance, 41-year-old Derek Cronk lost his life working for a highway construction company while on an aerial lift. Cronk was reportedly working on an overpass when a tractor-trailer clipped the bottom of the bucket his aerial lift was on. This collision caused Cronk to get flung from the platform. His injuries were fatal.
Unfortunately, the incident may have been worsened because Cronk wasn't wearing a safety harness.
Can the Right Education and Training Prevent Aerial Lift Accidents in Pittsburgh?
Yes. This is the theory that drives OSHA to mandate certification and training. The proper education and training will help prevent accidents. Training informs employees about hazards, helps them address common concerns like fear of heights, and provides the necessary training employees need to stay safe.

Choose CertifyMeOnline.net for Your Pittsburgh Aerial Lift Certification
Your job as an employer is to provide a safe environment for your workers and customers. You must ensure that every worker is certified before they operate an Aerial Lift to protect the company and everyone else around them.
You can trust the Aerial Lift certification program from CMO. All of our courses meet the requirements from OSHA to maintain compliance for companies. They only take about an hour to complete and can be done from anywhere with internet access. At a cost of just $75 apiece, the courses are affordable for businesses of all sizes.
Get the necessary certification for your employees with CMO. Sign up today to stay in compliance! Talk to our team at (602) 277-0615 and get your questions answered.