Over the past three years, prices for aerial lifts have been going up and down, partly because of rising costs of materials and regulatory compliance, and partly because of increased competition from imports. To help buyers of aerial lifts make the best purchasing decisions, IBIS, a global leader in the publication of business intelligence, has produced a procurement report on aerial lifts.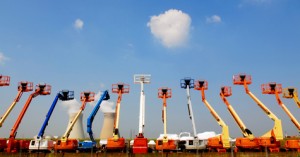 The complete report is available for purchase from the IBIS.com website. The report is 15 to 20 pages long and costs $95. From here in the cheap seats, we present a few bullet points from the freely available content.
Things that affect the price of aerial work platforms include size, type and scope of the produce.
Factors that influence aerial lift prices are things like size, functionality and style.
Don't be put off by high purchase prices. Most suppliers can make this up to you in the form of competitive prices for maintenance services.
Rental firms, retailers of construction equipment and the military are in a better buying position because they make high-volume purchases and because manufacturers are competing with each other for their business.
Other influences on aerial lift prices are such diverse factors as the price of steel (growing at an average rate of 3.3%), government spending and demand from contractors.
Buyers have better leverage with standard products as opposed to customized products.
The full report goes into greater depth about product characteristics that affect the purchasing decision, supply chain risks, supplier benchmarking and advice on good questions to ask during negotiations and the best negotiating tactics. The price of a standard lift with the greatest reach capability can cost as much as $150,000 so if you are charged with the responsibility of procuring one, this is not something that you want to screw up.  For 95 bucks, buying the full report is probably a good investment if you want to go onto the shop floor of your local aerial lift dealership armed with credible data and analysis.