This Holiday Season Aerial Lifts Are the Best Gift for Decorating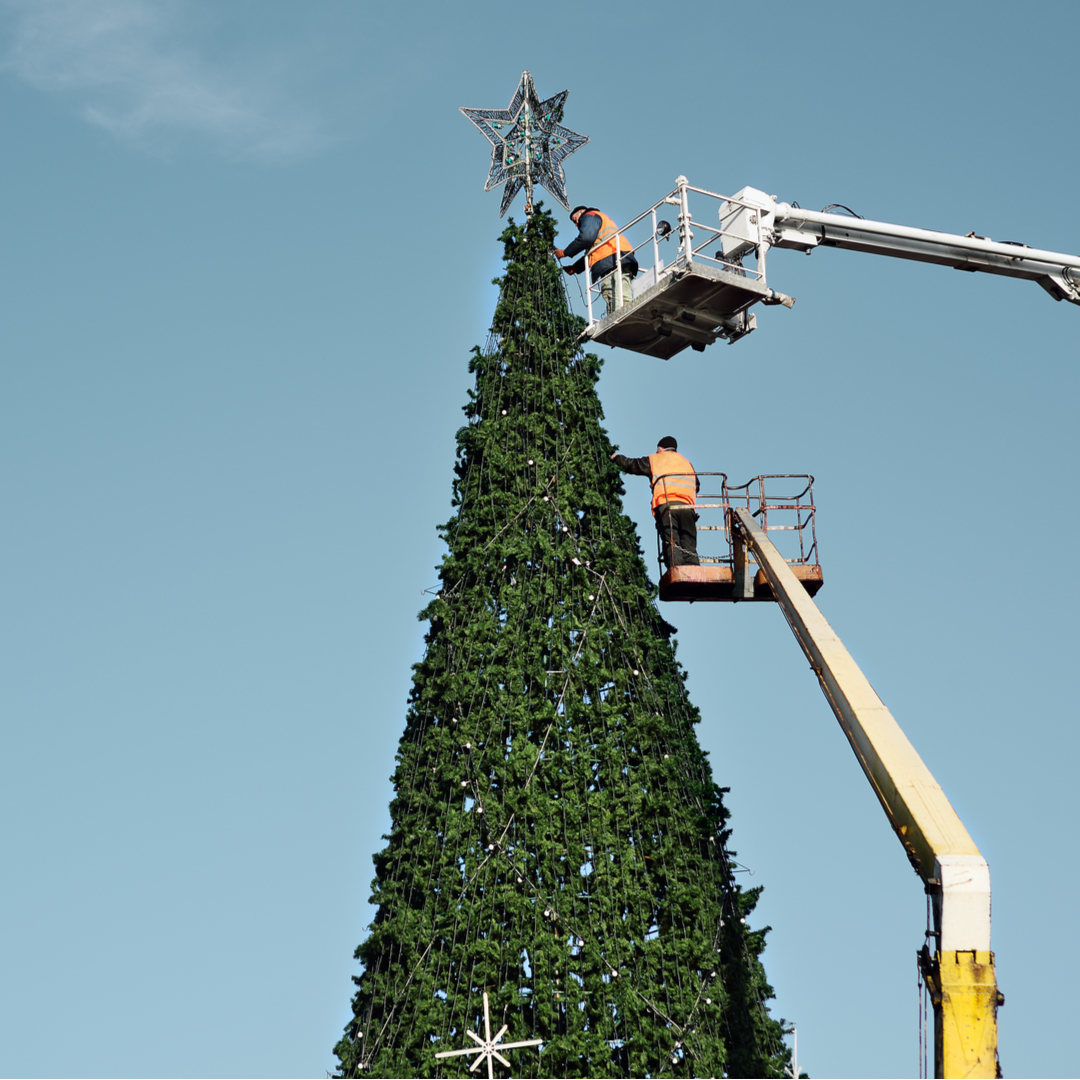 This time of year, trees, light poles, buildings and other structures are artfully decorated for the holidays. While you might assume Santa's elves are responsible for such work, the decor is a reminder to be thankful for aerial lifts. Without these incredible machines – and their operators – our world would look a lot less festive!
Why Be Thankful for Aerial Lifts?
So why should we be thankful for aerial lifts, exactly? Take a look around your town. Any holiday decor that's placed higher than the average ladder can reach was likely placed there by someone on an aerial lift. From holiday trees to light displays and parade floats, the sky is truly the limit when you have an aerial lift on hand. Professional contractors and decorators alike depend on these machines to pull off jobs both practical and ornamental. A little understanding of the work that goes into holiday displays can give you new appreciation for aerial lifts.
Holiday Light Installation with Aerial Lifts
Aerial lifts are an important tool for installing holiday lights. They provide a stable platform for decorators to work from, which is important when dealing with heavy lights and decorations. Furthermore, aerial lifts allow decorators to reach high areas that would be difficult to access with a ladder. This can be important for tall trees or atriums with high ceilings.
To use an aerial lift for installing holiday lights, first make sure that it is in good condition and has been properly inspected by a qualified technician. Next, carefully read the operator's manual and become familiar with the controls and workings of the lift. Once you are comfortable with how the lift works, you can begin installing your holiday lights.
First, identify the areas where you would like to install lights. Next, determine the type and size of lights that you will need for each area. Once you have your lights selected, it is time to start hanging them.
Begin by positioning the lift in the desired location. Be sure to keep a safe distance from power lines and other obstacles. Once the lift is in place, set up the base of your light display. For trees, this typically means wrapping lights around the trunk of the tree. For atriums or other high areas, you may need to use a scaffold or other elevated support system to hang your lights.
Once your display is set up, it is time to start lighting up your home or business for the holidays!
Tree Decorating Made Easy
Consider how much work goes into decorating your holiday tree at home. You'd be thankful for aerial lifts, too, if you had to decorate the Rockefeller Christmas tree. It frequently tops 75 feet! To adorn the tree in lights and ornaments, decorators use aerial lifts to reach each branch by hand. Featuring more than 50,000 LED lights strung on more than five miles of wire, the tree is legendary for a reason: it's huge, stunning, and a testament to the power of aerial lifts.
Holiday Gifts Brought to You By Aerial Lifts 
So much of the magic of the holidays lies in the annual exchanging of gifts with loved ones. We often fail to realize the role aerial lifts play in the delivery of those gifts, though. As warehouses overflow with merchandise this time of year, workers rely on aerial lifts to store orders before they're delivered to customers. As you unwrap gifts under the tree, be thankful for aerial lifts – otherwise, your gift might never have arrived!
Tips for Using Aerial Lifts 
Here are some tips for using aerial lifts to install holiday lights:
Inspect the lift before each use. Check for any damage or lose parts.

Make sure the area around the lift is clear of obstacles.

Wear proper safety gear, including a hard hat, safety glasses, and gloves.

Never exceed the weight limit for the lift.

Don't operate the lift in windy conditions.

Safety Training for Aerial Lift Operators
Aerial lifts and the holiday season go hand in hand – it's part of why professional contractors are in high demand this time of year. If you're considering using an aerial lift to bring your holiday decor vision to life, you'll want to ensure you're properly trained first. All aerial lift operators must comply with OSHA regulations, which includes thorough safety training requirements. Thankfully, you can get certified to operate an aerial lift in about an hour, from the convenience of home with CertifyMe.net. To get started, click here or dial 1-888-699-4800.