Operating a scissor lift, aerial lift, or an aerial work platform (AWP) requires a complete understanding of the latest OSHA safety regulations, common sense, decision-making skills, and a thorough knowledge of the type or types of equipment you're working with.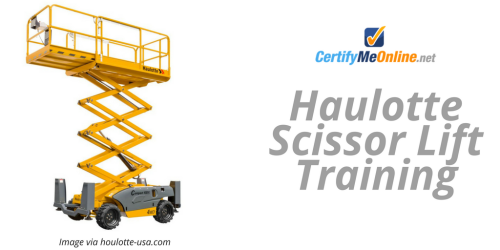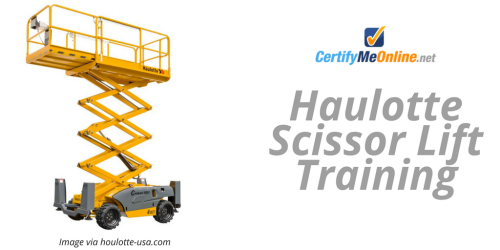 CertifyMeOnline.net, a recognized leader in online heavy equipment training and certification offers OSHA compliant training for many different types and brands of aerial lifts and platforms, including lifts made by Haulotte, which is a heavy equipment manufacturer headquartered in L' Homme France. The company, which is one of the world's largest aerial lift platform manufacturers has distribution channels throughout North America, a manufacturing plant in Ohio and factories in France, Romania and China.

There are many uses for Haulotte boom lifts, scissor lifts and other quality products. Here are just a few of them:
1. Manufacturing
2. Construction
3. Roofing and roof repairs
4. Maintenance
5. Industrial cleaning
6. Engineering inspections
7. Warehousing and product storage
8. Shipyard cargo handling
9. High rise building rescues
10. Cargo handling
And just about any place else overhead access is needed!
CMO's scissor lift operator training includes in-depth instructions and safety tips for working with Haulotte boom lifts, AWPs and other Haulotte products such as Haulotte telescopic boom lifts and Haulette electric scissor lifts.
What is a Haulotte Lift?
The term "Haulotte lift" refers to any elevated work platform mechanism produced by the Haulotte Group. Haloutte boom lifts, including their line of Haulotte telescopic boom lifts have a long history of being known as some of the very best and most reliable aerial lifts around.
The types of boom lifts made by Haulotte include telescopic, articulating and self-propelled models. Made at their manufacturing plants in Europe, China and the U.S., Haulotte boom lifts are available worldwide. The company's various types of lifts and AWPs Haulotte include their top quality vertical masts, Haulotte electric scissor lifts,  telehandlers,  articulating boom lifts, lightweight self-propelled booms and Haulotte telescopic boom lifts. CMO operator training and certification programs cover them all.
Haulotte is especially well known for two of their products, which are the Haulotte telescopic boom lift and the Haulotte electric scissor lift.
Haulotte Telescopic Boom Lifts
Have a working height range from 14 to 43 meters , or roughly 46 to 142 feet.  Because of their speed and long reach capability, they're often found in shipyards. They're also used on construction sites, maintenance areas and for demolition work. Some Haulotte telescopic boom lift models come with a jib arm, which can be useful for overhanging work or when it's necessary to be in close on a job.
Haulotte Electric Scissor Lifts
Have working heights from 15 to 53 feet, and can lift loads between slightly more than 500 pounds to over 2,200 pounds, depending on the model. They're ideal for indoor work since unlike gasoline or diesel-powered models, they're silent and don't emit toxic fumes.
Why Haulotte Boom Lift Training is Important
If you're planning to get a job working as an aerial lift operator or are looking for employment that involves scissor lifts or forklifts, a balanced and well-rounded skill set is important. CertifyMeOnline.net offers a full range of OSHA-compliant training programs, which include teaching you how to properly and safely operate AWPs and other lifts made by Haulotte as well as other well-known lift equipment manufacturers. If you're an employer, OSHA requires all operators to be properly trained and certified before they're legally allowed to operate the equipment in the workplace.
When you or your employees are enrolled in CMO's Haulotte telescopic boom lift or Haulotte electric scissor lift online training and certification program, here are some of the many benefits you'll enjoy:
The Latest Operating Safety Techniques
CMO is always up to date on periodic changes to OSHA regulations and requirements. The OSHA experts at CMO have incorporated all the most recent safety guidelines into our lift training and certification coursework.
Industry-Specific Instruction
Various types of lift operator jobs require different sets of skills and safety measures. With CMO training, every job related to Haulotte boom lifts, scissor lifts, and other equipment comes standard. CMO's lift operator training covers every type of job-related to operating Haulotte lifts, including scissor lifts, forklifts and other lift equipment.
Free Lifetime Renewal Training
Nothing lasts forever, and that includes Haulotte telescopic boom lift and Haulotte electric scissor lift training. OSHA requires lift operator renewal training every 3 years. As part of our outstanding "customer first" support, CMO's OSHA-approved certification training includes free three year renewal training for life.
OSHA-compliant Haulotte scissor lift training is an essential part of having a safe, more productive working environment for both employers and employees. This includes being properly trained.  Under OSHA regulations, employers are directly responsible for arranging and providing aerial lift and scissor lift training for their workers.
If Haulotte lifts and other Haulotte equipment are used at their places of business, they can count on CMO to provide the most up-to-date training material and coursework available that has to do with operating Haulotte telescopic boom lifts, Haulotte electric scissor lifts and other types of Haulotte industrial equipment found in the workplace.
For employees, it's extremely important from a safety standpoint that you learn as much as you can about the equipment you'll be operating, which is thoroughly covered in our online training and certification program. Thanks to CMO's training classes, everything you need to know about safely operating Haulotte lift equipment is covered. As part of our 100% OSHA-compliant  Aerial Lift Training & Certification program, you'll also receive comprehensive Haulotte boom lift training, along with instructions for operating other types of Haulotte AWPs.
Jobs Available For Operators with Haulotte Boom Lift Training
Properly trained and certified boom lift operators are in high demand by employers, and knowing how to safely operate Haulotte boom lifts will open even more new doors for employment opportunities. By completing  CMO's OSHA-approved Aerial Lift Training and Certification Program, you'll get the training you need to keep your career moving forward.
Literally thousands of employers and individuals throughout the country have used CertifyMeOnline.net for their boom lift operator training. We provide the most comprehensive and up to date training materials and courses available anywhere. It's why CMO is the number one source for lift operator certification.
OSHA requires all employers to keep their workplaces free from hazards that can potentially injure or endanger their employees. This includes ensuring they receive the right lift operator training. The employer needs to ensure that anyone operating an aerial lift is properly trained, passes a "hands-on" evaluation and is certified by an instructional institution that meets all OSHA criteria. Failure to comply can result in heavy fines, time in prison or both. More importantly, lack of proper training can result in the serious injury, permanent disability or even death of an employee.
The fastest, easiest and most economical way to train workers to operate Haulotte boom lifts safely is through CertifyMeOnline.net. Our training costs just $75 per employee, so it's also very affordable. All CMO's online training programs are 100% OSHA approved, and can be completed in as little as just one hour. What's more, there's no charge for the renewal training OSHA requires every three years. CMO also has online training programs that cover all other types of Haulotte lifts.

Start Your Haulotte Boom Lift and Scissor Lift Operator Training Today!
Using CertifyMeOnline.net's certification program to teach your operators means they'll receive all the training they needed to safely operate Haulotte telescopic boom lifts and Haulotte electric scissor lifts. There's no need for your workers to take time away from work or go offsite for their training. Using a digital device, the courses can be completed either in-house or any time and anywhere that's convenient and there's an Internet connection. It takes only about an hour to complete the courses, which can be accessed online 24/7.
To start Haulotte boom lift training today, call us at (602) 277-0615 or click here now and you and your operators can be OSHA compliant today! You can also visit our contact page to drop us a line. Thanks for making CMO the #1 online source for Haulotte lift operator training!