Operating scissor lifts, aerial lifts, and aerial work platforms (AWPs) requires a proper understanding of the latest OSHA safety regulations, common sense decision-making skills, and a broad knowledge of the different types of equipment you're working with.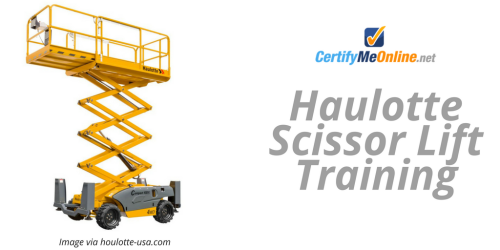 CertifyMeOnline.net offers OSHA compliant training for many different kinds of aerial lifts and platforms, including lifts produced by the French manufacturer Haulotte. Haulotte scissor lifts are used for many industrial applications. Just some include:
• Manufacturing
• Construction
• Maintenance
• Industrial cleaning
• Engineering inspections
• Warehousing and product storage
• Shipyard cargo handling
CMO's scissor lift training includes in-depth instruction and safety tips for Haulotte boom lifts, AWPs and other Haulotte products.
What is a Haulotte Lift?
The term "Haulotte lift" describes any elevated work platform mechanism produced by Haulotte. Haulotte boom lifts have a long history of being some of the very best and most reliable aerial lifts around. The types of boom lifts made by Haulotte range from telescoping and articulating to self-propelled. Made at their factory in France, Haulotte boom lifts are available worldwide. The firm manufactures a wide variety of lifts and AWPs, including:
• Construction
• Roofing and roof repairs
• Maintenance
• Window Washing
• Engineering Inspections
• Warehousing and Storage
• High Rise Building Rescues
• Cargo Handling
• And just about anywhere overhead access is needed!
Haulotte also makes top quality vertical masts, scissor lifts, trailer lifts and telehandlers. CMO has operator training and certification programs for each of these.
Should You Get Haulotte Boom Lift Training?
If you're in the market for an aerial lift job, or are looking for scissor lift employment, a well-rounded skill set is important. CertifyMeOnline.net offers a full range of OSHA training sessions, which includes well-known manufacturers like Haulotte.
Here are some advantages of CMO's Haulotte boom lift training:
• Updated safety techniques. CMO's OSHA experts incorporate the most recent safety guidelines into all of our coursework.
• Industry-specific instruction. Different jobs require a different set of skills and safety concerns. With CMO, every job related to Haulotte boom lifts, scissor lifts, and other equipment comes standard.
• Renewal training. Haulotte boom lift and Haulotte scissor lift training doesn't last forever. Renewal training is required every 3 years. CertifyMeOnline offers 3 Year Renewal Training as part of our customer-first support and OSHA instruction.
Why is Haulotte Scissor Lift Training Important
For both employers and employees, Haulotte scissor lift training is an essential part of safe, effective, OSHA-compliant work environment. Employers are responsible for providing their employees with aerial lift and scissor lift training – and if they use Haulotte equipment, they can count on CMO to provide the most up-to-date training material and coursework that deals with Haulotte boom lifts, Haulotte scissor lifts and other widely utilized Haulotte industrial equipment.
For employees, knowing as much as you can about your equipment creates many employment opportunities. Thanks to CMO, you can get thorough Haulotte boom lift training and instruction for other Haulotte equipment as part of our OSHA Aerial Lift & Training Certification program.
Jobs Available with Haulotte Boom Lift Training
Boom lift operators are in high demand. Knowing how to safely operate Haulotte boom lifts will open new doors for employment opportunities. Using CMO's OSHA-approved Aerial Lift & Training Certification Program, you'll get the training you need to advance your career.
Thousands of employers and individuals have used CertifyMeOnline.net for their boom lift operator training. We provide the most up to date training materials and courses available anywhere. It's why CMO is the number one source for lift operator certification.
OSHA requires employers to keep workplaces free from hazards that can injure their employees. This includes the right training. The employer needs to ensure that anyone operating an aerial lift is trained, evaluated and certified. Failure to comply can result in heavy fines, prison or both. More importantly, lack of proper training can result in the serious injury, permanent disability or even death of an employee.
The fastest and easiest way to train workers to operate Haulotte boom lifts is through CertifyMeOnline.net. It costs just $75 per employee, so it's also very affordable. CMO's online training programs are 100% OSHA approved, and can be completed in as little as just one hour. What's more, there's no charge for the renewal training OSHA requires every three years. CMO also has online training programs for all other types of Haulotte lifts.
Start Your Haulotte Boom Lift Training Today!
Using CertifyMeOnline.net's certification program to teach operators means they will receive all the training they needed to safely operate Haulotte boom lifts. There's no need for workers to take time off work or go offsite for training. The courses can be completed either in-house or at the worker's convenience anywhere there's an Internet connection. It takes about an hour to complete the courses, which can be accessed online 24/7.
OSHA requires all employers to keep boom lift operator training certificates on file. After the completing the program, the certificate can be immediately downloaded and printed. A temporary wallet card for the operator to carry can also be printed at the same time. CMO will mail a permanent operator card within seven to ten days.
To start your Haulotte boom lift training program today, call us at (602) 277-0615, or click here to get OSHA compliant today! You can also visit our contact page to drop us a line. Thanks for making CMO the #1 online source for Haulotte lift training!