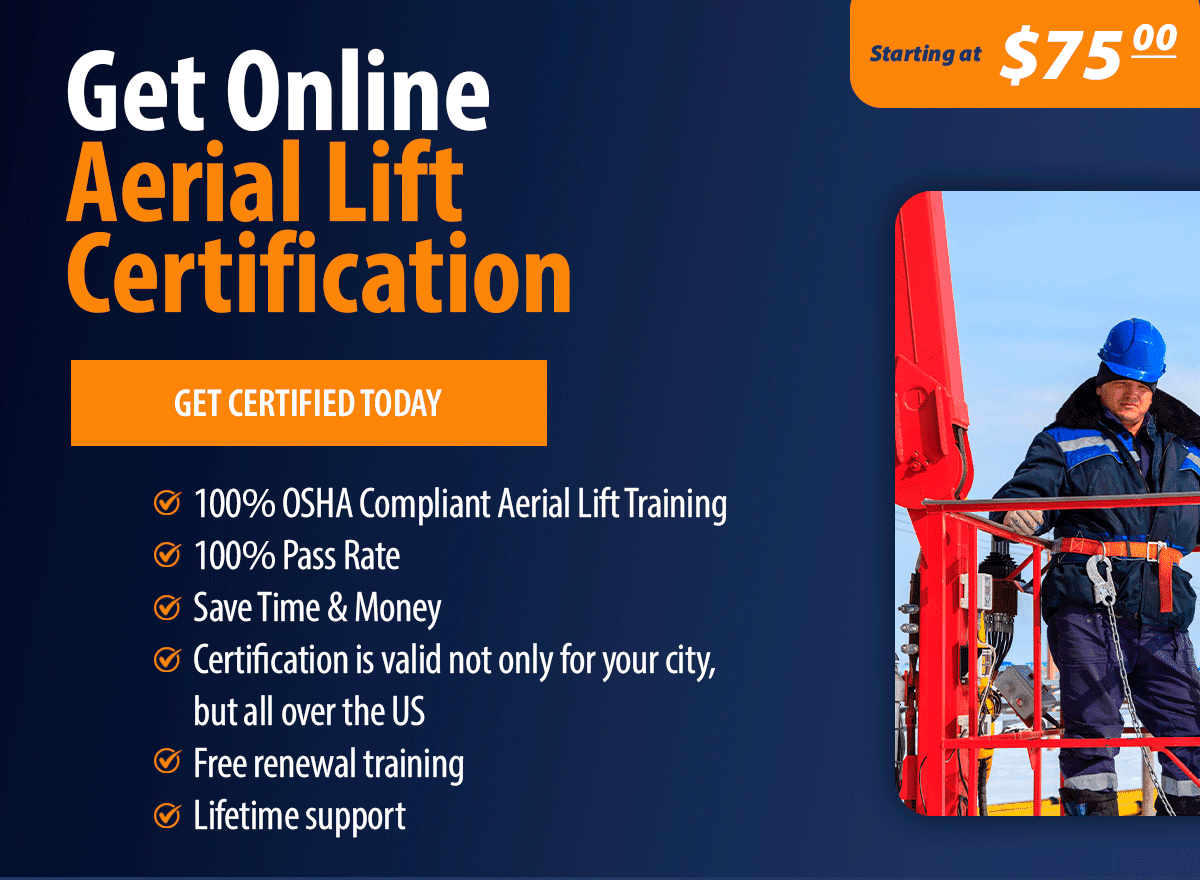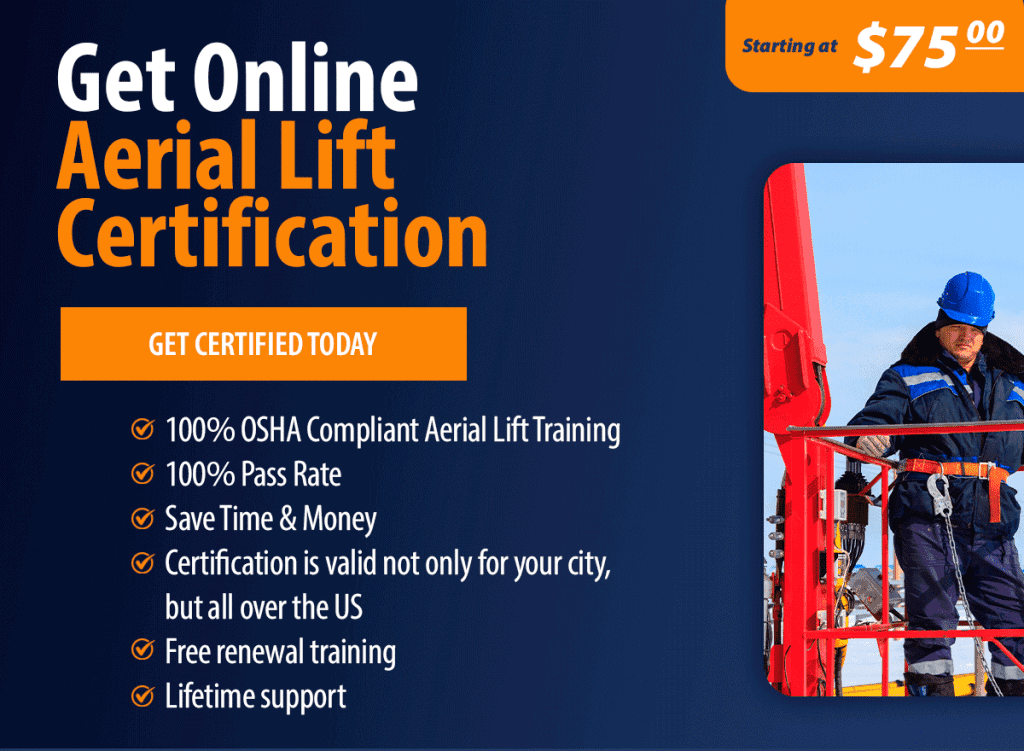 Falling from a height is the leading cause of fatalities in the construction industry, and it's also one of the top aerial lift hazards. Considering that fact, it makes sense that OSHA requires every aerial lift operator to obtain an aerial lift certification in Portland.
Certification provides a foundation of knowledge for operators and keeps your team safe. At CertifyMeOnline.Net, we offer aerial lift certification courses for a one-time fee of $75.00. Learn more about our program and the certification process below.
How Online Aerial Lift Certification in Portland Works
Obtaining an aerial lift certification has never been easier than with the educational materials provided through our site – CertifyMeOnline.Net. Thanks to our training materials, your employees won't need to travel off-site or attend long-winded seminars. Instead, you can complete everything online and in person. Here is how to get aerial lift certified in Portland using our program:
Employers Should Sign Up on Our Platform 
Select a Course: Check out our various course options and decide which ones will be most beneficial for your team. Select your course options and pay for them directly on our site.
Employees Submit to Training: Rather than reporting to a training site, your employees can access our educational material from anywhere with access to the internet at any time. Employees can go through the educational material at their convenience.
Employees Take Online Quizzes: Employees must show they understand the subject material by passing a few online quizzes. Employees can take these quizzes as often as needed until they pass.
Employees Submit to an On-Site Evaluation: Simply passing online quizzes isn't enough to show that your employees are competent with aerial lift operations. To demonstrate their ability, employees should submit to an on-site evaluation conducted by a certified trainer. If you don't have a certified trainer on your team, don't worry! By obtaining our train the trainer course, you can officially certify one of your employees to conduct these on-site evaluations.
Print Off Proof of Training: Employers can officially certify their employee's training after passing the on-site evaluations. You can print off proof of the training immediately from our course materials.
After these six steps, your employees will be considered sufficiently trained per OSHA standards. They can officially and legally operate aerial lifts not only in Portland but throughout the country, too.

Why Choose CertifyMeOnline.Net for Portland Aerial Lift Certification
Getting your team certified is important both for legal and safety reasons. OSHA laws mandate that you certify your team or face consequences in the form of fines. Here are a few reasons why you should choose to work with CertifyMeOnline.Net to get your team up to par:
✓

24/7 Access to Educational Materials: Access our course materials anywhere with internet access

✓

Renew for Free: Certifications don't last forever, but our program's lifetime warranty does! Get your free 3-year renewals when you purchase our program.

✓

Quick Certification: Past clients say they were able to obtain their Portland aerial lift certification online using our program in about one hour

✓

Affordable: Our programs come at an affordable price, and you can certify an unlimited number of employees with our kit

✓

Instant Proof of Training: Instantly print off proof of your certification

✓

Money Back Guarantee
On top of all these advantages, our educational materials have been prepared with the utmost care. After completing our kit, you can rest assured that your team will be empowered with the right knowledge to be safe on your job site.

Portland Aerial Certification FAQs
Do you have more questions about OHSA standards, certification, or operating aerial lifts in Portland? Check out the free resources on our blog for more. Below, you can also learn the answers to some of the most commonly asked questions about Portland aerial lift certification and operations.
What Happens After a Worksite Aerial Lift Fatality?
A worksite aerial lift accident that causes a fatality is a tragic and serious ordeal. The surviving loved ones of the fatally injured worker will inevitably have to grieve their loss, and there's very little you can do as an employer to help comfort them.
You'll likely face the consequences as the employer responsible for the job site that led to the injury. For instance, the recent well-known Pickath on Music Festival aerial lift accident that resulted in two fatalities immediately prompted an OSHA investigation. The investigators found that safety rules weren't being followed, leading to a $31,000 fine.
My company might require additional training. Does CMO offer more courses?
Fall protection, cherry picker, HAZWOPER training & more – just browse our course catalog and pick whatever you need.

CertifyMeOnline.net Offers the Portland Aerial Lift Training You Need – Sign Up Today!
CertifyMeOnline.net offers aerial lift and scissor lift workers an online platform to complete their Portland aerial lift certification easily and quickly. The program can be accessed from any device with an internet connection, from home or the workplace, at any time. This program is self-paced although it typically takes students only one hour to complete. We are completely OSHA compliant and offer our students an affordable option to other training methods.For only $75 and in one hour, you can ensure compliance for your employees in Portland OR, and beyond! Thanks for visiting CMO, your #1 provider of aerial lift certification in Portland. Whether your company needs aerial lift certification in Portland or a trusted partner for challenging compliance issues, CMO in here to help! If you'd like so speak with our experts or learn more about aerial lift certification in Portland, give our office a call today at (602) 277-0615.