Need Aerial Lift Certification in Portland? Sign up with CertifyMeOnline.net Today – Get OSHA Compliant NOW!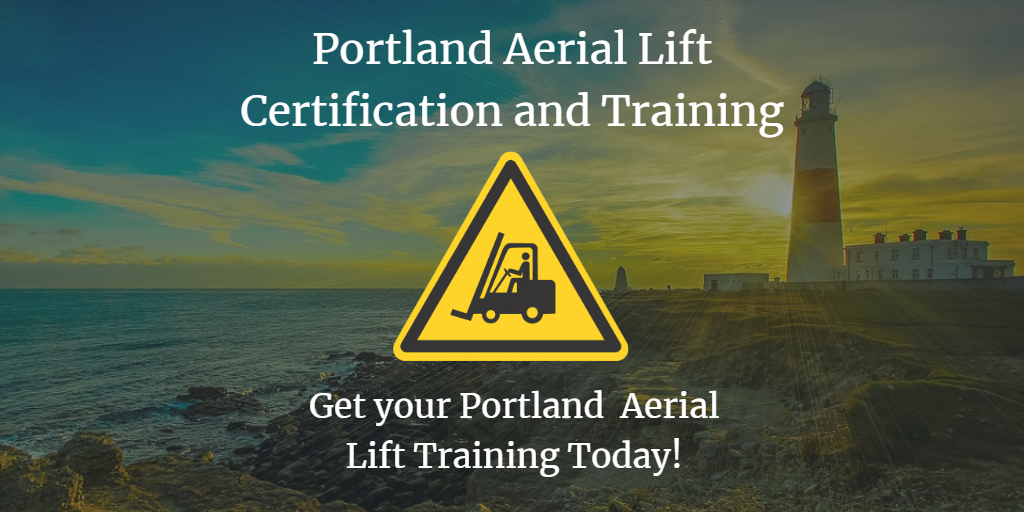 Equipment workers are always in demand in Portland because of the city's growing economy. If you hire aerial lift or scissor lift workers in the metro area, you need Portland aerial lift certification.
Aerial lift certification in Portland is  important for employers because it protects against expensive fines, legalities, and suffering from an inefficient workplace.
It's against the law to hire untrained scissor lift or aerial lift workers. With CMO's aerial lift training in Portland, your company is protected against expensive OSHA fines and audits. Plus, all of your employees will stay safe on the job – that's peace of mind that's hard to price, even as our aerial lift certification in Portland is priced for outstanding value!

Why Do I Need Portland Aerial Lift Certification? The Importance of OSHA Compliant Training
You may be wondering, "Why do I need a certification if equipment workers are so in demand? Wouldn't they want to make it easier for me to get a job?" While this statement is true about the high demand for equipment workers, it is essential for workers to be trained and certified to achieve the quality standards and productivity Portland projects need. Aerial and scissor lift certification is also the best way equipment workers can prevent accidents that cause injuries and fatalities.
Both operators and employers can protect themselves at work with Portland aerial lift certification. Employers must provide aerial lift certification in Portland before any employee is able to operate equipment. CertifyMeOnline.net has the training courses you need to achieve and maintain compliance. What's more, we offer 3-year renewal training as well!
Comprehensive Aerial Lift Certification in Portland
What does comprehensive training mean to your company? To CMO, it means staying up to date with legislative changes to safety guidelines. When ANSI changed their aerial lift and scissor lift related rules, ANSI A92.22 Safe Use and A92.24 Training Standards, many companies weren't sure how to adjust their safety training.
But CMO took everything in stride. We updated our aerial lift certification in Portland accordingly, since we're always looking out for updates to key legislation. Since these two standards impacted risk assessment and internal safety programs, CMO transitioned our training to accommodate these important changes.
When you sign up for CMO's aerial lift certification in Portland, you'll get the most complete, comprehensive training available anywhere. Since national safety rules apply to every U.S. state and city, our aerial lift training in Portland is always your best option for lift certification in the Pacific Northwest and throughout the United States!
How Do I Get My Portland Aerial Lift Certification?
Getting aerial lift certification in Portland is easier than you think, thanks to CertifyMeOnlinet.net. Workers just like you every day are taking the necessary training to become qualified for a number of great jobs throughout the city. All you need to do to receive your certification is find and complete an OSHA-compliant training program that covers everything you need to know to operate an aerial lift, avoid hazards, and inspect and maintain equipment. If this sounds intimidating to you, don't worry. There is an easy and convenient way to complete this standard of training.
With CertifyMeOnline.net, aerial lift certification takes only a few easy steps:
1. Create an account on our website
2. Log into your account and choose your aerial lift course
3. Work through the online modules
4. Pass the online quizzes and test
5. Print the materials for the in-person evaluation
6. Print your operator certification card and start operating aerial lifts!
CertifyMeOnline.net Offers the Portland Aerial Lift Training You Need – Sign Up Today!
CertifyMeOnline.net offers aerial lift and scissor lift workers an online platform to complete their Portland aerial lift certification easily and quickly. The program can be accessed from any device with an internet connection, from your home or workplace, at any time. This program is self-paced although it typically takes students only one hour to complete. We are completely OSHA compliant, and offer our students an affordable option to other training options
For only $75 and in one hour, you can ensure compliance for your employees in Portland OR, and beyond!
Inside of our online Portland aerial lift certification program, we teach:
✓ How to operate both aerial lifts and scissor lifts
✓ How to operate the controls
✓ How to maneuver indoor and outdoor work-sites
✓ How to perform equipment inspections
✓ How to assess the surrounding environment for hazards
✓ How to prevent accidents to avoid injuries, damages, and fatalities
What are you waiting for? Sign up today!

Thanks for visiting CMO, your #1 provider of aerial lift certification in Portland. Whether your company needs aerial lift training in Portland or a trusted partner for challenging compliance issues, CMO in here to help! If you'd like so speak with our experts or learn more about aerial lift certification in Portland, give our office a call today at (602) 277-0615.