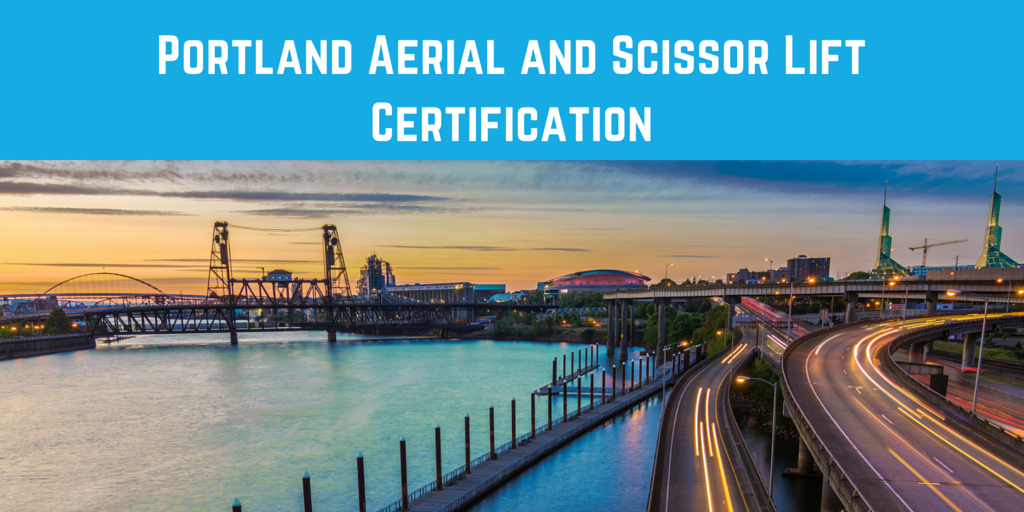 Portland offers a great place to find work and live a great life in America. Their average unemployment rate is below the country's average, and their job growth rate is higher than the country's average. What does this mean? It's time to make Portland your home and complete your aerial and scissor lift certification! Equipment workers are always in demand because they are the professionals who ensure Portland is safe, maintained, and that expansion is possible to accommodate a growing population. However, in order to start your new career, you need Portland aerial lift certification.
If you're an employer who hires aerial lift operators, aerial lift certification in Portland is just as important for you because it protects you from expensive fines, legalities, and suffering from an inefficient workplace.
It's against the law to hire untrained scissor lift or aerial lift workers. With CMO's aerial lift training in Portland, your company is protected against expensive OSHA fines and audits. Plus, all of your employees will stay safe on the job – that's peace of mind that's hard to price, even as our aerial lift certification in Portland is priced for outstanding value!

Why Do I Need Portland Aerial Lift Certification?
You may be wondering, "Why do I need a certification if equipment workers are so in demand? Wouldn't they want to make it easier for me to get a job?" While this statement is true about the high demand for equipment workers, it is essential for workers to be trained and certified to achieve the quality standards and productivity Portland projects need. Aerial and scissor lift certification is also the best way equipment workers can prevent accidents that cause injuries and fatalities.
Both operators and employers can protect themselves at work with Portland aerial lift certification.
Comprehensive Aerial Lift Certification in Portland
What does comprehensive training mean to your company? To CMO, it means staying up to date with legislative changes to safety guidelines. When ANSI changed their aerial lift and scissor lift related rules, ANSI A92.22 Safe Use and A92.24 Training Standards, many companies weren't sure how to adjust their safety training.
But CMO took everything in stride. We updated our aerial lift training in Portland accordingly, since we're always looking out for updates to key legislation. Since these two standards impacted risk assessment and internal safety programs, CMO transitioned our training to accommodate these important changes.
When you sign up for CMO's aerial lift certification in Portland, you'll get the most complete, comprehensive training available anywhere. Since national safety rules apply to every U.S. state and city, our aerial lift training in Portland is always your best option for lift certification in the Pacific Northwest!
Aerial Lift and Scissor Lift Jobs in Portland
There are many companies looking for aerial lift and scissor lift workers just like you, and some of the top ones include Comcast, Mr. Tree Inc., Terex Corporation, Hillsboro Aviation, as well as the Portland International Airport. The Portland area is famous for its trees and natural beauty, and there is no shortage of arborist jobs and other tree specialist positions for certified aerial lift operators.
Additionally, trained workers will find many available warehouse jobs Portland OR, which are year-round and always in demand as the manufacturing and logistics industries continue to grow. Aerial lifts are used outdoors on construction sites, maintenance sites, to repair buildings, wash and repair windows, install lighting and signage, repair and clean aircrafts, and even work with entertainment events to install lighting and sound equipment. Scissor lifts can also be used outdoors, in addition to working inside shopping malls and retail warehouses, inside museums to install art work, inside breweries, and for many other types of jobs.
How Do I Get My Portland Aerial Lift Certification?
Workers just like you everyday are taking the necessary training to become qualified for a number of great jobs throughout the city. And you can too. All you need to do to receive your certification is find and complete an OSHA-compliant training program that covers everything you need to know to operate an aerial lift, avoid hazards, and inspect and maintain equipment. If this sounds intimidating to you, don't worry. There is an easy and convenient way to complete this standard of training.
With CertifyMeOnline.net, aerial lift certification takes only a few easy steps:
1. Create an account on our website
2. Log into your account and choose your aerial lift course
3. Work through the online modules
4. Pass the online quizzes and test
5. Print the materials for the in-person evaluation
6. Print your operator certification card and start operating aerial lifts!

CertifyMeOnline.net Offers the Portland Aerial Lift Training You Need
CertifyMeOnline.net offers aerial lift and scissor lift workers an online platform to complete their Portland aerial lift certification easily and quickly. The program can be accessed from any device with an internet connection, from your home or workplace, at any time. This program is self-paced although it typically takes students only one hour to complete. We are completely OSHA compliant, and offer our students an affordable option compared to many other trainings. For only $75 and in one hour, you can ensure compliance for your employees in Portland OR, and beyond!
Inside of our online Portland aerial lift certification program, we teach:
How to operate both aerial lifts and scissor lifts
How to operate the controls
How to maneuver indoor and outdoor worksites
How to perform equipment inspections
How to assess the surrounding environment for hazards
How to prevent accidents to avoid injuries, damages, and fatalities
What are you waiting for? Sign up today!
Thanks for visiting CMO, your #1 provider of aerial lift certification in Portland. Whether your company needs aerial lift training in Portland or a trusted partner for challenging compliance issues, CMO in here to help! If you'd like so speak with our experts or learn more about aerial lift certification in Portland, give our office a call today at (602) 277-0615.